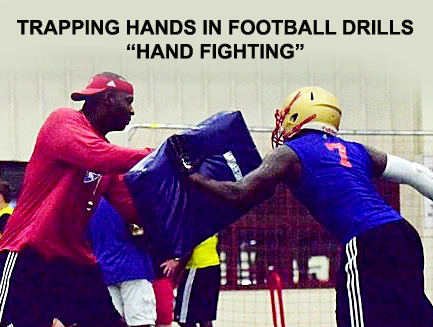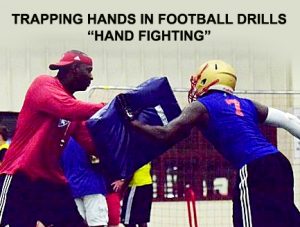 A lot of American football coaches and players watch game films. I instead, have watched hours of football "how-to" training films to see how these players TRAIN. If you have ever spent time with me, you've heard me brag for years, decades even, on how American football training methods can be diced and altered to enhance, inspire and supply power-contact exercises for martial fighting. You've heard me say that a knife fight might not look like a movie duel, but might instead look like "football with a knife."  Same with sticks.
Hand fighting! Lord knows football takes from us and you'll see Chinese, JKD and Filipino hand drills are used to develop what football already called "Hand Fighting," (To the left, Tim Tackett is showing Cowboy great Randy White some classic hand drills decades ago. Tim is one of the earliest martial artists showing the NFL these types of work-outs.) You'll also recognize some of the hand drills in the below videos I've listed.  There's also a drill in Football called by many, the Karate Drill, where one player tries to strike the chest at random of another and the other guy tries to slap the attempt away. One or two hands.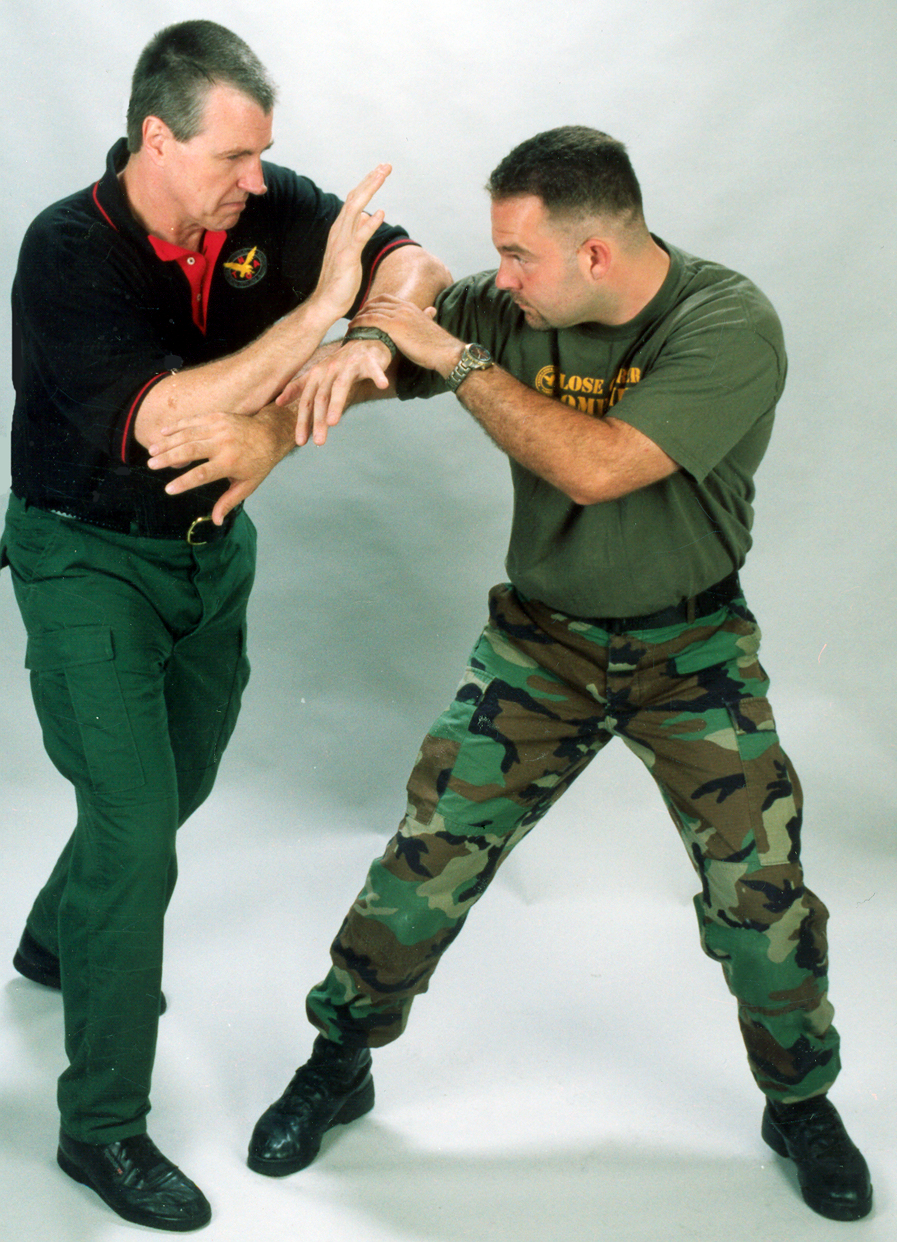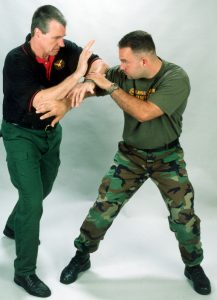 To me the offensive and defensive line of scrimmage, football battles cover some Aikido (because they are dealing with real powerhouse collision energy) on up to the UFC and MMA…and…yes, within it, "trapping hands." Trapping exists. I get a kick out of a lot of people dissing trapping because I guess they watch too many Jackie Chan movies? I don't know. But the pinning, passing, pushing and pulling of trapping exists and I look for it in Football, boxing and MMA-UFC world. It might only go "one deep," as in one beat trap clearance so to speak, maybe two. Three? Three might be pushing it. I started trapping in 1986 with the Inosanto family of instructors and FMA, but through the years I look to combat-contact sports as a foundation for reality trapping. What works? What can work? Boxing, Football, MMA-UFC. Fast, Short. Furious.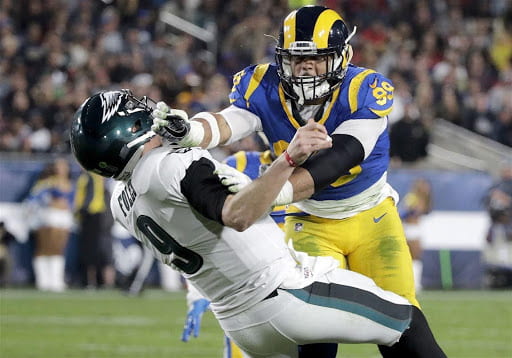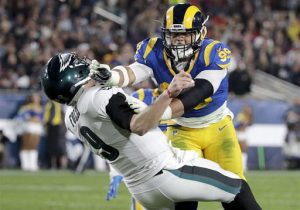 As with Football, line collisions are violent, with very quick trapping hands within. In the boxing, MMA-UFC world there are arm clearance, raw, ugly traps. Since I am obsessed with mixing-blending hand, stick, knife and gun wherever possible, I prefer to call them "invasions," or invading____ . Like, "Invading Hands," "Invading Sticks," "Invading Knives" and, "Invading Guns" ( pistol and long gun). What pinning, passing, pulling or pushing of arms work in those realms. How are they alike? How are they different?
So, I take a hard look at football, hand drills-methods that enhance all that. The of quality football players, starting at college on up, is record breaking incredible now. These increases come from several methods, but two methods are clever drills and exercises for functionality. 
One Quick Observation in and around on this subject. Australian football – or "Footy" is tough as hell, and like Rugby, sort of like soccer, are  "chase-games" without the consistent line of scrimmage collision battles that can be reminiscent of, and can resemble a common collision in a fight, crime or war. Every football play starts with what a chiropractor might call, a small car crash.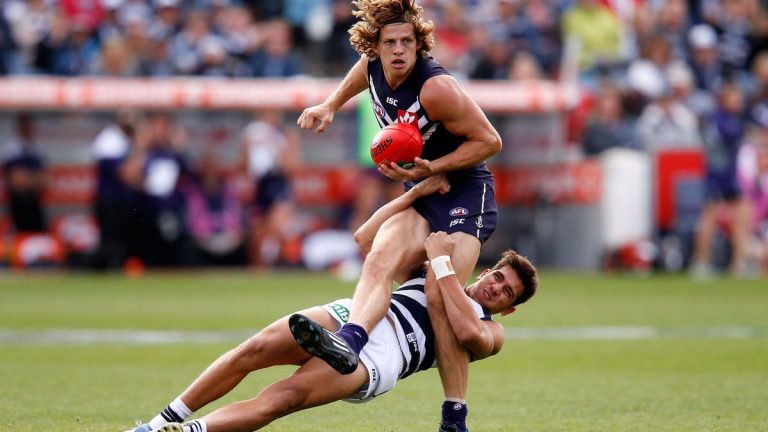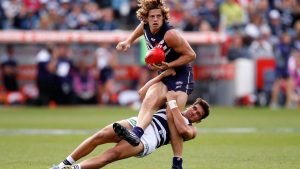 Speaking of chases, I might add here that a high percentage, arrest-fight problem for law enforcement is chasing. Foot chasing suspects and tackling them down. Virtually no police academy or training covers or practices a Footie-Rugby-USA Football, chase and tackle. In my Defender-Police Judo course I do, but rarely because I need a matted runway and the "suspect" suited up for safety. And still, chase tackles are crazy and it is not very safe, especially due to the lack of conditioning and physicality missing in today's new or even established police officers. Cops who've played, and still play with contact sports are better cops at this.
Second Quick Observation in and around this subject. A fad move today is teaching an arm drag to get outside of an opponent's arms and then pivot around them to get a rear bear hug. In demos and seminars, many "show-ers"  just…just end right there with the rear bear hug. They show no more. Huh? They stop there, as if, with the bear hug it's…over? Nope, it's just getting started. Yet naïve rookie, seminar attendees (usually gun guys exploring unarmed combatives) think its manna from heaven. Some instructors will show a follow-up. They demo a bear-hug follow-up solution and they will lift up and body slam the opponent to the ground, of course falling with them too, to enter into the world of non-stop, one-dimensional wrestling. Such is their brain-washing. Usually both these demo people are 30ish-year-old athletes. But when we look around at ourselves, at each other, differing sizes, ages and strengths, is a 150 to 250 pound body lift and body slam of the enemy practical for the masses? Hell no. I can't pick up, least of all, body slam a  175 or 200 pound person! And anyway, I want to remain up as much as possible.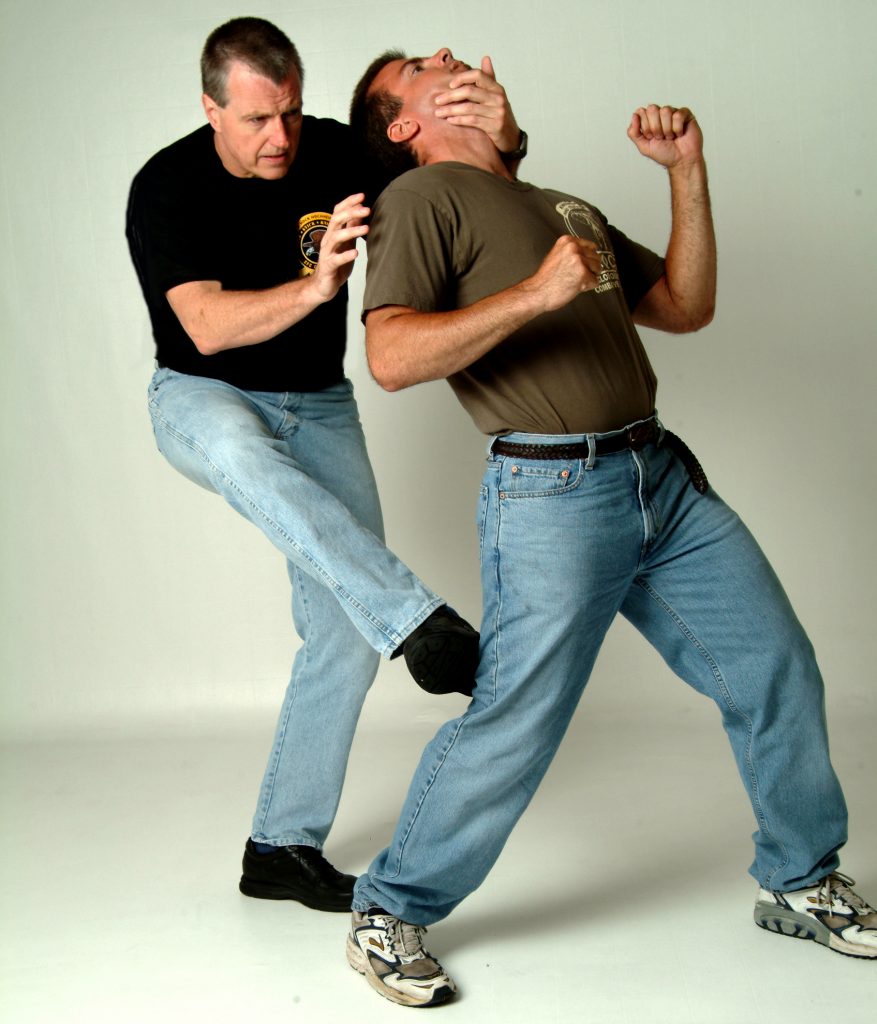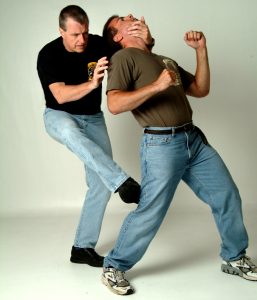 When pivoting to the rear, one could pass on the ubiquitous rear bear hug.  Instead maybe try a whole variety of rear hits, kicks or takedowns where we might remain standing or at least knee high. I bring this topic up here because there are great, rough defensive line drills that use things like the "D-Line Chop," (a trap) instead of a grabbing arm drag. In the movement there's a follow-up shoulder hit, and quick pivot to the rear. And these are practiced in football-game-"hike"-tough drills that martialists should investigate. And, batting, zipping past, and around folks are also handy skills versus multiple opponents, where I add "imagine you are a running back" advice…(okay, okay, enough on rear bear hugs, that's another big subject…)
A Third Quick Observation in and around this subject. American football obviously deals with face-to-face, frontal to frontal tackles, and not always chase tackles. They also cover power drills with pads to counter tackles, done in clever ways that any citizen should try and would enhance the subject, beyond typical martial arts classes.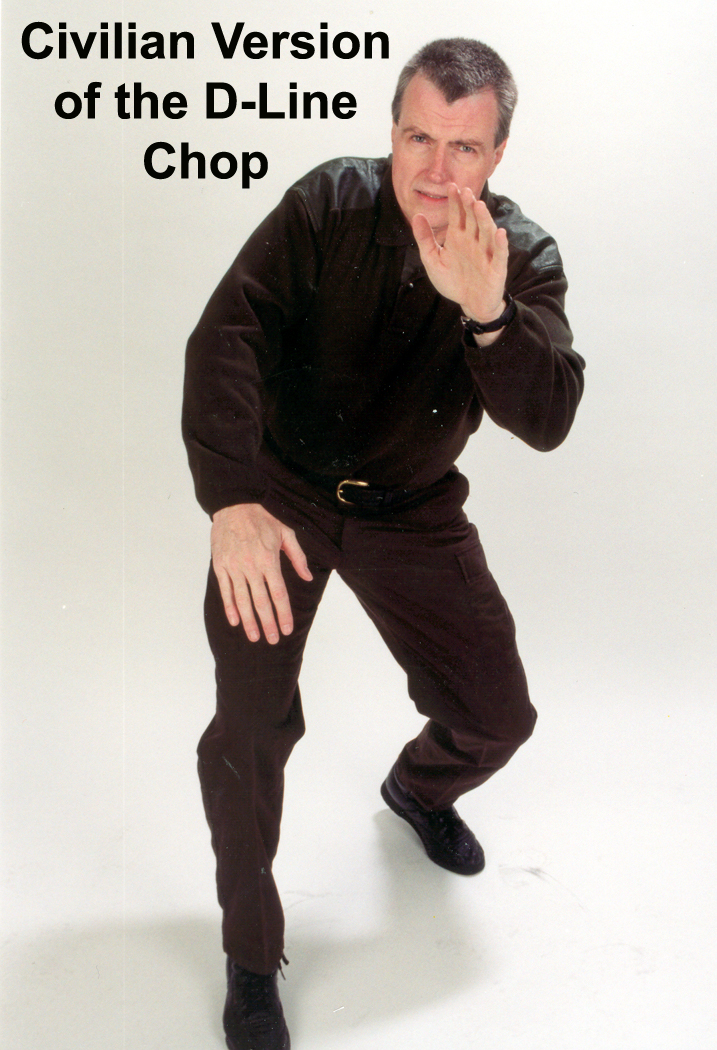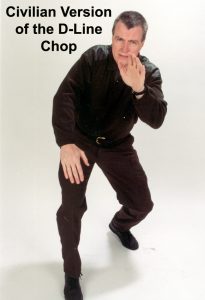 In Summary, The Problem Is, His Arms! They are almost always are in the way. And they have muscles and seem to have a "mind of their own!"  Here is a fast, short list of some football training drills I have collected on trapping and the "Football-Hand-Fight." I can't put videos in a book so I have to share them here. They incorporate Stop 3 Forearm Collision materials, and Stop 4 Shoulder Line collisions. Would you watch them for training ideas, adaptations, and inspirations?
 For more diverse training…
More on this coming up in Hock's Training Mission 3 Book, coming in 2022…