"It is not my intention to move in and replace existing police agency use-of-force and tactical programs. Not at all. Defender adds on moves and ideas, and reinforces good methods to existing police training programs with advanced applications and innovations in situational and positional problem-solving. I want to re-organize a physical-response system based on martial, police and military combat training statistics and probabilities, event-based, positional and situational scenarios. No single, response (like a bent arm) fits all situations, and martial arts cannot, should not be force-fit, squeezed into street survival. Even the U.S. Supreme Court recognizes how "fluid' these situations can be."  -Hock
After over 3 decades of military and Texas law enforcement, Private Investigations, bodyguard /protection work (for clients such as NYC Mayor and presidential candidate Rudy Giuliani) and private investigation, and 50 years in the martial arts with multiple martial art black belts, W. Hock Hochheim now tours 11 countries a year (barring Covid these days!) teaching his brand of hand, stick, knife and gun, practical/tactical strategies.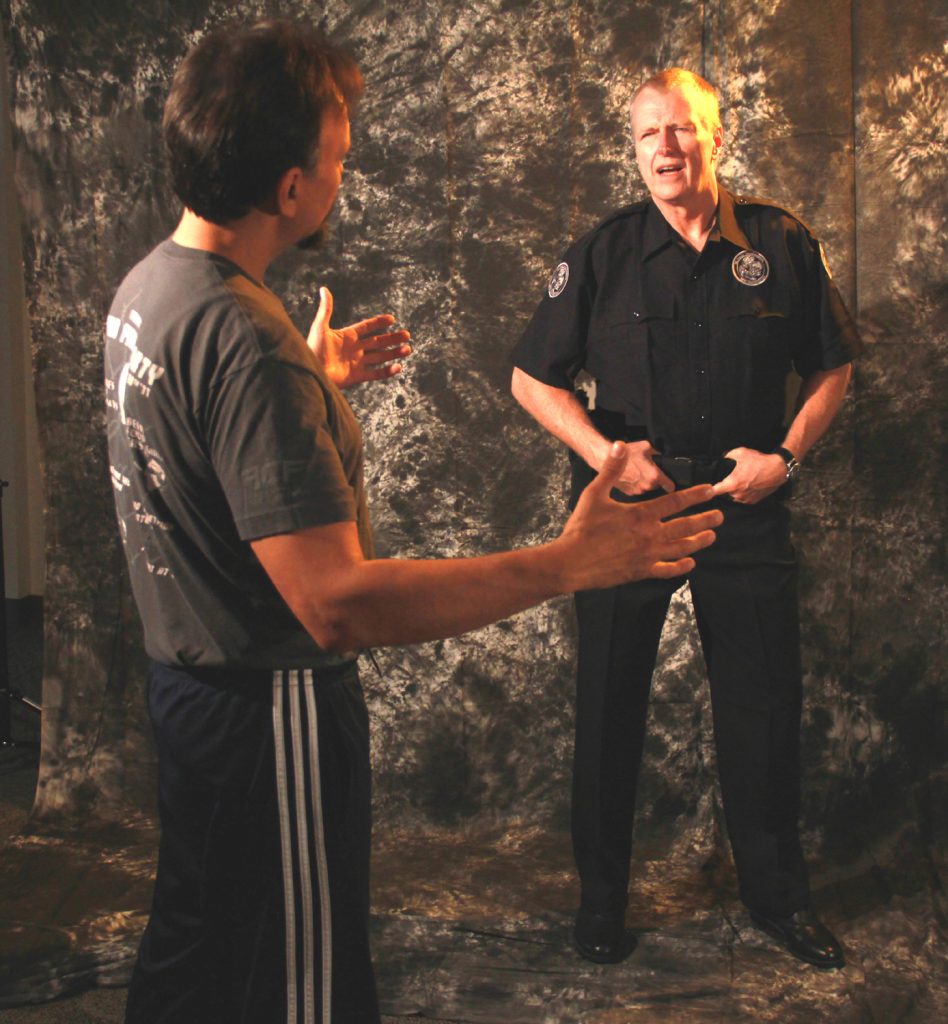 This is for street cops, detectives, bodyguards and security. Hock has taught police officers, agencies, and academies worldwide, as far away as the Honolulu SWAT, Australia, Germany, China, Guam, at the one South African Police Academy, as well as Belgium, Sweden, Italy and all over the United Kingdom. He has taught police in the United States since the 1980s. He has been a paid consultant for four branches of the U.S. Army, Navy Air Force and Marines. Military, frequently this included sessions for his old alma mater – the military police. He has traveled to the Middle East-Southwest Asia on a D.O.D. contract to train our and allied troops in CQC. He has taught the Belgium Counter-Terrorism squad, counter-terrorist teams in Berlin, Germany teams, Italian NATO Special Operations and the Australian Army Combat Brigade.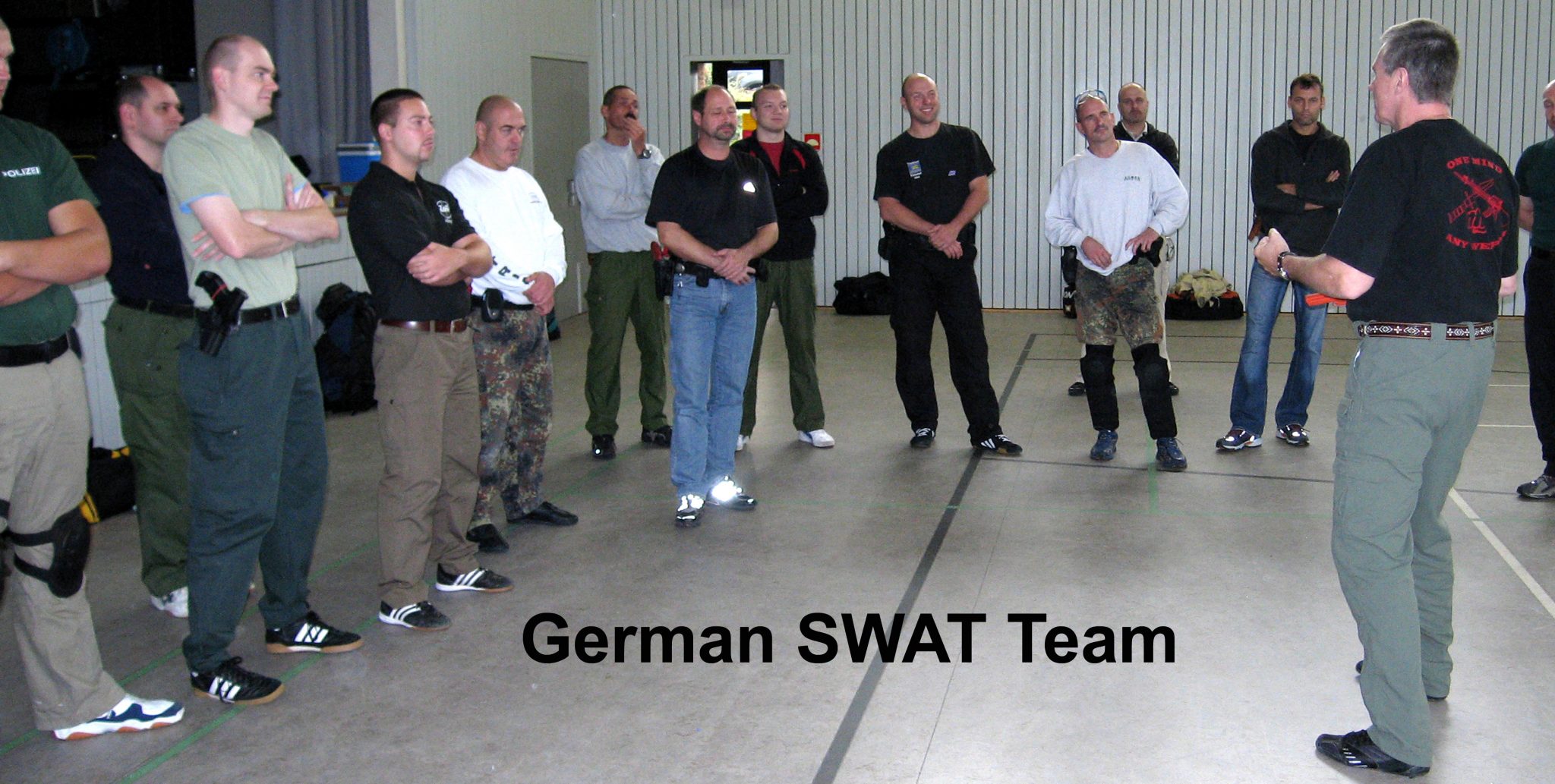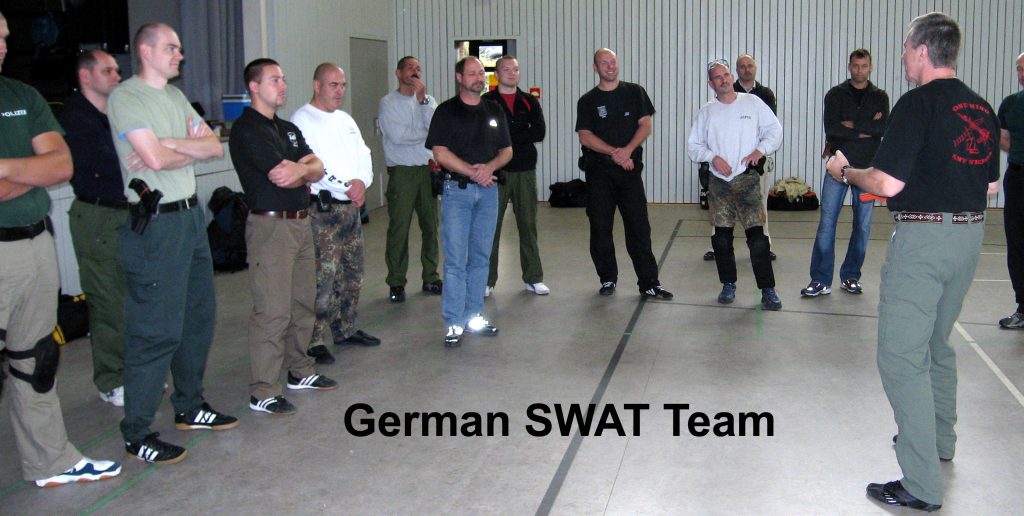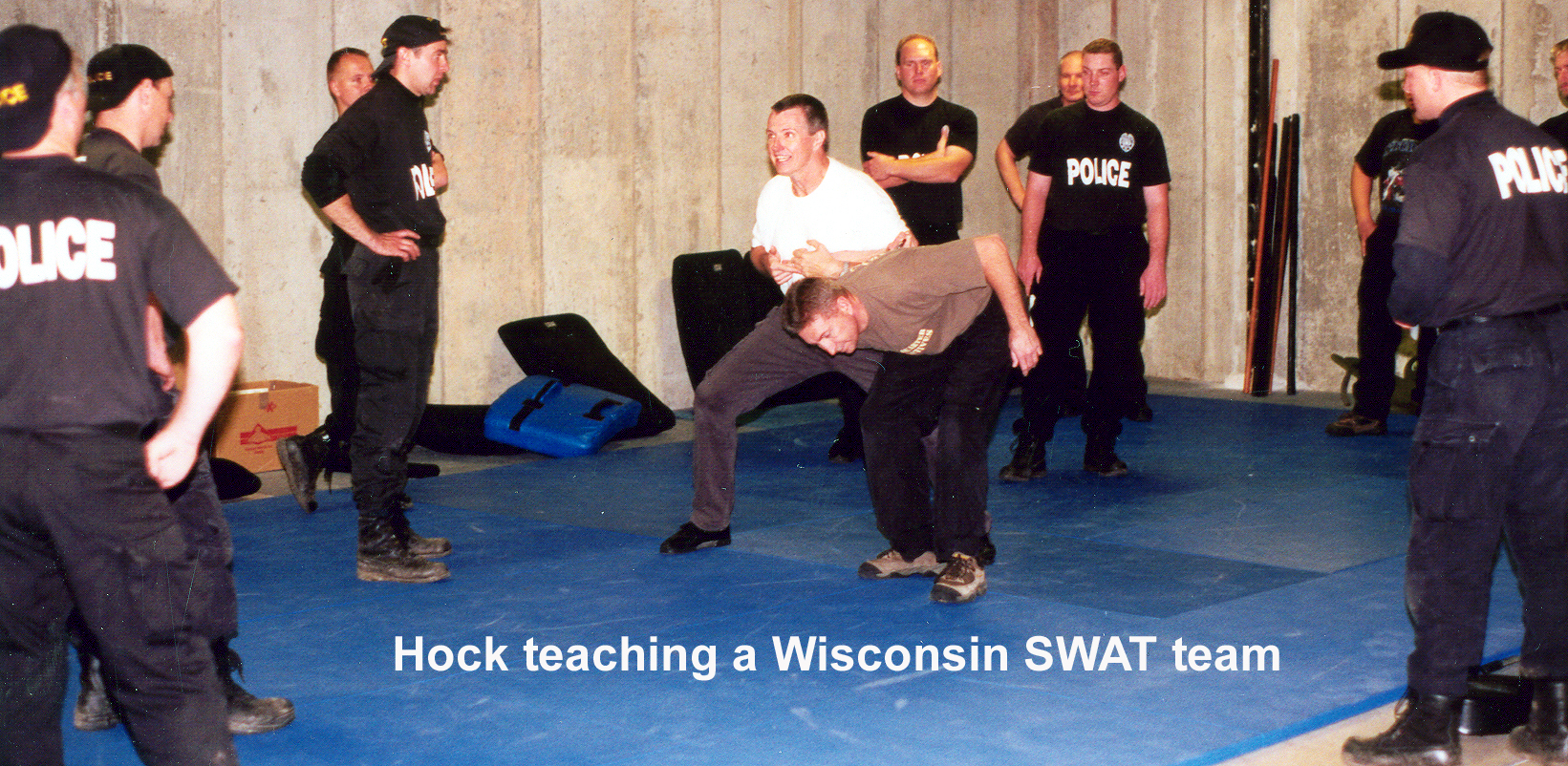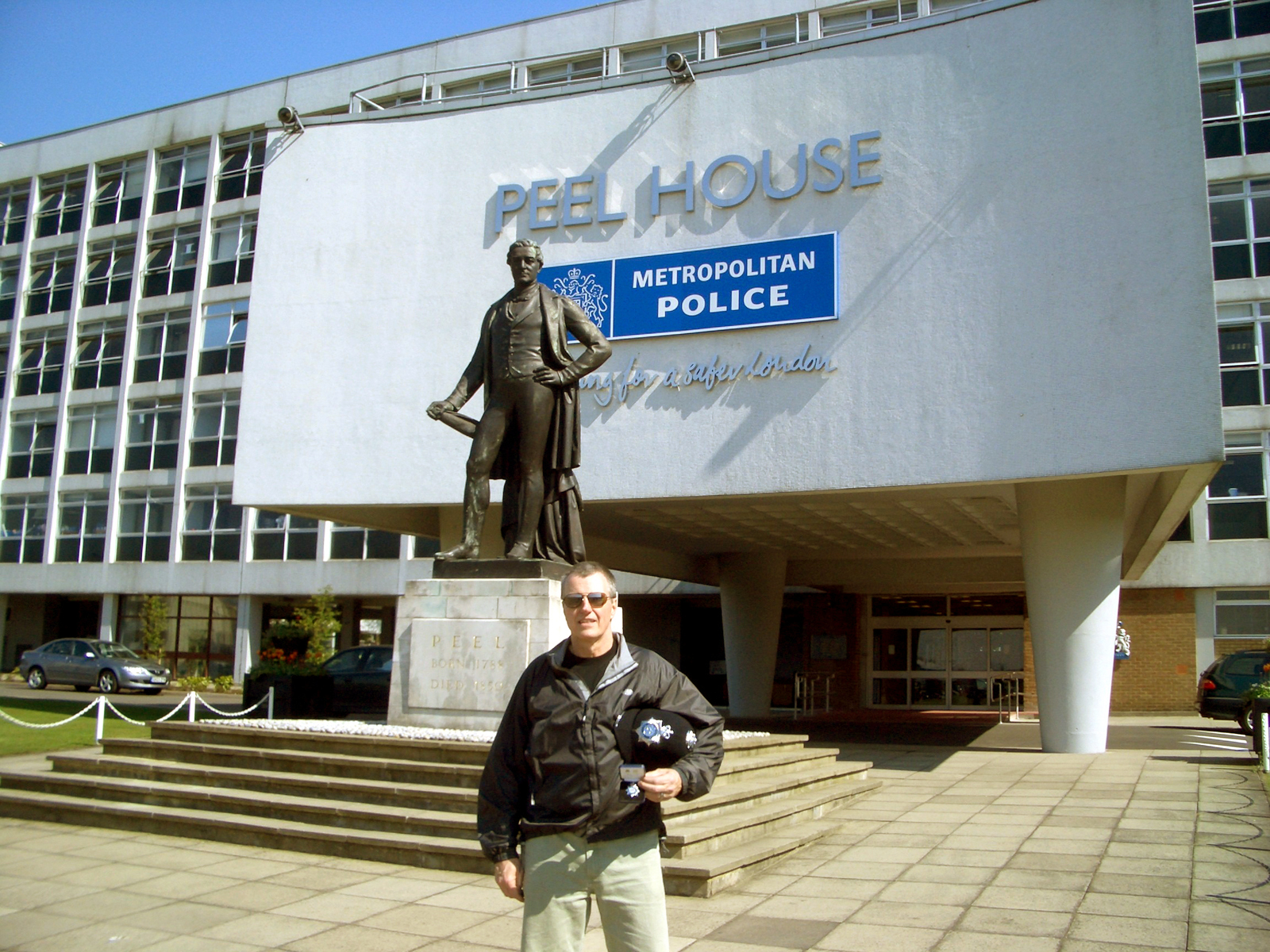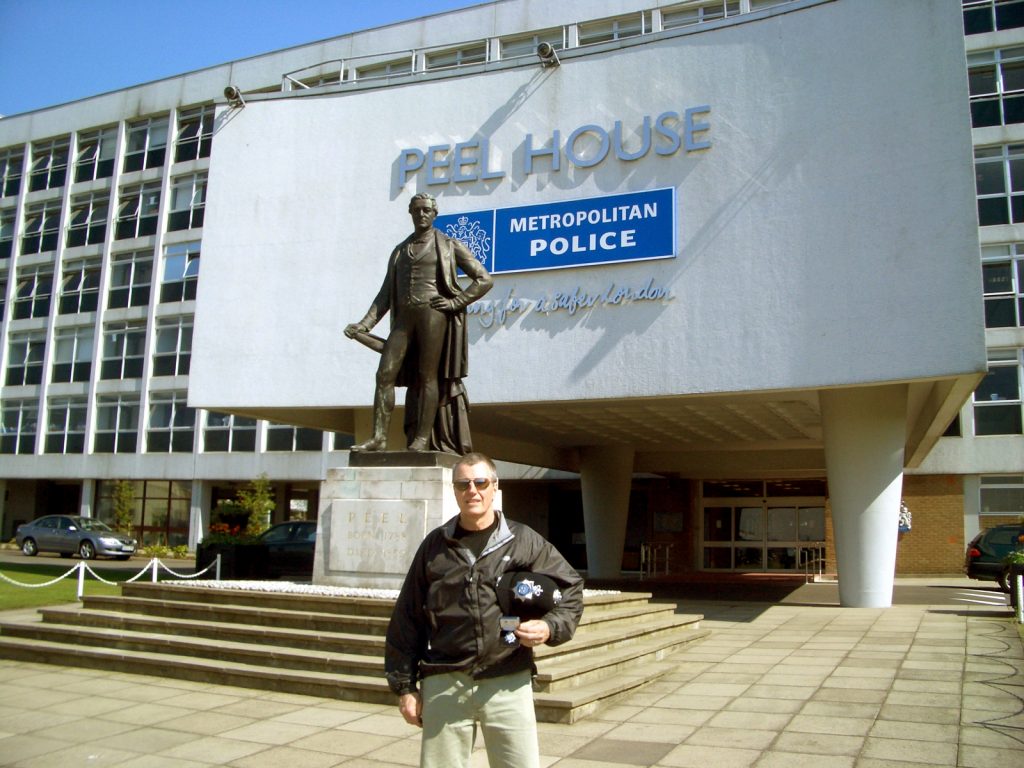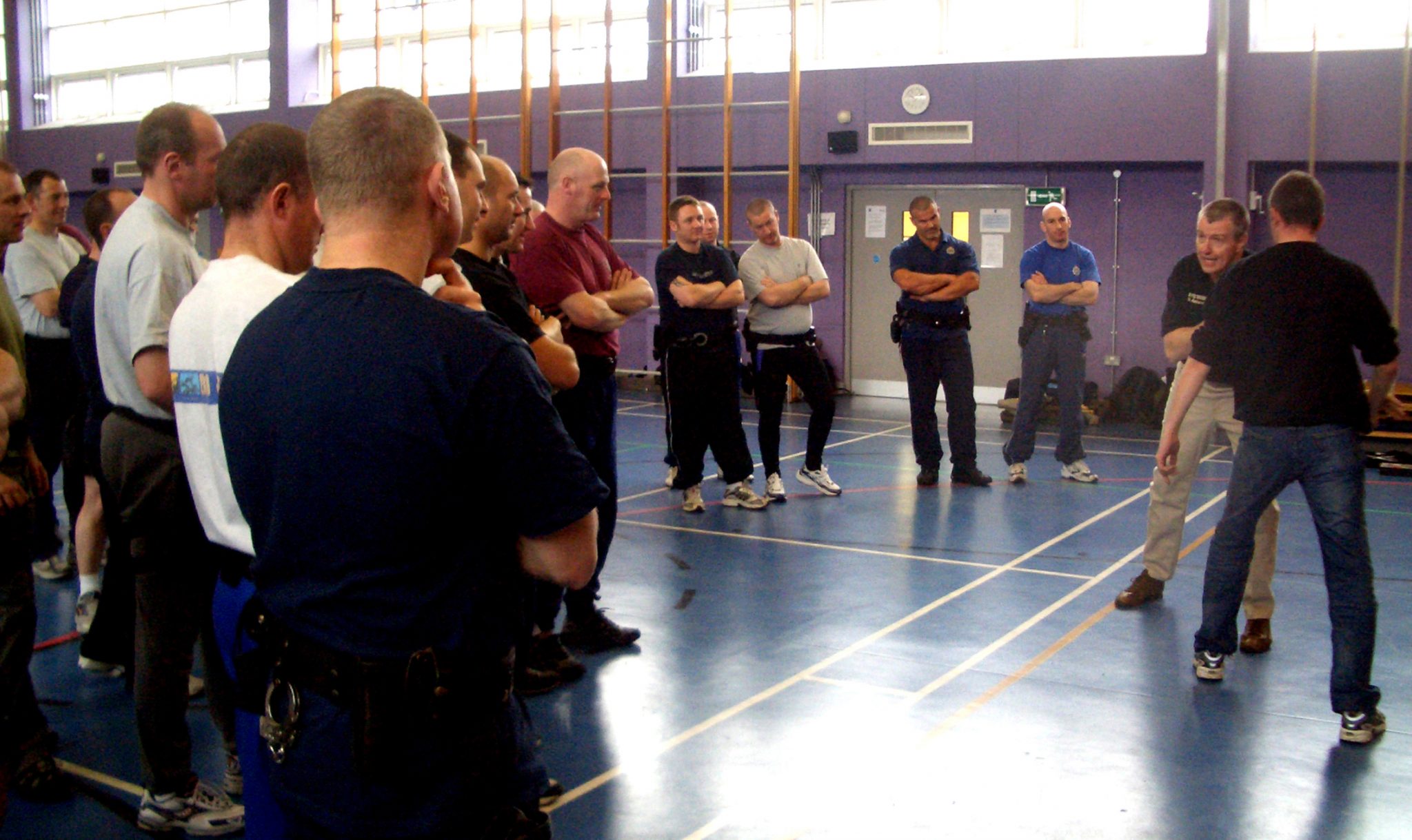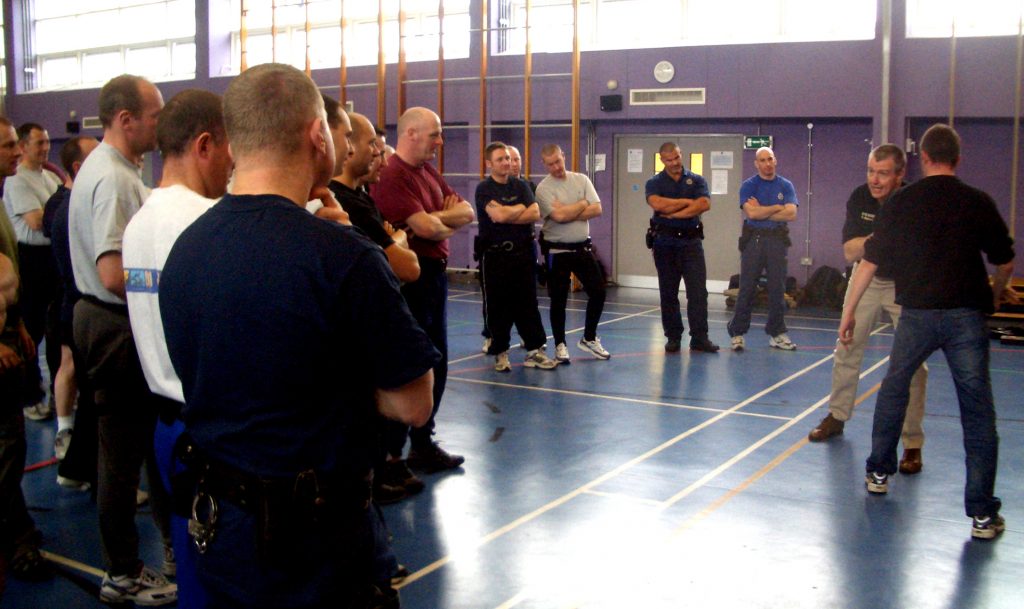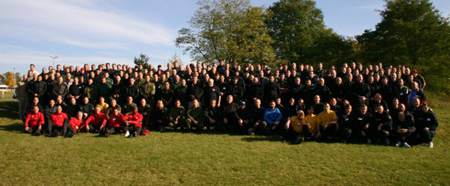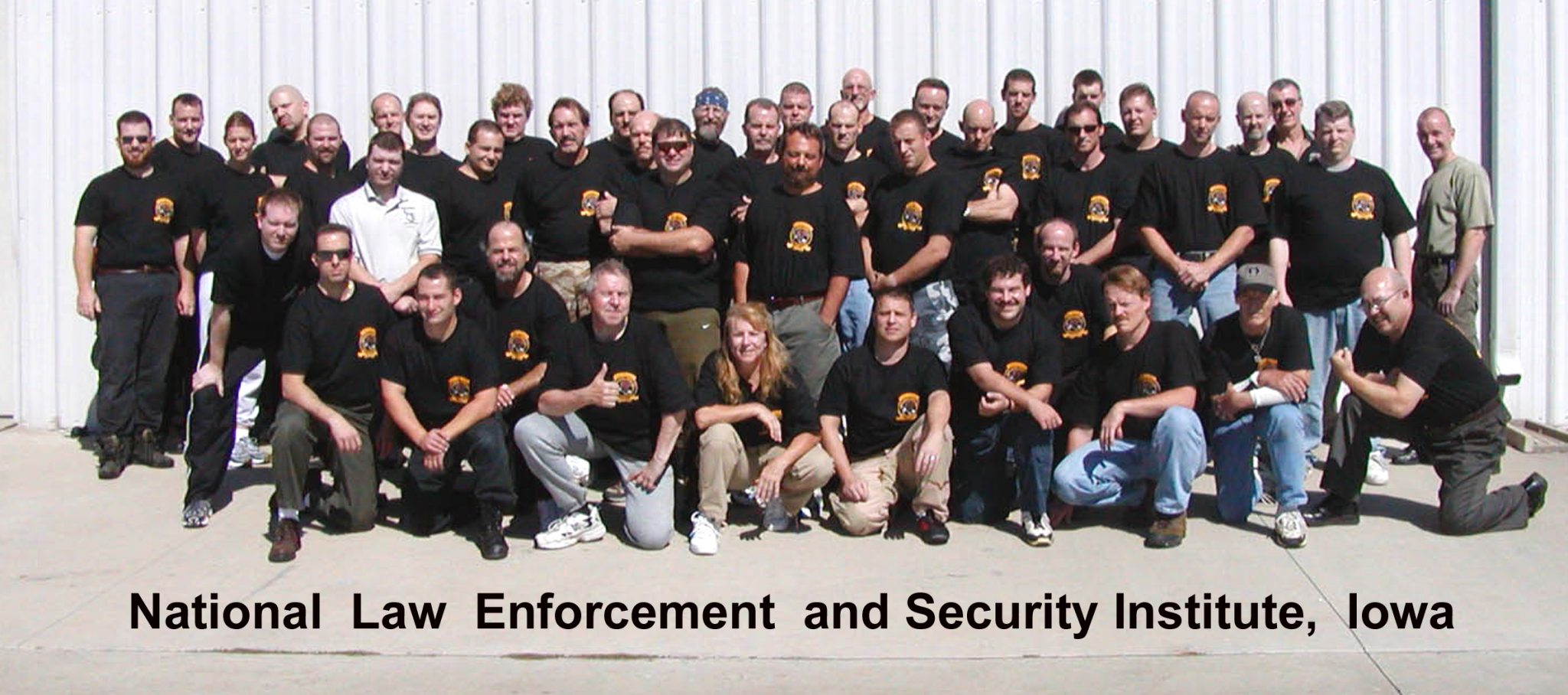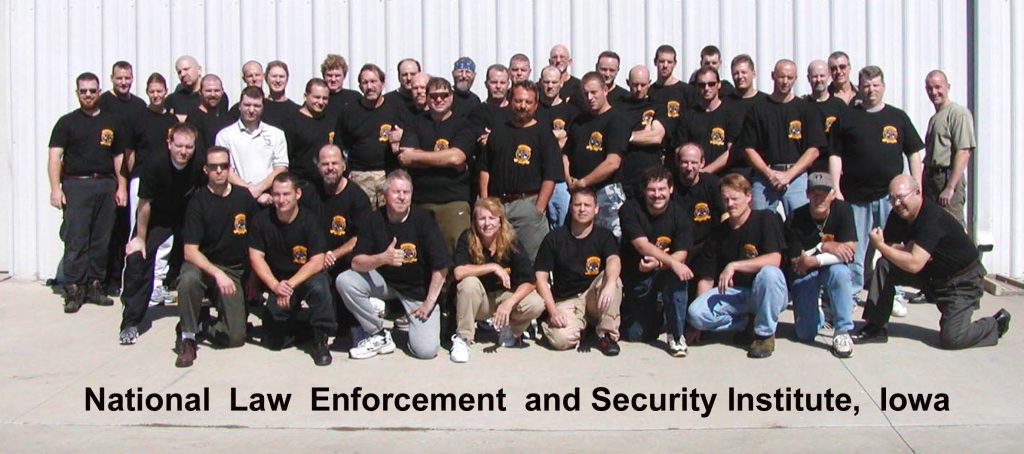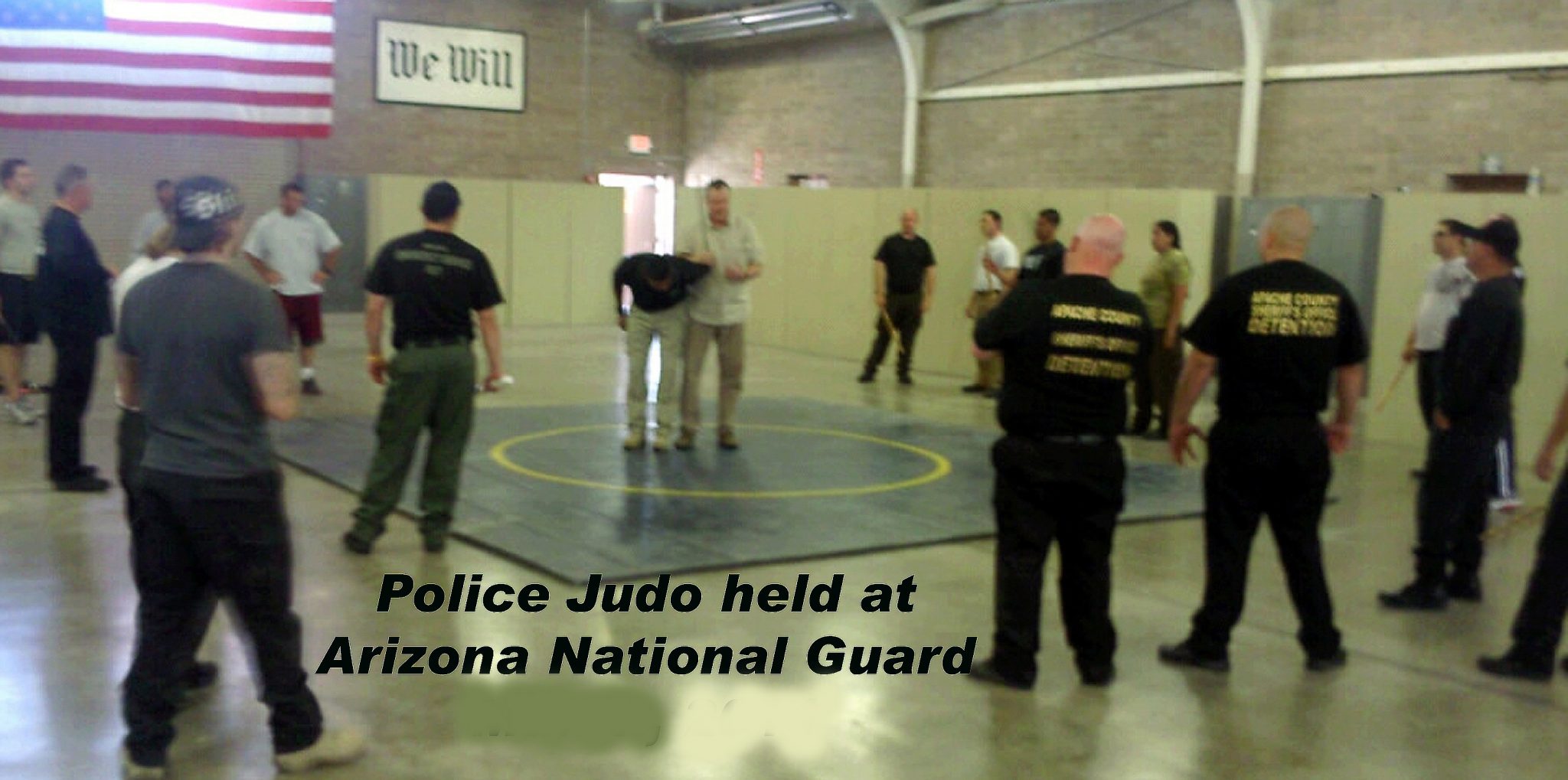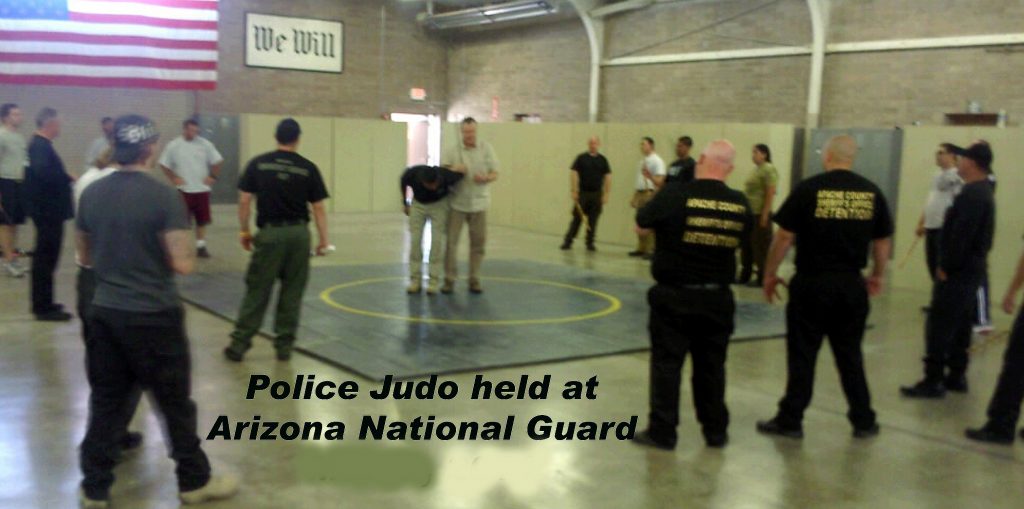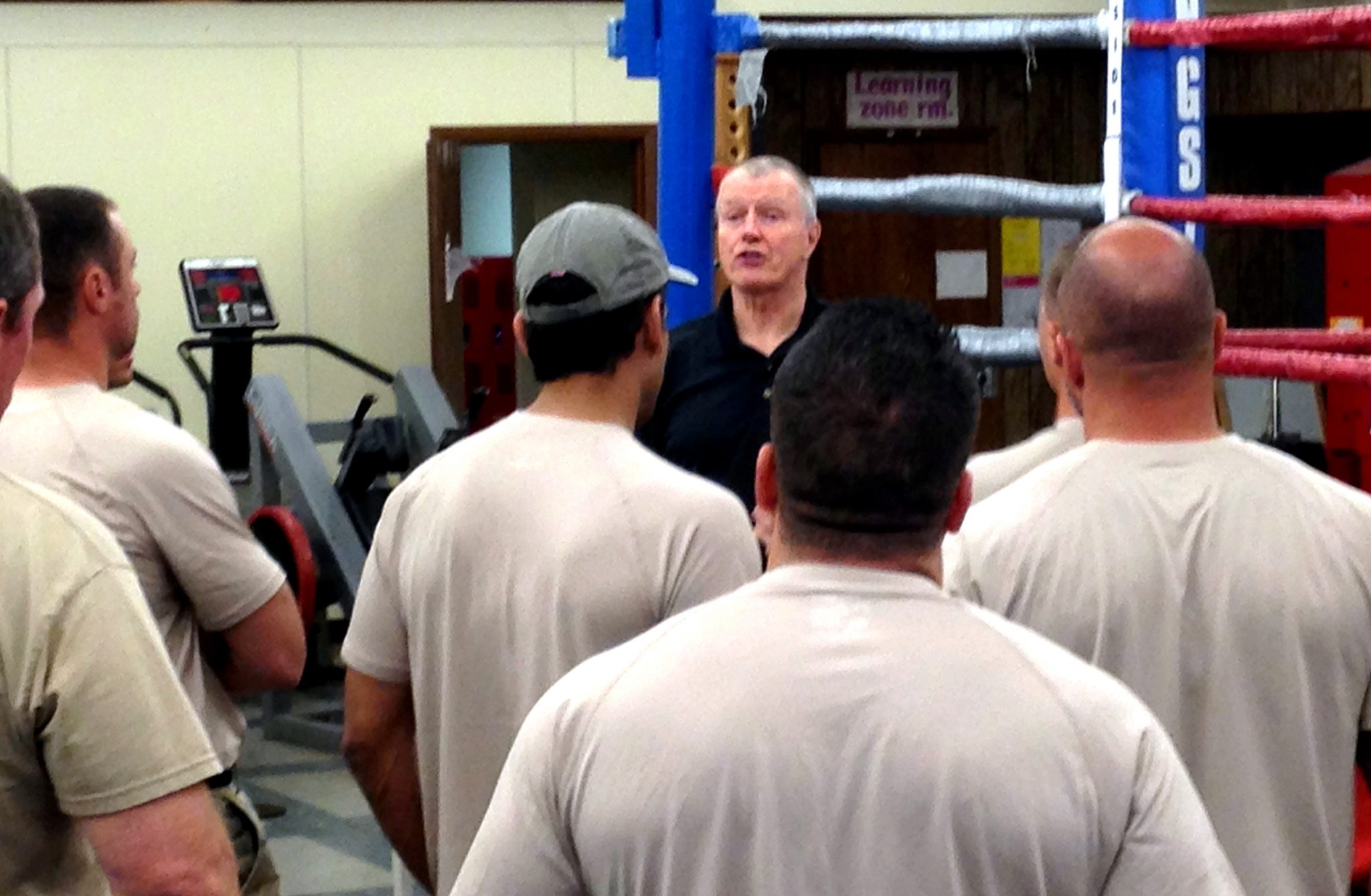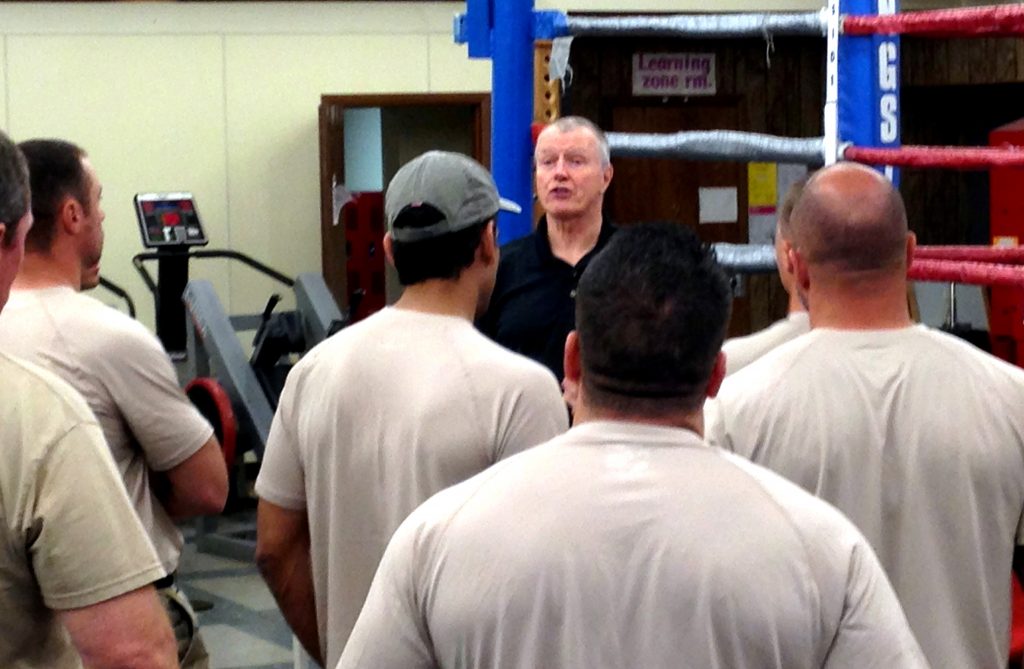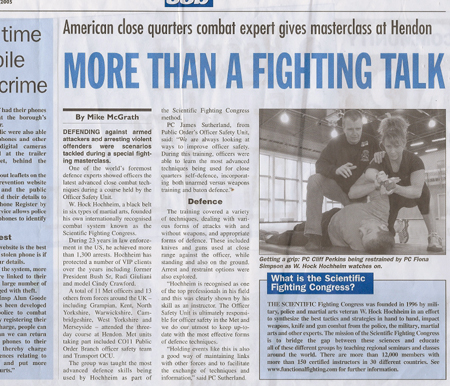 The British newspapers covered Hock while teaching at the London Metropolitan Police Academy back in 2005. 
Too many photos to run here. 
The Main Defender: Police Judo Modules:
An important outline/skeletal structure of these modules is the Stop 6 format. It is utilized throughout all training. The modules appear here in no special order. The Defender Training Modules and topics are designed to augment and add-on to the preexisting knowledge base of the average police academy and in-service school graduate and the experienced enforcement officer and agent. They already exists within agency use-of-force rules. The material is organized and customized into police-security related modules. The modules are based more on problem-solving the major personal, survival concerns of the working enforcement officer.
Defender Module: The Stop Six – the six common, physical, stopping points of an arrest or fight. Stop 1 covers counter-ambush, awareness, positioning and de-escalation.

Defender Module: Joint cranks-locks  – versus the unarmed, stick, knife and gun attacks.

Defender Module: The "While-Holding" Module – all strikes and kicks with and without holding weapons.

Defender Module: The Shove Exercise! Doing the shove and being shoved, and the "Fall," all in a mixed-weapon world.

Defender Module: Gun Arm Grappling! Enforcement counters to weapon quick draws and other armed threats.

Defender Module: The Bear-Hug-Clinch! Enforcement bear hugs, clinches, body rams and mixed weapon Arm grappling.

Defender Module: Enforcement Takedowns: The basic takedowns while holding pistols, batons, long guns.

Defender Module: Ground Zero! Enforcement Survival Ground Fighting Measures and Maneuvers.

Defender Module: Enforcement counters to sucker punches, strikes and tackles.

Defender Module: Enforcement pistol disarming and retention measures,

Defender Module: Enforcement impact weapon use, disarming and retention measures,
Defender Module: Enforcement knife measures: What LEOs need to know and practice!

Defender Module: Enforcement tactics vs. multiple opponents with mixed weapons.

Defender Module: You! Hostage! Enforcement measures when taken hostage.

Defender Module: Enforcement traffic stop defense from hand fights to gun fights.

Defender shooting modules with simulated ammo (numerous – see gun combat page).

Defender Module: Tactical Team Combat Skills, Drills and Team Building (in conjunction with other trainers) * Police Problem-Solving Modules constructed at your request
 Throughout these modules is Hock's unique "Stop Six" format , problem-solving fights, shoot-outs and arrests in the six common situational collisions
Certification in this program is a combination of the Force Necessary: Hand course, The Force Necessary: Gun course and the Force Necessary: Stick course (not the knife course.)
Some unsolicited, kind words about Hock and the Defender "Police Judo" style course…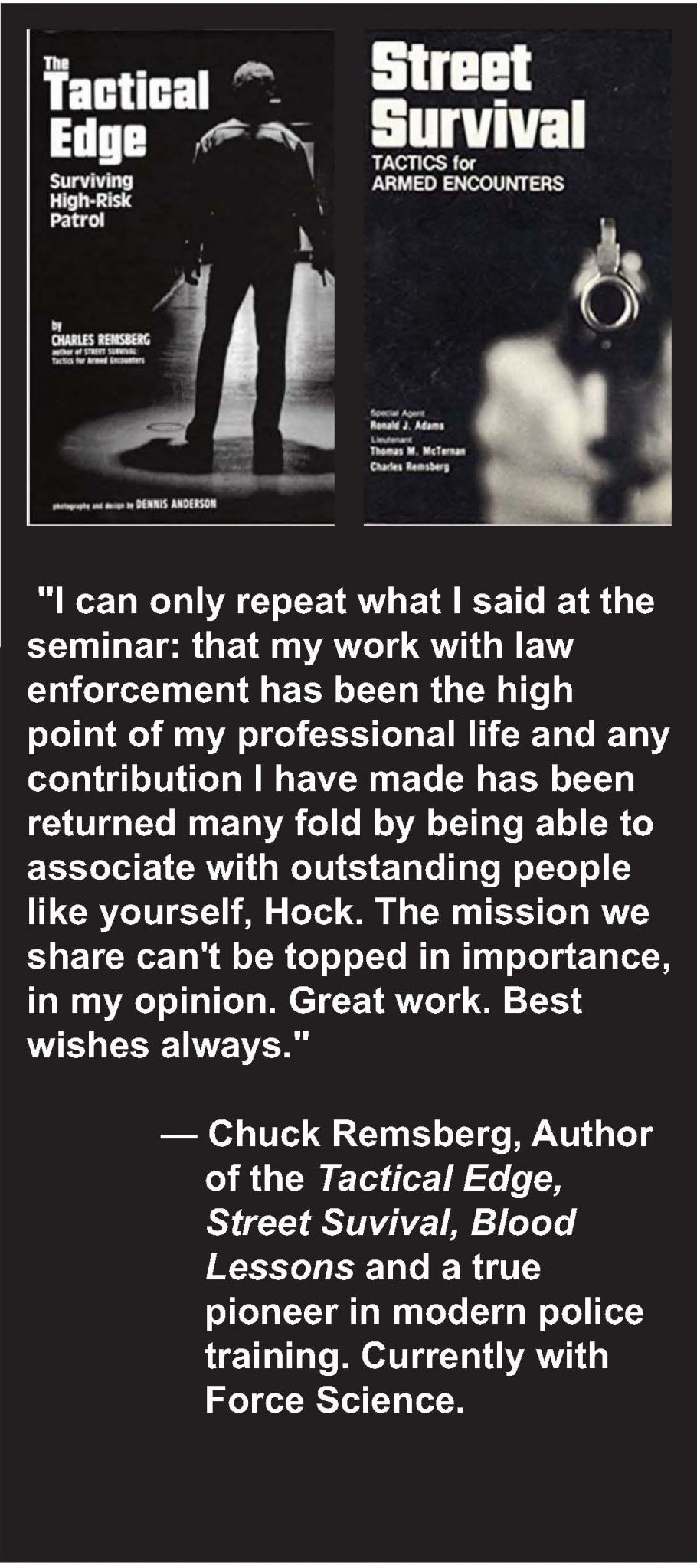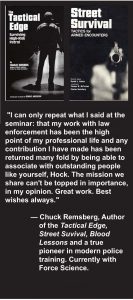 "Hi, Hock. I can only repeat what I said at the seminar: that my work with law enforcement has been the high point of my professional life and any contribution I have made has been returned many fold by being able to associate with outstanding people like yourself, Hock. The mission we share can't be topped in importance, in my opinion. Great work. Best wishes always."  – Chuck Remsberg, Author of the Tactical Edge, Street Survival, Blood Lessons and a true pioneer in modern police training. Currently with the prestigious, Force Science.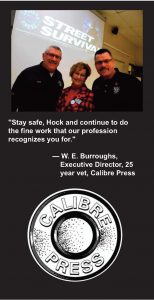 "Hock, stay safe, and continue to do the fine work that the profession recognizes you for." – W. E. Burroughs, Executive Director, 25 year vet, Calibre Press and LETN (Law Enforcement Training Network)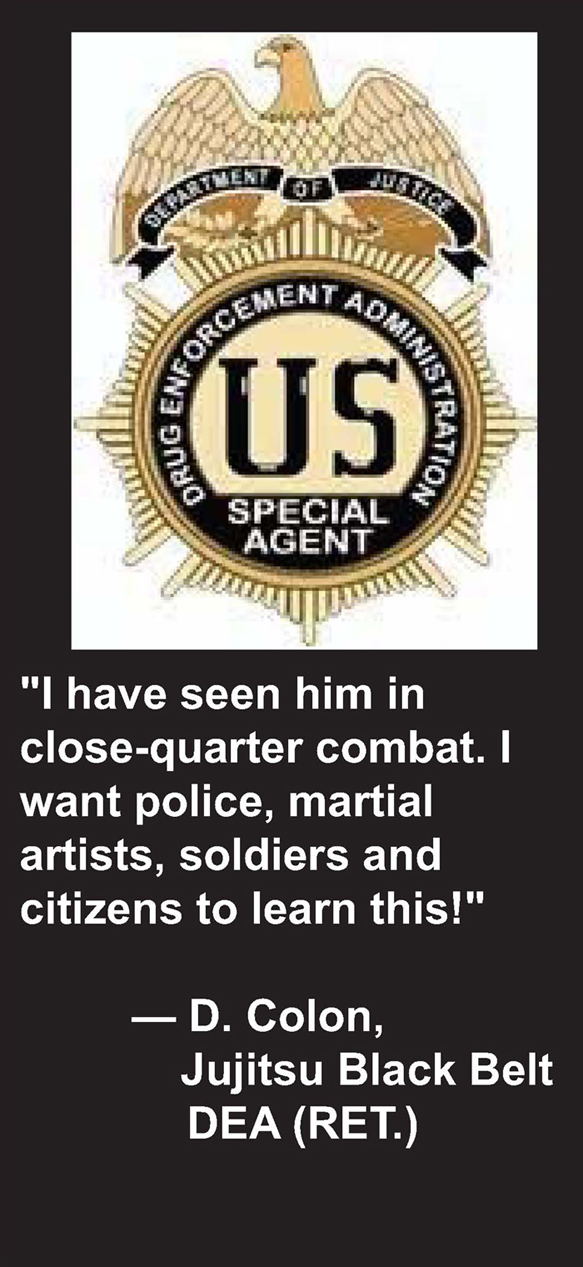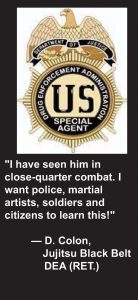 "I have seen him in close-quarter combat. I want police, martial artists, soldiers and citizens to learn this!"  – D. Colon, Jujitsu Black Belt, DEA (RET.)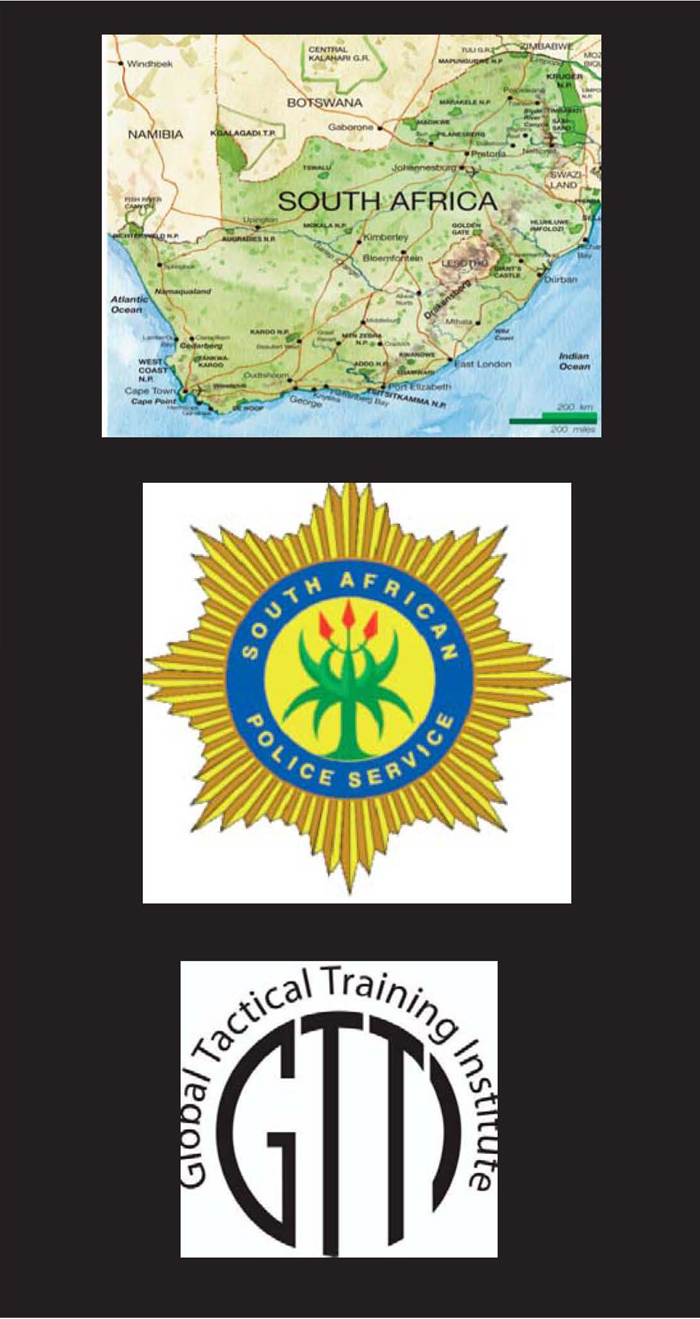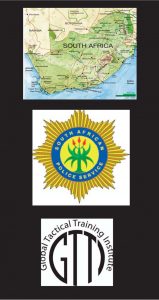 "Hock, thanks for the fantastic seminars in Johannesburg and thanks for teaching at our one national police academy. It was a real eye-opener and everybody thoroughly enjoyed themselves. The police special task forces were also impressed as well. I will be seeing them soon to introduce more of your material. You also made a big impression with the military guys from South African Special Forces. South Africa is looking forward to next year's seminar with great anticipation." – Mark Eekhof, former police,  now Director of Global Security, law enforcement vet, Johannesburg, South Africa


 "Hock is a retired patrolman and detective, "city" and military cop. He gears his training primarily to LEO's and soldiers. He will differentiate the finish for every technique based on YOUR individual needs. He shows a comprehensive game, start to finish, for police in accordance with a proper Use of Force continuum, and then take the technique and show the end game option available to the soldier. He trains police forces all over the world, i.e. England, Germany, Australia and Scandinavian. In all honesty, his training has been the most applicable and pertinent to Law Enforcement that I have ever been through – And I have been through damn near all of them. There are guys out there who have NEVER worn a badge, slinging their snake-oil "gospel" and police administrators are slobbering all over these guys, to buy into it. Not so with Hock. Those who know better, realize that he has a proven method that works in the realm of Law Enforcement. I don't receive dime-one for endorsing and recommending his training; I would be negligent as a Federal Defensive Tactics Instructor if I didn't give you the best of my knowledge. Department of Homeland Security and FLETC – Federal Law Enforcement Training Center sent ME and paid for it- And FLETC is the Agency that USFWS bases it's use of force policy on, or we wouldn't be training you guys." – Greg S. FLETC, Georgia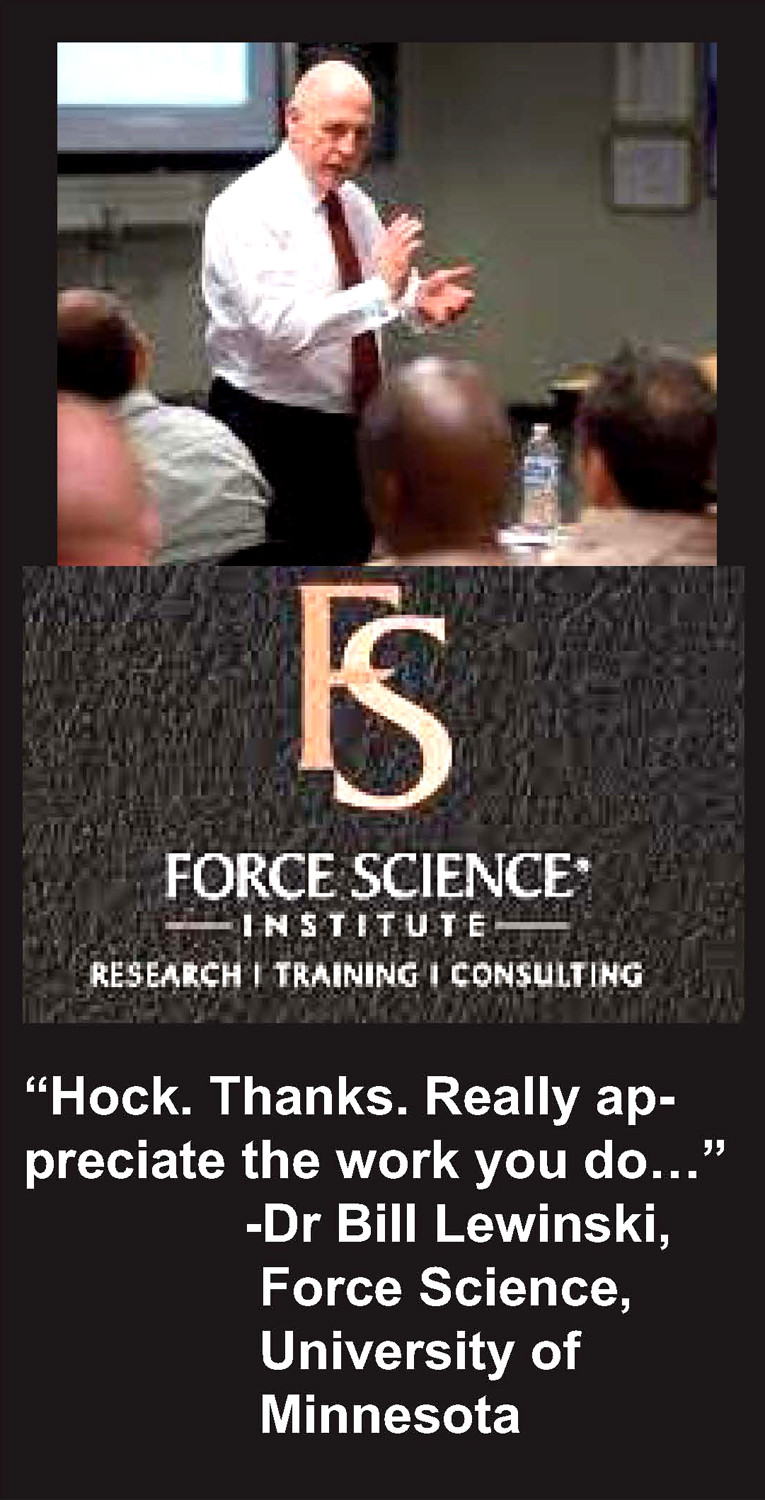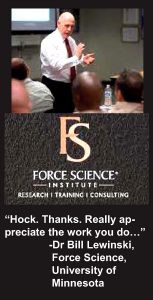 "Hock. Thanks. Really appreciate the work you do…" Dr Bill Lewinski, Force Science, University of Minnesota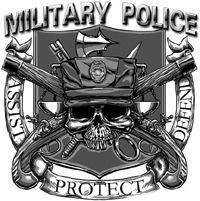 "My Marine unit at 29 Palms (military police) had a day training session with Hock in 2003 and I think to this day – June, 2010 – it's still one of the best defense training classes I've ever had. The man kept things real and in perspective, which is more than I can say for other training I've attended. I took a brief break from law enforcement, but I'm headed back into it, and as soon as my credibility is up to snuff in my new unit I will be suggesting we attend more Hock seminars." – Stephen. L. Clogston, USMC

"The officers told me that they learned more from you the first day than they have in years in years of training." – Commander Don Davis, La Paz Sheriff's office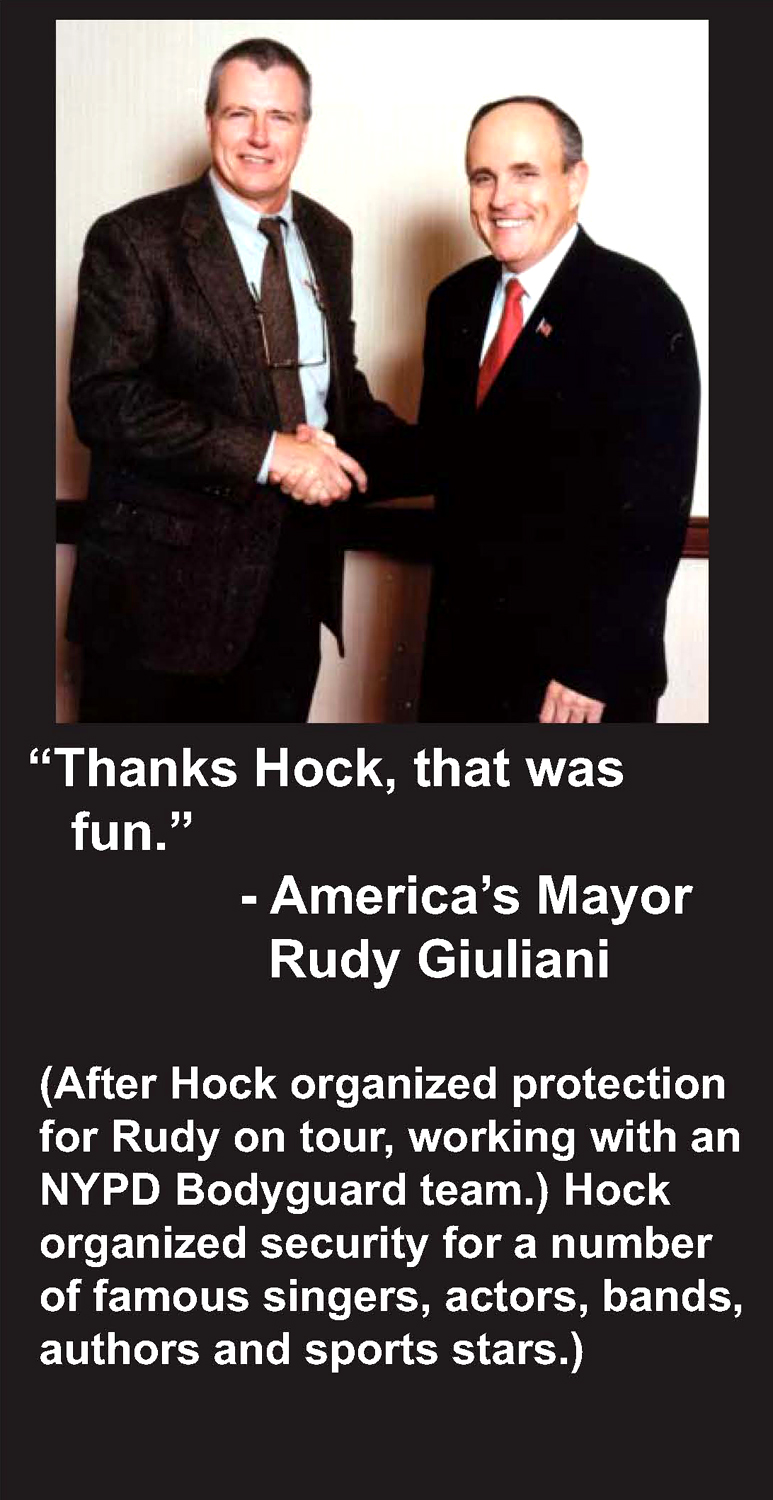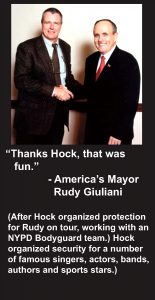 "Thanks, Hock, that was fun." – America's Mayor Rudy Giuliani
After Hock organized protection
for Rudy on a speaking tour, working with an NYPD Bodyguard team. (Hock has  
organized security for a number
of famous singers, actors, bands,
authors and sports stars. Even working with the Secret Service for two presidents – Bush Sr and Carter).
 "Hock, I have seen your tactics work again and again on the streets. You should be proud of yourself. I wonder how many lives you have saved throughout your years and you do not even know it. Looking forward to seeing you again." – Officer Stan Shupe, Hays Police Department , KS

"Hock! The _____ Brothers, both heroin "salesman" (caught them with 75 Bindles-intent to distribute), and needles on their person the other night!  One attacked me with a knife and he "experienced" the "Hock/red neck" version of an early phase knife disarm from yours truly.  Again, of all my instructors, titles, tests and rank … your teachings saved my a** again and again! THANKS MAN." – T. Pierce, Police Officer, North Carolina, USA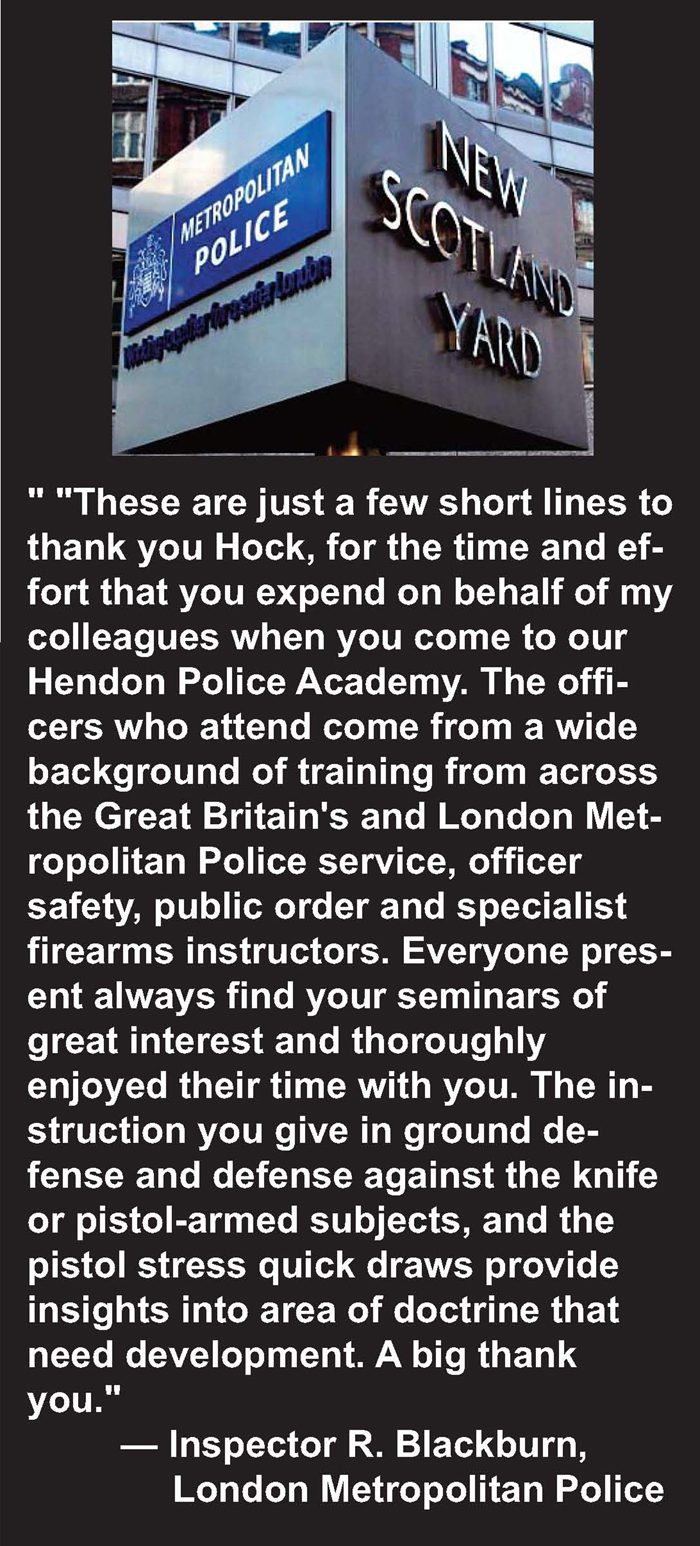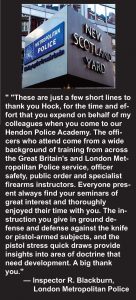 "These are just a few short lines to thank you Hock, for the time and effort that you expended on behalf of my colleagues when you  came to the Hendon Police Academy last week. The officers who attended came from a wide background of training from across the Great Britain's London Metropolitan Police service, officer safety, public order and specialist firearms instructors, all of whom were able to take something away. Everyone present found the seminar of great interest and thoroughly enjoyed their time with you. The instruction you gave in ground defense and defense against the knife or pistol-armed subjects, and the pistol stress quick draws provided insights into an area of doctrine that needs development. A big thank you."  – Inspector R. Blackburn, London Metropolitan Police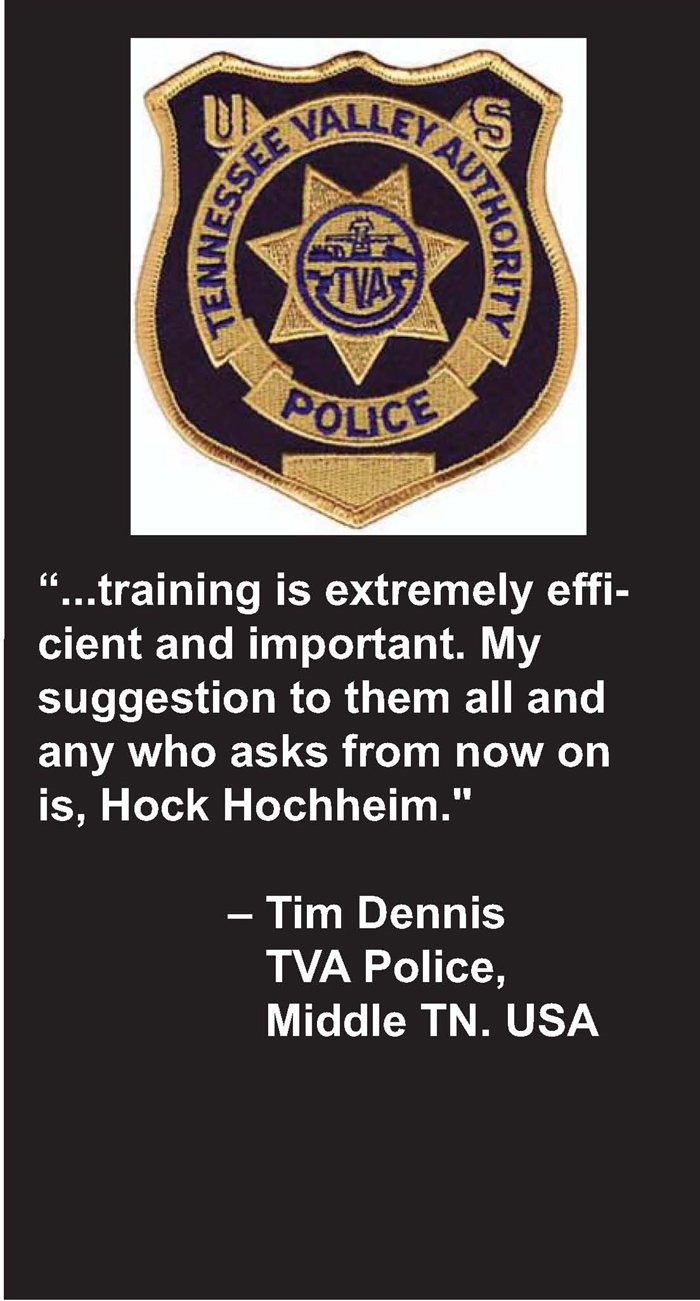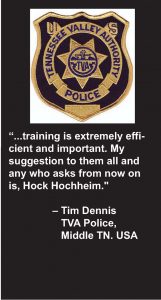 "Hock, Just wanted to write and say thanks for the training Saturday. I have been in law enforcement for 15 years. I attended the Tennessee Law Enforcement Training Academy initially and numerous officer survivor seminars since. A few years ago I attended the Federal Academy (FLETC). One of the instructors told me about you. I then became an ardent reader and follower of your articles and training philosophies. I must say that your seminar was by far the best practical/tactical training in which I have ever been exposed. Of course I was your stunt man for the day; therefore, I had a first hand experience of being whooped by you all day. It was great…to say the least. I believe the majority of law enforcement officers training is extremely deficient and not at all a reality. One only needs to remember the last so called tussle or fight he was in and then compare it to his training. If he/she is honest with themselves they will recognize the deficiency and seek out better more realistic avenues. My suggestion to them all and any who ask from now on is, Hock Hochheim's Scientific Fighting Congress." – Tim Dennis U.S. TVA Police, TN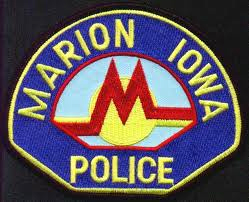 "All of us in law enforcement thank you for all that you do and have done for us to be safe – and all that you continue to do for us." – Bill Pechman, Marion, Iowa PD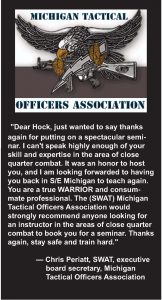 "Dear Hock: Just wanted to say thanks again for putting on a spectacular seminar. I can't speak highly enough of your skill and expertise in the area of close quarter combat. It was an honor to host you, and I am looking forwarded to having you back in Michigan to teach again. You are a true WARRIOR and consummate professional. The (SWAT) Michigan Tactical Officers Association would strongly recommend anyone looking for an instructor in the areas of close quarter combat to book you for a seminar. Thanks again, stay safe and train hard." – Chris Periatt Executive Board Secretary Michigan Tactical Officers Association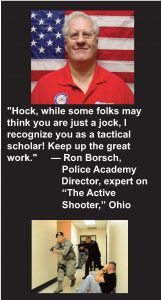 "Hock, while some folks may think you are just a jock, I recognize you as a tactical scholar! Keep up the great work." – Ron Borsch, Director of the SEALE Police Academy, Ohio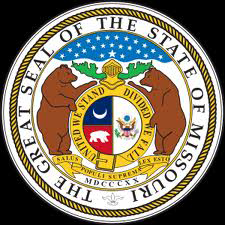 "All men may be created equal but some choose to train with Hock Hochheim. Glad I am one. Today, I once again faced an angry armed man with intent to kill me. Tonight, I am home safe and unharmed. Thank you Hock for teaching your fighting system, it has saved me more than once. Keep up the good fight." – K. Purvis, Professional Contractor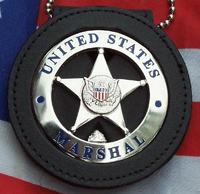 "Hock, just wanted to take a minute to thank you for the excellent instruction that I received this past weekend. It was by far one of the most practical, and useful seminars I have attended in a long time. I have already started implementing some of the skills in my Defensive Tactics classes here in San Diego. I gained a ton of insight from your stories and concepts. I will definitely be attending more of your seminars when I can, as well as pursuing rank advancement in your program. You have gained a lifelong student. I have followed your teachings through books and videos for some time, working with you in person was on another level. I look forward to training with you again in the future, and sincerely appreciate you sharing your knowledge with the Law Enforcement and Military communities. If there's ever anything I can do for you, please don't hesitate to reach out. Thanks again." – Johnnie Medina, United States Marshall
 For more of Hock Hochheim's police, military, martial arts and citizen endorsements visit his Endorsement Page.