Here Are Unsolicited Recommendations for Hock Hochheim…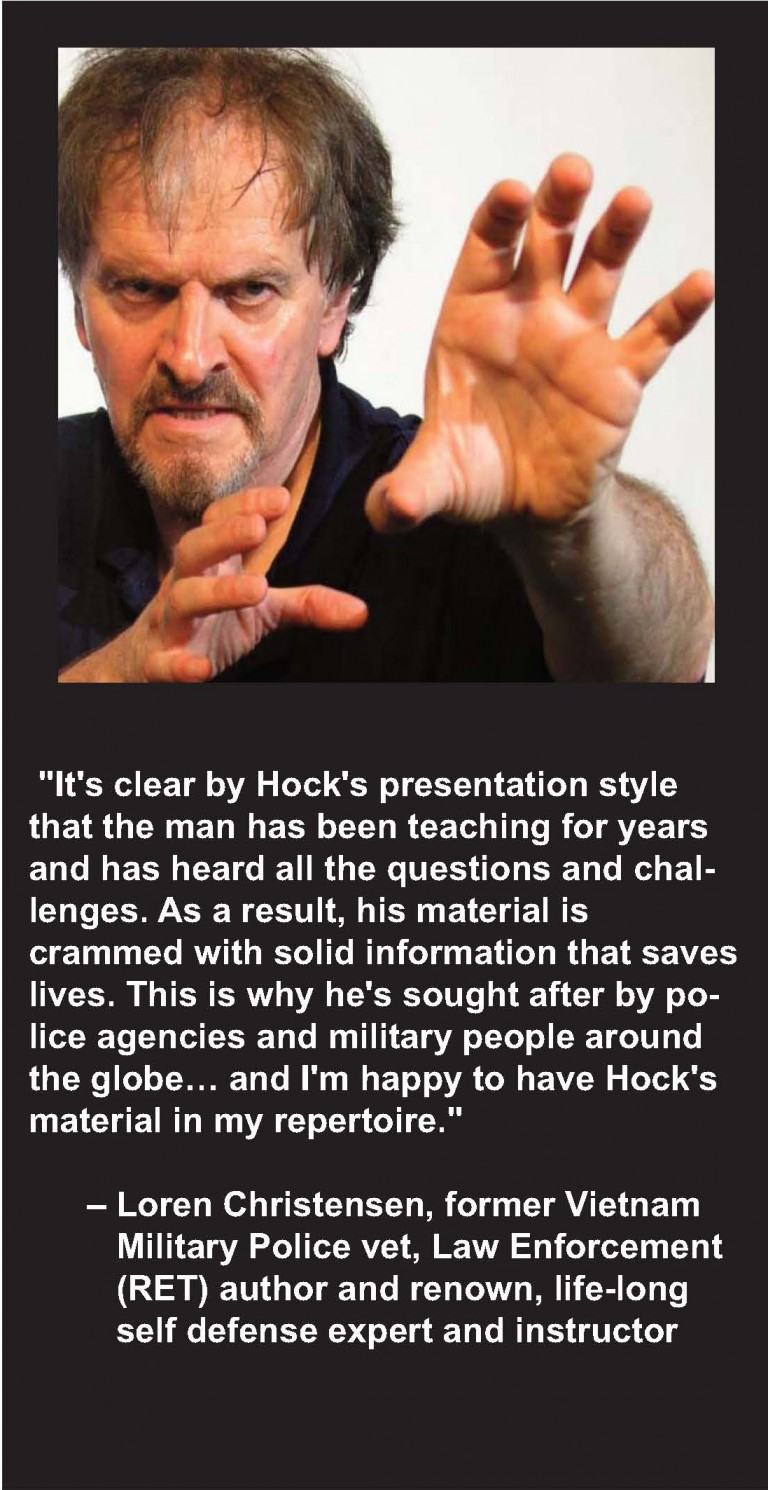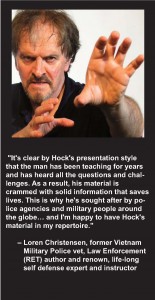 "It's clear by Hock's presentation style that the man has been teaching for years and has heard all the questions and challenges…as a result, his material is crammed with solid information that saves lives. This is why he's sought after by police agencies and military people around the globe… and I'm happy to have Hock's material in my repertoire."
– Loren Christensen, former Vietnam Military Police vet, Law Enforcement (RET) author and renown self defense instructor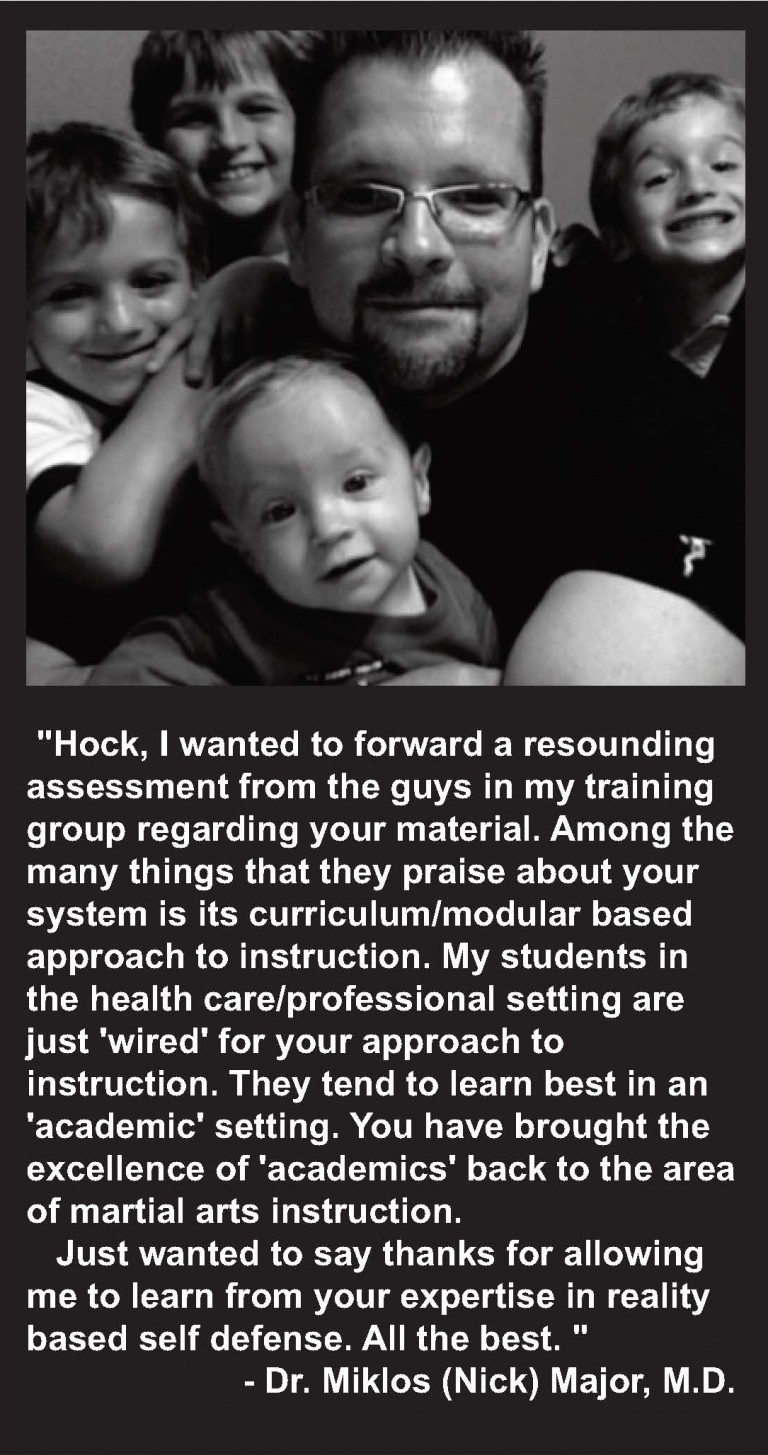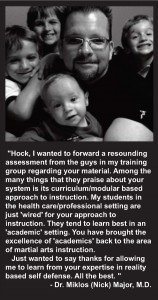 "Hock, I wanted to forward a resounding assessment from the guys in my training group regarding your material. Among the many things that they praise about your system is its curriculum/modular based approach to instruction. My students in the health care/professional setting are just 'wired' for your approach to instruction. They tend to learn best in an 'academic' setting. You have brought the excellence of 'academics' back to the area of martial arts instruction. Just wanted to say thanks for allowing me to learn from your expertise in reality based self defense. All the best."  – Dr. Miklos (Nick) Major, M.D. ,Texas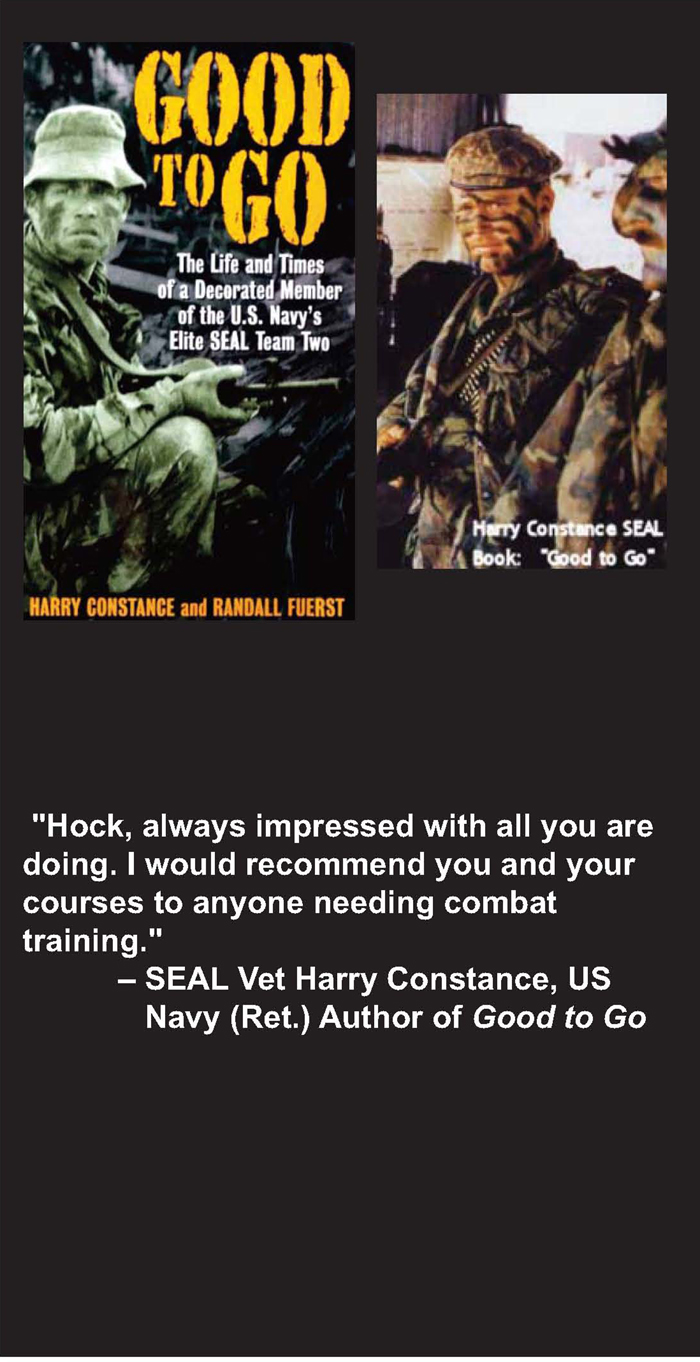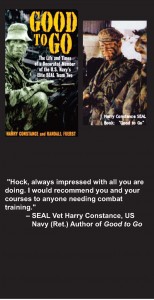 "Hock, always impressed with all you are doing. I would recommend you and your courses to anyone needing combat training." – SEAL Vet Harry Constance, US Navy (Ret.) Author of Good to Go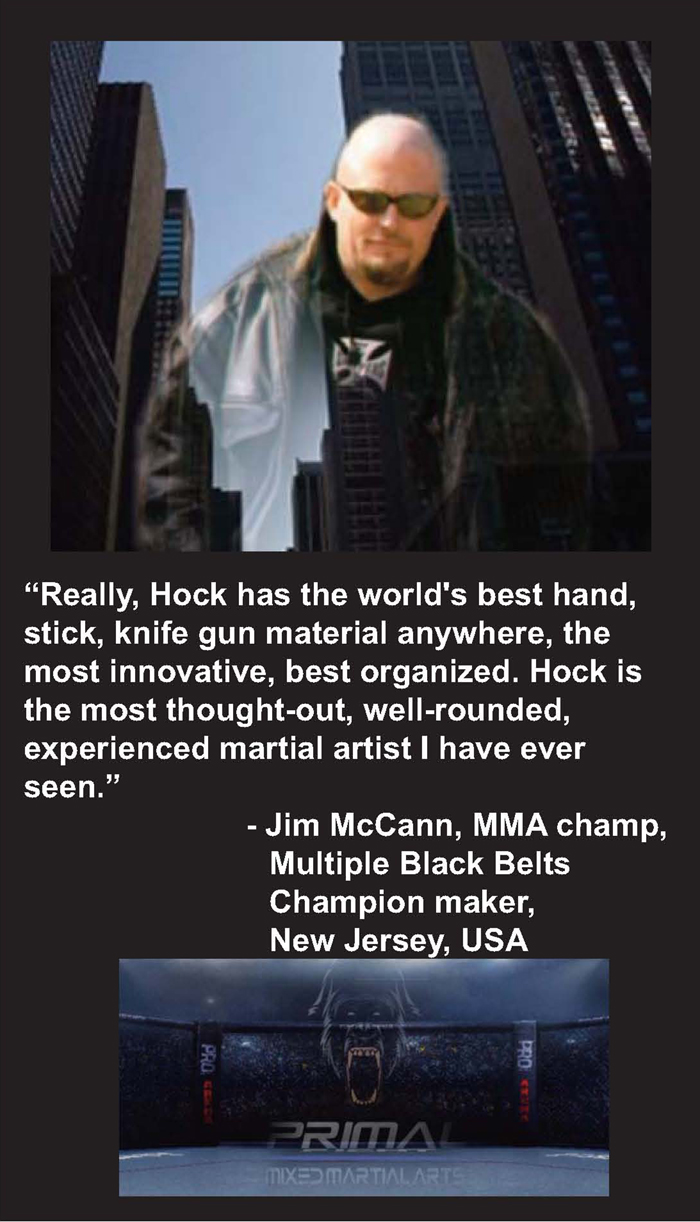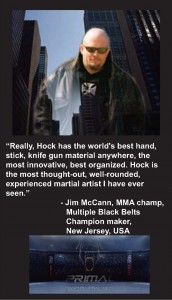 "Really, Hock has the world's best hand, stick, knife gun material anywhere, the most innovative, best organized. Hock is the most thought-out, well-rounded, experienced martial artist I have ever seen."
– Jim McCann, MMA champ, Multiple Black Belts, Champion-maker, New Jersey, USA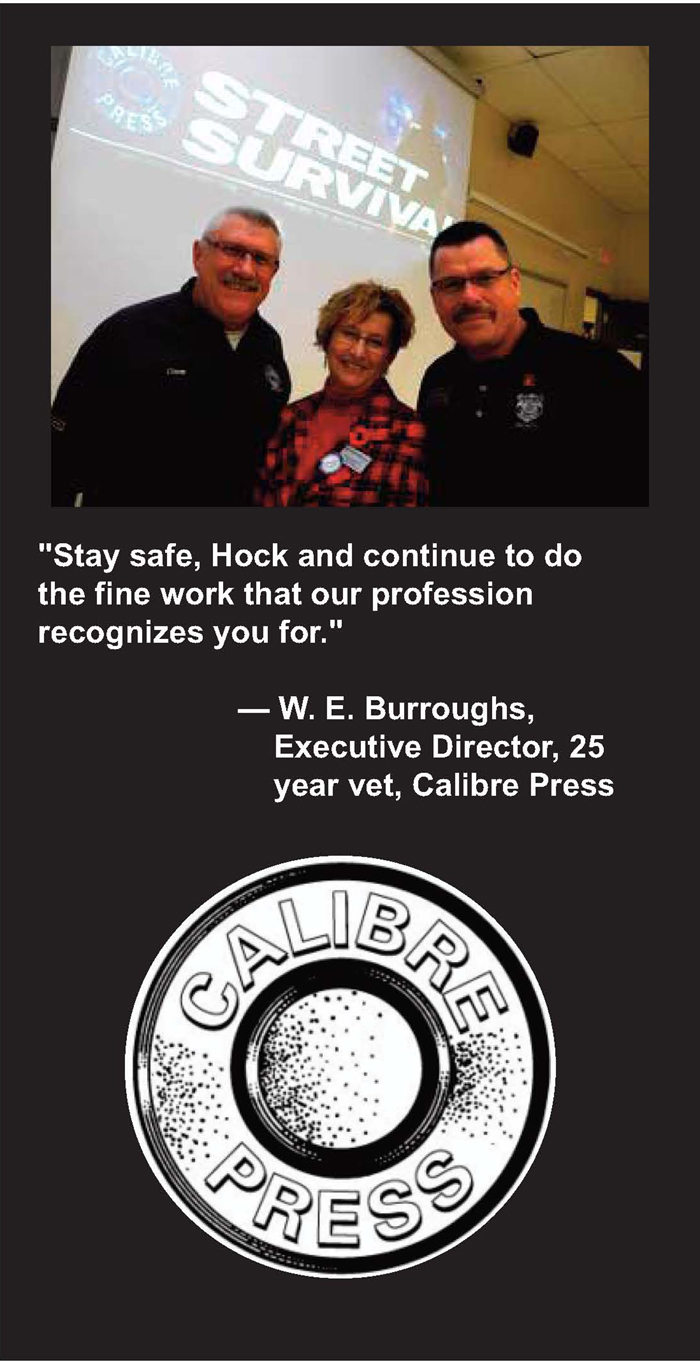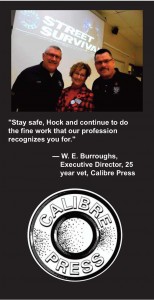 "Stay safe, Hock and continue to do the fine work that our profession recognizes you for."
   — W. E. Burroughs, Executive Director, 25 year police vet, Calibre Press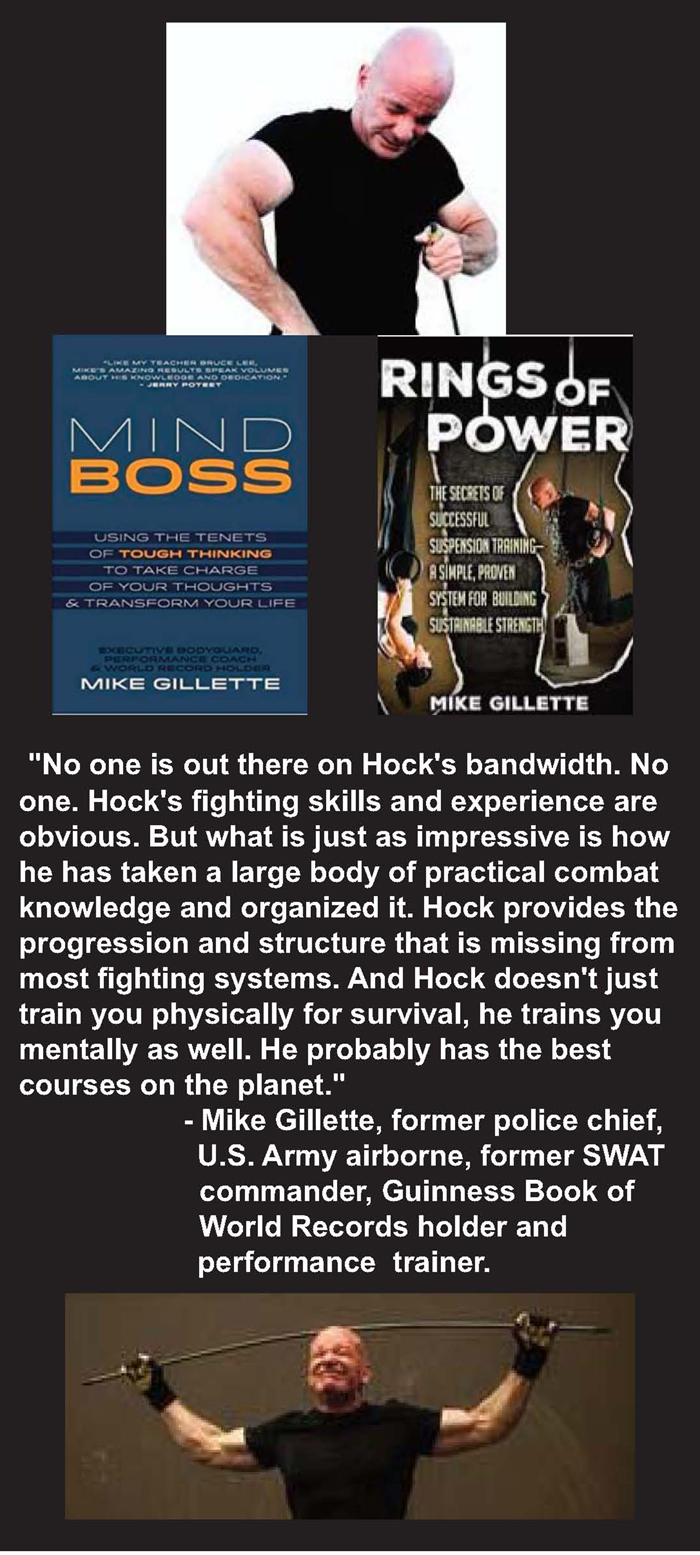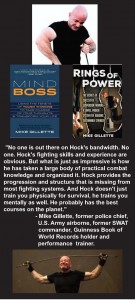 "No one is out there on Hock's bandwidth. No one. Hock's fighting skills and experience are obvious. But what is just as impressive is how he has taken a large body of practical combat knowledge and organized it. Hock provides the progression and structure that is missing from most fighting systems. And Hock doesn't just train you physically for survival, he trains you mentally as well. He probably has the best courses on the planet." – Mike Gillette, former police chief, U.S. Army airborne, former SWAT commander, Guinness Book of World Records holder and performance  trainer.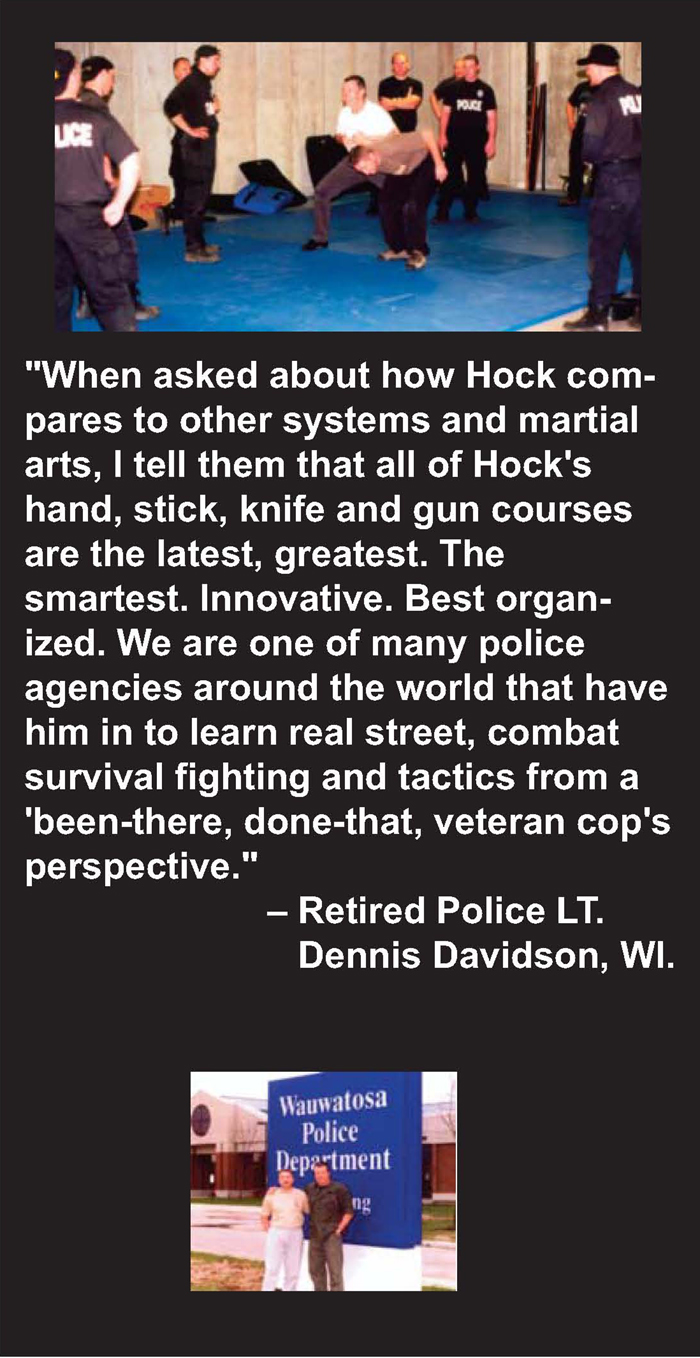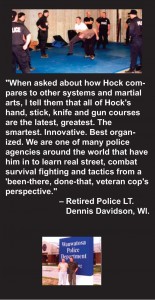 "When asked about how Hock compares to other systems and martial arts, I tell them that all of Hock's hand, stick, knife and gun courses are the latest, greatest. The smartest. Innovative. Best organized. We are one of many police agencies around the world that have him in to learn real street, combat survival fighting and tactics from a 'been-there, done-that, veteran cop's perspective." – Police LT. Dennis Davidson, WI.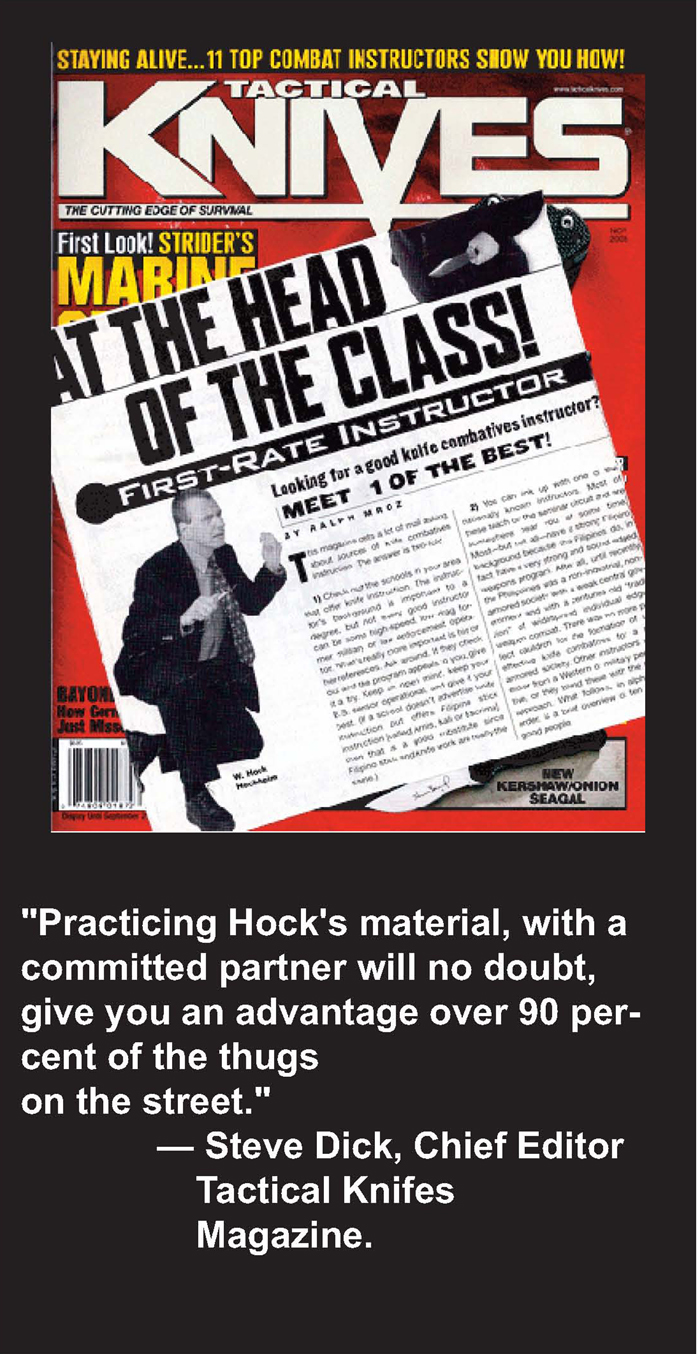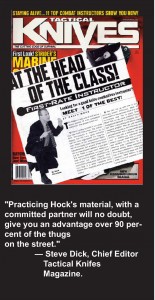 "Practicing Hock's material, with a committed partner will no doubt, give you an advantage over 90 percent of the thugs on the street." — Steve Dick, Special Forces vet and former Chief Editor Tactical Knifes Magazine 


"Hock is a retired patrolman and detective. He gears his Police Judo training to LEO's and soldiers. He will differentiate the finish for every technique based on YOUR individual needs. He shows a comprehensive game, start to finish, for police in accordance with a proper Use of Force continuum, and then take the technique and show the end game option available to the soldier. He trains police forces all over the world, i.e. England, Germany, Australia and Scandinavian.    In all honesty, his training has been the most applicable and pertinent to law enforcement that I have ever been through – And I have been through damn near all of them. There are guys out there who have NEVER worn a badge, slinging their snake-oil "gospel" and police administrators are slobbering all over these guys, to buy into it. Not so with Hock. Those who know better realize that he has a proven method that works in the realm of law enforcement. I don't receive dime-one for endorsing and recommending his training; I would be negligent as a Federal Defensive Tactics Instructor if I didn't give you the best of my knowledge. Department of Homeland Security and FLETC – Federal Law Enforcement Training Center sent me and paid for it. And FLETC is the Agency that USFWS bases its Use of Force policy on or we wouldn't be training you guys." —  Greg S. FLETC – Federal Law Enforcement Training Center, Georgia, USA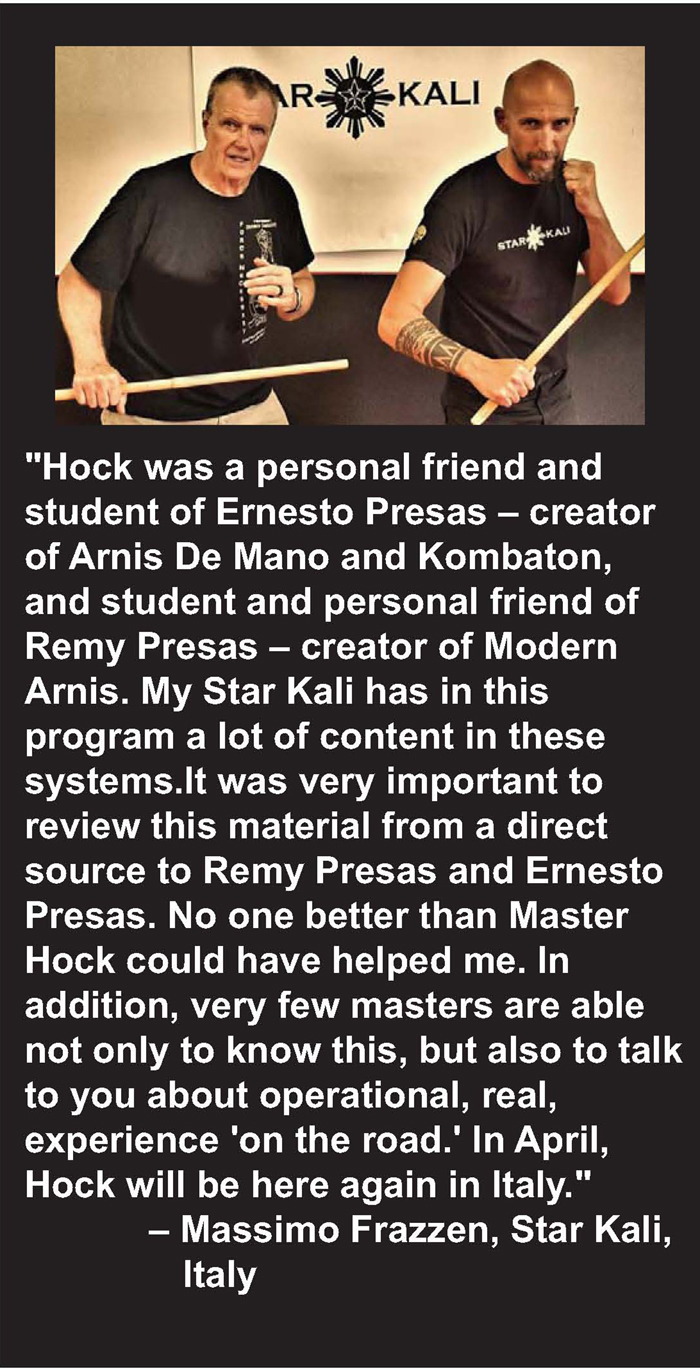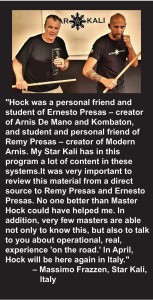 "Hock was a personal friend and student of Ernesto Presas – creator of Arnis De Mano and Kombaton, and student and personal friend of Remy Presas – creator of Modern Arnis. My Star Kali has in this program a lot of content in these systems.It was very important to review this material from a direct source to Remy Presas and Ernesto Presas. No one better than Master Hock could have helped me. In addition, very few masters are able not only to know this, but also to talk to you about operational, real, experience 'on the road.' In April, Hock will be here again in Italy."  – Massimo Frazzen, Star Kali, Italy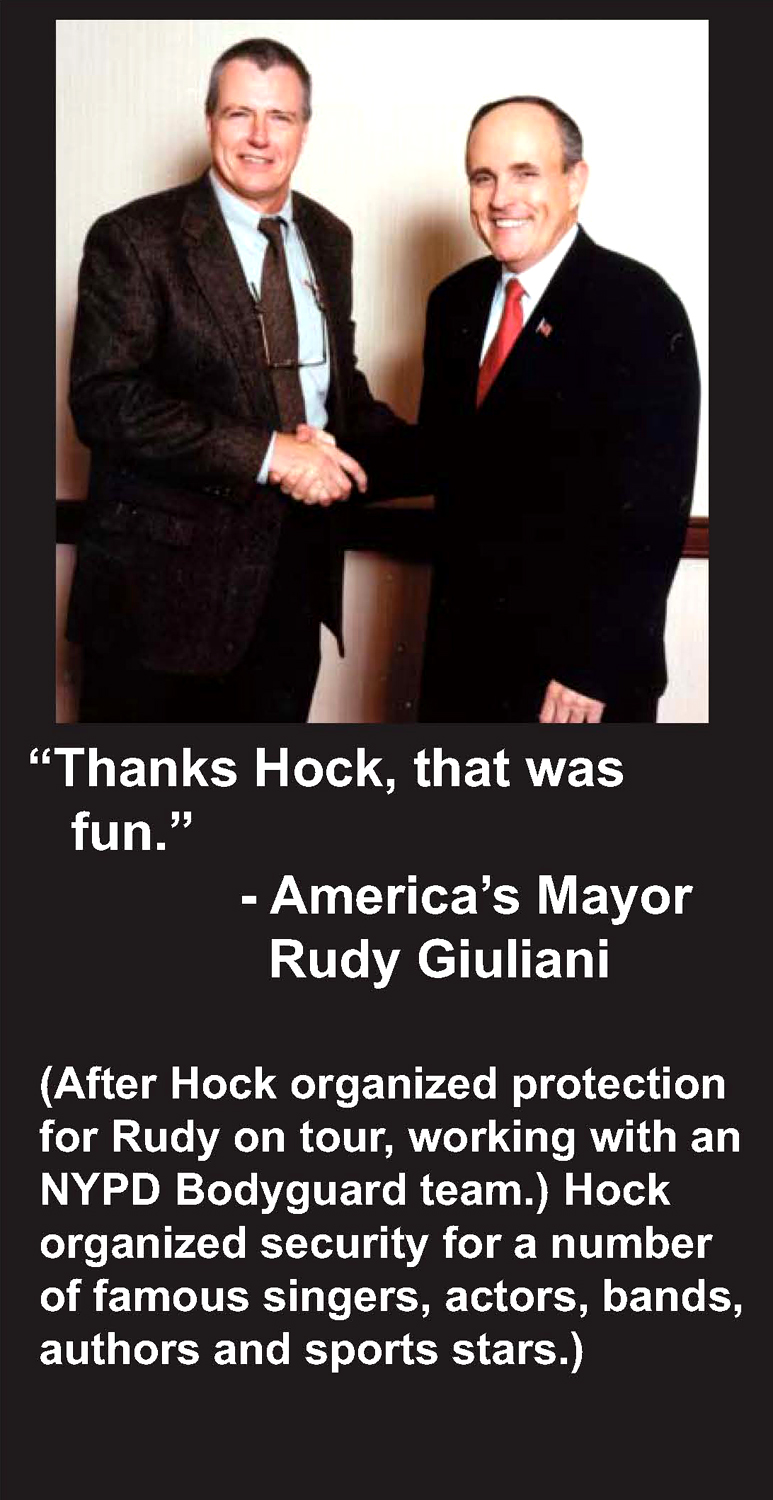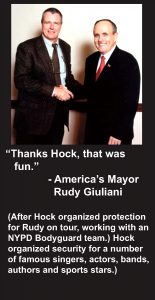 "Thanks, Hock, that was fun." – America's Mayor Rudy Giuliani
After Hock organized protection
for Rudy on a speaking tour, working with an NYPD Bodyguard team. (Hock has  organized security for a number of famous singers, actors, bands,
authors and sports stars. Even working with the Secret Service for two presidents – Bush Sr. and Jimmy Carter).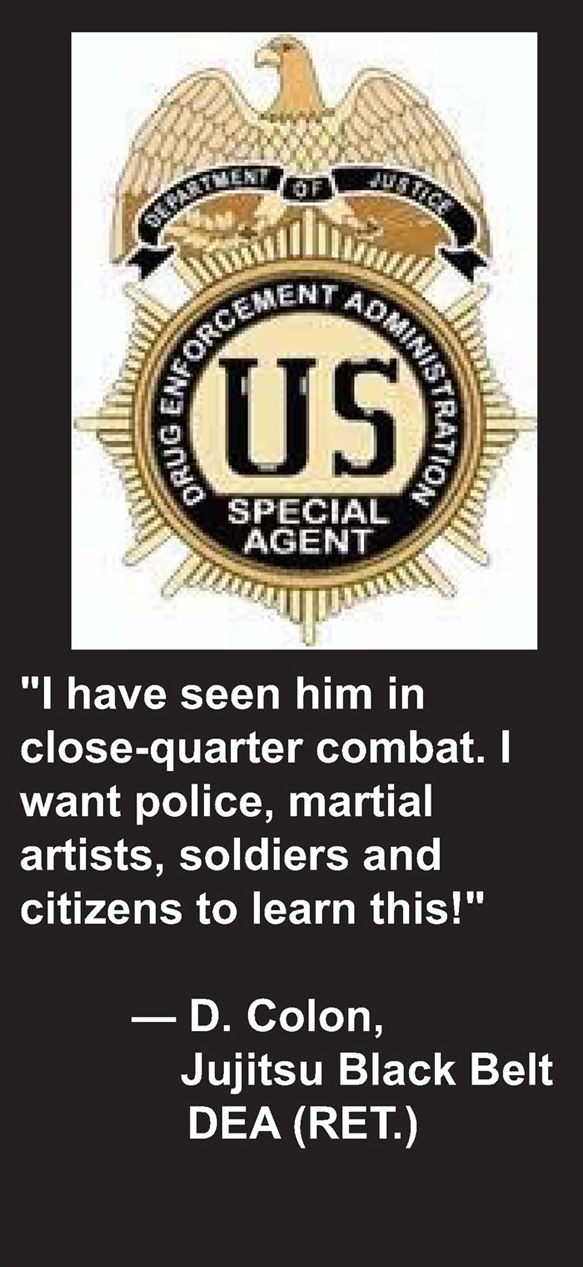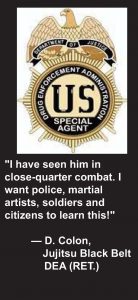 "I have seen him in close-quarter combat. I want police, martial artists, soldiers and citizens to learn this and what he does!"  — D. Colon, Jujitsu Black Belt, DEA (RET.)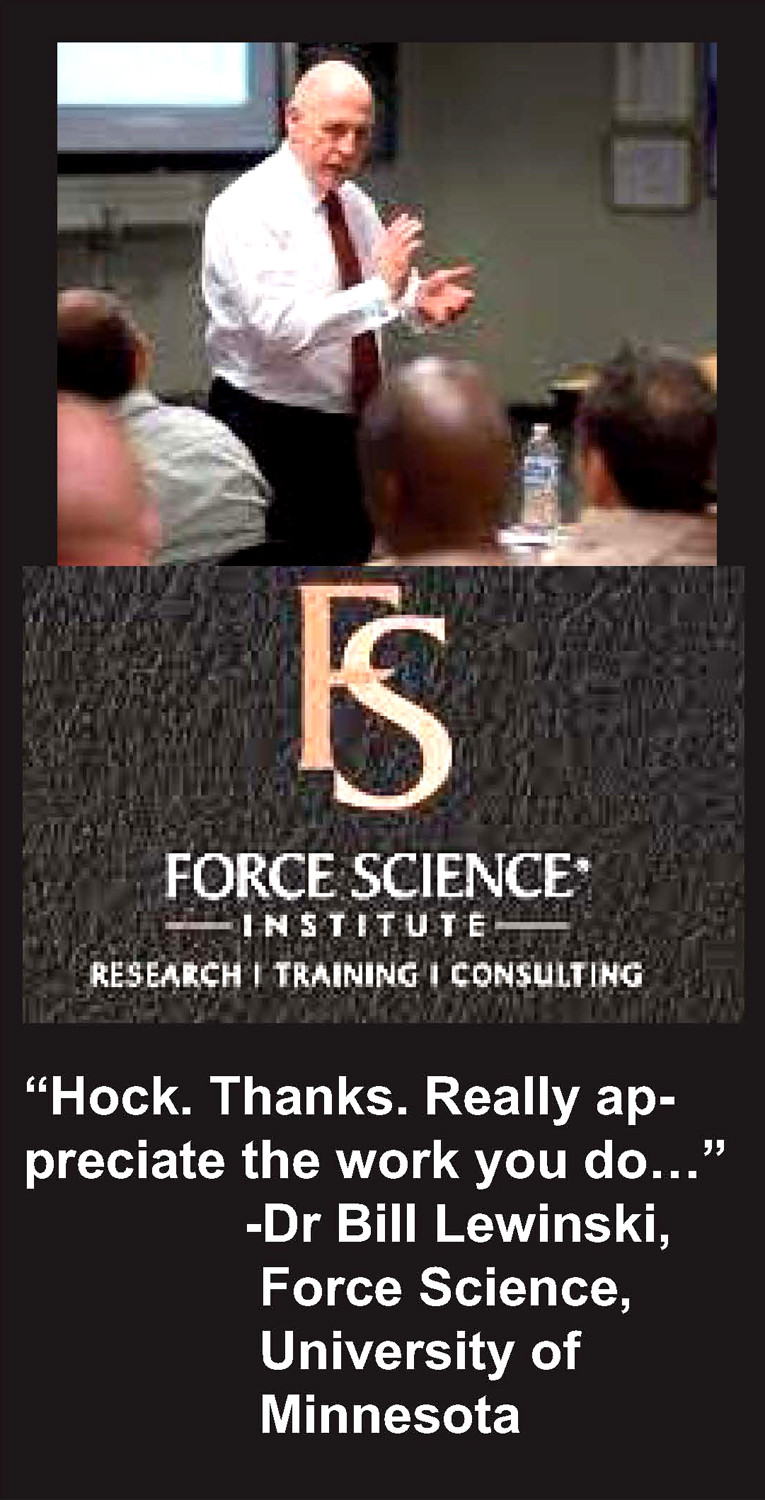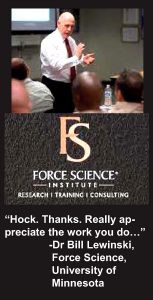 "Hock. Thanks. Really appreciate the work you do…" Dr Bill Lewinski, Force Science, University of Minnesota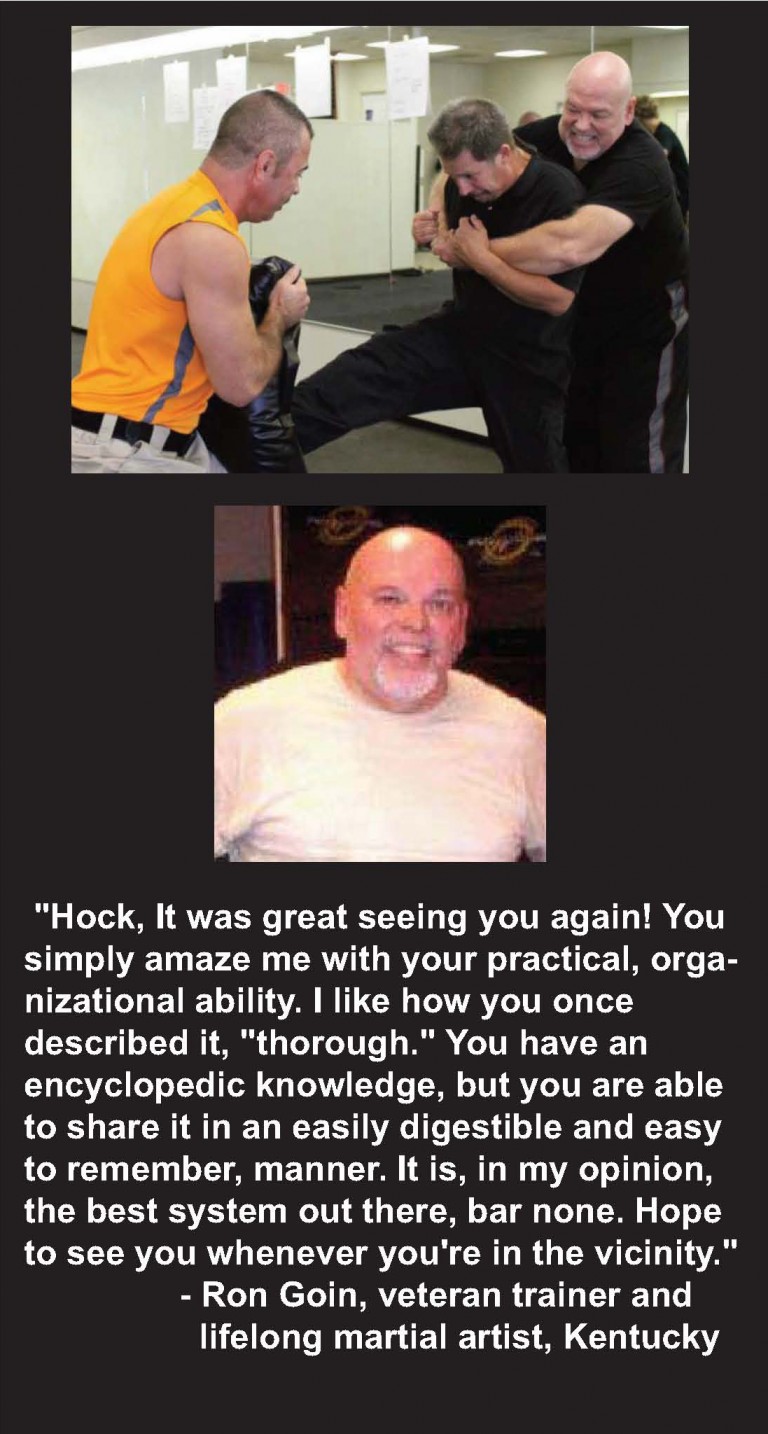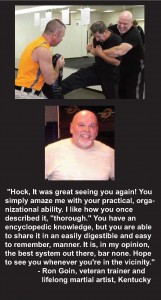 "Hock, It was great seeing you again! You simply amaze me with your practical, organizational ability. I like how you once described it, "thorough." You have an encyclopedic knowledge, but you are able to share it in an easily digestible and easy to remember, manner. It is, in my opinion, the best system out there, bar none. Hope to see you whenever you're in the vicinity." – Ron Goin, veteran trainer and lifelong martial artist, Kentucky, USA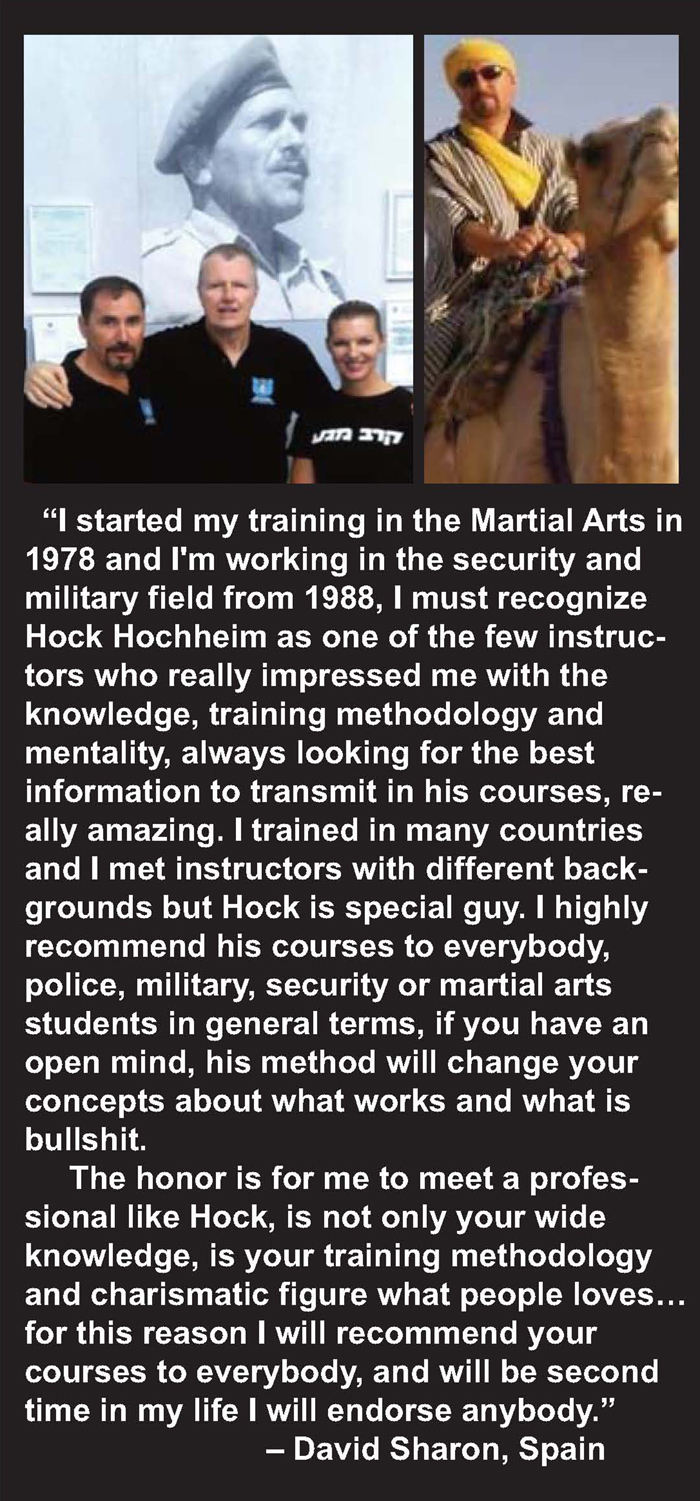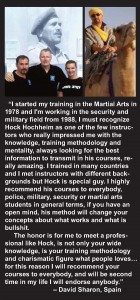 "I started my training in the Martial Arts in 1978 and I'm working in the security and military field from 1988, I must recognize Hock Hochheim as one of the few instructors who really impressed me with the knowledge, training methodology and mentality, always looking for the best information to transmit in his courses, really amazing. I trained in many countries and I met instructors with different backgrounds but Hock is special guy. I highly recommend his courses to everybody, police, military, security or martial arts students in general terms, if you have an open mind, his method will change your concepts about what works and what is bullshit. The honor is for me to meet a professional like Hock, is not only your wide knowledge, is your training methodology and charismatic figure what people loves…for this reason I will recommend your courses to everybody, and will be second time in my life I will endorse anybody."    – David Sharon, Military Vet and Trainer, Spain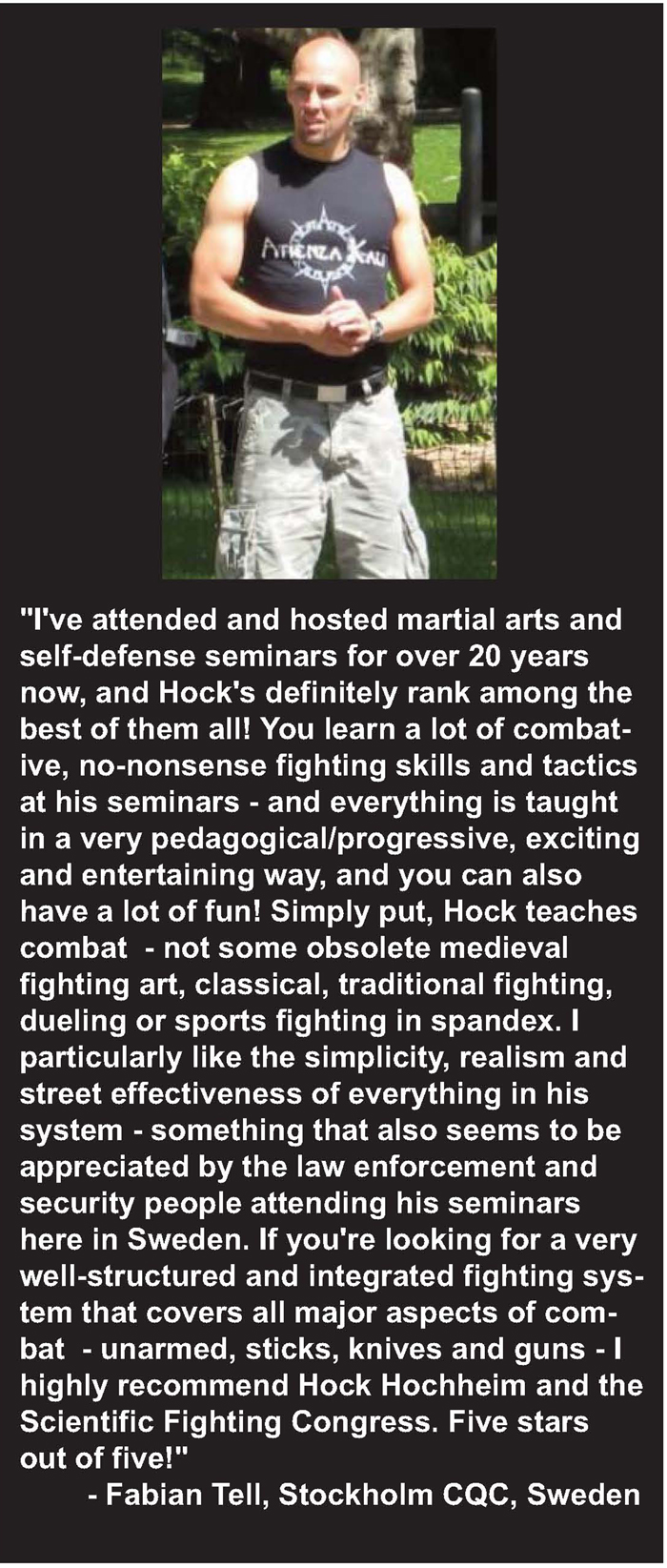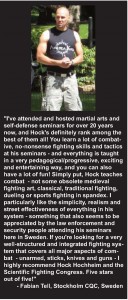 "I've attended and hosted martial arts and self-defense seminars for over 20 years now, and Hock's definitely rank among the best of them all! You learn a lot of combative, no-nonsense fighting skills and tactics at his seminars – and everything is taught in a very pedagogical/progressive, exciting and entertaining way, and you can also have a lot of fun! Simply put, Hock teaches combat  – not some obsolete medieval fighting art, classical, traditional fighting, dueling or sports fighting in spandex. I particularly like the simplicity, realism and street effectiveness of everything in his system – something that also seems to be appreciated by the law enforcement and security people attending his seminars here in Sweden. If you're looking for a very well-structured and integrated fighting system that covers all major aspects of combat  – unarmed, sticks, knives and guns – I highly recommend Hock Hochheim and the Scientific Fighting Congress. Five stars out of five!" – Fabian Tell, Stockholm CQC, Sweden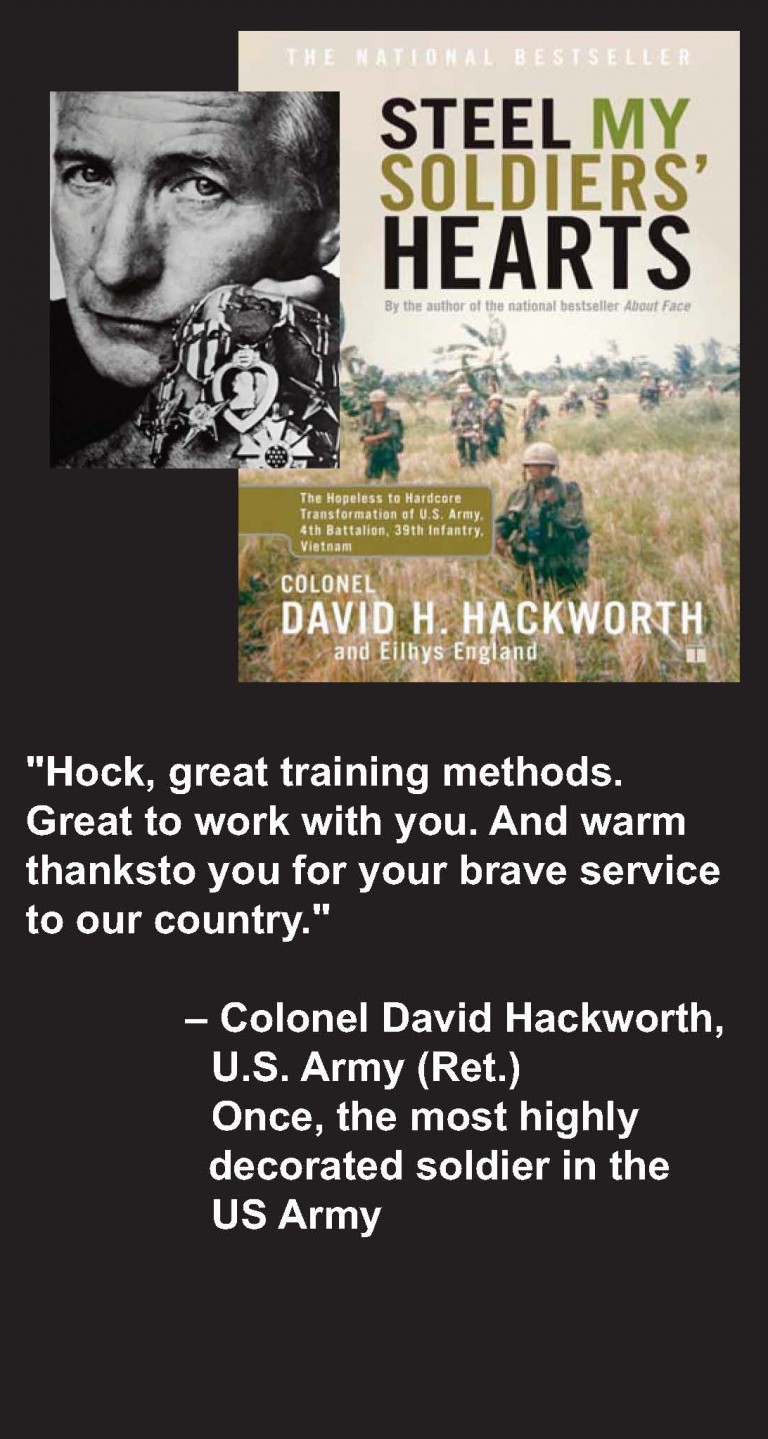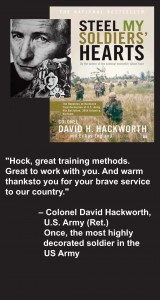 "Hock, great training methods. Great to work with you. And warm thanks to you for your brave service to our country."  – Colonel David Hackworth, U.S. Army (Ret.) WW II Vet, Korean War Vet, Vietnam Vet, Once, the most highly decorated soldier in the US Army, author, TV news consultant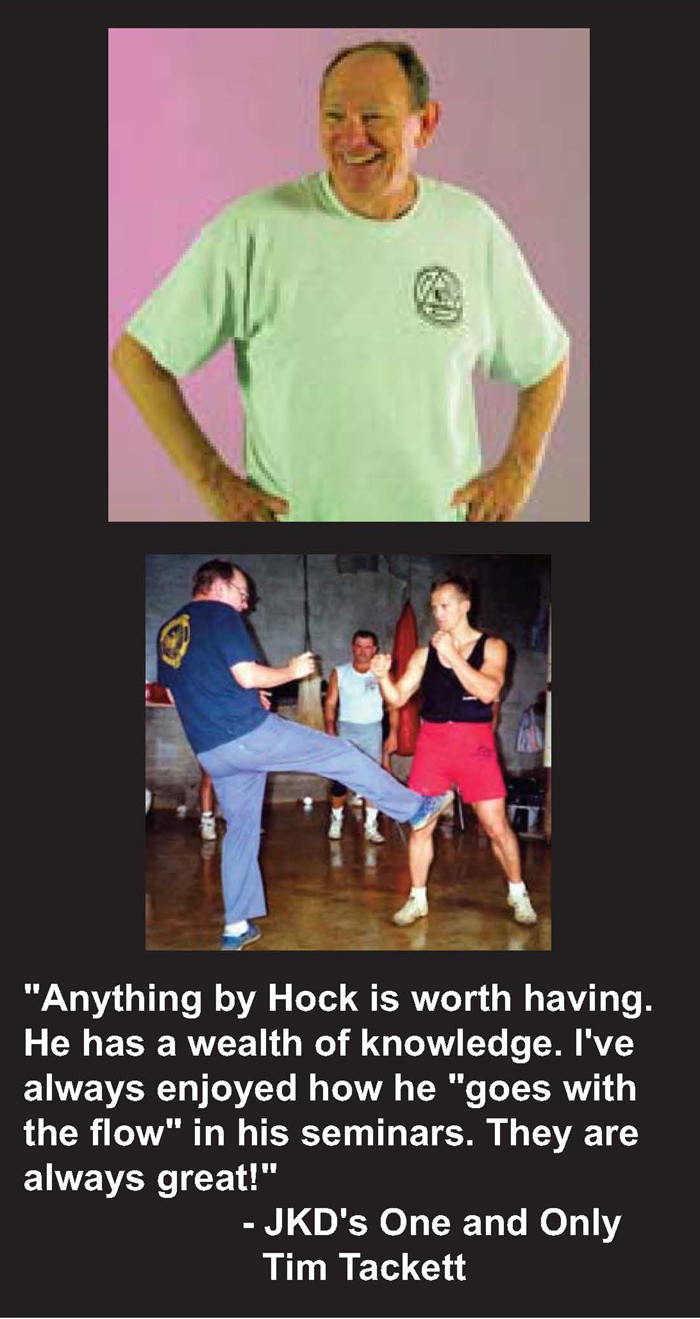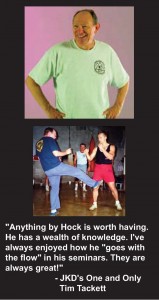 "Anything by Hock is worth having. He has a wealth of knowledge. I've always enjoyed how he "goes with the flow" in his seminars. They are always great! He is a great teacher."
– JKD's One and Only Tim Tackett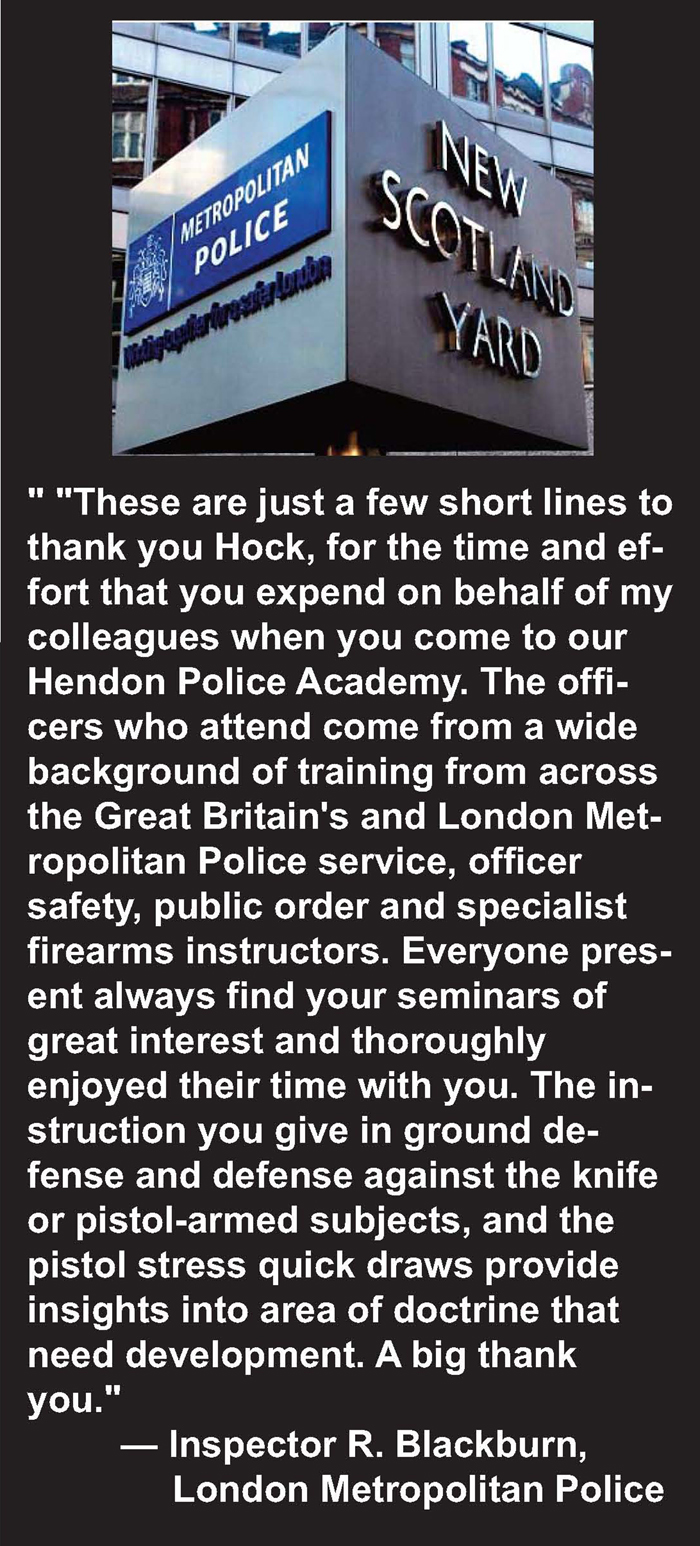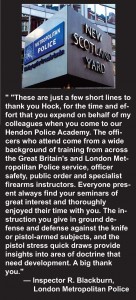 "These are just a few short lines to thank you Hock, for the time and effort that you expend on behalf of my colleagues when you come to our Hendon Police Academy. The officers who attend come from a wide background of training from across the Great Britain's and London Metropolitan Police service, officer safety, public order and specialist firearms instructors. Everyone present always find your seminars of great interest and thoroughly enjoyed their times with you. The instruction you give in topics like ground defense and defense against the knife or pistol-armed subjects, and the pistol stress quick draws provide insights into area of doctrine that need development. A big thank you." — Inspector R. Blackburn, London Metropolitan Police, England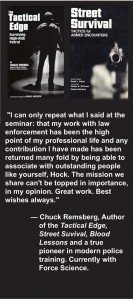 "I can only repeat what I said at the seminar: that my work with law enforcement has been the high point of my professional life and any contribution I have made has been returned many fold by being able to associate with outstanding people like yourself, Hock. The mission we share can't be topped in importance, in my opinion. Great work. Best wishes always."  — Chuck Remsberg, Author of the Tactical Edge, Street Suvival, Blood Lessons and a true pioneer in modern police training. Currently with the prestigious, Force Science.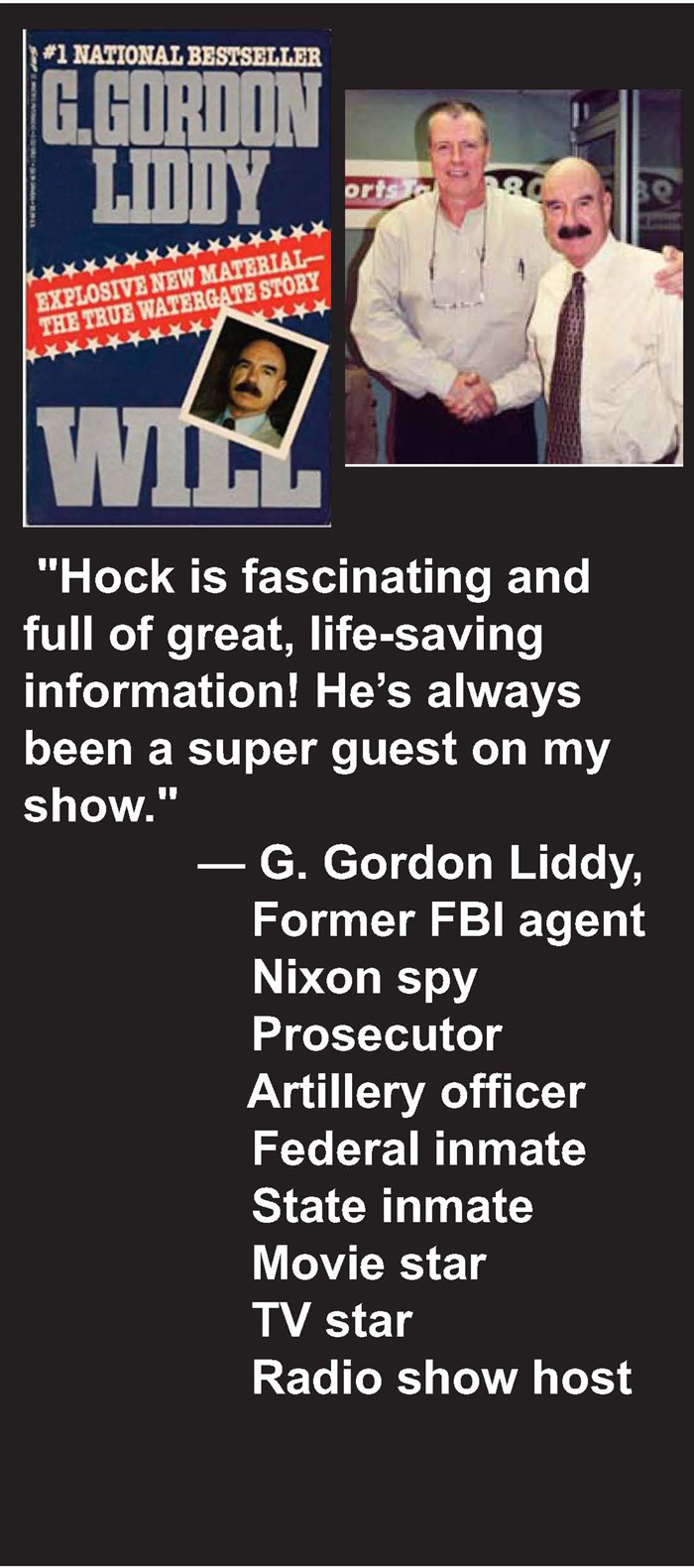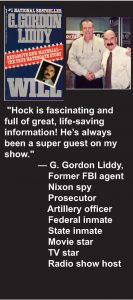 "Hock is fascinating and full of great, life-saving information! He's always been a super guest on my show."  – G. Gordon Liddy, Former FBI agent, Nixon "spy," Prosecutor, Artillery officer, Federal inmate, State inmate, Movie star, TV star, Radio show host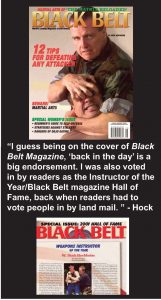 "I guess being on the cover of Black Belt Magazine, 'back in the day' is a big endorsement. I was also voted in by readers as the Instructor of the Year/Black Belt magazine Hall of Fame, back when readers had to vote people in by land mail." – Hock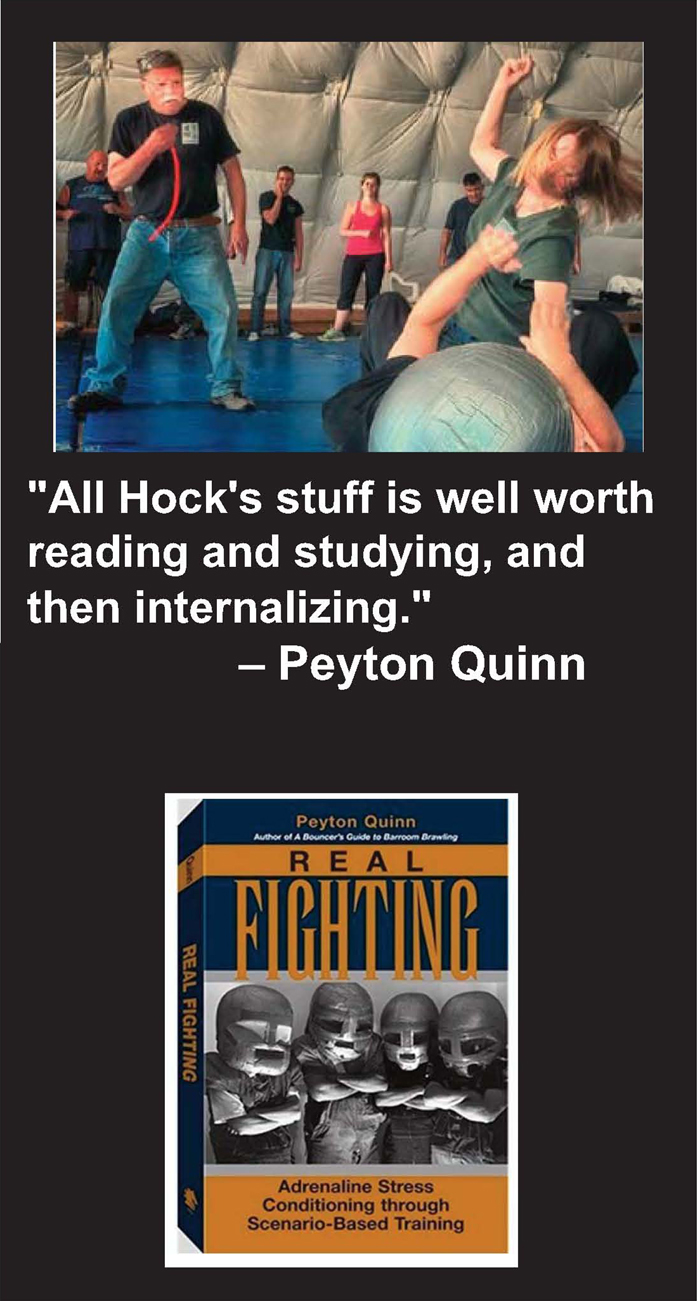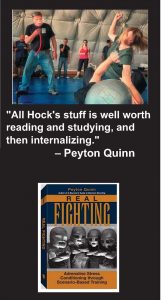 "All Hock's stuff is well worth reading and studying, and then internalizing." – Peyton Quinn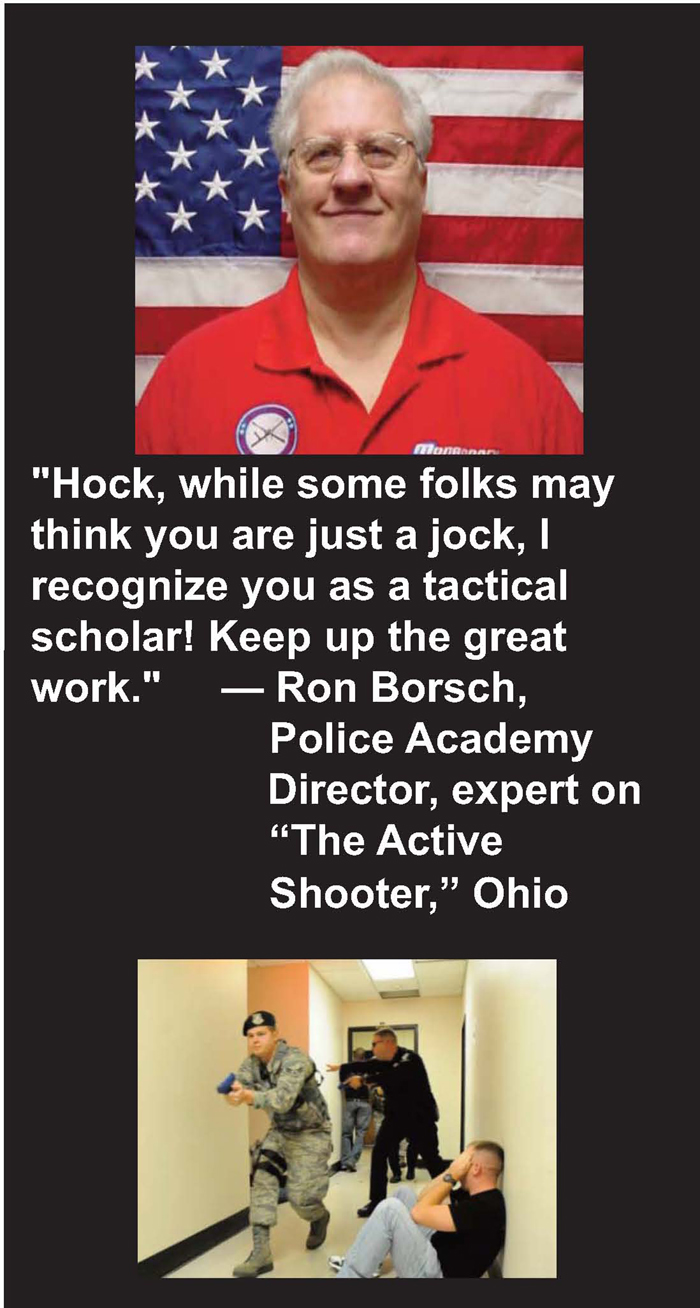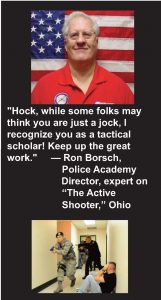 "Hock, while some folks may think you are just a jock, I recognize you as a tactical scholar! Keep up the great work." — Ron Borsch, Police Academy Director, expert on "The Active Shooter," Ohio, USA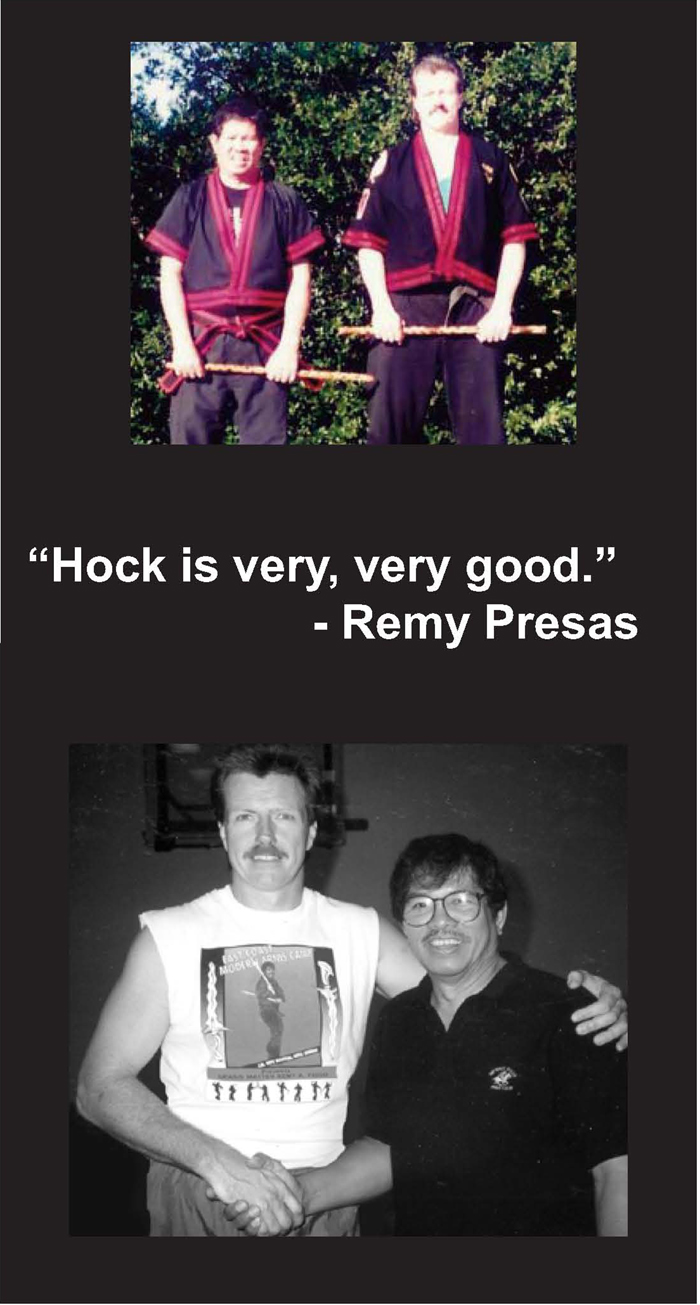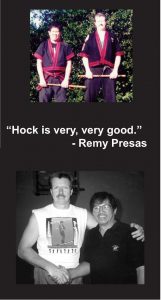 "Hock is very, very good." – Professor Remy Presas, Modern Arnis
(Hock was a personal student for many years, has a 2nd degree black belt directly from the Professor, from the late 1980s and 1990s)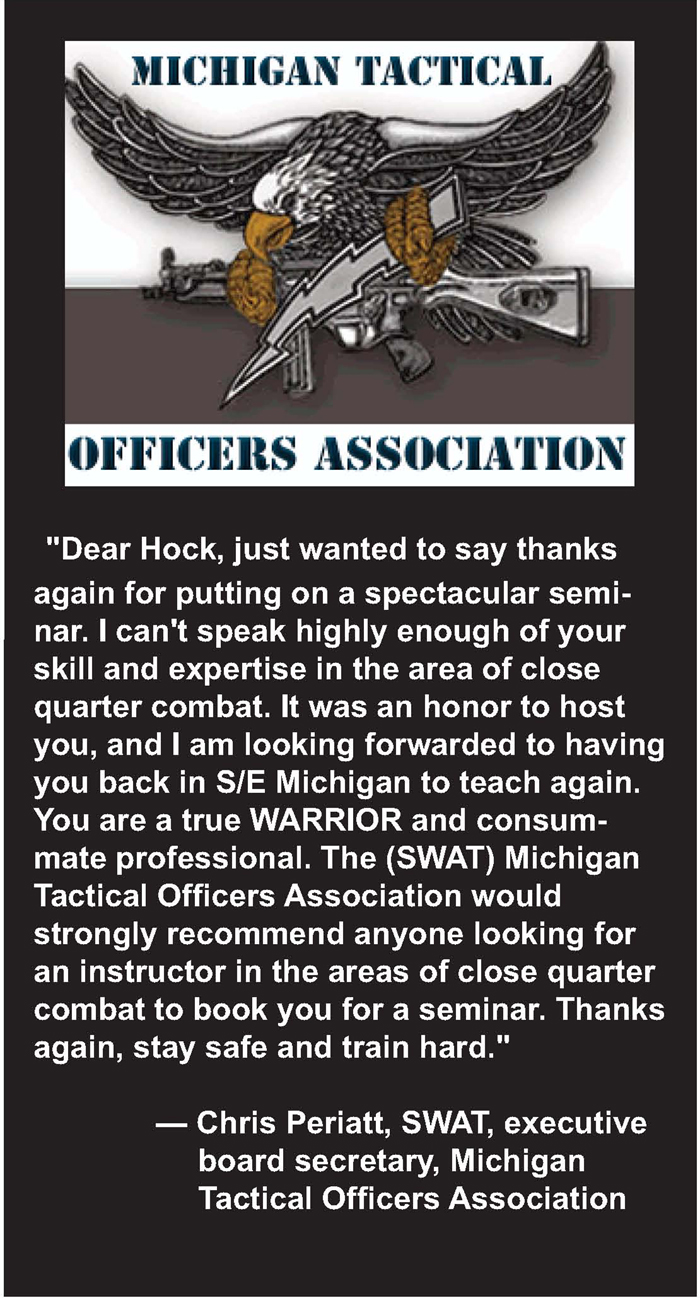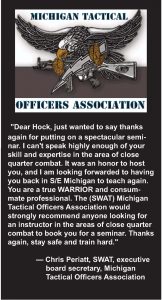 "Dear Hock, just wanted to say thanks again for putting on a spectacular seminar. I can't speak highly enough of your skill and expertise in the area of close quarter combat. It was an honor to host you, and I am looking forwarded to having you back in S/E Michigan to teach again. You are a true WARRIOR and consummate professional. The (SWAT) Michigan Tactical Officers Association would strongly recommend anyone looking for an instructor in the areas of close quarter combat to book you for a seminar. Thanks again, stay safe and train hard." — Officer Chris Periatt, SWAT, executive board secretary, MTOA


"My Marine unit at 29 Palms had a day training session with Hock in 2003 and I think to this day it's still one of the best defense training classes I've had. The man kept things real and in perspective, which is more than I can say for other training I've attended. I took a brief break from law enforcement, but I'm headed back into it. And as soon as my credibility is up to snuff in my new unit I will be suggesting we attend more Hock seminars."— Stephen.L. Clogston, USMC
"I want you to know that during my Pendleton tour of duty, one of our biggest highlights was bringing you in all those times to share your infinite fighting knowledge and wisdom with my Marines. Semper Fi!" – US Marine Captain Maceo Franks
"Mr. Hochheim, thank you again for a fabulous seminar at Quantico. Your habit is to offer complex material in a manner that helps to cement it quickly. Also, your "hell-bent-on-reality" perspective is second to none. You are perhaps the most creative, assiduous thinker of individual martial tactics anywhere." — Marc Richard, Black Belt, Marines, Casper, WY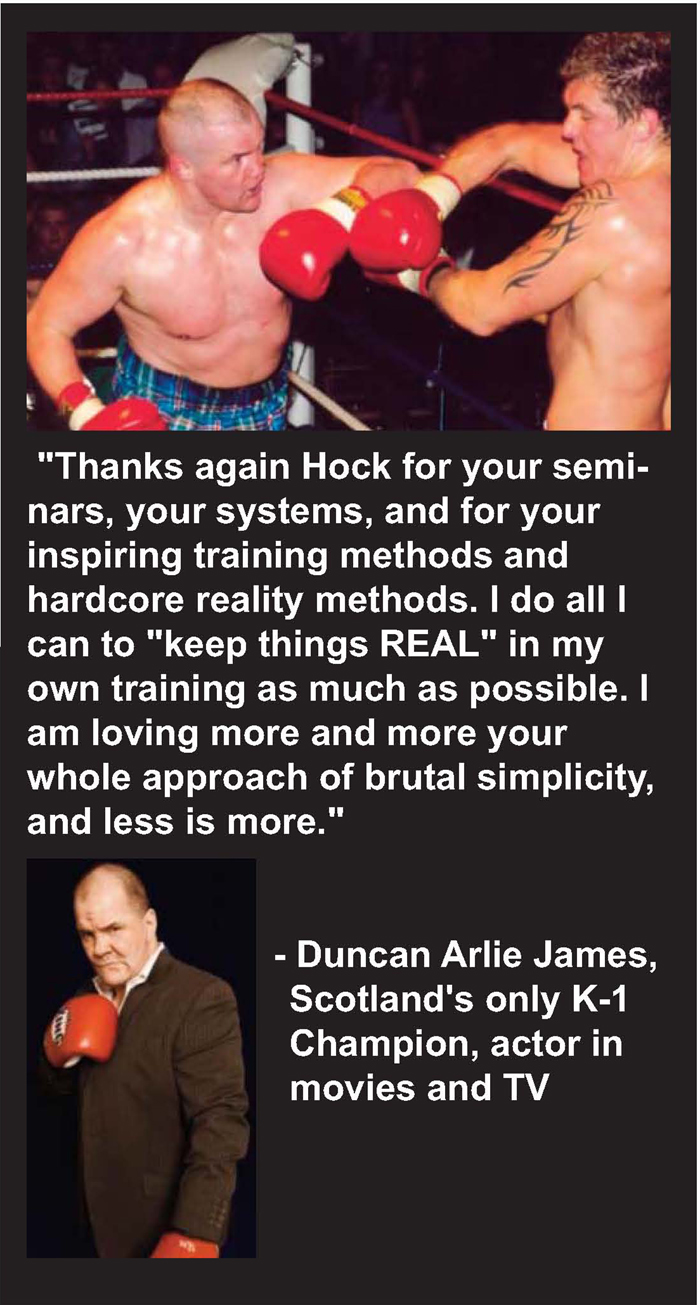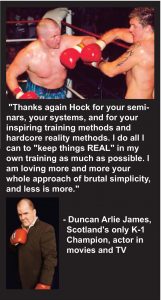 "Thanks again Hock for your seminars, your systems, and for your inspiring training methods and hardcore reality methods. I do all I can to "keep things REAL" in my own training as much as possible. I am loving more and more your whole approach of brutal simplicity, and less is more." – Duncan Arlie James, Scotland's only K-1 Champion, actor in movies and TV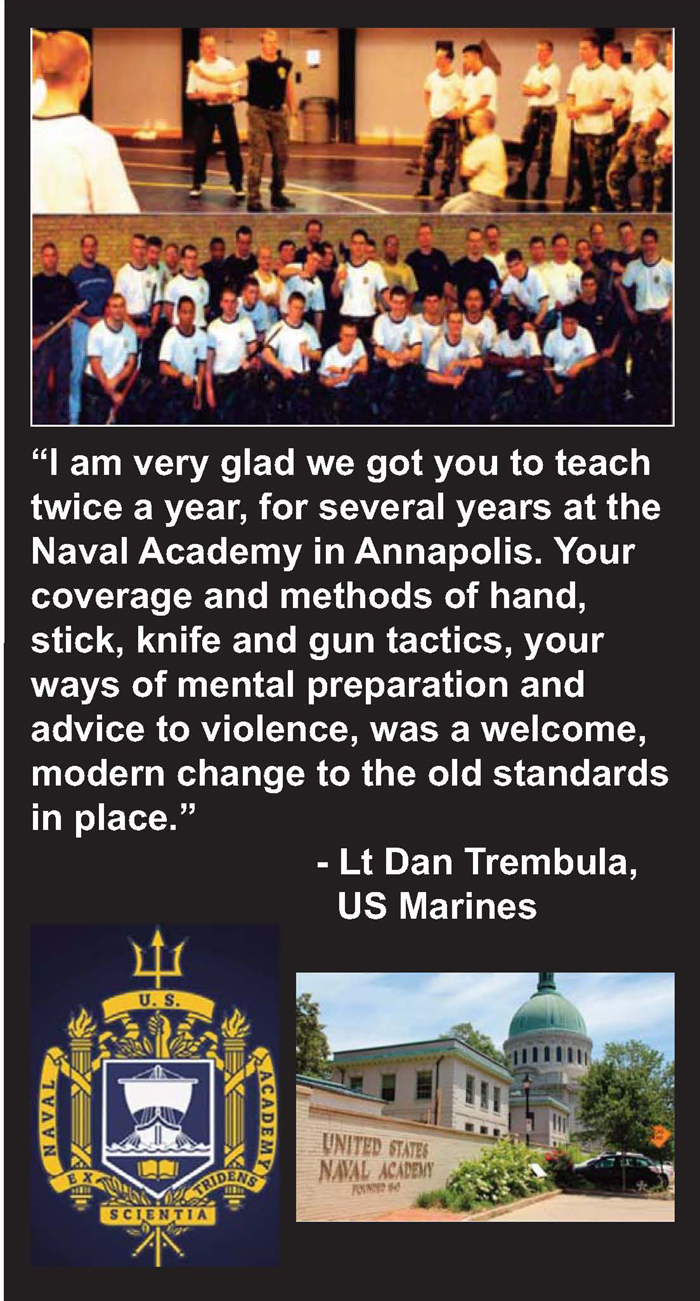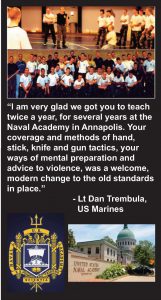 "I am very glad we got you to teach twice a year, for several years at the Naval Academy in Annapolis. Your coverage and methods of hand, stick, knife and gun tactics, your ways of mental preparation and advice to violence, was a welcome, modern change to the old standards in place." – Lt Dan Trembula, US Marines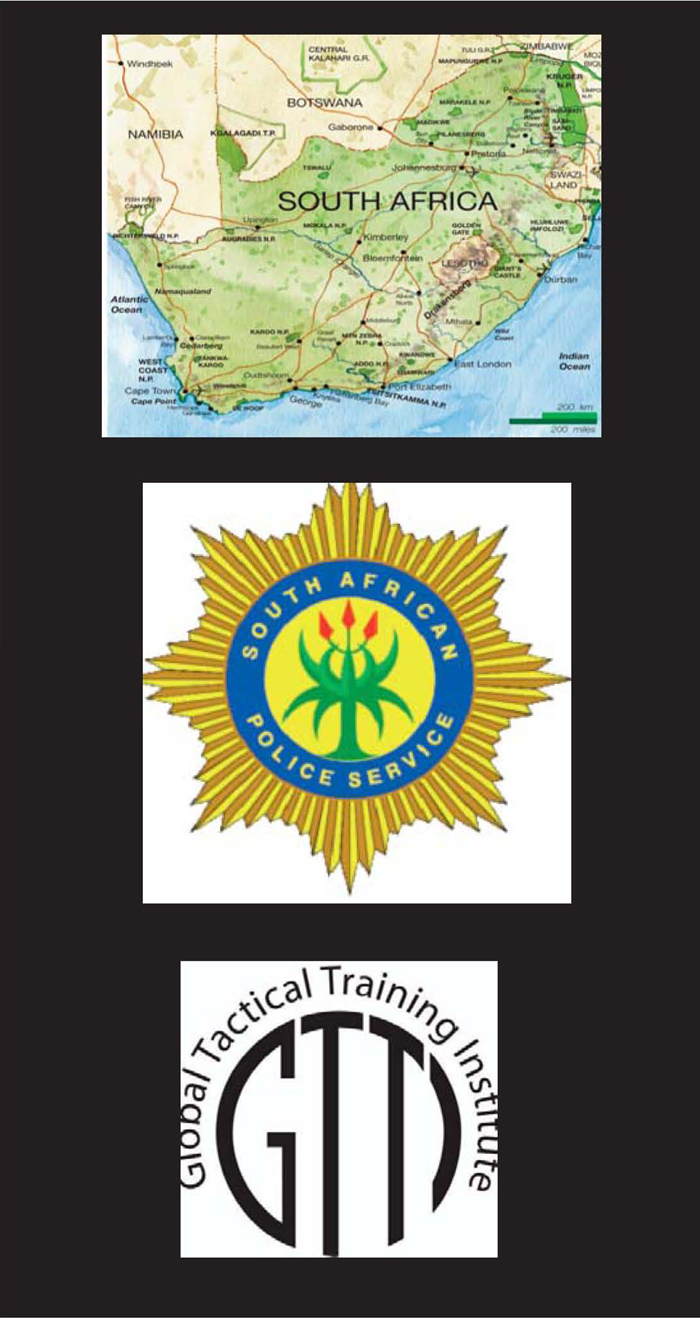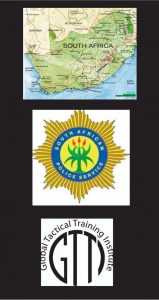 "Hock, thanks for the fantastic seminars in Johannesburg and thanks for teaching at our one national police academy. It was a real eye-opener and everybody thoroughly enjoyed themselves. The police special task forces were also impressed as well. I will be seeing them soon to introduce more of your material. You also made a big impression with the military guys from South African Special Forces. South Africa is looking forward to next year's seminar with great anticipation." – Mark Eekhof, Director of Global Security, law enforcement vet, Johannesburg, South Africa
"On behalf of our group in South Africa, that attended your excellent and most probably one of the best CQC courses we have ever attended, we want to thank you for taking time out and coming to our country to share your knowledge with us." — Japie Cilliers, South Africa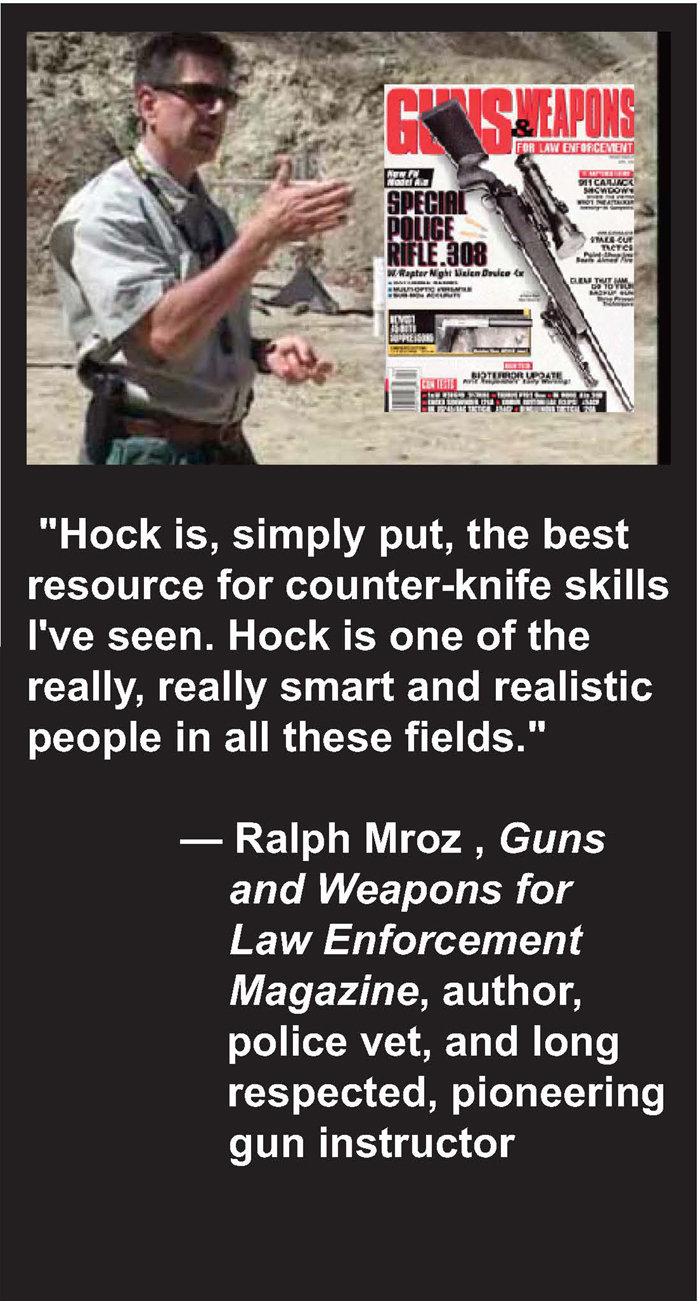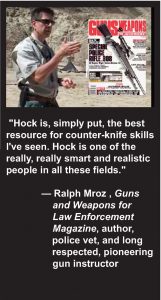 "Hock is, simply put, the best resource for counter-knife skills I've seen. Hock is one of the really, really smart and realistic people in all these fields." – Ralph Mroz, Guns and Weapons for Law Enforcement Magazine, author, police vet, and long respected, pioneering gun instructor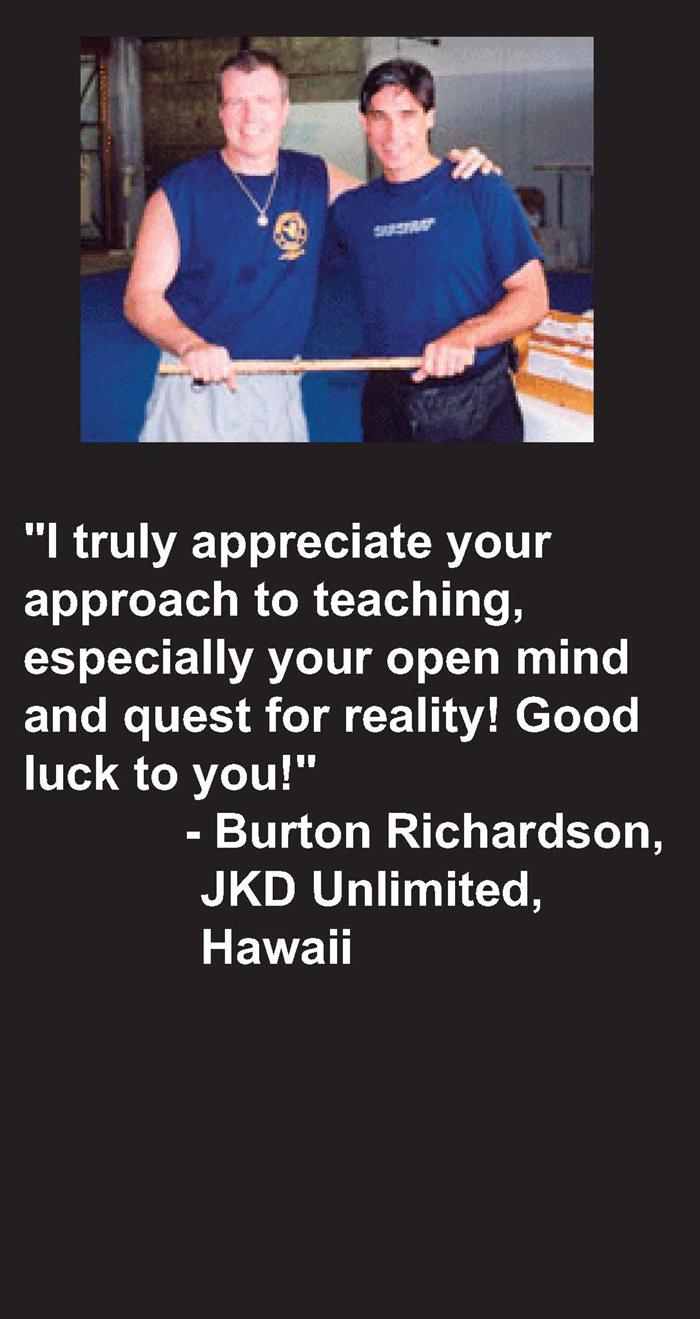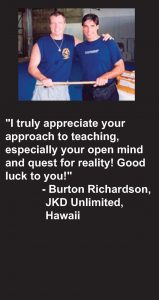 "I truly appreciate your approach to teaching, especially your open mind and quest for  reality! With a wonderful person and instructor Hock Hochheim. If you get chance to learn from Hock, do it!" – Burton Richardson, JKD Unlimited, Hawaii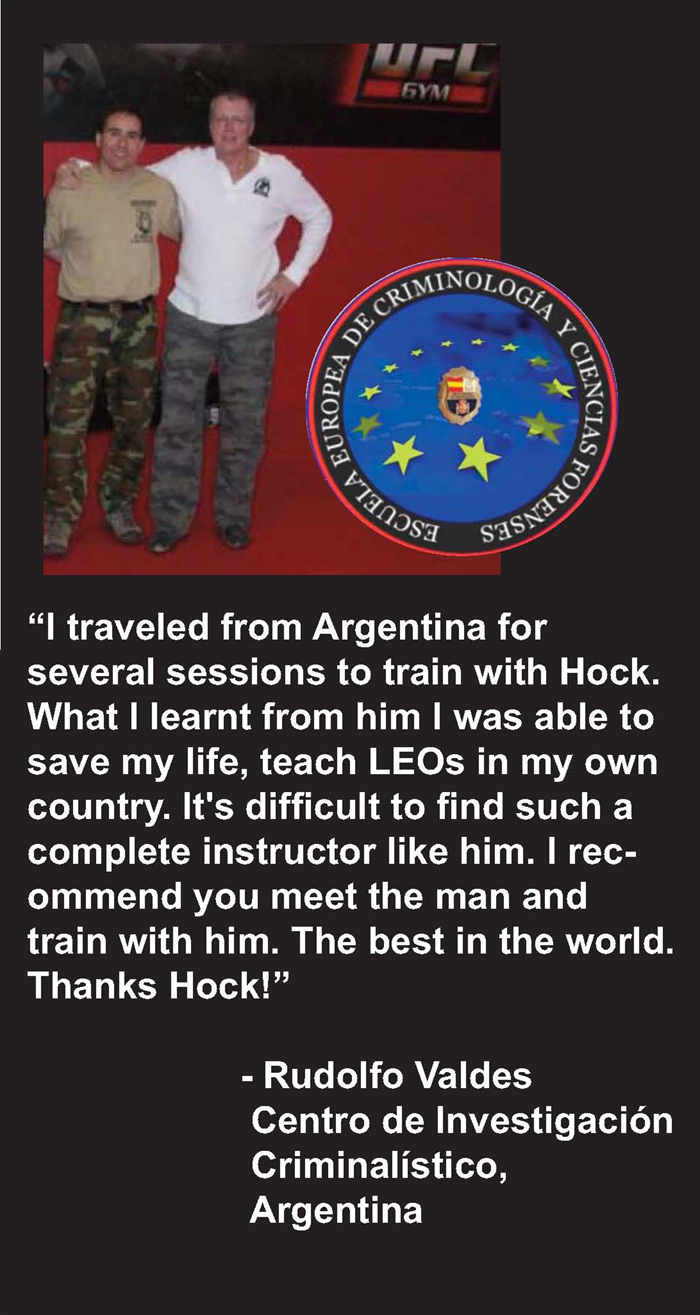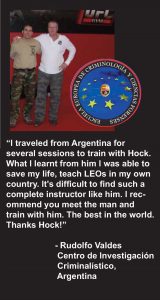 "I traveled from Argentina for
several sessions to train with Hock. What I learnt from him I was able to save my life, teach LEOs in my own country. It's difficult to find such a complete instructor like him. I recommend you meet the man and train with him. The best in the world. Thanks Hock" – Rudolfo Valdes, Centro de Investigación Criminalíst, Argentina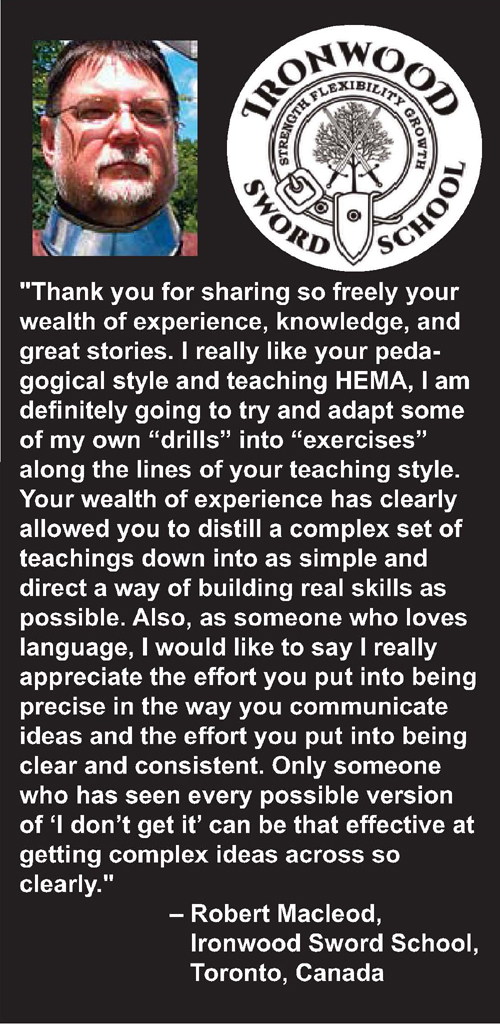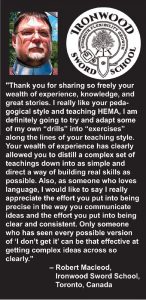 "Thank you for sharing your wealth of experience, knowledge, and great stories. I really like your pedagogical style and teaching HEMA, I am definitely going to try and adapt some of my own "drills" into "exercises" along the lines of your teaching style. Your wealth of experience has clearly allowed you to distill a complex set of teachings down into as simple and direct a way of building real skills as possible. Also, as someone who loves language, I would like to say I really appreciate the effort you put into being precise in the way you communicate ideas and the effort you put into being clear and consistent. Only someone who has seen every possible version of 'I don't get it' can be that effective at getting complex ideas across so clearly." – Robert Macleod, Ironwood Sword School, Toronto, Canada
"For self defense / combatives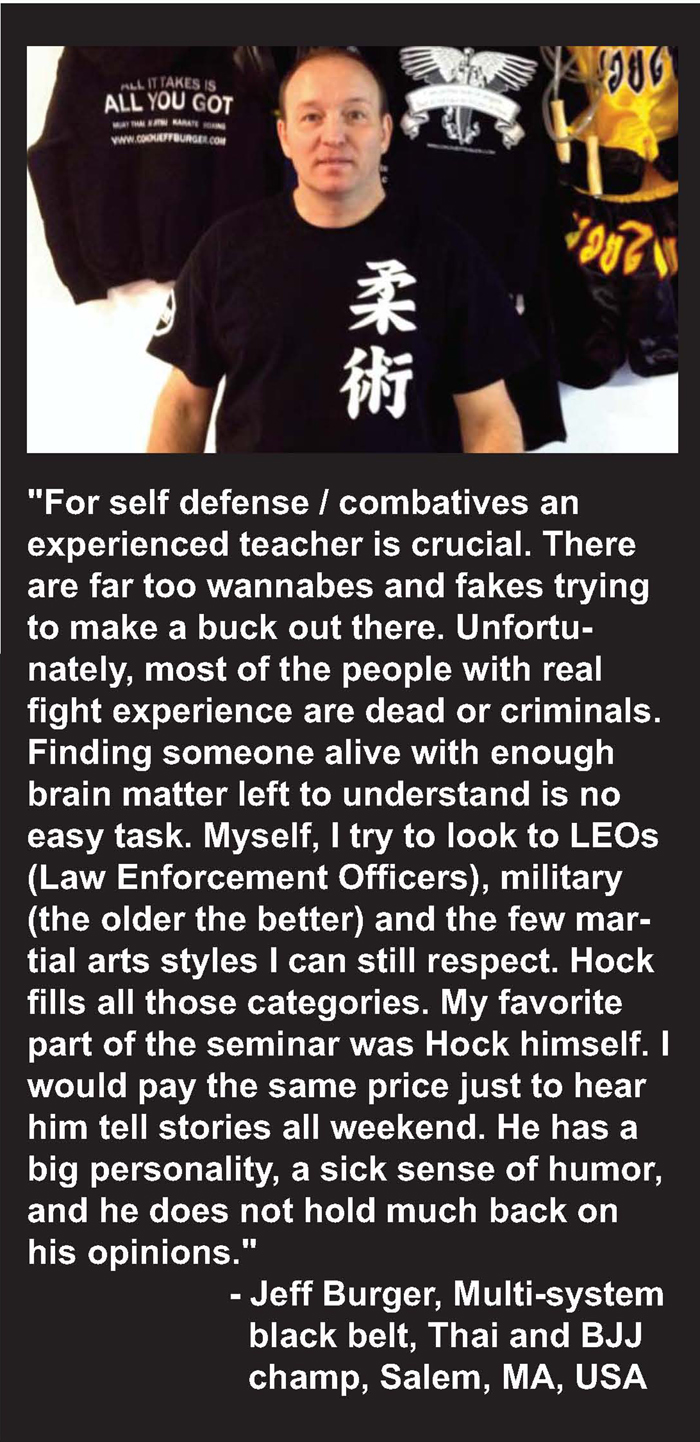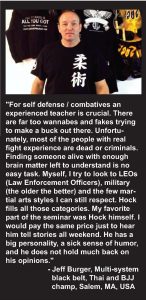 an experienced teacher is crucial. There are far too wannabes and fakes trying to make a buck out there. Unfortunately, most of the people with real fight experience are dead or criminals. Finding someone alive with enough brain matter left to understand is no easy task. Myself, I try to look to LEOs (Law Enforcement Officers), military (the older the better) and the few martial arts styles I can still respect. Hock fills all those categories. My favorite part of the seminar was Hock himself. I would pay the same price just to hear him tell stories all weekend. He has a big personality, a sick sense of humor, and he does not hold much back on his opinions."- Jeff Burger, Multi-system black belt, Thai and BJJ champ, Salem, MA, USA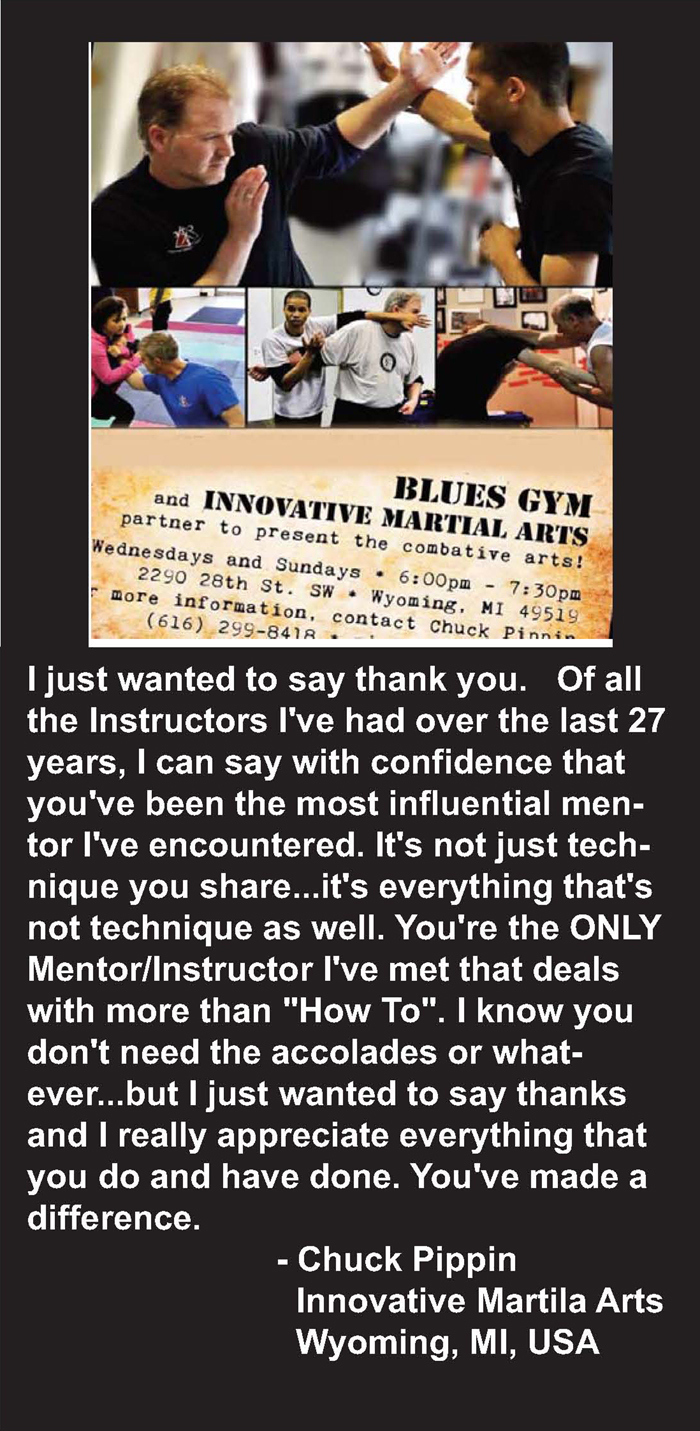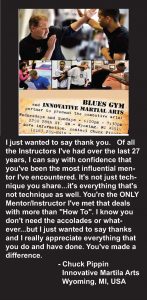 I just wanted to say thank you. Of all the Instructors I've had over the last 27 years, I can say with confidence that you've been the most influential mentor I've encountered. It's not just technique you share…it's everything that's not technique as well. You're the ONLY Mentor/Instructor I've met that deals with more than "How To". I know you don't need the accolades or whatever…but I just wanted to say thanks and I really appreciate everything that you do and have done. You've made a difference. – Chuck Pippin, Innovative Martial Arts, Wyoming, MI, USA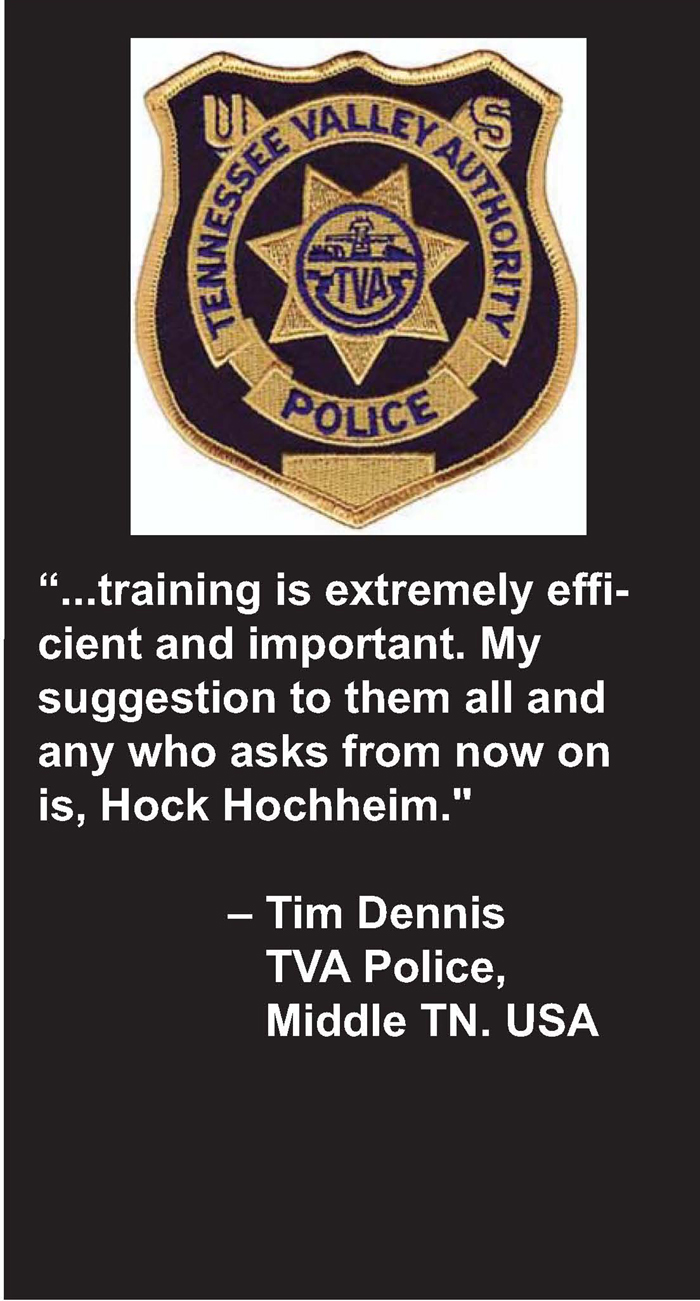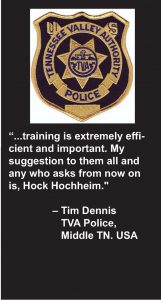 I have been in law enforcement for 15 years. I attended the Tennessee Law Enforcement Training Academy initially and numerous officer survivor seminars since. A few years ago I attended the Federal Academy (FLETC). One of the instructors told me about you. I then became an ardent reader and follower of your articles and training philosophies and then attended your sessions. I must say that your training was by far the best practical/tactical training in which I have ever been exposed. It was great…to say the least. My suggestion to them all and any who asks from now on is, Hock Hochheim's." – Tim Dennis  TVA Police, Middle TN. USA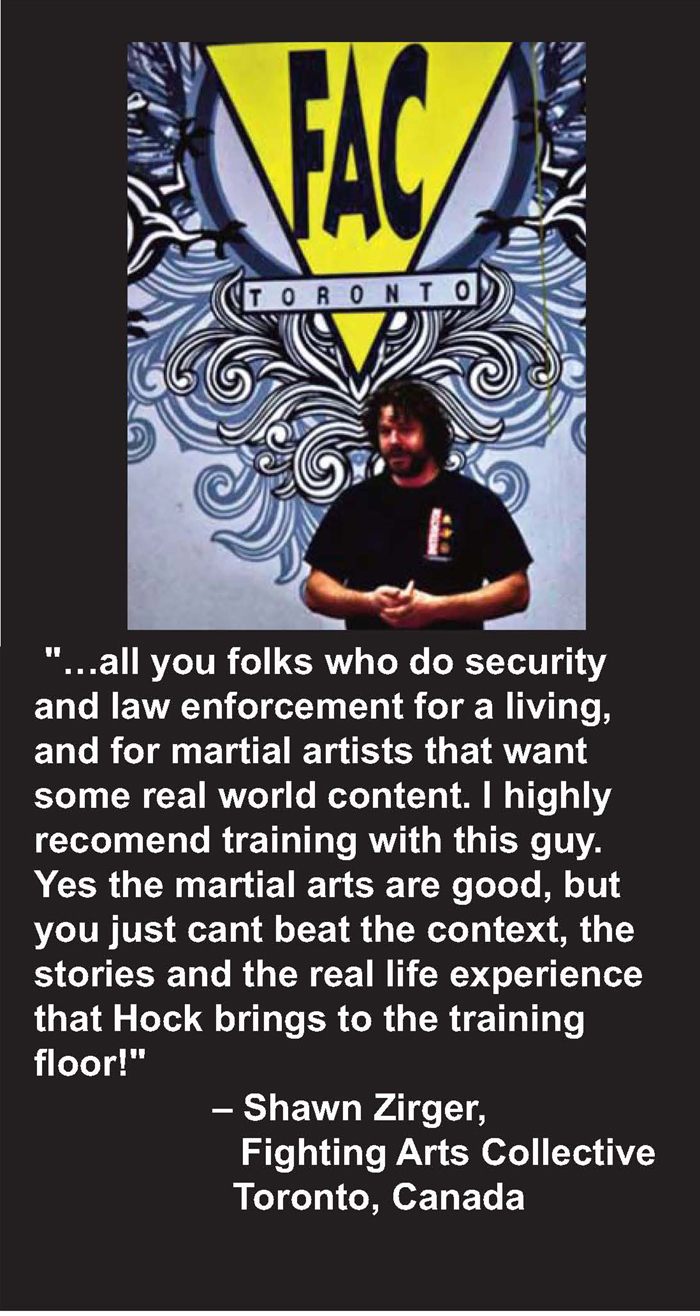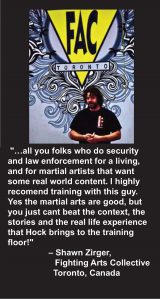 "…all you folks who do security and law enforcement for a living, and for martial artists that want some real world content. I highly recomend training with this guy. Yes the martial arts are good, but you just cant beat the context, the stories and the real life experience that Hock brings to the training floor!" – Shawn Zirger, multiple black belts, Dog Brother, Fighting Arts Collective, Toronto, Canada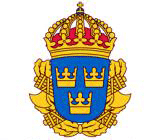 "I work as a police officer in a county called Västmanland in the middle of Sweden (150 km from Stockholm). One of my interests is martial arts. I practice, karate (Wado Ryu) and Ju-Jitsu. In the police force I spend a lot of time as a self defense and tactical instructor. Your seminar was great for me, and I have learned and discovered a lot of great things that I can use as a instructor in the police force. Thank you very much for one of the best seminars I have experienced. I hope that you return to Sweden for some more seminars." — Anton Breznik, police officer, Sweden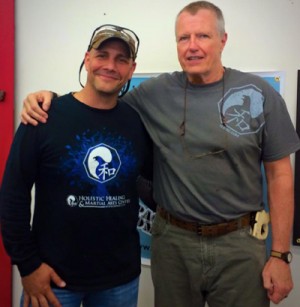 "Hock Hochheim is entertaining as he is knowledgeable. As a Martial Arts instructor as well as a University Professor, his teaching methodology is top notch. Don't miss any opportunity with him being this close." – Chris LaCava, owner of LacCava Martial Arts, and an EMT in South Carolina, USA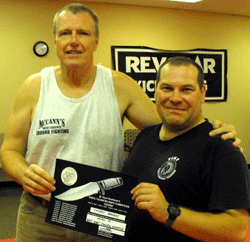 "The skills I have learned from you have saved not only myself but my partners on the ambulance service that I work with and the students in the classes I assist in teaching in Columbia, Mo. Keep up the good work and thanks." – Timothy R. Bradley tactical E.M.T., Miller County Ambulance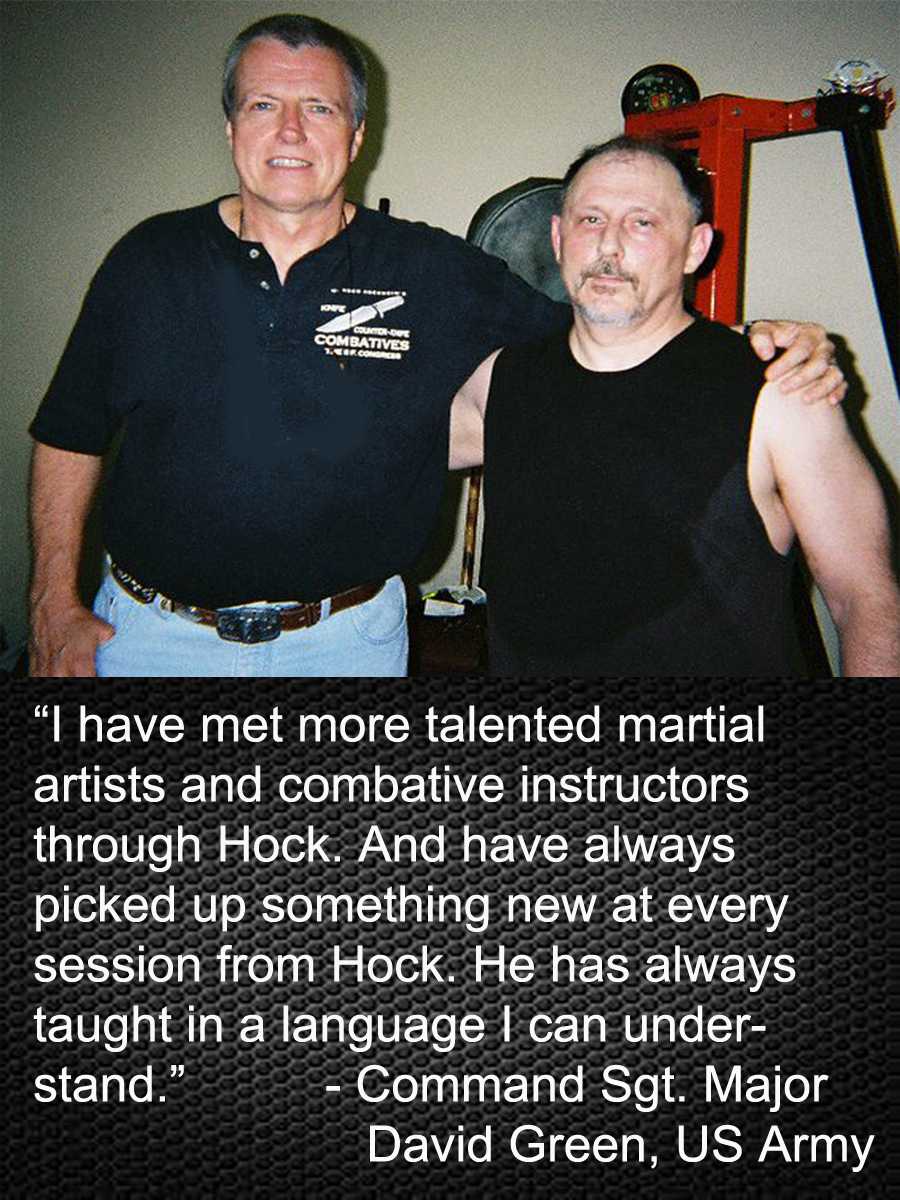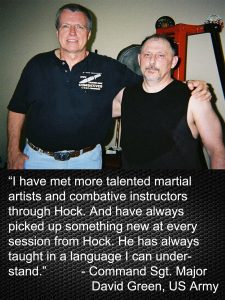 "I have met more talented martial artists and combative instructors through Hock. And have always picked up something new at every session from Hock. He has always taught in a language I can understand. "   – Command Sgt. Major David Green  US Army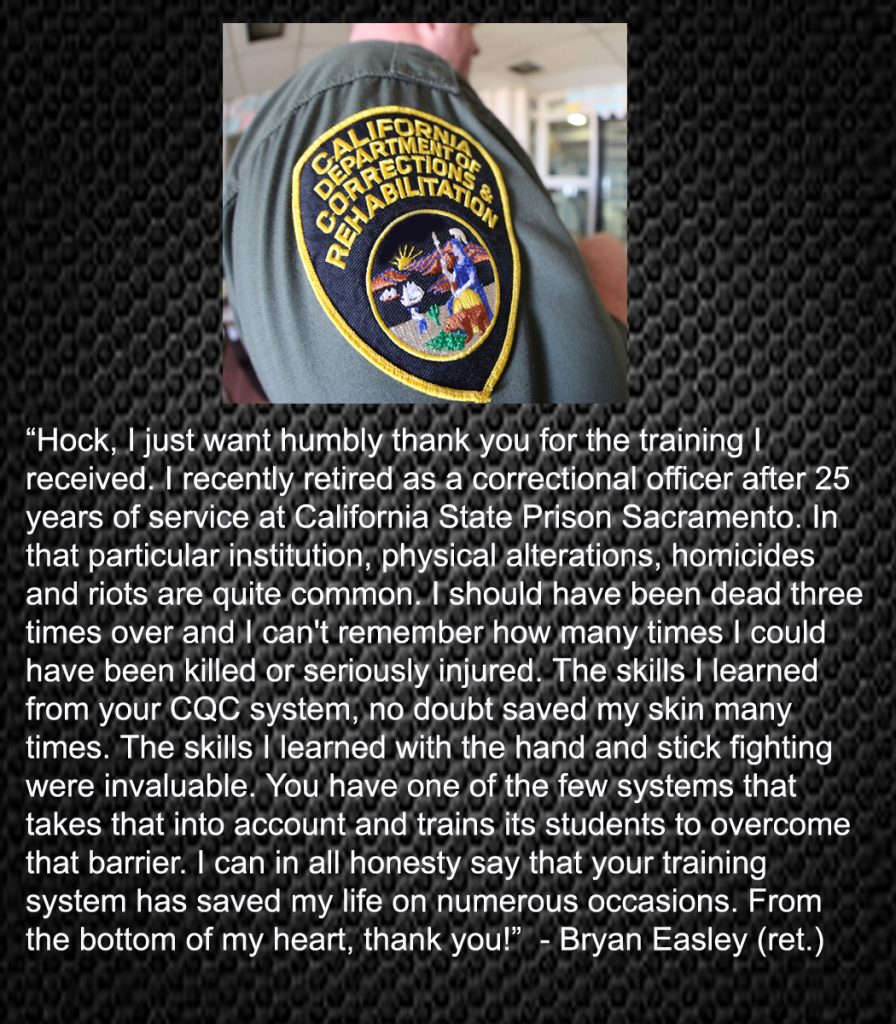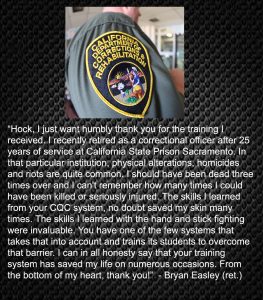 Hock, I just want humbly thank you for the training I received. I recently retired as a correctional officer after 25 years of service at California State Prison Sacramento. In that particular institution, physical alterations, homicides and riots are quite common. I should have been dead three times over and I can't remember how many times I could have been killed or seriously injured. The skills I learned from your CQC system, no doubt saved my skin many times. The skills I learned with the hand and stick fighting were invaluable. You have one of the few systems that takes that into account and trains its students to overcome that barrier. I can in all honesty say that your training system has saved my life on numerous occasions. From the bottom of my heart, thank you! – Bryan Easley (ret.)
"…just to let you know, it was an honor and pleasure training with you last weekend. As a result, this seminar has opened my eyes to even broader horizons. I feel I have increased my abilities up to about 40-60 percent. I especially loved the CQC shooting techniques that had not been taught in my previous military, police and government training." — Jay Rubis, US Army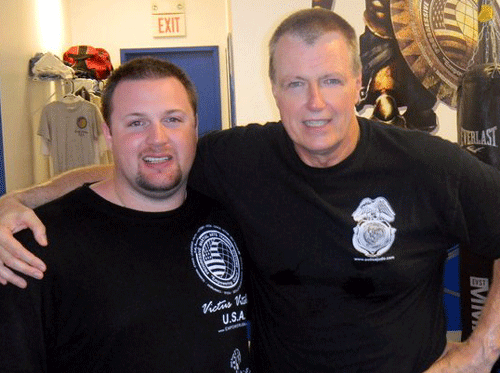 "I have been in the martial arts for 25 years now, and I have been fortunate to train with some of the best! Hock is one of the best TEACHERS I have seen! He has the uncanny ability to teach complicated things in an almost elementary breakdown and explanation! — Billy Brown, Murpfreesboro, TN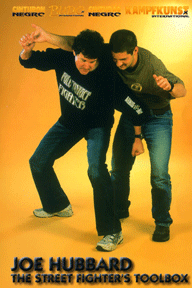 "Just when I think it's safe, you continue to rock my world with each video and seminar. You truly capture the Einstein quote of "Keep it simple, but not too simple." Your charismatic personality combined with your combat savvy shines through, showcasing your deep qualities of a master as well as "an-in-the-trenches" practitioner. Thanks for your continued inspiration. It keeps me going strong!" – Joe Hubbard, London, England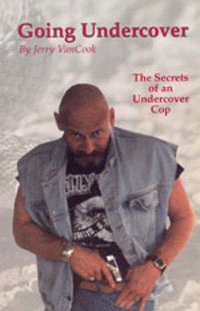 "Hock's programs are second to none." — Jerry VanCook, ex-cop, author of more than 47 action adventure titles, published in Black Belt, Tactical Knives, Guns and Weapons as well as books Going Undercover and Real World Self Defense.
"I hope you remember me, we spoke last year about my research on martial arts and especially on self-defense, reality vs. theory for a large sports product company. I am writing today to let you know that after three years of research and after talking to 3,212 martial artists from various countries, we (as in myself and the committee of supervisors for the research) decided to proceed with a formal ranking of all those martial art instructors in terms of reality self- protection, efficiency in combat and so on. I am glad to tell you that yourself and your organization came 1st and, as a matter of fact, that decision was unanimous. I am not telling you this in order to make a compliment because I have no need or any interest to flatter you or make compliments. This was simply based on facts. Your students and the instructors under your guidance should seriously feel lucky and privileged to gain such knowledge, and I sincerely hope that your organization (The Congress) grows stronger and stronger. As the research goes on, I have realized that only by strengthening organizations such as yours, will lead to the elimination of all those so-called self-defense experts that I call "pajama party martial artists" or "weekend warriors." So focus on strengthening your organization to the MAXIMUM in all aspects including the financial so that you will be in a position to eliminate (market-wise) all these characters that unfortunately claim to be masters. Anyway, I will contact you again in the near future. Take care and regards," — Peter Knowles, United Kingdom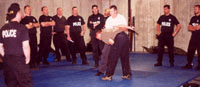 "Just a little note to say thanks. I'm a police officer and defensive tactics instructor. I'm also a student of the martial arts. You and your magazine are a breath of fresh air, and a "Maglight" in the darkness. Please continue with your work and the education of my profession as well as the general citizenry." — Keith L. Collins Bedford, Ohio Police Department

"The officers told me that they learned more from you the first day than they have in years and years of training." — Commander Don Davis, La Paz Sheriff's office, CA.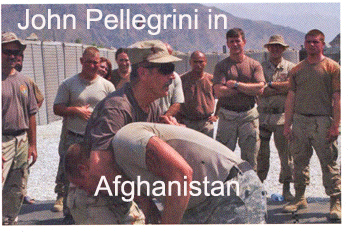 "Hock is a recognized world authority." — John Pellegrini, International Combat Hapkido Federation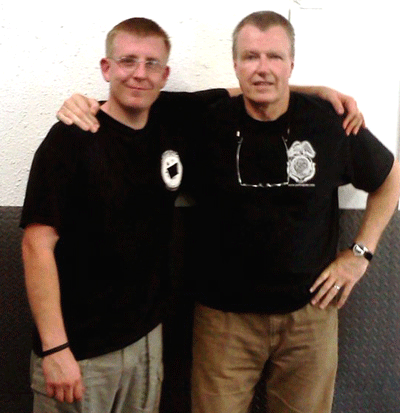 "Hock…glad to have been under your teaching. Your experience and knowledge are amazing. And even more powerful is your ability to teach! Some guys know a lot but couldn't teach their way out of wet paper bag…thanks again!" — Charlton Clarke, Psychologist, Colorado Springs, CO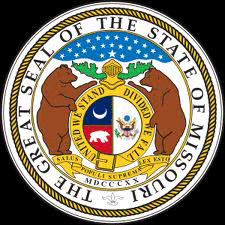 "All men may be created equal but some choose to train with Hock Hochheim. Glad I am one. Today, I once again faced an angry armed man with intent to kill me. Tonight, I am home safe and unharmed. Thank you Hock for teaching your fighting system, it has saved me more than once. Keep up the good fight. – K. Purvis, Security Contractor
"Hock is a walking encyclopedia of how to defend yourself and I have trained with him and had him train troops in my charge.  EXCELLENT SKILL SETS were developed." – Commander Tim Graver, Arizona