.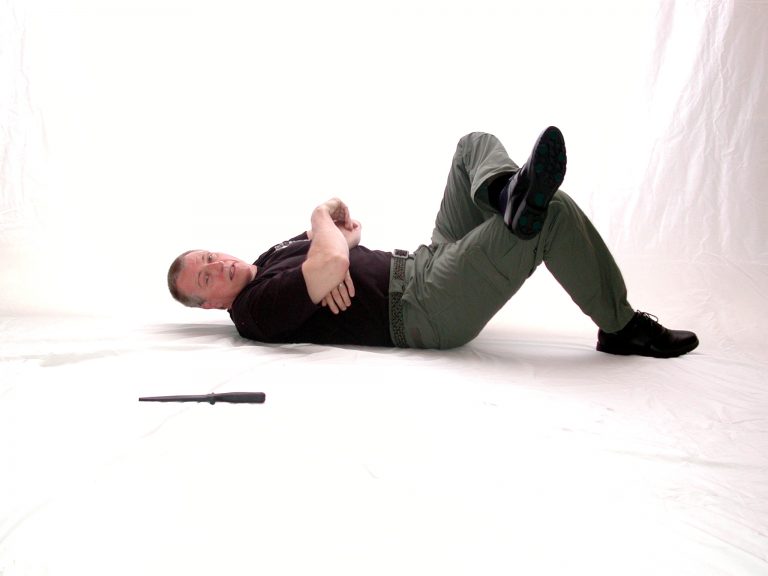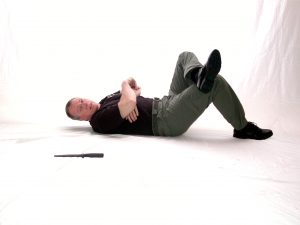 This is where I have fallen down. Where my knife course has fallen down. Before the fall, in the 1990s there was a "resurgence" if you will, a re-look, re-examination of older knife material (which essential was a lot of knife dueling). Some might call it "knife fighting," but I don't like that term. But you are still indeed, fighting with a knife when you are…fighting with a knife. Still, I don't like many terms, images, messages, logos relating to the knife and knife fighting. By that time in the 90s, I was in police work for quite a while, both in the Army and in Texas, most of that time as a detective. I'd seen and experienced working on a lot of knife crime, as in aggravated assaults, rapes, attempted murders and murders. I myself have been attacked by both knife and ax.
I know the depressing, dark side, the wet side in juxtaposition to all the smiling people having fun, slap-dashing around in gyms playing tag with wooden and rubber knives. Knife training is often treated quite cavalierly. This doesn't have to be the case as very serious cultures exist, like the culture of pistol training is quite serious and full of foreboding and legal scares. Careful, mature training cultures do exist, and this must certainly become true in knife training also.
In the early 90s, this edged weapon resurgence was sort of an international turning point in knife training. A reboot if you will? It first resurrected the old military knife courses and the semi-legendary names of yesteryear. They weren't "kuraty" superstars. A sophisticated look at them however, revealed, they weren't so sophisticated. So several of us, using the newer sports training methods of the time, and bolstered by years in Filipino martial arts or other historical backgrounds, stepped up and made "new" knife courses. Gone was the martial arts uniforms, belts, etc. We wore jeans with pockets and regular clothing belts. Street clothes.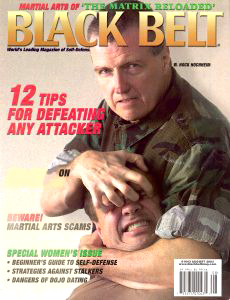 Some of the 90s knife pioneers? James Keating. Tom Sotis. Kelly Worden, Bram Frank, Bob Kasper, yours truly, to name just a few, but there really were only a few of us. Paul Vunak is a late 80s pioneer in many areas. (Still, some of these guys were overdosing on knife dueling.) We wore shirts, jeans and shoes. I even taught at times in a suit and tie. Skeptical, we didn't trust the old stuff and we didn't trust the established martial arts either, even the Filipino applications of the knife are often tricky and  too "duely". (Do you want to walk around wearing a vest with 12 knives? Seriously.) Be free. Think free. Be skeptical. Are you a replicator? Or an innovator?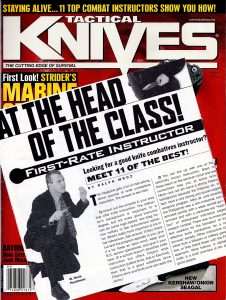 Still, the old just helps the new. This was also part of a bigger "breakaway" from establishments that was going on in that decade. The world was seeing MMA (or at least ground wrestling) on TV like never before. And somehow a collection of old stuff, dressed in athletic pants, painted in the "Israeli mystique" – Krav Maga – was really shoved down the throats of Tae Kwon Do schools as mandatory, by clever (and insidious) shaming,  business groups, like NAPA in the 90s.
The "Mixed Revolution" was in the 1990s martial air! Jeet Kune Do was spreading into a heyday. Inosanto JKD/MMA was already doing Thai and ground, and so much more. Ever hear of "Shoot?" But, I guess the Israeli mystique was greater than the Bruce Lee mystique?
Mystique? Yes. Ever so important in advertising, sales and manipulation. That's how we pick shoes, cars, purses and pistols (politicians, religions and…) Manipulation. More on that later…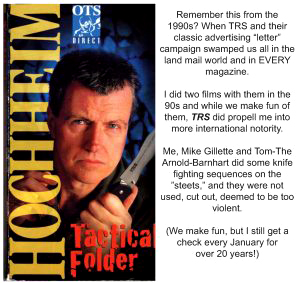 My knife course had a few odd, infancy names in 1990 and 1991, but it was quickly called "When Necessary? Force Necessary: Knife!" But that 5-word title was a little long and clunky and it was shortened to just 3 words – "Force Necessary: Knife!" I do prefer the longer, clunky name, as it completely explains exactly what I mean to say. Only use that force necessary when absolutely necessary. But I got around the country and quickly, the whole world doing that knife material. Lots of traveling, lots of seminars.  It lead to being voted Black Belt Magazine, Weapon Instructor of the Year and also into their BB Hall of Fame. (back when readers actually mailed in votes.) I also "scored-very well" in the non-arts, growing "combatives" world.
Black Belt. Tact Knifes. Hall of Fames. TRS. Such was the jargon and the martial/political stage of the 90s. Today, it's hard to grasp that the total, martial world communication back that existed was with a mere 6 or 8 international, martial arts magazines. That's it! Try and list them. Yes, Black Belt, Blitz, Martial Arts Illustrated, Inside Kung Fu, Inside Karate. Think of some more. Try and list them. They were the filter for us all. Talk forums developed slowly later and now, like the magazines, are almost all extinct.
Now? Nowadays, I don't know where the martial arts communication filter exists, specifically. The…web…the gazillions of webpages? The gazillions of podcasts? The gazillion of….Instagrams? Facebook? Yesterday's business card is today's webpage. And any dipshit can pay to have amazing looking webpages. The battle for exposure takes a business up and down many extremely, frustrating, costly roads.
Of course with all businesses, this 1990s knife movement kicked off a new interest and a fair number of new knife courses popped up through and to, by 2005-ish, often by less experienced, less organized people, and in my opinion doing less comprehensive programs. But this business evolution is to be expected. Invent a new "widget?" There's a knock-off. Then knock-offs with an "S." In the big picture of training and education however, not widgets, this can be a positive thing. Awareness. Curiosity. Growth.
So, when did I fall? It happened slowly and then one day you are down looking up. How'd I get down here? Not enough Instagram pictures? Some 25-odd years later, in about 2015, on a popular public forum someone asked me what I thought of Johnny Swift's new, knife, quick-draw article. Of course it was named something super-spiffy like "Armageddon Instrument Production," but it's just knife quick draws. Brand new, Biblical-worthy advice Swift  preached, and published in the new amazing world of web-jargon magazines called something like "Organic Micro Evolution of Edged Prophetic Dynasty." (I just made that magazine name up, but how far am I off? Have you seen these seminars names lately? Aren't you impressed, or can you see right through the pretentiousness?) Twenty and 30 year-olds salivated! 
I read Swift's ground-breaking, testament as featured in "Retrograde, Skill Supremacy, Fusion Elite Magazine" and I replied on the public forum –
"Oh, I have to like Swift's article. It is virtually, word-for-word,
from my 1992, Knife Level 1 outline."
My review/remark caused a lot of guffaws and a few smart ass remarks, among the 20 and 30 year old readers, most of whom were so submerged in modern "dynasty jargon" and up to their beards in mystique, and lost in the gazillion web world, they'd never even heard of us older guys from the 90s. I mean, who am I to comment like this on their latest fad-boy genius? I added that I was not suggesting that Johnny Swift plagiarized my outline, as it might have innocently been co-opted, or the older info has become so, ever so embedded into the "knife world" it was deemed as open knowledge. I get that. Sure. That happens. (That level 1 outline is/was free to the public and has been distributed for literally 3 decades, and my knife books have been for sale since about then too.)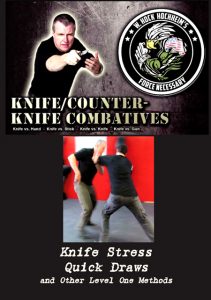 I reminded the guffawers that the spread of education is a good thing and that at very least, I only partook in that process. I said that the old just helps the new, and you have to remember the old, so history doesn't repeat itself. As a great gun instructor Dave Spaulding likes to remind us, "It's not new. It's just new to you."
One guy was clever enough to say, "Well, sorry I missed you when I was 5 years old." Ha! I told him that was a pretty damn, funny retort. It was. But missed me? Dude, I never left. But actually he never knew I was around to begin with. That is part of the mysterious "fall." 
I added in that discussion with Mr. Wise-ass that the spread of education was a good thing, and I only partook in the process. Seriously, I frequently read as new, many old catchy terms, ideas, expressions I published and advertised decades ago.
My really big mistake in the knife world, training business is…I think, not emphasizing the knife training course only. Alone. My obsession was/is with covering the bigger picture. Hand, stick, knife, gun. That's "where it's at" for me (is that phrase too 90s? Yikes, maybe too beatnik 60s?). The 1990s evolved into the 2000s and my step-by-step into what I really wanted to do all along since the 90s. My goal is to create the best hand, stick, knife and gun courses. It's a mixed weapon world. Each subject I have is a carefully constructed 4-pillar, foundation. But I think when you shoot for this holistic picture, each separate pillar seems to get a little lost, a little less appreciated, a little less noticed. It also makes me appear to be less specialized. This ain't true. There's a big mixed weapon matrix:


But anyway, back to the knife! Inside a comprehensive knife course is:
* Knife vs hand.
* Knife vs stick.
* Knife vs knife.
* Knife vs some gun threats.
* Standing, kneeling, sitting and on the ground.
* Saber and reverse grip experimentation.
* Skill developing exercises.
* Knife combat scenarios and situations.
* Legal issues and smarts.
* Who what, where, when, how and why questions
* Criminal history knife stories.
* War history knife stories. 
I do get a kick out of the occasional lame-brain who pipes up and says, "Knife training? Just stick the pointy end in the other guy." Especially when these same complainers spend about ten thousand $$$ a year – plus – shooting at gun ranges. Why not just stick the pointy end of the bullet in the other guy, too, Brainiac? Is it all really that simple?
But, not focusing just on the knife is a marketing problem. I don't advertise or highlight "just the knife" like other courses do. This is one point where I have really fallen down and why my knife course has fallen down through the years.
Another problem for me? No "flags." I have no crutch system, no flag to fly, like Pekiti, JKD, Brazil-Mania, Krav. Silat. Arnis. Bruce Lee. UFC. It's just little ol' me flapping in the wind. I can't draw in extraneous-system-people, capture super search terms, as some of those are obligated to attend, even arm-twisted by "the system" they're in. Brand names are…brand names.
Plus, I avoid and dodge macho, death messages, grim reapers, and death images mystique. I would never advertise that I am "always bladed." And I am not in any "mafia." I am life-long cop. I fight the Mafia. I am not in any "cartel," or a "cult" etc. Look, I can make the distinction between something that is a little fun and ironic and something/someone that is sick and weird. It takes a little investigation too, to not jump to conclusions, but sick and weird is sick and weird.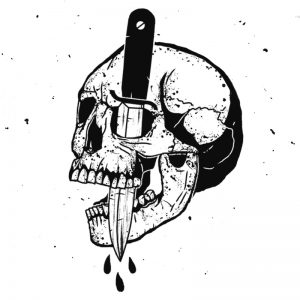 Various other ultra-violent, whack-job messaging should be reserved as a primer mentality for very serious, military, combat groups. THEIR psychology. Their prep. Not cops and certainly not every day, walk-around citizens. Mimicking them makes you look like a wannabe punk. Look at the lawsuits filed on cops and citizens. Go ahead, have a little death-engraved-logo on your cop gun and see what happens when you shoot someone. Have a patch or tattoo of a grim reaper with a knife, or a skull with a knife through it, and see what happens when you have to use a knife. We the police, the prosecutors search your history when you are in an assault, knifing or shooting. Mature survival is enduring the end game – as in the legal aftermath, is a big part of a well-thought-out, course. (Again, mature gun easily people understand this.)
Not like this silly fucker in New York for example – I read one New York City, very popular, international knife "cartel-liberty" group headline paragraph:
"I love it when I carve someone's balls off and put them in his empty eye sockets."
Shit man, you probably work in a fucking supermarket. And you think and talk like this? You need to be on watch list. These idiots give us all a bad name. But images and expressions like this, or near like this, this mystique, does attract a certain sick customer, usually young, or young in the brains anyway. (After my public complaints and comments on this, this moron took that line down.)
No Mystique? Which leads me back to the first paragraph. We know the established advertising fact the "the grass is always greener on the other…." side of the street? Other country? The sewers of Spain. The temples of Thailand. The monasteries of China? The borders of Israel…the…and so on. Me? I appear to be just a bland, white guy with some info. I don't even have any tattoos!  Many well-known knife people are Filipino, just cause, because…they are Filipino. They may have never been to the Philippines, but they have an exotic sounding name.
And the serious military angle? Even with them, take a look at the most sophisticated, revered, respected, top-flight, Special Forces vets and most play it quiet cool like a gray man.
Lackadaisical about making rank and instructors. I don't really run the classic franchise business as seen in self defense, BJJ and Krav, other combatives courses, and Lord knows, classic martial arts. I am often lackadaisical about promoting people and making instructors. Other systems do this like precision clockwork, where I fail to emphasize this. It does hurt the proverbial martial, business model.
In the same vein, I shun all titles like guro, grandmaster, sensei, etc. "It's just Hock," I say, which also does not fly well with some organizations who base themselves on this structure. Also, street clothes please. It's almost like I am insulting them? I'm not trying to. You do whatever you need to do to survive.
After the fall. However boring, I still do see some "knife people" all around the world. There are "normal" people, martial artists, historians, survivalists and hobbyists, gun people out there, interested in generic, evolved, knife material. There are. And that is who I mostly see when the knife topic comes around. Since I disdain the crazies and the fringers, they usually avoid me too. I know they know, I don't like them.
I always do a few hours of knife in every seminar and I do have the occasional knife weekend seminars when and where I realize I need to catch up with people's rank requests. And, normal people can always, sort of, hide their knife interests inside a classic martial arts name. To me the knife is inside of, part and parcel of, hand, stick, knife, gun crime and war, survival education.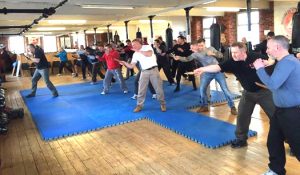 So, me. Boring. No mystique. Not isolating the knife enough. Not promoting people fast enough. No skulls. No flags. No carved out-eyeballs. No macho. Just generic methods. Here is where I have shot myself in the…well, stabbed myself in the foot, in the knife training business, even though just a few of us are those innovator pioneers and turned the tide in the 1990s into what it all has become today. For better or for worse. Maybe you young fellers will learn from my mistakes?
It's always good to mention and/or thank your prior teachers once in a while. I always do. But, before you young knife guys make any sarcastic jokes about me again (and Kelly and Bram, et al?) Keep in mind…your modern instructors might have "peeked" at all my and our long, established materials, and would not confess to it. I might just be your grandfather. Our materials have become such standard doctrine that these young guys don't even know of us.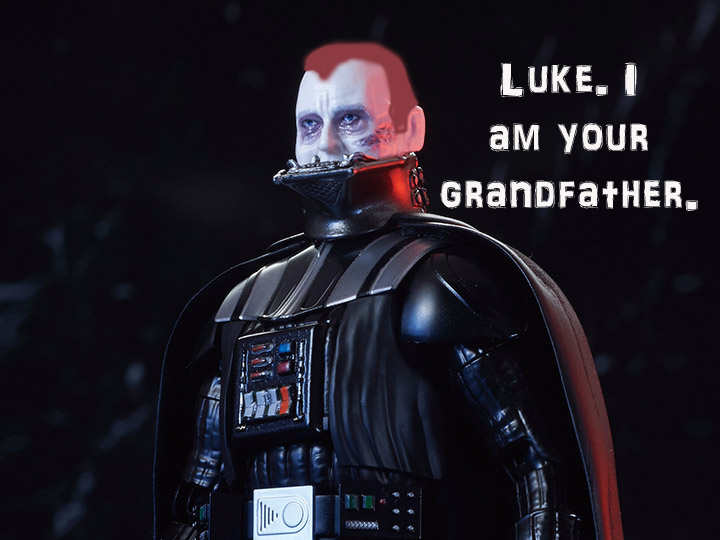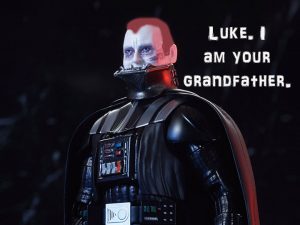 ++++++++++++++++++++++++++
Hock's email is HockHochheim@ForceNecessary.com
Get what is still called the greatest knife book ever, 1000s of how-to photos in the topics above, click right here. (Now in a second updates edition.)