Years ago, I saw a western with Sam Elliot. I can't remember the name of the western. Two guys came to kill him at a woodsy cabin. He shot them. One survived, and Sam immediately hauled him in the cabin and started treating him for his gut-shot wound. I realized I had a nickname for a situation that might help people remember an aftermath element all gun people need to consider more and more these days…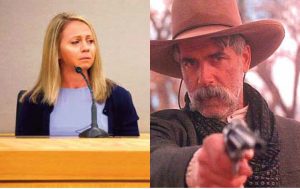 Years ago, then and now former Dallas PD officer Amber Guyger, came home late at night from a 12 hour shift, drove into and walked through her dark apartment building, a place where some 15% of residents have reported going to the wrong apartment. Call it bad "forensic architecture." She entered an unlocked door, saw a guy in "her" living room and shot him dead. Its a big deal in Dallas and hit the national and even international news media. A big deal because the the poor victim watching TV on his couch was by all accounts, a terrific young black guy. And we were smothered with Black Lives Matter agitators here in North Texas and controversy. So, its a terrible mistake, and she paid. She was eventually found guilty of murder and got a ten year sentence.
She testified! Which is an oddity. Under prosecution questioning and in her testimony was the fact that she did not apply any tactical medicine methods to the save the guy. And she had some very handy too in a police backpack she was carrying. She did call 911, etc. but didn't do much for the dying right away. This received many grimaces in court. It suggests a negativity. An uncaring intent. A secret racism is claimed. It fortified a guilty verdict. This is just one example of what I am talking about 
Even the military can suffer from this. Think about Navy SEAL Gallagher recently accused of war crimes and killing off a wounded teenager-combatant for one example. One of the contentions was he did not treat the wounded enemy teen properly. (Read about it in The Man in the Arena)
Trouble for the military, the on-duty and off-duty police officer. But, in a criminal or civil court what then for a citizen? Aside from off-duty Amber, it is becoming more and more apparent to me through the years that if you shoot someone in self defense, the "law" – be it civil or criminal, the carefully selected jury, the media, is going to ponder in a later calm and cool courtroom and want to know, want to ask you why you did or did not try to save the life after you shot them. Could you? Should you? Would you? Can you articulate why?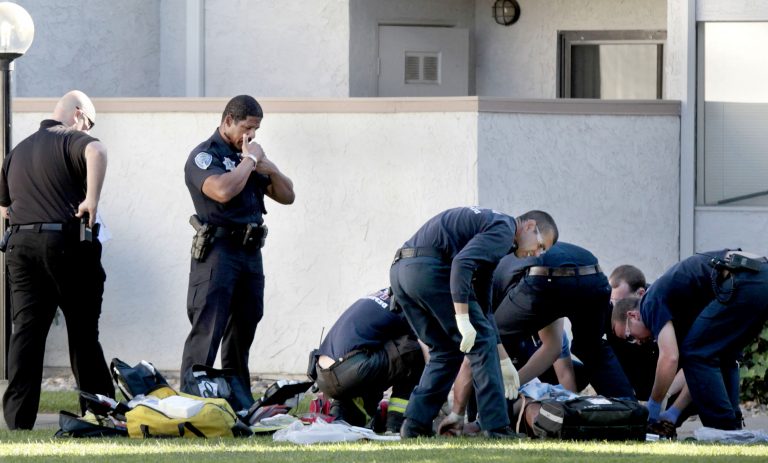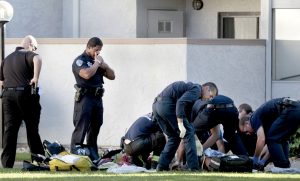 Past training for the police? We in the business have always had some medical and first aid training, however simplistic and poor, as far back as my involvement starting in the early 1970s.  Not much was said about situations and who deserves what kind of treatment. And when? The practice was that the wounded (or dead) bad guy had to be handcuffed. His weapons collected-secure. We had to close in, guns up and take care of this business. I have done this dozens and dozens of times, (more with prone, "unshot" suspects) but it's dangerous, and I cannot expect citizens to do this all the time. An ambulance was called. Not much medical attention, if any, is given to the grounded, dying criminal. We had to and still must  "make the scene safe," and we couldn't let the EMTS in close without securing the body and the scene.
Anecdotally, in the 1980s we shot an armed robber of restaurant one night. Now it being 35 years ago, I do not remember if he was dead yet, but we took his rifle and handcuffed him behind his back, and…let him be. Ambulance called. Neighbors watching complained that we let the guy die. His mother sued the department for not treating her kid.  Nothing much came of it because it was Texas and 35 years ago. If the city settled? I don't know. I can safely say, none of us thought of treating the guy.
This "no treat concept-decision," was more publicly challenged after the infamous Los Angeles bank robbery decades ago, in the 90s, by the two guys tacted-out, vested and with machine guns. When the second robber was shot, there was news footage of the aftermath. The cops stood around. The family of that robber sued LAPD for ignoring their son's treatment after being shot. Due to the carnage they wrought, there wasn't much sympathy at all. But, of course, LAPD settled $$$.
This official scene-securing is not a civilian requirement. In a way, in a biological, psychological way, I think we all can understand how people shooting a robber/attacker, are reluctant to help them. "The SOB might get kicked rather than get a tourniquet!"  Don't just say, "Well he was trying to rob me, so F____ him." That works at the bar, or the buddy BS session.  And while I certainly really do appreciate gallows humor, your words might not hang well in at the grand jury, the criminal court, or the civil court. 
Police, military, citizen or otherwise, nowadays, serious gun owners spend a lot time on tactical medicine, but for whom exactly?  Medical technology improved so much, so quickly, in the last few decades. I remember the wonders of quick-clot! But think about it for a moment. The general thrust of these courses had been to heal yourself, family and co-workers. Not really, not ever the criminal.
But, is it sometimes safe to move in, kick the bad guy's gun away (or pick it up) look the bad guy over, and maybe…do something? Do nothing? Don't care to? Too scared to look? Don't care to look? Are you alone? Mad, scared or cared? Think about it. Sometimes, under some situations and circumstances, church or school, wedding or workplace shootings to name just four, you are thee "man", or thee "woman," and you may have to move in, step up. Do. Sometimes you can't or shouldn't evacuate.
Anyway, my message is if you shoot anyone, lest of all kill Hannibal Lector himself, someone, somewhere will be looming around – prosecution, defense, lawyers, families, political groups – trying to torture you for not immediately performing a heart transplant to save him. I don't think this reality has fully hit total ground zero with all the gun people in USA just yet. Just calling 911 and running and hiding out in the parking lot behind a car may not be enough anymore in all situations. It is VERY situational.
Some of my smartest gun trainers and legal beagle friends say they teach rescue care. As far as medical treatment, some more thoughtful ones suggest –
* treat yourself first, then, 
* family, comrades, friends, then,
* third, consider the shot bad guy.
So for some, the wounded criminal is somehow on the medical list to at least think about. As a professional cop or soldier, you have to monitor him anyway. You have to get close to get his weapons away from him, anyway, we have to have cuff him, anyway. Again, that's situational. What should a citizen do? It's also situational.
I am not laying out a mandatory list here. I am just making a point for all people to think about ethics and the interpretations of law. Should every citizen shoot and run away as suggested by numerous self defense instructors? Always? Do you shoot a school shooter in a crowd or a church shooter in a crowd , or mall shooter in a crowd and immediately head for the hills? Is the bad guy dead? Stunned? Wounded? Up again and skulking around still? What constitutes closure? What constitutes closure in this situation? 
A major consideration is of course, how wounded is the bad guy? We closing-in-to-secure-police (and military) have to speculate on this as we approach. What about citizens?
Get ready for more enforcement institutions to mandate more of this medical follow-up. I first wrote this essay in 2019. Since, I've seen numerous and way more body cam videos of police rushing in to save the lives of the people that they just shot (black or white). They have to now! It seems everyday in the USA, legal systems are becoming more "liberal." More suspect-driven. Prosecutors are becoming more and more liberal (thank you Darth-George-Soros-Vader). In many places it appears that the movement is turning mere gun ownership into a sin and common sense, self defense into vigilantism! (Never mind the laws of other countries. It's too late for most).
To treat or not to treat? This is a legal (and moral?) question. Lots of my friends and police say this emergency medical treatment is far too dangerous. No way will they. Citizen, police or military, you should be able to articulate why you did or did not choose to treat the shot person these days. But proclaiming you will leave every one to die, every time, all the time, no matter the circumstances is just not smart legalese, nor smart instruction. 
What I am saying now is for everyone, what of a "Sam Elliot Decision?" You will have to articulate at some point, with understandable, common sense, why you did or did not do something medical to a bad guy, if just to your lawyer so they know in conversations with say…a prosecutor about your intent. There will be situational reasons for or against. But, you'd better think about, I hope you think about this… "Sam Elliot Decision."
We have spent a lot of time and effort to remind police and citizens to message-
"I shot to stop him, not to kill him."
This is just a further manifestation of that messaging. To survive the civil or criminal follow-up, it is much wiser to be the person who:
"thought about helping."

"Who wanted to try and help but couldn't-shouldn't."

"Who tried and did do something."

Rather than someone who's doctrine totally condemned the concept. (I think this could be troublesome, especially in the future, for the person or the subpoenaed teacher. Can you hear the questioning? "So you teach that you should simply let everyone die, no matter the circumstances? Is that what you teach?)
_________
Okay, there's more in answering various questions coming in. 
Let

me close by saying this. Many training systems innocently "perceive the gunfight." And they teach to that perception. The perception of your first and next fight is VERY important because you wind up thinking and training for that perceived fight. Many instructors worry "small" about the parking lot or home invaders and a few events like that, that of course actually do happen, but so many other crazy things happen too. Tons of crazy things. But some create these generic ABC rules off of limited perceptions and insist on this one main rule, this universal "call 9-11 and MUST evacuate for safety." Which of course fits a few scenarios but NOT ALL OF THEM.
So, it was Thanksgiving. Distant cousin Billy is drugged up on uppers and downers and goes nuts with the big turkey knife. He starts swinging and cutting folks and you shoot him in the stomach before somebody's throat gets stabbed. He falls down and drops the knife. The knife is removed. You call 9-11 and…leave the party like the ABCs of Instructor Johnson advised? Clear and the room and hide in the parking lot? Response time sucks, maybe 20 minutes on average. Folks at the party treat the other victim's superficial knife wounds. They are okay and you have courageously ignored the common escape-to-safety ABCs and have remained. And all the while there's Billy on the floor. No sirens. He's gurgling and dying. Do you holster up and help Billy live until the ambulance arrives? Or do you let him die? (Based on a true story.) I think you should make the "Sam Elliot Decision" as this "uncle-in-law" did and help the knucklehead live for a whole host of reasons. When the EMTs arrived before the police, they were waved inside to help the bad guy. (He did live.)
I do not want to start telling these many examples that don't fit the "A" or "B" or "C." I write and talk a lot about your perceptions of your first or next fight. This includes your instructors perceptions of your first or next fight too. They help or taint reality. How broad are their ABCs?
You

cannot think that simply calling 9-11 and leaving for "safety," absolutely fits EVERY occasion, every time in the craziness of life.
_______________
Here's a one minute video Lexipol advice piece on this subject for police.  Many of you are not going to like it. But, I think this will grow in the legal world. Click here
______________
Hock's email is HockHochheim@ForceNecessary.com
Get Hock's True Detective adventures and misadventures, paperback or e-book, click here