Are you an martial innovator, or a martial replicator? After a thought provoking discussion on Facebook, starting with this photo…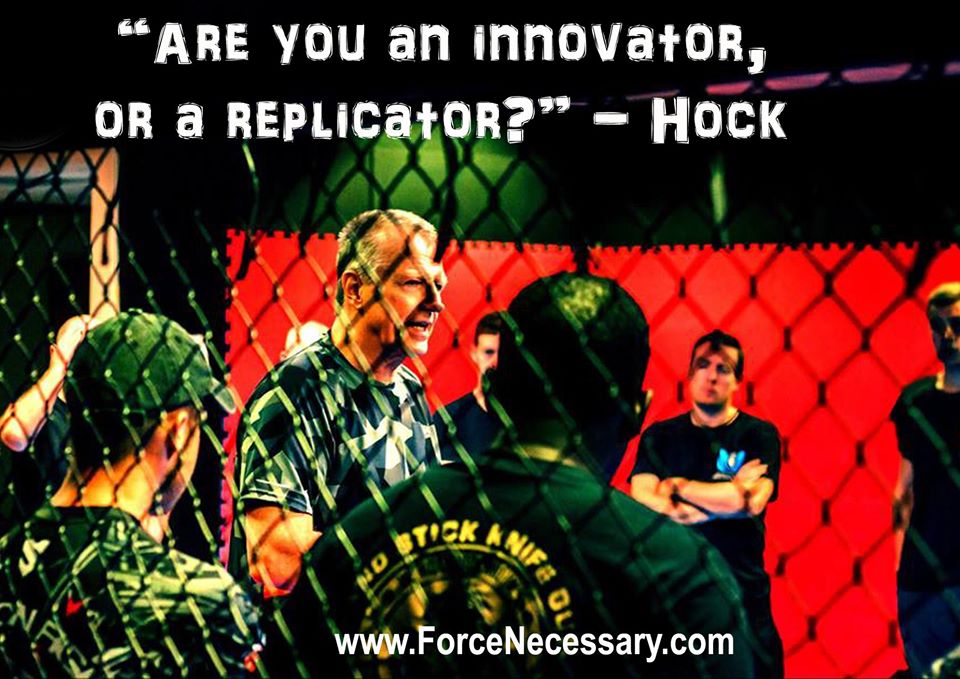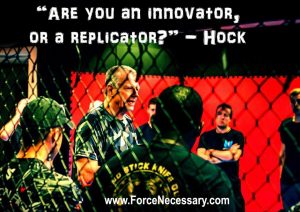 …the comments came up that the basics (of fighting arts, or perhaps anything). Are so basic, that how could one possibly innovate the basic-basics. After all, they're so darn basic!
On the basics, I replied – I am constantly impressed, year after year, how college and pro football trainers invent, and re-invent better ways to enhance the basics of football, the basics of positional football. Open-minded trainers, always looking, always thinking. That's an open eye to innovation… of the basics.
Can…should the basics be innovated? Yes. But, you first have to find your end goals. Your Mission.
Why in the world are you doing what you are doing?

Is it just for exercise? There might be better exercises?

Survival? There might be better ways?

Is it just a hobby-love? Like: "I am addicted to wrestling." "I just live double sticks." "I just love shooting paper targets." "I just want to thoughtlessly do whatever Master Quan wants to do. He is my hero!"
Then…your happiness is achieved! I get it.
Once true mission/goals are established, then the future training  can be kicked around, and one thing is to examine the whole approach to those "basics," the collection of "basics." The martial arts for example are loaded down with unneeded "basics." Even when you want to become THAT specific martial artist, you are still, often dragged, mired down into doing unnecessary basics. They should all be examined and after a while, re-examined. It so important to be free of dogma…unless you like dogma?  It's my old "who, what,  where, when, how and why question game again.
Who gets to make the basics? Who made them your basics? What really are your basics?

Who suffers, or needs or flourishes doing these basics?

What is the real mission, the real goal to establish what is basic

What better, smarter ways are there to teach the basics?

What can best motivate people to keep doing the basics?

Where will these basics actually be needed?

Again…who gets to make the basics?
For example, one dissection of "why do you do this?" A friend of mind was proudly showing a martial arts, ground movement, kata on youtube. Eight guys and gals, all dressed the same, flipping and rolling and stopping a second in a position. It was an elaborate show.  He was proud of them. They were proud of themselves. I watched the routine a few times and could see that really,  the "stops" were about 7 stretches with dancey' moves between each one. The dancey' moves did not conceal the point to me that they were actually stretching and in actuality, the kata itself was about stretching. For a guy like me? I would much rather do the 7 stretches. No dance. One could probably do each stretch longer and deeper, if they just did stretching alone.  But, I understand my goal. My mission.  Some people like to…dance around. (There are professional dancers!) And some people derive pleasure from it, memorizing it, and performing. Not me, but some do. That's why I always ask people, to ask themselves, why they do what they do.  If their happy, I'm happy. Just be on-mission, on-goal. And know…
But, if the basics are so basic? Can you innovate the basics?
Is there another way, another drill to enhance a basic?

What do individual people, not groups need to advance?

What do groups need, not individuals, need to advance?

Can you innovate, customize the education format?

Can you reduce the abstract?

Can you innovate the inspiration?

Can you recognize that, what is basic for some is advanced for others.

Can you recognize that, what is advanced for some, is basic for others. 

I mean, shouldn't we always be asking, "Is there a better way?" About everything?
 I often see many instructors spend 30 (or more) minutes explaining some painfully, simple movement. Some people love all that. Some don't.  But we don't need to hear about the DNA of the Missing Link through current mankind to show how to punch someone in the nose. Unless you are a virgin geneticist? 
Vetted, core, basic things. Oh, like wind sprints. You might say, "How can you innovate a wind sprint? But wait, wait! Innovating coaches and trainers have developed numerous ways to improve your basic sprinting, and they have with all kinds of core basics.
You can't always innovate. everything, but you can always think and worry about innovation. 
*********************************
Get Hock's book, Training Mission One, first in a series, click here