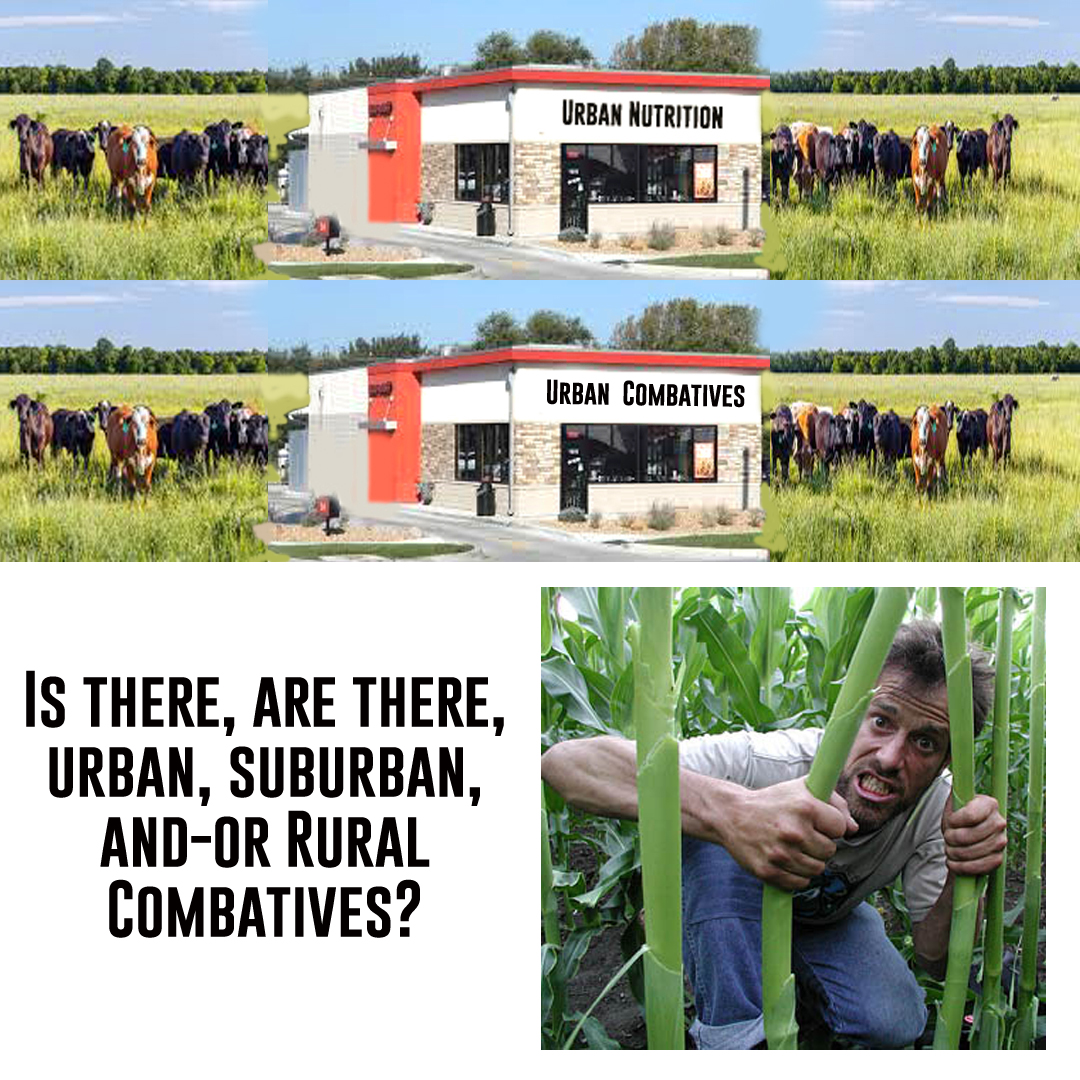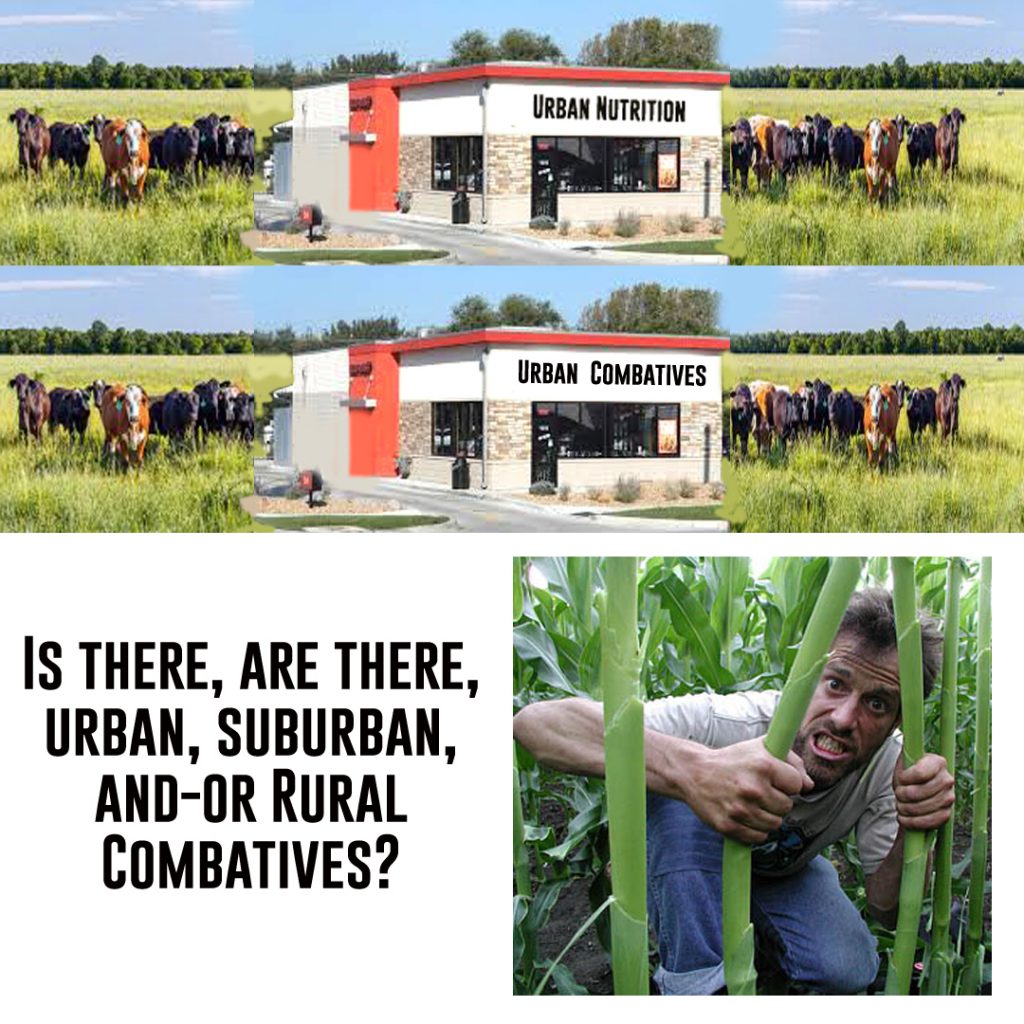 An email I received a few years back –
"Dear Mr. Hoochmeins, I am looking for suburban combatives. I see ads for urban combatives but I do not live in an urban area. I live in the suburbs. I would even settle for rural combatives as the country is closer to me than Detroit, near to my house. Can you help me?" – Ambiguous
"Dear Ambiguous, it is a bit odd yes, that there is an urban combatives in name, but there is no suburban or rural combatives. I think you should be looking for 'generic' combatives to cover all geographic problems, but the name 'Generic Combatives' is very boring and no one calls themselves that. Urban conjures up something …well …'urban' and …'cool?' Not for me, but for some. So go to any combatives one near you anyway." 
Not for me? I am a business-name-nut. Geography in a business name can mean something right away, but what exactly and for whom exactly?  People often use the word "global" with aspirations of eventual world reach and fame?  Or they call themselves exactly what turf they want to cover. Like Piscataway Karate – they don't want to expand into Trenton, they are happy just in their little demographic, section of Piscataway. Geography involved in the title or not, business names really do count.
Like Mr. Ambiguous, I live in the outer reaches of the ever-expanding Dallas/Ft. Worth Metroplex in north Texas. This geographic term "DFW" just continues to grow and grow, but up north here we are still surrounded by farmland and ranches. Around here, it looks like an occasional housing addition, then a ranch, then a strip center, then more farmland and ranches. That breakup is what I like about the area. It's still very much country and wide-open spaces. I am a good judge of what is rural, suburban and urban because I grew up in the thick, dense New York City area. Basically, I know city and I know country, and today's cavalier, tossed around term "urban," as in appealing to everyone everywhere, confuses me. 


There's a new, small business building in the cow pasture near me. The first business in this isolated place and roadway is called Urban Nutrition. Brick wall, graffiti, art sign. That ubiquitous claw ripping through the brick art, too. Urban is a big city name suggesting, well, what exactly?  Real, inner city … ahhh…inner city eating? Inner city, muscle growth? Inner city…vitamins? What exactly does it mean, Mister Franchise Owner? Who is it supposed to attract? Because, last I read, and for some years now, urban areas were having trouble getting available fresh food and good nutrition. Food deserts! So…copying urban nutrition plan is not much of a goal.
"Food deserts are geo­graph­ic areas where res­i­dents have few to no con­ve­nient options for secur­ing afford­able and healthy foods — espe­cial­ly fresh fruits and veg­eta­bles. Dis­pro­por­tion­ate­ly found in high-pover­ty areas, inner city, urban areas. Food deserts cre­ate extra, every­day hur­dles that can make it hard­er for kids, fam­i­lies and com­mu­ni­ties to grow healthy and strong." – Professor Google
 A store as we see it, with cows walking around it, in open fields, would capture the very dichotomy of that name in that place. "Wazzup, Farmer Jones? Howdy, neighbor! Learn how them inner city boys get real big and muscular?" (Wouldn't you rather be a big strapping country boy? Eat fresh country food?)"
     Sure, sure, sure, in the next 20 years a few things will pop up all around the nutrition store, but I will never say that it will look remotely urban, or any urban city around here. It will look suburban at best. The name sends an odd, off-mission message. It's just odd to have an Urban Nutrition store in the middle of a rural farmer's field. Shouldn't the sign read, "fresh farm food?"
Aside from food deserts, what of the urban, the suburban and the rural? The U.S. Bureau of the Census defines urban as a community with a population of 50,000 people or more." The dictionary says that – "Rural areas are referred to as open and spread out country where there is a small population. Rural areas are typically found in areas where the population is rather self-sustaining . Suburban areas are references to areas where there are residences adjacent to urban areas, like those between urban and rural." There is a marked difference between the three. We all know this?
    I see a lot of urban stuff marketed these days and, of course, even the rather ubiquitous urban combatives is a name dropped here and there in system names and school system descriptions around the whole planet. I do wonder why that? I find this title curious, too. Urban Combatives. A sales pitch might be …
 "… all these techniques have been tested … in, you know … urban … ahhh … areas."
"Wazzup, suburb boyz? Country boyz! Fight like inner-city, urban boyz! Word!"
"Fight like Boyz in the Hood."
"No crime, no fights happen in the suburbs or out in the country, you stupid rednecks, just so you hicks know, down in the projects is where you really learn how to fight."
"Are your punches and kicks all kinda' …urbanized? Or country stupid? Run through that special, 'urban" filter' of urbanized special fighting that only urban thugs can do."
"Here in the deep city, we cheat!"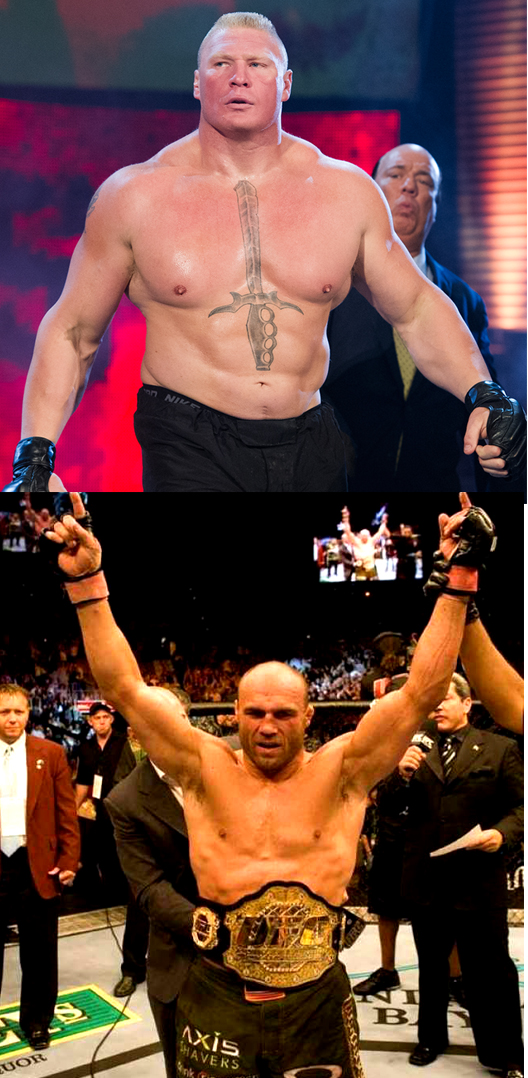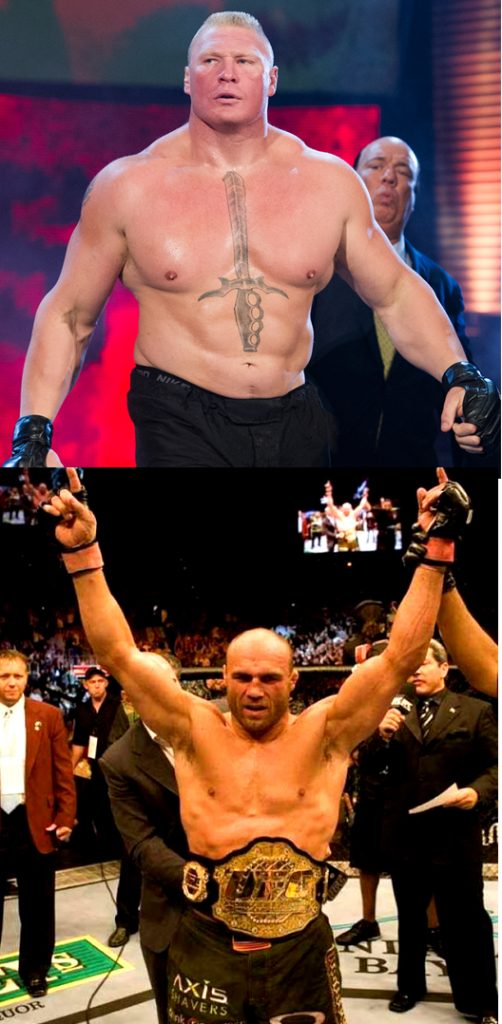 Seems to me urban people have no monopoly in elite fighting. Have you investigated the UFC champs for example? You know Matt Hughes is a farm boy from southern Illinois. Brock Lesnar is from Webster, South Dakota. Randy Couture is from Cornelius, Oregon. There's a long list of country boy (and girl) champs. I could go on and on with this country champ list. And, champion training is conducted everywhere, not exactly an inner-city or in an urban majority. 
We know what "Urban Combat-Urban Warfare" means for the military today – fighting with firearms inside cities, as opposed to say – "Jungle Combat-Jungle Warfare" "Desert Combat" or "Forest Combat." Each theater is different. At a very core it's the same, but geography varies and tactics must vary.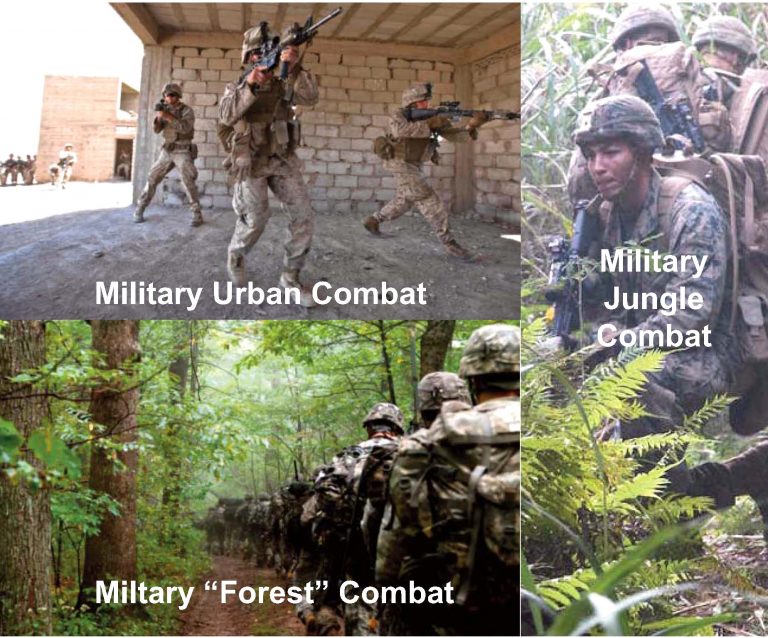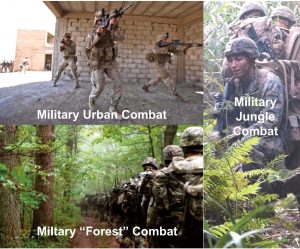 Is Urban Combatives really about fighting big city crime? It is said by many bean-counters that if one were to subtract gun crime stats from some sections of some 10 big, liberal major U.S. cities, the American gun-crime-homicide rate would be the about the same as Japan's per capita. Maybe real Urban Combatives best be about guns then?
Anyway, crime and/or fights will occur anywhere. Rural, suburban, or urban. Some of the worst crimes and baddest fights have occurred behind the barn in Idaho or on a side street in Branson, MO. . 
Let's talk about the martial business. Yes, fights, crime and war occur in rural, suburban, and urban areas. Indoors and outdoors. A comprehensive fighting program, appealing to the most customers, must include all these turfs. Generics at first, specifics later as the "who, what, where, when how and why" are developed and explored. Picking one name like "urban" is actually quite limiting as far as a smarter business plan goes, unless you are teaching in THAT specific urban zone, teaching specific urban people, to solve specific urban problems. Just like the military jungle fighting school teaches jungle fighters to fight in the jungle.
Let's flip urban around a bit and look at it this some opposite ways, which always helps me think about things:
Will "Georgia Barnyard Combatives" work in Manchester or Prague?

Will "Harvey's Suburban Combatives" work in Philadelphia?

Will "Jimmy Bob's Hearth of the Homeland Combatives" work in Detroit?

Will we ever see "Outer City Limits Combatives?"

Is there even a "Rural Combatives class anywhwere?"

Is there even a "Suburban Combatives class anywhere?
The marketing name of something, and advertising catch phrases, count both overtly and covertly and are major influences in the success of business. (Hey, businesses can be tricky and are tough to name. I fully empathize.)
I am kind of a nut for busines names. (I don't really like mine that much either. I first wanted to be "When Necessary? Force Necessary," but it was too long and clunky and I had to shorten it. Again I empathize with the struggles to name things.)
Funny thing is, many rural and suburban people that don't otherwise like the "big city,"  don't like the laws, politics and restrictions, some still embrace the term "urban" this or that, despite where they are and what they need. 
Exceptions to geography? Always are exceptions. The road to business success is more than a name for sure. Yes, it's hard work and with a splash-dash of like winning a lottery ticket. The path is usually a strange one and tough, and if not impossible to replicate the paths of others. Would we know of Bruce Lee if he never made any movies, never was Kato on TV? Steven Seagal? Geographic naming came into play with Brazilian Jujitsu. Must we be in Brazil? But their lottery-ticket-path was the popularity of the UFC. In the martial arts, where the "grass is always exotic and greener," elsewhere, places like Israel, China, Japan and Brazil have a mythological lure. It seems THAT sort of geography can count a bit, but still, geography is a harsh mistress.
"Urban." It's a big city geographic word, but not a big potential word if you actually think about it. It's restrictive and at the same time a very small, confining word in many ways. I guess "urban" sounds just innocently, naively cooler to some people? It's not cool to me. I grew up in New York City. Not cool at all.  
****************************************
Check out Hock's free full training film TV channel. One free film posted a month. Click here.