Will the Real Dr. Winston Clancy Please Stand Up?  (Or… How to Throw a Man Out  a Helicopter Over the Gulf of Mexico)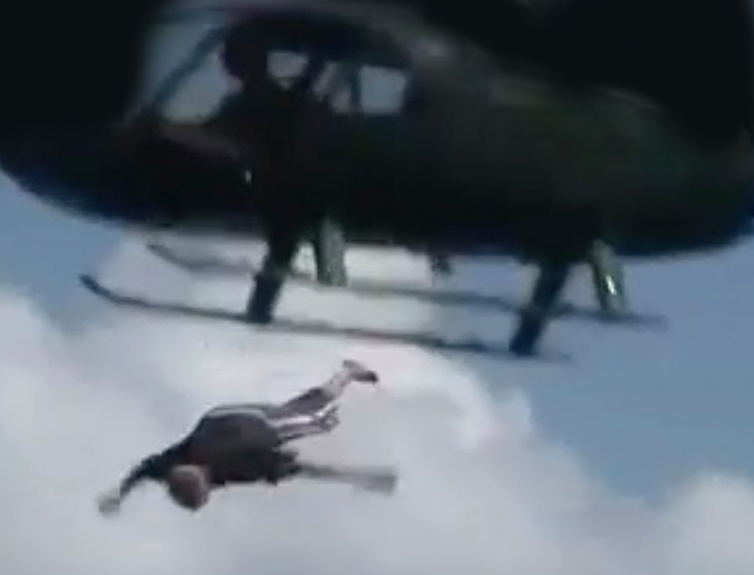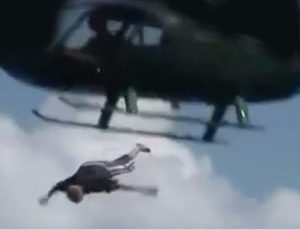 After I retired I did a 3 year stint in private investigations in Texas. Then Jane got a job in northern Georgia. I was licensed in Texas, and knew no one in Georgia, so I did not renew the TX license. (Jeez what a money racket that licensing was! I write all about that in my police books).  People are morbidly interested in my "private eye" days."  The topic sometimes comes up and they ask, "Were those days like the Rockford Files?"
I tell them "Oh yes. Exactly, except there were no car chases, gun fights or sex. " But there was certainly some "Rockford" weirdness. Like this – one of my PI cases.
Through the years I'd met an architect from the Miami area I'll call Phillip for the purposes of protecting the so-called innocent. But ol' Phillip was not so innocent. He was longtime married in Florida; but when his national business took him through the Dallas-Ft. Worth area for various periods of time, he would often appear at various functions with a knockout Dallas cougar, blonde, hanging off his arm. Back then a "cougar" meant the animal, but by today's definition this babe was for sure a "cougar".
Hey, I liked Phillip. He was a macho guy, an alpha male. He was a skin diver, a hang glider, a sky diver, and an overall adventurer. Carefree. Careless. He would often ask me and mine to accompany a group to a show or a concert. In the limo, he would often lean over and ask me, "Are you packing?"
I would squint a bit, half shake my head, and give a quarter smile. "Yeah," I'd whisper. I usually had my .45 or a small revolver.
He'd get a kick out of that. I didn't know why. I never did quite figure out the guy and why I was his sometimes pal when in town; was it me and my charm? Or because he liked having me and a gun around?
Phillip. Carefree. Careless. Careless? One year he corralled me at a big north Dallas house party of the well-to-do with a certain pleading eye that was not so carefree.
"Hey, can I talk to you for a minute?"
"Sure."
With a Seven and Seven in my hand and a beer in his, he steered me over to an empty front room of the house. He told me he'd lost over two million dollars. And he was not alone. Several of his East Coast friends and associates let slip about the same amount. He and those other friends and associates had invested millions in a Texas oilman-driller named Dr. Winston Clancy and his latest "sure thing" oil well. This was his latest oil well drilling project in west Texas. Let me be more specific. Phillip had even introduced those friends to Clancy and gotten them involved.
"I am pissed. My friends are pissed at me. And I mean I can't have some of those people pissed at me. The well was a scam. A con."
"What people?"
"People with money. People with bad friends. Some think I am in on the scam!"
"What do you want, Phillip?" I asked.
"I want to find the son of a bitchin' bastard," he growled.
"And if I find him?"
"Hmmm, yeah, well. Let's take one step at a time. You find him first."
Okay. I'd go that far. We'd see what happened next. I couldn't, I mean I shouldn't get involved in any violent debt collection. Shouldn't…
"Okay, when can you fill me in on everything you got on him?" I asked.
"Tomorrow. Can you meet me tomorrow?"
He turned toward the big archway. "Michael!" he shouted into the living room.
Michael, the stock salesman, walked up to us.
"You have a business card on you?"
"Ah, yeah," and Michael opened his wallet and gave him a card.
"Okay. Thanks," Phillip told him; and with a light, friendly push, he steered him back to the party.
"Can you meet me here tomorrow at 2 p.m.? This is a local office where I set up shop," he said, and he handed me the business card. It was a finance office in north Dallas.
"Okay."
"Hock, this is no favor. I am going to pay you for this."
"Okay."
And the party resumed. Phillip acted very normal, very typical the rest of the night, his usual gregarious self. But I noticed his attention span drop when others were talking a bit too long. He often stared off with the blank expression of a guy in a jam. What "friends" might go after old careless, carefree Phil?
I showed up at the finance office the next day dressed appropriately, but not too much, just good jeans, boots, white shirt, and a blue blazer. That'd get you inside anywhere in Texas, in a millionaire's club or a slum crap game.
Phillip was summoned to the lobby by a beauty behind the front desk, and we entered a stately conference room. Phillip stepped out. I got a cup of coffee, top-notch of course, unlike that law office mud; and he returned with a stack of books and files.
We went over his mess.
"Here is a book he made of his prior successes."
He handed me a large hardcover book like a textbook with color pictures. Or more like a school yearbook to my mind. There was a profile on Clancy with a color photo of our con man with a white cowboy hat standing before a wall of photos. One photo was of a luxury yacht. I looked on. Clancy had a plush office all right, full of leather furniture, statues, paintings of cowboys and cattle, and a giant, ornate dark wooden desk. The walls were full of oil well pictures. Problem was, he apparently was, as we say down here, "all hat and no cattle." Problem was, it was as realistic as a cardboard set of J. R. Ewing's office from the old TV show Dallas.
The rest of the book was a series of successful wells drilled all over. Snapshots of the drills and the roughnecks displaying good all-American hard work and sweat. Photos advertised the eventual pumps, the happy and rich landowners, and the happy, happy investors raising drinks and grinning from ear to ear. I thumbed and fanned through the pages.
"Some of those stories were real, the thicker chapters, and some were not. A lot were not," Phillip said.
Clancy claimed he had an amazing success rate in finding oil in the ground. Winston Clancy looked the total oilman package: that hat, Western clothes, and expensive Western jewelry. He bragged to Phillip that he'd earned a doctorate in geology at SMU in Dallas, and Phillip got some of his Florida and New York friends involved with that "sure thing." Clancy even flew to Miami and met them all at a dinner party at Landry's Steakhouse. Winston had the schematics, maps, geology reports, and what-all to convince people that his next well was sure to be a gusher. A gusher! Glasses were raised in a toast. Riches to all!
In the end, Clancy walked away with millions in investment money from his far west Texas oil well project.
"In the beginning, we got monthly progress reports and some photos with them. A look at the site. Breaking ground. The well under construction. Then those reports came every two months. Then three…."
"Then none," I said. (This tactic was not new.)
This actually was not new at all. I'd worked cases like this before as a police detective. Bad news for Phillip, though. You caught the guy, and you put him in jail. The guy got convicted, and the scammed money was already spent or well hidden. The courts made him pay a dribbling amount of restitution to the victims. They never got real recompense. Clancy got out on bond or served a short prison hitch, and he was out. But then, I was no longer in the "catch and release" game. I could play other games.
I found some of the news reports in the stack. Eight-inch by 17-inch sheets of paper, folded in half, and stapled together. Picture quality not good. Must have been run on a basement copy machine. Envelopes?
"You have any envelopes?"
"Somewhere."
He sat up, leaned across the table, and shuffled through the pile. He found one. An actual stamp was used on the envelope. Postmarked Dallas.
"All these have the same postmark?"
"Don't know. Threw them away when I got them."
I got a bunch of details from Phillip and the pile.
"Let me take this book," I said, grabbing up the advertising, rah-rag yearbook.
"Okay."
"I'll get with you if I find anything."
I left the office with a plan. I drove straight to Mockingbird Lane. Why, you ask? Because that book was made just last year, printed by a book company on Mockingbird Lane in Dallas. I'll just call them Scuttle Press for this story. The name was in the fine print in the opening pages and on the spine.
"I sure need to talk with a salesman," I told the receptionist at Scuttle.
"Yes, sir, may I have your name?"
"Hock."
"Yes, sir, Mr. Hock."
As I suspected by looking around the stately lobby full of samples, this outfit would make any book. School yearbooks, textbooks, anything. A smiling face met me within minutes, and we walked off to his office.
"This is going to sound crazy, but I need to find someone. I have found myself in an oil deal. The land is rich with oil, and we need a driller. A real wildcatter. Someone with Exxon gave me this book and told me flat out to find this guy for the job!"
I slid the book across his desk. He spun it for a look.
"Y'all made this book for him!"
"Is … is his address not in here?"
"He's moved."
"Oh."
"I have to find this guy. Is there any way you can help me? Any info on him? A phone number? New address?"
"Well, I don't know, that would be…."
"The whole purpose of your making this book for this man was to advertise his business! That was what he wanted you for. I, sir … I am business!"
"Let me see what I can do for you."
He took the book and left the office. I think he fell for my tall Texas tale.
About 10 minutes later, he appeared with some copy machine papers.
"All we have is this Dallas address. That might be the one he moved from. And this phone number. Those books were delivered to that Dallas address."
"Oh, oh, thank you," I said. I got the sheet of info and the book and left Scuttle Press with the scuttlebutt.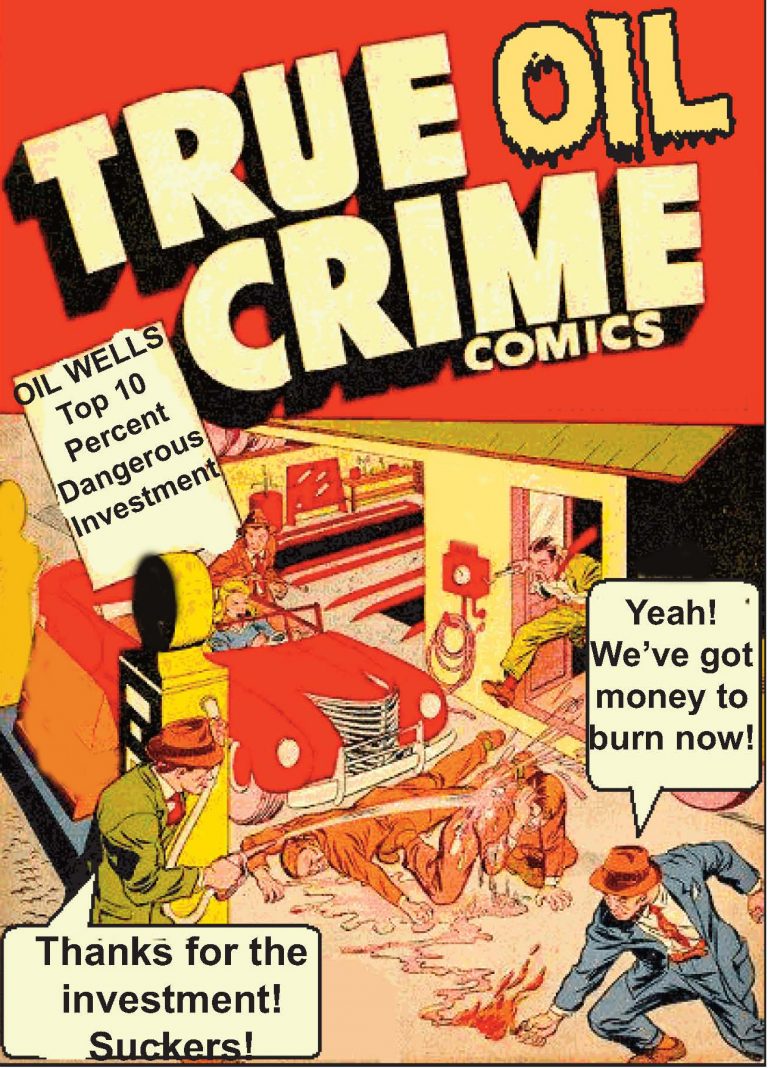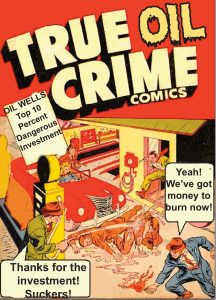 The phone number? A Houston prefix. After a while, you got used to a lot of phone numbers from working cases; and this one was in the Houston area. But was I going to drive straight to this Dallas address and find this swindler?
It was rush hour now, and Dallas could be a bear like any big city. When I got to the house, I sized it up. Not a super nice house or neighborhood. Nice enough, but not super nice. Not oilman nice, anyway.
I walked up to the door and rang the bell. Nothing. I took a peek into the front windows. You guessed it. Empty. Empty and no "For Sale" sign to be seen. I wandered around the backyard. No signs of life.
There was always next door!
"Hello, I was looking for the folks who lived next door."
"They moved a few months ago," the lady who answered the door told me.
"They? He and his wife?"
"Yes, I think, I don't really know if they were married or not."
"Uh-huh. Do you know where they moved?"
"I don't, but Melinda across the street was friends with the lady. She might know where Melissa is."
Melissa? Okay, long story short, with the same story of me hunting for an oil expert, Melinda told me that the Clancy clan left for Houston. There was more to the neighborhood visit, but it turned out to be unimportant for you to know. Suffice it to say, I learned a great deal about "Mrs. Clancy," and the city of Houston was second on my list to visit.
First trip on the list? First I absolutely had to drive out to the supposed oil well site so that I could confirm, with my eyes and without a doubt, there was no well.
Back at my home office, I called a Texas Ranger I knew in Austin who I worked with when he was a local highway patrolman and who owed me a few over an old missing person's case. I gave him the Houston phone number, told him I was investigating a statewide oil scam crime, and asked for his help. This was a Texas-sized problem, and I would fill him in on the end result for his intel when I was done. I needed the address of that phone number plus any and all the horsepower he could muster up on the house where the phone was installed. Residents. Utilities. Etcetera.
Two days later, I was on my way out to west Texas. Easy run. I found the tract where the well was supposed to be and, well, no well. I snapped a few photos of nothing. No permits were filed at the county. I made the long drive home with real confirmation of the scam.
I waited for the Ranger's call and got it a few days later. The house belonged to a Melissa Keefus. Utilities, too. Two cars were registered to the house, both in Melissa's name.
But some other info from the house, stuff I won't mention here, had the name William Alex Sanford. The Ranger said Sanford's mug shot matched the photo of Clancy I had faxed him. Yeah, that's right, mug shot. The name belonged to a con man on parole with mucho prior arrests for swindling and fraud. This was the real Dr. Winston Clancy.
Right after that, I took one of two drives to Houston to this Clancy-Sanford house. Another decent neighborhood, but no millionaire digs. And good news for me, the garage was on the front of the house. If it had been out back, I'd have had a little trouble parking back there and waiting for their cars to come and go; and at the same time, I'd have missed any action at the front. I had a truck and a four-door sedan at my disposal, the sedan being the most boring and overlooked car. I watched the house at various times of the day. And at the end of the two trips, I tallied up several sightings of Melissa and one of the mysterious Doctor himself, Mister Clancy.
When I got back home, I made the phone call.
"Phillip?"
"Yes."
"This is Hock."
"Yes."
"I found our doctor. He is in Houston."
"Oh, that is great news. Great. Tell me about it."
I gave him the synopsis.
"All this will be in a report I will mail you."
"With a bill for your services," he said.
"Okay. What happens next?"
"I'll handle it," he said.
"You will? How? What?"
"Not to worry, Hock."
"I had to pull in some favors to get this info. Clancy is a parole violator, and a Texas Ranger now knows about this. I promised him a full report would be forthcoming. I assume eventually his parole officer will be officially notified by the Ranger."
"Hmmm. Okay."
"What I meant to say is this. You couldn't collect much from a guy in jail. And you would be the complainant who the parole officer must contact to see if his guy was still committing crimes. There had to be a crime report for him to work on."
"Okay."
"Anyway, this could be a bargaining chip to use with him. Against him. To get your money. I could…"
"Don't worry, Hock. I got it from here."
"Okay."
And with that, we hung up. I sat quietly for a moment at my desk staring out the window. What would happen next?
I prepared a bill and shipped it off with some photos. I got over $5,000 plus expenses. Not a bad haul for the 1990s. About two weeks later, I sent a packet as promised to my Ranger friend in Austin. He would do with it as he wished. Tell parole? Open his own investigation? Stick it in a pile in a corner? And, that was that!
Until about one year later. A dinner party, and who was there? Phillip and the cougar! He waved across the room; and about an hour in, he ushered me out to the backyard.
"Thanks for all your help and that … deal," he said with a smile.
"It worked out? What happened?"
"I told my Florida friends. Retired friends from New York. People who knew people. Doctor Clancy was kidnapped one night."
He smiled broadly at me.
"Ah … what?"
"He was kidnapped. Duct tape on his mouth and hands. Everything. They tossed him in a car and drove him down Galveston way. The Gulf Coast somewhere. They put him in a helicopter, and they all took off over the Gulf. They opened the side door of the chopper and hung his ass about half out of it. They told him to pay us back; or they would do this little trip again, only worse for him."
I smiled back at him.
"They drove him right back to his car. They stayed in Houston for the week. We got our money back by the end of the week."
What could I say to that? I nodded my head and laughed. He laughed.
"Happy ending, huh?"
"Happy ending," I repeated.
I would see Phillip a few more times. Then I heard he had a terrible accident hang gliding. He just about destroyed his shoulder. He was getting way too old for that stuff. I also heard he divorced his wife and took up with the cougar woman. There were a few natural deaths within that group of friends, and Mrs. Cougar returned for the funerals. All connections dwindled away.
I worked another oil well case around that time. Two rival oil companies were fighting over  a well in the south. One illegally took it over and I was hired to go there and take it back. I picked up a gang of the kicked-out, rough-neckers and we cut the gate chains and ran off the illegal crew. Our guys held wrenches and tools. The other guys, pretty much knew they were there illegally and took off.  But that's another story. 
Justice does come in all forms. Sometimes it comes in the cold, cold midnight wind off the Gulf boosted by helicopter blades at about 300 feet above sea level.
********
Hock's email is HockHochheim@ForceNecessary.com
This is excerpted from Hock's true crime book. Thousands sold all over the world. Get the ebooks. Get the paperbacks. Find them, click  here