(Everyone knows by now, I do not teach marksmanship. I do not have the patience nor the skills to do so. I cover only simulated ammo advice and scenarios. But I dared to write this once!)  
The first pistol I ever fired was in 1969. After that I've had 26 years of formal police and military training, intermixed with "outside" courses and courses after "retirement", above and well beyond the original 26 years. While I have qualified expert several times early on in the Army and Texas police work, and for a brief period was even on a police shooting team, I was much, much younger and frankly, could see much better. I am not and have never been what you might call a "crack shot," and now I get by.
Today, I can positively attest that I can pass the "Barn Test." I can indeed hit the broad side of a barn. I have also investigated a thousand or two crimes and hundreds of violent crimes in military and civilian police work, and then some as a private investigator. I have attended numerous police forensic courses, some taught by the greatest medical examiners in the Unites States reviewing their cases. I have learned many things about shootings, and have strived to create the best, training doctrine. To paraphrase that kid in that movie, "I've seen dead people." As well as survivors too.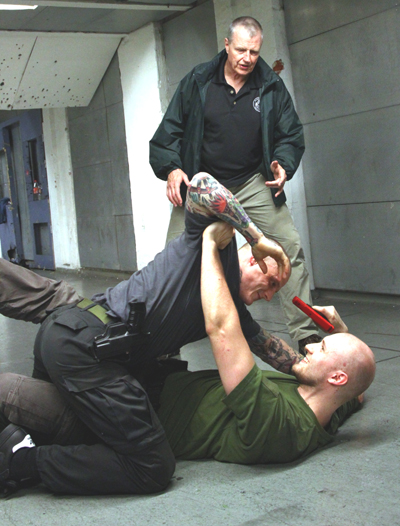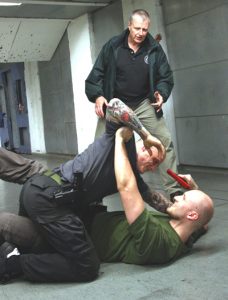 (Teaching in a Finland gun range 15 years ago before such gun subjects became "popular.")
I was frequently called in 1995 on the web, "a fool who plays with toys." My have times changed. Since and today, my sole interest is interactive shooting with any kind of simulated ammo we have handy, in situations. (You must learn to shoot the doorknobs on barn doors elsewhere, just not from me.)
One pistol outline I wrote is about three, what I call, "breaking points" in shooting pistols in gunfighting/combat situations, to organize my teaching thoughts and outlines. Dissecting and probing these 3 breaking points have been helpful for me in experimenting, organizing and teaching pistol material.
Break One is the breaking point on a pistol trigger.
Break Two is the physical breaking point, spatial decision to go from one-hand to two-hands, or vice-versa.
Break Three is that physical and time breaking point where you have the time and space to go from an emergency aim to a serious, dedicated, front and back-sighted aim.
"Break One," is the breaking point on a pistol trigger. Gun scientists will say "the "blade" of the "trigger system" is the exposed portion of the overall triggering mechanism. That is the part where the shooter applies finger pressure to fire the gun. Mere mortals simply call this – the trigger. The trigger "breaking point," is that precise point in which the pistol cracks-off/fires. I will also avoid stepping into the world of hyper-mechanical, gunsmithery and if you need to know more about this clockwork? Ask some experts for the details.
But, the finger-trigger squeeze is a big deal in hitting stuff. The further away from the bulls eye or bad guy, the more the trigger squeeze becomes a big deal. The trigger squeeze topic enables me to touch upon what interests me on this subject, as in the finger position on the trigger.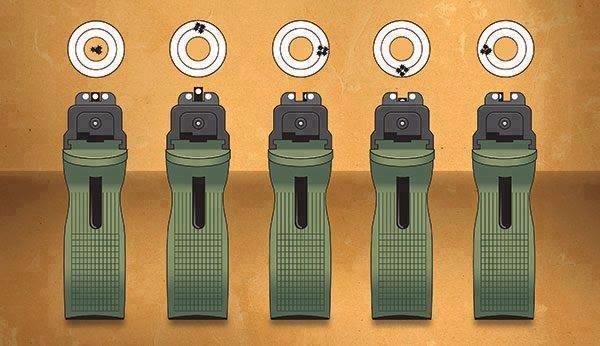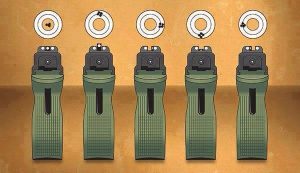 For me, I know what it is like to be under great stress and grab a sudden "handful of gun," from a holster, which, for us mere mortals, can mean a range-imperfect attachment to the grip, and next a range-imperfect finger inside the trigger guard. Your hand can really become…a blob. I know, I know, I know, the "square-range" people will insist that you must complete so many more bazillion reps to insure the acquisition of the pistol each and EVERY time is a pure, robot-replicated magnificence. But the world is a chaotic place and drawing, and combat is usually in awkward positions, times and places. 
Years ago I realized something. When possible, in emergencies, I had noticed I did not have the advised, advertised fingertip pad on the trigger. My trigger finger was much deeper.I rushed to a hot call-scene, pulled my pistol. We quelled the problem quickly and I happened to look at my gun. Despite military, police and citizen shooting class training for years, I still had an imperfect "handful of gun" and a full finger into the trigger guard.
Not doing that picture perfect grip and trigger touch when falling down a flight of stairs, leaping from your car, or while being choked? Many will suggest adding another bazillion reps. But really that next bazillion should be done in that awkward positions/situations too! Not just standing on the range. Reduce the abstract!
We have situational pistol grabs affecting the finger on trigger position. Through the decades, I have learned that every hand is a different size and every handgun is a different size and fingers different lengths. You have to learn to bond with your hand on that gun to maximize this attachment. I mean, a hand is a hand and pistol is a pistol, yes…but…size matters. My challenge in recent decades is working with my pistols from desperate, realistic situations. This involves for me, more finger on the trigger and in the trigger guard. My best finger position is different on my 5-shot snubby than my .45.
That big "handful" of gun. It can be hard to be "first-padding" your trigger when your blob clutches your gun from your holster. I know some of you are vomiting now, but this consideration is a deeper, personal step in my training, "my-hand-my-gun-my-finger." Nowadays, think of these range-safety, insurance rules, the growing amount of places where a person cannot draw from a holster to rehearse the grip and draw, offering even less of an opportunity to work on this hand acquisition stuff. You didn't do it enough before and now "they" are making the opportunities even less. But you can still try to "squeeze in" the best trigger squeeze (and finger positioning) practice at the range.
The group-think/group-teach range method is the heart and soul of the shooting business and the operating methodology of civilian, police and military instruction. It simply must operate-function in assembly-line, range instruction mode, and not so much "your-hand-your-gun-your squeeze" personalized, problem-solving.  This equation also takes you back in time to your handgun selection. But, some agencies and militaries issue guns and you have no choice in the matter. Your income may offer you no choice. Factors other than finger position and trigger squeeze may offer you no choice. This pistol selection is another topic.
 And I learned later I could shoot well with a deeper finger. This idea was quietly spoken years ago, because it was taboo to say otherwise. But many big name, super gun guy vets have come out in very recent years supporting the realistic "more finger on trigger" idea in customized cases. And I appreciate the support. It was lonely out here in outer space.  When people like Pat McNamara and Tom Givens started writing about this finger insert problem, I know it gave me the confidence to voice my opinions too. And now? I see this idea problem raised everywhere! This expression "the size of the gun, the size of your hand" is popping up everywhere.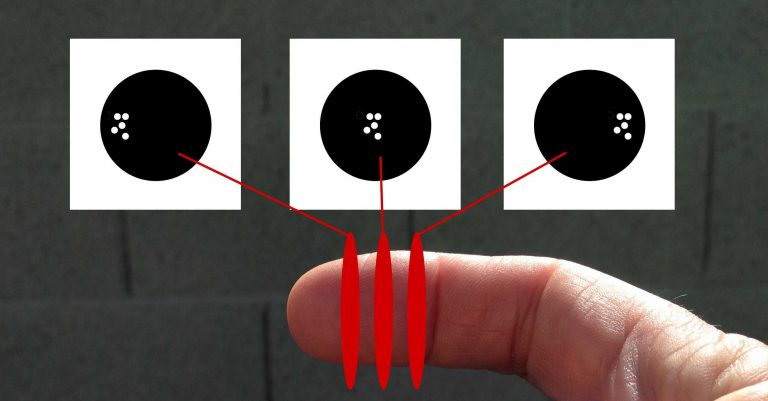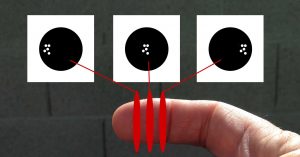 Your best squeeze might not be your group's best squeeze. Your personal achievement is getting that "straight back" pull, with your size hand, your size finger and your size gun, in what you perceive to be a the oh-crap, moment-grip. It might be that, the first "pad" of the finger  squeeze (very unnatural for most folks), might instead be the middle of the finger for you. Or even the bend of your finger. In all the pistol qualifications I've done, when at long distances, when trying for higher scores, I always seemed to shoot unnaturally.  How about you?
Anyway, this first breaking point I like to think about here is when the trigger pull fires the pistol. How much finger? The challenge remains how do you physically translate this personal affair into sufficient, scale training methods and class time in an assembly-line, world of group instruction? In other words, how can a range instructor, with a line full of people with differing hand shapes and guns, fix everyone's shooting? (This is another reason why I do not teach marksmanship.)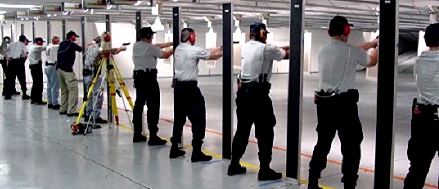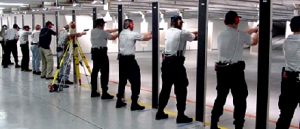 "Break Two," is the physical breaking point, spatial decision to go from one-hand to two-hands, or vice-versa. There is a close quarter measurement in inches, feet and yards where you must hold your pistol back and with one hand away from an enemy. Some call this a "retention" position – which is a fine name for it.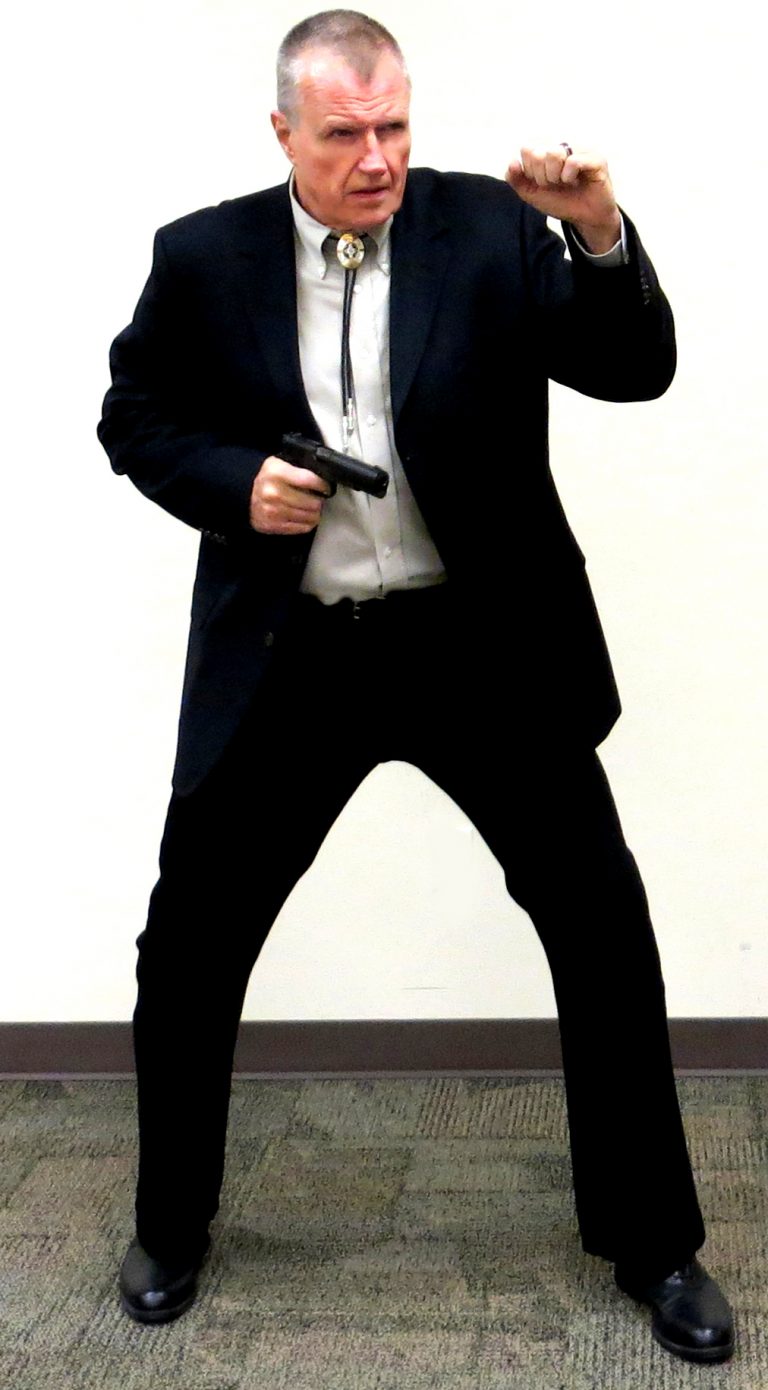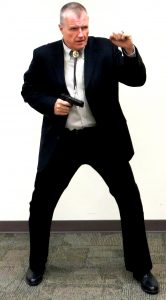 But, we all really would agree that shooting with two hands is way more solid and wiser, UNLESS YOU ARE TOO CLOSE TO THE ENEMY! And close statistically happens a lot. Experts say about half the time, give or take, we are "close." Define close?  I don't want to argue exact footage here, or the percentages either, but you will hear experts spout that 40% to even 60% of all pistol shootings are…quite close. Yet, trained folks still like to shove the gun out, arms extended, into a two-handed grip vs paper targets, training partners and real bad guys. Also, lets add "up high" too, high enough as in eye level, to get that mandatory, sight picture.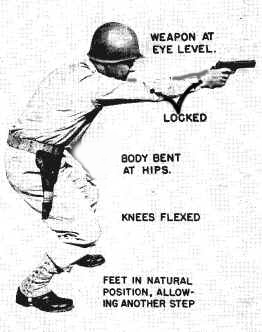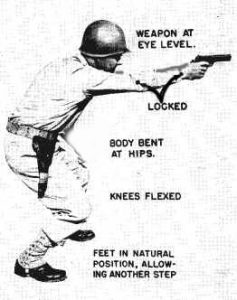 Too close, way out and high. We can't shove the gun out and high too close to the bad guy. And a bazillion more reps will not solve this situational problem. Yet, "muscle memory" (please note the quotes on that phrase as it is an expression) has us shove the gun out and up anyway.
Now, I am not making up a problem that doesn't exist. I have been doing, teaching very close, simulated-ammo situations for decades and I see this a lot in training people, also in training photos and instructional films. Magazine articles and books often depict a two-handed grip too close to an enemy. How did this two-hand, extended grip become mindless, mandatory muscle memory for so many civilians, police and military, no matter the distance? I have an idea. They call it…training. Actually, training too much for events least likely to occur. Two much distance shooting and the absolute, almost biblical adherence to two-hand, sighted instruction.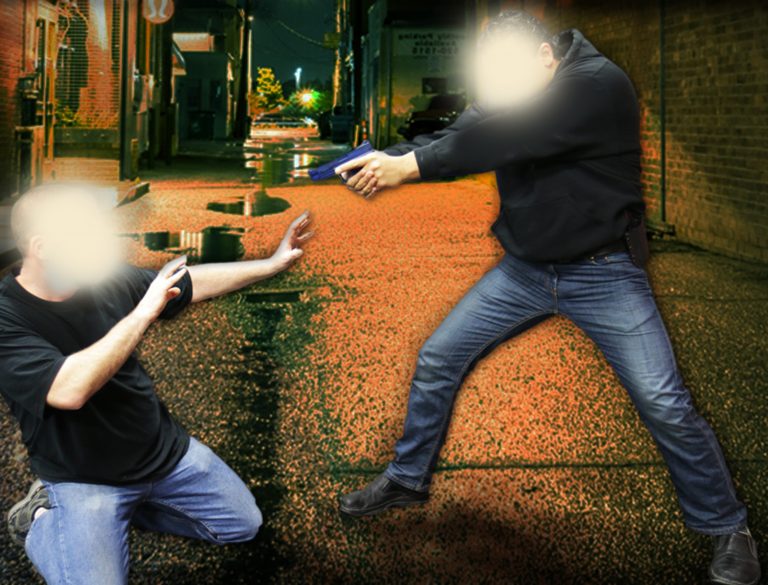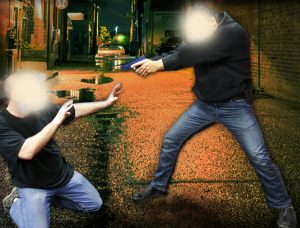 Here's a dangerous example. I started to witness this "muscle memory" in the 1990s. When showing lots of civilians, police officers and soldiers pistol disarms, I started seeing that when the good guy disarmed the pistol from the bad guy, said hero would usually, next take this newly acquired pistol into a two-handed grip and virtually shove the gun right back at the bad guy, sometimes near or even inches from his face! This put the precious gun right back inside the bad guy's range to take back and, or disarm. We know better than to do this, but it still happens.
Common, modern police training suggests the danger zone is "two giant steps and a lunge," from a suspicious person. Give or take, huh? Someone excited can really spring off and perhaps surprise you from further out than that. Making things worse, many trained and even untrained, instinctual fighters will instantly chase their lost gun. Some call this "weapon recovery" and that's good name for it. So they chase their just-lost-lost gun and you have helped him by shoving it back in his can-do range. Do not return his lost pistol back into his recovery space with a mindless two-hand, extended grip. As an aside, when I correct this? The heroes will agree instantly, almost with a "duh," self-head-slap, but after 5 or 6 more reps…they FORGET…and return that pistol shoved right to the bad guy's face with a two-handed grip. It is hard to alter this repetition training.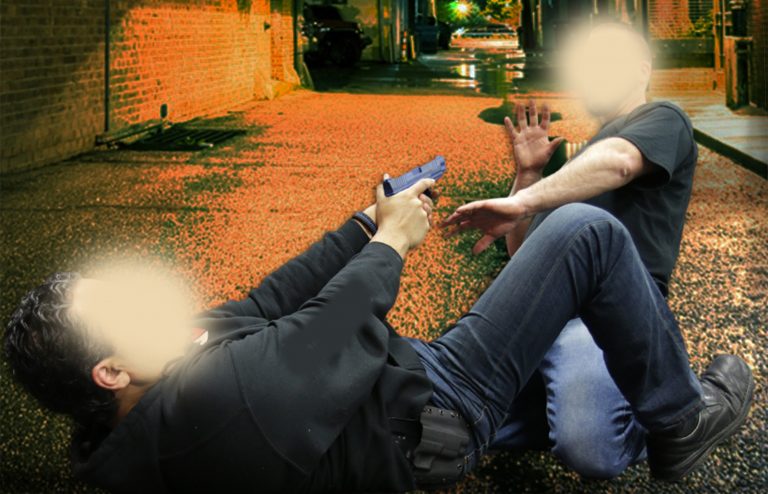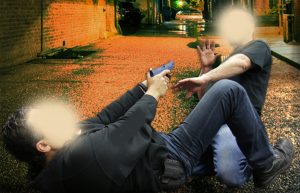 How to fix this in training? For an example, let's round off a number to easy-math, 100 rounds per training session here. You typically start the day very close to the paper target and do some shooting. Maybe so close you get to slap the paper target with your free hand. Or elbow the paper target and draw and shoot. One-hand, shooting stuff. You are in the pistol-back, retention grip position. It's really hard to screw up at that distance. Center mass torso shots. You're killen' it! All so easy. Too easy! The staff has to start moving you back. Next, maybe 5, feet? In fact, it's still too damn easy!  You are performing like John Wick! And the rangemaster knows this and he has to challenge you, by God! Okay, you've shot your 5 or 10 beauty rounds, too close and too perfect. Your gift, high score shots are over, Mister!
So, out of those 100 rounds, you might shoot 10 or 15 very close? 10%. 15%. Even though a high percentage of shootouts are quite close like this, the rangemaster starts moving you back very early in the gun day. He's supposed to make it tough! You move back and then start shooting immediately with two hands, back, then back, then back some more. This course is now become almost all two-handed. At the end of the day, you've shot 10-15 rounds with one hand. rather close, and EIGHTY- NINETY rounds with two hands and back and back and back. Run the numbers of a 500 round course. 50 rounds close. 450 rounds two-handed. How about a 1,000 rounder day? A major preponderance of 2-hand shooting.  We have created an all-purpose, "muscle memory," two-hand grip, arms extended shooter. Grab the gun, go to two-hands.
An idea involved in this distancing method also is, if you improve your distance, bulls eye shooting (with two-hands) it will automatically improve your bulls-eye shooing in closer distances. Yes. Yes, it will, but it also is furthering and creating the two-hand monster when in a one-hand world. Most rangemasters have kind of, inadvertently, created a two-handed monster.
So, later in real life, then the crap hits the rotating blades, what do you expect the replicating robot to do? Thoughtlessly, mindlessly draw and shoot with two hands, extended arms of course, very often too close to an enemy, who can slap the gun aside, grab, arm wrap, try a disarm, whatever. What else can we expect from them? We…made…them…do…this. And without simulated-safe ammo training versus a real person, we have not taught them the feel and savvy of distance versus a real person who can reach and charge in.
I believe that a properly trained, responsible gun-totter, must be free to make a conscious decision, each and every time they pull a gun, to end up with a one-hand or two-hand grip, based on the geography of the situation, NOT from the mental detachment, or target practice boredom, or the bad math of a civilian, police or military rangemaster.
In much further experimentation, practitioners must experience – feel – the distance of an attacker. Feel the distance. Like a football running back versus a linebacker. Or a football receiver versus a defender. That kind of intimate feel. The physics of a fight. It can be surprising how far away is actually safe for a two-hand grip. In other words, you might think that a two-handed grip is okay and you are still too close to his sudden dash and lunge at your gun. People still use the term "force on force," training, but whatever you what to call it, you have to do a lot of situational training.
One-hand grip. Two-handed grip. Two-handed grip to one-handed grip. One-handed grip to two-handed grip. In summary, this breaking point is your personal footage when you really need and can safely hold a pistol with two hands or one hand. Perhaps people need to spend a little more time live fire shooting closer with one hand. Closer, in direct relation to the who, what, when, where, how and why they predict they will be shooting. We all vocalize this, and know this, and say we know this, but the challenge remains how do you physically translate this into sufficient training methods and time, in an assembly-line world of group instruction?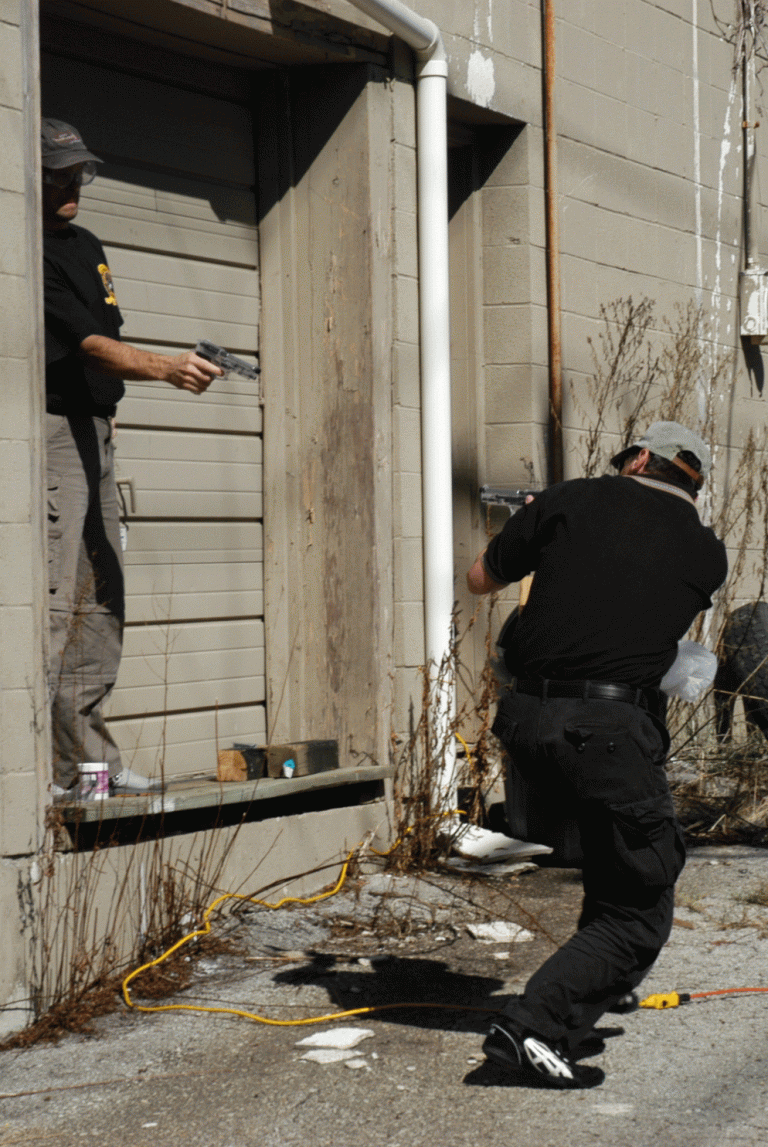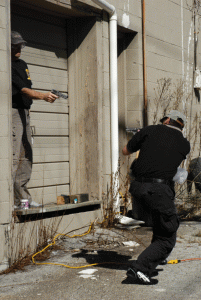 "Break Three" is that physical and time breaking point where you have the time and space to go from an "emergency aim" to a serious, dedicated, front and back-sighted aim. "Emergency aim." Oh boy, a tenuous term, huh? One might want to say something like "point-shoot" instead, or something fast and frisky. The gun world has become such an anal retentive, obsessive hole of hair-splitting viewpoints, and growling complaints. It can be a minefield to leap around with these terms. And what a "claymore" the term "point-shooting" is, huh? But I think you know what I mean when I say "emergency aiming." People have been close to enemies, barely put up their handgun and shot them successfully. Maybe from hip or rib height? No sight acquisition. No two-hand grip. They did officially "aim? So to speak. Kinda'? But not by the rigid definitions of many an instructor as they did not completely acquire the front and rear sights in that one perfect, breathless union.
You can better understand the meaning of this by two extreme examples. In one, a ground fight – a guy is over you with the tip of a Bowie knife about to pierce your eyeball. You have his knife limb in a death defying grip, and you pull a pistol and shoot him in the torso. Not much "sight-acquisition" going on there. Not much two-handed grip, jibber-jabber. The second example is that of a sniper, working to shoot a seated despot general having several tequilas on a jungle patio, half-a-mile away. Lots of prep time. Breath control. Terrific finger position on trigger. Windage check. Okay, well…yeah…that's with a rifle, not a pistol. But you get my overall drift.
The clock and the yardstick. Time/No-Time? Space/No-Space? Sights/No-Sights? I think that real life often happens somewhere closer to the no-time clock. And then often too, in no-space or not much space, yardstick.
I recall a era, a rant-rage period, when gun guys preached the absolute, mandatory acquisition of sights each and every single time you shoot. It was/is MANDATORY. I remember an instructor (with no real world experience by the way) who ran a somewhat successful range business, lecturing this point. EACH and EVERY time the sights must be accessed, no matter the time or distance,  or you are wrong, wrong, wrong no matter the situation. Otherwise, you are screwing up the space-time continuum of the universe. I recall these instructors also demanded a two-handed grip EVERY time too. Maybe this rant-rage-speak, this type of advice, is still as around in some gun circles? I don't know. Maybe I have tuned them out. But, these people need to read the news more. Look at youtube shootings. (Many of these naysayers, did naysay BEFORE the proliferation of youtube shooting films. I wonder if they still sing the same tune now?) 
On this subject, Warrior Poet Society, Ranger war vet John Lovell observes that his range class shooters, when doing for force-on-force, shoot low a whole lot – "The shooters were quite literally AIMING LOW. Again, WHY IS THAT? I and others have a theory on why we miss in fights but not on the range. When we are afraid and are presented with a threat, we REFUSE TO ALLOW anything to block our view of that threat. This means, your fear response refuses to allow your sights and gun to block any part of your view." So, the gun is lower and the shots are lower. I can see that (no pun intended).
I would like to add that after some 25 years of organizing simulated ammo shooting, people often shoot at where they look. A lot of opponent's guns and gun hands are shot. That might be where they are looking and might also be, that when shooting center mass, the guy's gun hand is up and gets in the way. But, Hips are shot when the other guy tries to draw his pistol. 
In summary, this third breaking point is deciding when you can unofficially aim, or officially aim. The challenge remains how do you physically translate this into sufficient training methods and time, in the common, assembly-line world of group instruction? One universal solution to these problems is do more live fire, close up. Shoot more with one hand. Another big, big solution for me is to do way more safe ammo, interactive exercises. Way more. Lots more. You learn and better relate to the chaos, and actually experience the distances.
Some Suggestions…I know I have pissed off a lot of gun instructors through the last 26 years, even some recently, when I've said, "you are not really learning how to gunfight unless you are shooting at moving, thinking people who are shooting back at you." People who make their living and own shooting range property for marksmanship hate to hear that. They shouldn't, as they could do this material also. Simulated ammo in scenarios. Pissed or not, growling and grumbling aside, this idea really marches on. Thank goodness this has been a growing trend. You'll find it in civilian, police and military training. Not enough, but it's growing. Far from me being called on the web "a fool who plays with toys."
A "gun day" training. I suggest people shoot their real guns for starters. Then after a point, after shooting to familiarize yet again with their real guns, next spend some considerable time doing safe ammo training versus a training partner.  You might choose a 20%-80% split? With the 80% being scenarios. Or 50%-50%, Whatever, but if you are not doing a LOT of interactive training, you are missing out on a lot of vital, preparation opportunities. This stuff should not be ignored, and should not be done rarely like a novelty. Some people think I am endorsing paint-ball games on a basketball court, when I talk like this. No. Something better organized (though a little paintball might go a long way with moving our stiff and fatty asses.)
The Three Pistol Breaking Points Summary. Pistol shooting training can be a personal process. You might think of a few more breaking points to suit your ideas and outlines. Go for it. But within my three…
Hand sizes are different. Gun sizes are different.

Understand the stress grab and drawing from awkward positions.

Find your best finger position for a squeeze, gun-by-gun.

You cannot/should not always shoot with two-hands.

You cannot/should not always shoot with one hand.

You cannot always shoot with an acquisition of sights.

There is probably a good chance you are doing too much shooting with two-hands in comparison to close quarter incidents/statistics.

Through experiments with training partners and safe ammo, know the best distances for single and double-hand, pistol grips. Use safe ammo that does not hurt. There is no reason to use painful Simunitions on your friend who is trying to help you.

Train with safe, simulated ammo in likely problems first, then unlikely problems next.
None of this is an excuse not to become the best marksman you can be. This is just some stuff to think about, and stuff I worry about from a training doctrine perspective. Using the three breaking points nickname have helped me focus on these subjects.
++++++++++++++++++++++++
Hock's email is HockHochheim@ForceNecessary.com
Get Training Mission One and Training Mission Two books, in ebook, paperback or collectable hardcover editions. Some 4,000 how-to photo in hand, stick, knife and gun and some 450 pages. Click here