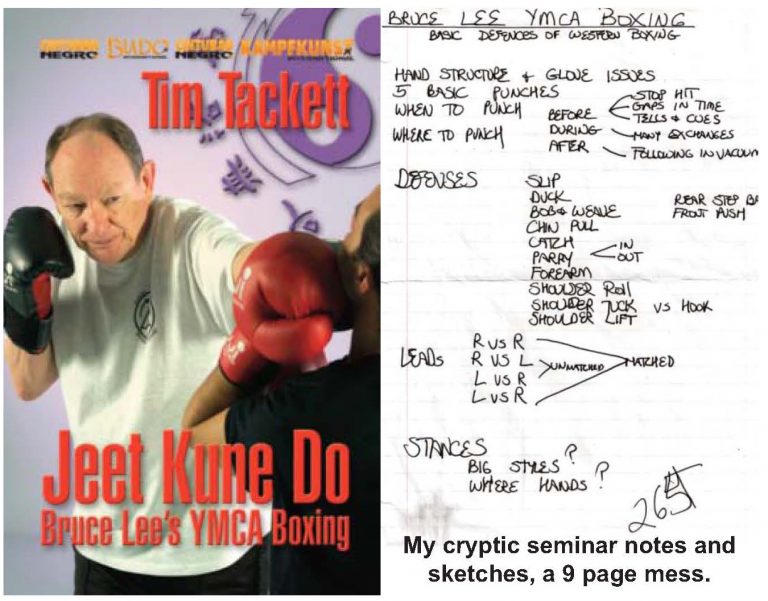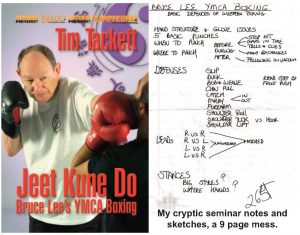 I

n seminars I frequently mention JKD's Tim Tackett (he is my favorite, smartest, outspoken, pure JKD person) and how I collected from him in seminars and personal sit-down discussions, the Bruce Lee YMCA Boxing program. Bruce Lee always had groups of professional students, actors, lawyers doctors, etc., who could not show up to work with broken noses and black eyes on any given morning, so Bruce developed an action-plan-interactive, training boxing program to limit this. This title was also a nickname and was taught outside the YMCA of course, evolving through the years.
Through the years, (1986 on) I had seen bits and pieces of it (usually the more popular segments) from Inosanto, Hartsell, Vunak, Terry Gibson and other JKD Family members but there were many other moving parts not covered by them due to the great variety in JKD concepts. Tim Tackett filled in the gaps and explained it fully for me. I got the bigger picture.
I do think that experts have put their spin/interpretation on the course through time. For example, somewhere along the line of time, kicks started to appear which of course is not boxing-boxing. And for small changes, often, people do the moves, then switch trainer-trainee, back and forth (you-go, I-go, you-go, I-go.) I have seen people instead do three each and switch, which I prefer because I stupidly lose track of who's-who. (you-you-you, me-me-me). And I too vary the set arrangements and add in a kick at the end of the set. Or, use the movement concept with a kick or kicks, as Tim often showed that the idea worked well with kicks too. (As we all WELL can imagine, Bruce Lee would approve of adaptations, changes and evolutions that fit and work.)
I still carry around a handwritten, messy collection of notes from Tim. When I show the scratch pad list from my backpack to attendees, some want to photograph each page! BUT…the 9 handwritten pages of notes of personal acronyms, abbreviations and sketchy drawings, are out of order to others and I think are meaningless to anyone else.
So instead, I try not to sound selfish and I tell them that Tim Tackett recorded much of his notes and additions-observations on this on a DVD! This would be infinitely smarter to watch then translating my chicken-scratch.
I am an exponent and proponent of boxing for all its benefits, but for my Force Necessary self-defense, survival perspectives (my only true goal) I am more interested in implementing bare knuckle boxing experimentation minus the boxing gloves, as I think both the glove size and padding interferes with reality. (Finger freedom, MMA gloves are better if gloves are needed.) The Lee YMCA program easily goes bare knuckle and works with focus mitts. And people can exchange some body blows too within it and no one shows up at work the next day looking like a barroom brawler.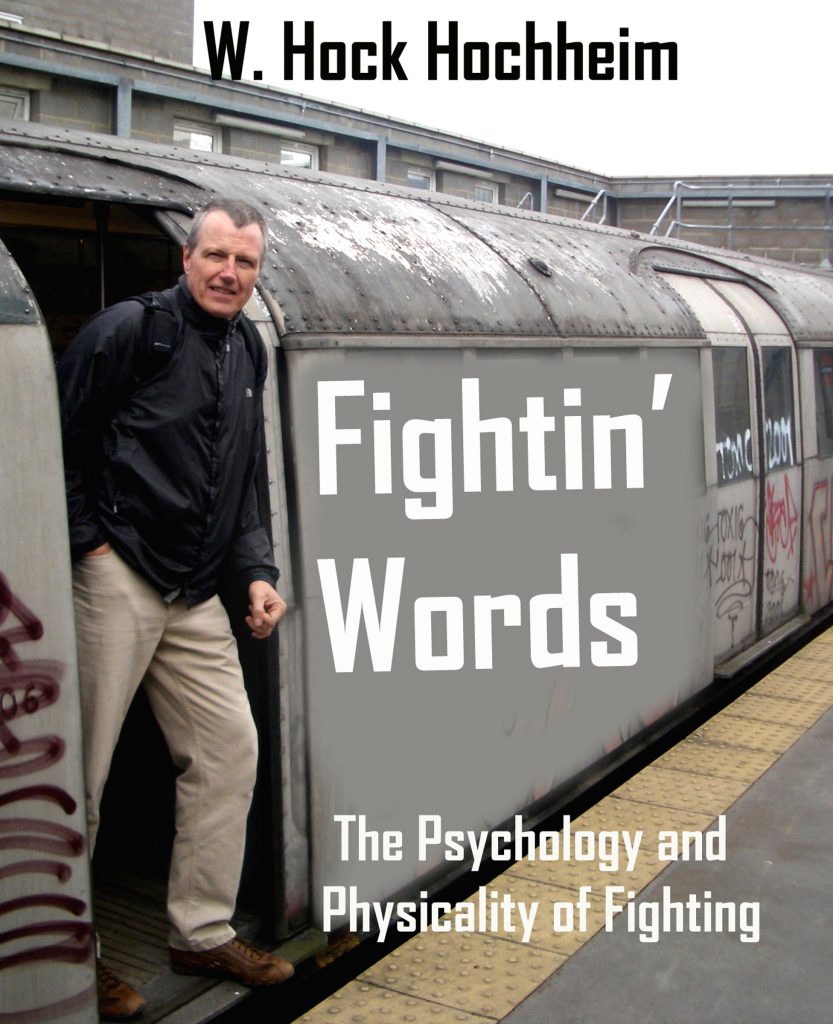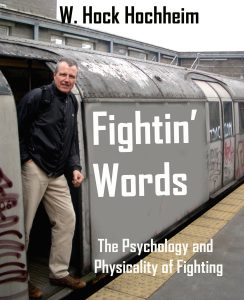 #brucelee #timtackett #jeetkunedo #ymcaboxingprogram #daninsanto