It was gruesome. Memories of pain fade, but not those of parents much. Out of respect for the surviving parents, I will pass on revealing the details of this child murder here, the death, rape and mutilation of a young girl, even though it was long ago. Suffice to say that we'll start here, when this freshly, arrested killer was first incarcerated in our county jail, so that I might focus on only telling the tale of the greatest pistol shot I have ever "seen," while the gunsmoke was still in the air, or more specifically, ever investigated, and one that has all the elements of a helleva, Texican lawman tale. It was the 1980s…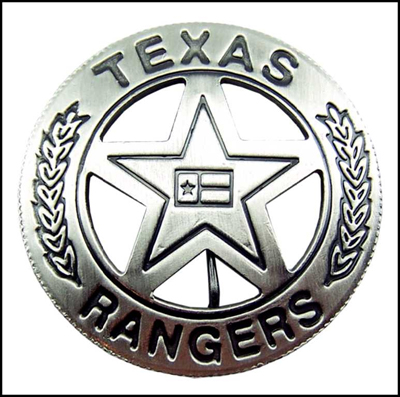 The day after the arrest, the brutal killer, Reilly Rice was in the county jail and due his very first visit to the judge for his judicial warnings, what is often called a preliminary arraignment. In our old, county jail building, just up the street from our city police headquarters, one judge had offices on the first floor, making such visits a handy process, as the jails themselves were all upstairs. Getting that first-day, mandatory visit could be geographically challenging in some jurisdictions, like organizing a chain-gang, bus ride to a courthouse. Nowadays, this type of appearance is often done by close circuit TV! 
     Judges can be power mad, quirky or cantankerous. You've seen this on TV, the movies and in the last two decades, you've seen these "Judge Judy" TV shows. Some actually talk and act like that. On this fateful day in the 1980s, a traveling judge was in chambers and he was one that demanded all prisoners who enter his court must be free of shackles. I guess he hadn't has his nose broken yet. But something dramatic was about to happen that would at least make him think about that idea?
     Whatever the process was assigning jailers to suspects for their court trip downstairs – rotation? Dice game? Short straw? Whatever, an overweight, out-of-shape jailer named Barry Bale got the chore of marching Reilly Rice downstairs to the judge's chamber for this un-handcuffing and visit. Alone. Yes, alone! "Such be things at the ol' jail-house." 
     At that very time in the late afternoon, Texas Ranger Weldon Lucas walked into the Sheriffs Office on the first floor. He'd been in on this investigation and was there to collect paperwork on the case to send to his Dallas Ranger Company and then on to Austin, and to clear up some loose ends. Lucas was dressed in his usual, work clothes of a Ranger – western boots, pants and matching vest, tooled gun belt and classic, engraved, model 1911, .45 caliber handgun. (See the photo below.)The famous Ranger badge adorned his vest like it had on Rangers for hundred-plus years. Lucas was a regular sight to every police agency in the region and I can't think of a police officer that didn't know him, or certainly know of know of him, certainly we detectives did. I had worked with Lucas dozens of times on felonies. He had full jurisdiction throughout the State of Texas, which was handy. 
     Appointed by the Texas governor, Rangeren' was a great job coveted by almost all, and Lucas was one of the troop that had considerable experience in investigation before pinning on that legendary badge. He'd been a state highway patrolman, as all Rangers start out, and then worked auto theft, narcotics and organized crime. The three big State branches. Many Rangers are appointed without such stout backgrounds and are a bit behind the curve in investigation skills. I recall one Ranger being "made" that had worked only as a patrolman and then for many years in a section called "Weights and Measures." Weights and Measures involved weighing and overseeing trucks on the highway. Jobs like this offer zero qualifications for an investigative position, but sometimes politics get in the way with Ranger appointments. Very few had Weldon's background. 
     Reilly Rice was due in court. A local Dallas, television station sent a news van up to the court to film the proceedings. The reporter and cameraman positioned themselves in the hall for the 6 and 11 o'clock news shot of Reilly Rice walking into the courtroom, as no cameras were allowed inside. A reporter would enter and take notes.
     A hurried, representative of the DAs office showed up, but not much legalese would be crunched in this early visit of the case. Bales took Reilly Rice down the elevator. He walked Rice past the camera crew and into the court. He took off the handcuffs, as required. The TV crew got their "perp walk shot," and walked out of the building to their van. Weldon Lucas was talking with some deputies in the lobby of the S.O. just down the hall.
 
And then all Hell broke loose. Rice punched and shoved the jailer, and took off! 
     I was working in our detective bay, closing out the day, when that hell broke loose. There were some other investigators there also. I can't remember who bellowed out the announcement across the room. 
     "Reilly Rice just escaped from the jail. Eastbound on foot." 
     We stampeded down the stairs, hit the street and ran to the S.O. just a long block away. Oddly, there were quite a number of prisoners through the years who'd ran/escaped from the sheriff's office; right out the back door usually during book-in, interview or some transfer process. The bad guys could see the irresistible green of civic center park out the back doors and windows, versus the battleship gray cinder blocks and bars inside. And they bolted. They were always caught. We ran, all of us passing on getting into our cars and driving there, thinking we would be searching the surrounding park and streets afoot anyway. 
     My gut instinct was to flank over into the park behind the S.O., but my eye caught a disturbance way down on the major intersection just east of the jail. Four lanes of rush hour, east/west traffic stopped cold. 
    I ran past the county building and saw jailer Barry Bale, sitting on the ground, all multiple hundreds of pounds of him, his back propped against a tree, hair messed up, shirt tail out, gasping for breath. He must have chased Rice all of about 15 feet and collapsed. Acting like he was near a heart attack, another jailer attended him and pointed us east. He actually shouted to me, 
     "They went that-a-way." 
     That-a-way. Yup. He actually said that.
      Then Boom! A single gunshot from…thataway. We all converged. Patrol. Detectives. EMTs. all up ahead on the northwest corner, in a small dose of short bushes and foliage of the civic center parking lot, were multiple official types working on a downed man. When I closed in, I saw that the downed guy was Reilly Rice. Ranger Weldon Lucas was standing over him, with his hands on his hips. Huffing and puffing. A patrolman showed up. Our CID Captain Bill Cummings drove up and bailed out of his sedan. 
     In so many words, Weldon told us he shot Rice. Okay. You must be thinking can police shoot fleeing, unarmed suspects? First off, this was Texas many decades ago. Back then there was a running joke that if you ran 8 feet from us? It wasn't the law. It was…a suggestion. We would start shooting at ya'. That also included driving away from us too. Rice was a child raper and killer, otherwise known as a dangerous felon we could not allow to escape. Just couldn't. 
     The shooting at escaping felons laws in the USA has been evolving since about 1977. The general, modern letter of the law requires that to shoot someone, it must be in defense of yourself or to interrupt the imminent serious injury of others. Seeing the back of a head, ass and pumping elbows of a fleeing felon does not constitute these imminent categories. But, many state laws include shoot/don't-shoot and the fleeing felon problem. Many states and police agencies say that permitting the felon to escape would pose a grave and continuing danger to public safety. Shooting them is an option. Not misdemeanors mind you. Felons. 
     The Texas Department of Public Safety, which owns and operates the Texas Rangers, then and now didn't completely address the feeling felon matter in its policy guidelines because "Every situation is different," DPS spokeswoman Tela Mange said. "It's officer discretion," she said. "If they perceive that there's an imminent threat, they can take any action they feel necessary to protect themselves." 
     If you are citizen? I wouldn't do this, by the way. And as for police officers, different states have differing laws about this. Even police departmental policies may be more strict than state law. And local county, state, and federal prosecutors and grand juries can have say on the subject. If driven by politics they may weave some charges in and around the laws. Then there are the civil law suits! Shooting your gun can always be very messy.
 
     Speaking of messy, I examined Reilly Rice. Prone, he was panting from his own mad dash, but otherwise he seemed just fine. Not too messy. An EMT was patching up the side of his head. A head shot? 
     "Where's he shot?" I asked the EMT, kneeling beside him.
     "Earlobe." 
     "Ear…lobe?" 
     "Earlobe," he repeated. 
     I looked at Weldon and Weldon shrugged. 
     The TV news crew, there at the S.O. for the child-killer arraignment, was setting up for an impromptu street shoot. A patrol sergeant was organizing traffic control to allow the far lines to pass. The EMTS were standing Reilly Rice up and preparing to transport him…back to the jail, not the hospital. After all he was only shot in the earlobe. More county officials jogged up. 
     "Hock, you got this case," Captain Cummings told me. Though this involved the Sheriff's Office and the state police via the Texas Rangers, the shooting did occur within the city limits and it was also our city's problem. I knew that people from the Rangers and Austin would eventually be involved in this, but there was work to do right then and there. First, documenting the crime scene, which ran from the S.O. courtroom to the intersection. 
     Weldon and I walked off a bit and he told him what had happened. I paraphrase here a bit because some 40-plus years have passed since that afternoon. He basically said,
     "I heard the shouting that Reilly Rice had escaped out the front door." It must have been the jailer calling out. Of course, I knew Weldon had worked on Rice case and was well aware who and what Rice had done. 
     "He ran into the middle of traffic and turned east. I took off after him and got in the middle of moving traffic, chasing him. He had a big lead. It was getting bigger. I felt like he could get away. I couldn't shoot at him because it was rush hour. Cars and people everywhere. But, Rice started angling north and in front of him was that brick building." 
     Weldon pointed to the two-story brick building behind us and to our east. It looked pretty big as close up as we were. 
     "I could see he was going to pass in front of that building and it was my only safe shot. I drew my pistol and fired one shot when he crossed in front of the building. Rice went down." 
     "How far away were you?" I asked, thinking about the ejected, spent shell from Weldon's .45 handgun. 
     "Up there," he pointed up the avenue. We both grimaced at the sight of the cars being filtered into the right lane, albeit slowly, and allowed to pass the intersection by our erstwhile patrol officers. Oh well, life – and cars – move on. I least they were moving slow. A crushed shell would be better than a no shell. 
    My unmarked detective car was back at the station. I approached an patrol officer and asked for one of their distance measuring wheels and some chalk. This is like a walking stick, with a wheel at the bottom and distance counter. Back then, the numbers rolled like a slot machine. Some today are of course – digital. The officer pulled it from his trunk. Weldon and I started from where Reilly Rice took his dive and walked west on the avenue, marking off the feet. 
     I hit about 30 feet and I asked Weldon, 
     "Anywhere around here? " 
     "Nope." My eyebrows raised. 
     We keep moving in between the cars and impatient drivers. Our eyes were scanning the roadway for that single spent shell. We hit about 60 feet! 
    "Anywhere here? 
     "Nope." 
     Nope? How far was this shot? We continued. 
     "Right about here, I think," Finally, Weldon stopped me. He looked around. 
    I looked at the scrolling meter. It read "97 feet." Good God, could that be right? 
     And sure enough, to our right, untouched, unbent and pristine, lay the spent shell in the middle of the street.
 
    "97, 98 feet, Weldon. Thereabouts" I told him. "Maybe 100."
     I took out the chalk from my pocket, circled the shell on the asphalt and put the shell in my pocket. I don't want any of these cars rolling over it. I looked back at the intersection. That two-story brick building that Rice passed in front of? It was now about the size of postage stamp from here. 
     I looked over at Weldon and he was staring back at the intersection. "Yup. This is about right," he said, nodding his head. 
     I walked up beside him. "Shit, Weldon, this is like a circus shot, like a wild-west show, shot."  
    "I reckon," he said. 
    "Was it a moving shot? How'd you do it?" I asked him. 
    "I was running. I saw my chance. I pulled my gun. Two-handed grip. I think I stopped just for a second. I think. Kinda'. I shot. Cars out here were whizzing by me." 
     "Well, go on back and I'll start taking some other measurements." 
     I recorded the distances, "triangulated" them if you will, from the S.O. front doors, the shell scene and other related landmarks. Nowadays I guess they use GPS and satellite photos on big cases? Russell Lewis took land-level photos with his 35 mm camera from each important spot. 
     Weldon went to our P.D. and started his own statement on one of our new, electric typewriters. There was much for me to tighten up and I wanted as complete a report as complete as possible before the state bigwig, shooting team started showing up. Russell and I worked the scene. The only loose end was the bullet and the brick wall. It might take a major deal to find and recover that slug, as we couldn't see it with a quick walk-by. 
     Two high-ranking Rangers were there at my desk the very next morning and I had a good, solid report for them to kick off with. As we went over the details, I got a call from the Sheriff's Office CID, Captain Ron "Tracker" Douglas. He told me the latest news.
 
     "Hock, Reilly Rice hung himself last night." 
     "Hung himself! How? Where?" 
     "He was first booked in wearing his own socks. We let them keep their socks. You know those long, white tube socks? He got one end around his neck, tied of the other end on bunk bed and hung himself." 
     "Dead?" I asked.
    "Deader' than hell. Dead right there in the cell," Tracker said.
     "Damn." 
     Shocking for sure, but I really didn't care. Yeah, yeah, yeah, he wasn't officially convicted on the case, but the case was airtight with a confession that lead to other evidence. I mean, the son of a bitch was a child rapist and killer. And "death by sock" was too damn good for him in my book. Too damn good. 
     "You gonna' call Weldon?" I asked Tracker. 
     "Already have,"
      And we hung up. 
     "Well, gentlemen," I told the Rangers at my desk, "looks like our ear-pierced, shooting 'victim' hung himself in the jail last night." They exchanged glances. They collected my reports and their very next visit was to see Ron Douglas at the S.O.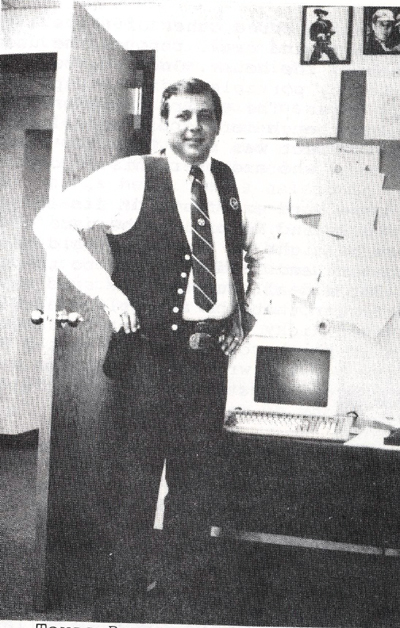 Weldon Lucas later became the Sheriff of Denton County and quite a controversial figure. 
     I next made it a point to try and find the bullet itself. Honestly, I would have loved to dig the bullet out of that brick wall and tie Weldon's perfect shot package into a bow. I made two trips out there with two heights of ladders and a metal detector trying to find the slug. It was tedious work but I just couldn't find it and would need a third trip with a damn fire truck or utility cherry-picker to do it. But, how high could the slug be? I think not that high?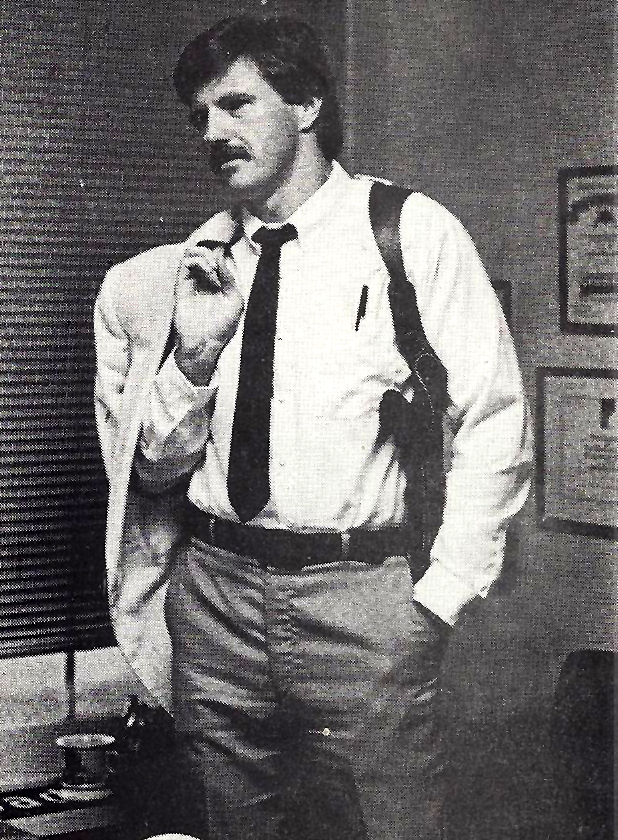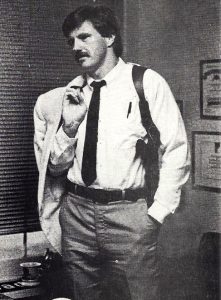 Me. Then.
     I could arrange for a construction "basket-lift" but it would be a pain. Around the time I started making calls for one, but nobody cared anymore. There was no further case to pursue as the county and the state declared it a closed investigation and justified shooting. The local D.A., the state, no one found any fault with the actions of Ranger Weldon Lucas taking that single shot and winging, or "lobing" the dangerous, fleeing Reilly Rice. That bullet remained in the wall until the building was torn down years later? Who knows? Did it miss the wall? No matter where it went? It went nowhere anyway. 
     When I think about it, it was the greatest shot I've ever seen, given the circumstances. I'm sure there are many record-breaking, amazing, military sniping shots on the books, quick-kills and all, but think about it. Think about this one and why it is so unique. 
The shooter was a Texas Ranger (already cool).

The shot was taken in the middle of moving, rush hour traffic.

It was about a 100  foot, high-stress shot with a pistol.

Weldon still had the foresight to wait until Rice had a safe background. (Which was about the size of a playing card from the trigger pull site.) 

Rice was a confessed, child-raping, child-killing, dangerous, escaping felon/murderer.

Rice was a moving target.

Rice was shot only in the earlobe and it knocked him down.

Rice didn't even require a hospital visit. The escaping Rice was returned to jail with an ear bandage. How and what could he sue Weldon and the State about? What Texas jury would award escapee Rice for damages, for an ear piercing?

The state police had no defined policy for shooting dangerous escapees.

The passing bullet did no further damage. Any possible, crazy, residual legal problems were over when Rice hung himself in the jail. 
     We know it would be impossible for Weldon to actually aim at an earlobe in a split second like that at 100 feet. Impossible. Sure, but all the events played out so very well and with minimal, post-shoot problems, it makes for the best shot I have ever "seen." 
     And I must add – for a while there was a running joke in the county. We wished that all prisoners would be issued extra long, tube socks upon their jail book-in. Who knows what they would do with them? 
 
For more law on shooting fleeing suspects? Tennessee versus Garner. Click here
*********************
Hock's email: HockHochheim@ForceNecessary.com
Kill or be Killed! Almost 500 pages of action, mystery, true crime in Texas, the Army and Korea, photos. Etc. Get more police stories with this Ebook omnibus, hardcover or paperback. Click here for info – Kill or be Killed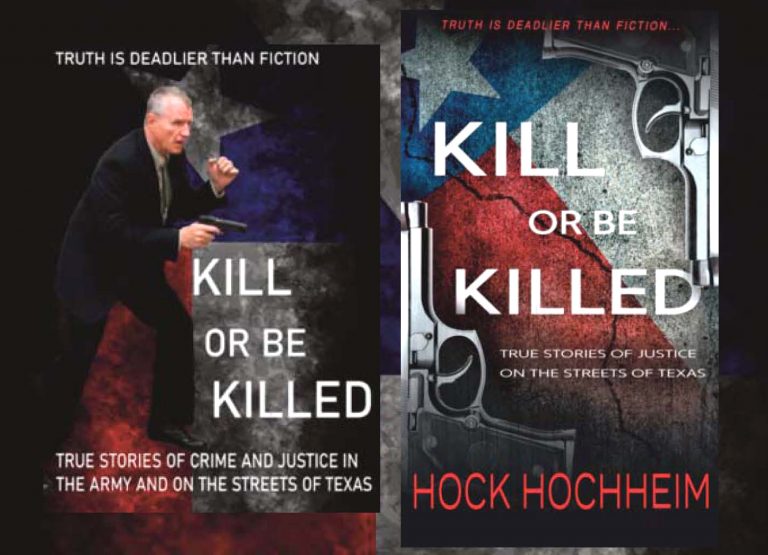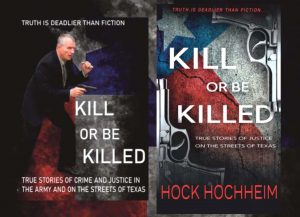 Hardcover (in color).

Paperback.

Ebook from Wolfpack Publishing.