The rituals of death. Understanding them may save your life. But, when you try to research the term, all you are most likely to uncover are after-death, practices of various worldwide religions and funerals, like tossing a handful of dirt on a coffin to name but one. I guess the trouble with the research quest is the word "ritual" – so quickly associated with religions. Dig a bit deeper (no pun intended) and you'll find a few ceremonial pre-death rituals like when archaeologists discovered that the Incas got their children sacrifices drunk before their deaths on coco leaves and alcohol. Still after much digging, not much is mentioned about before the death.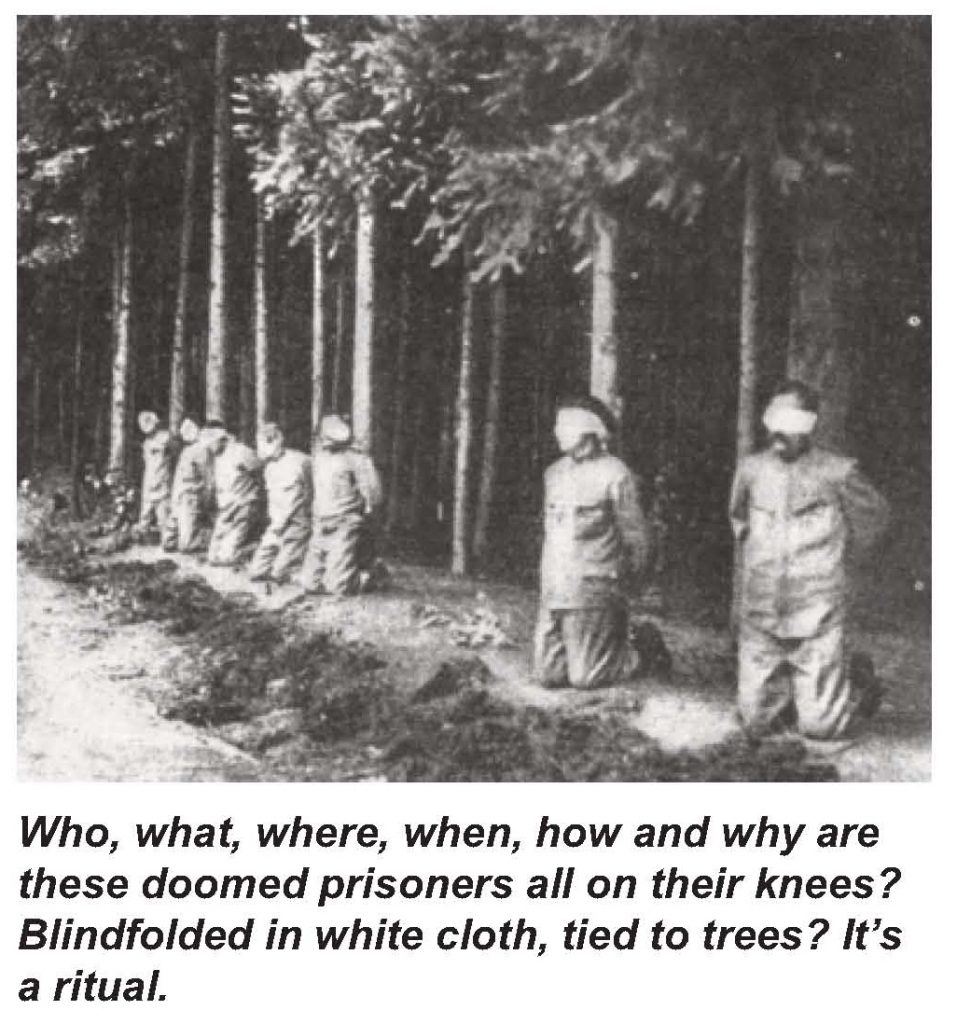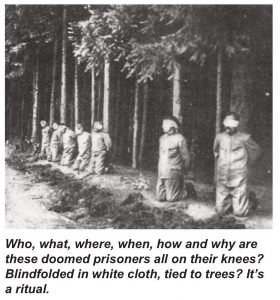 If you broaden your own the definition of "rituals," of death, it starts you thinking. You might recall the many other kinds of political and religious killings, ones before the flame, the shot, the needle, the hanging, the guillotine, the firing squad, the electrocution, etc. We remember some pre-death, rituals with them. Before such events, we have been exposed to ritualistic habits like, "the last meal." The "last cigarette." The blindfold, "any last requests?" "any last statements?"  These are also rituals of death, before the act. Why do people bother with them?
Think about the ritualistic procedures in the United States over a prisoner execution. There are many ritualistic steps and protocols. Think about how people reluctantly gather in to witness the execution. In the olden days, people gathered for the public hangings, nowadays seating is assigned at the prison death chambers to watch a person die. I feel as though any of the death row prisoners would much rather be surprised by a shot in the back at in the head at some late point than go through all that extraneous legal, ritual, nonsense. And, consider this irony, there have been postponements in prison executions because the prisoner was too sick on his death date. Too sick to die? "Let's clear up that flu before we kill him."
All these numerous rituals alone, suggested to me that most humans have a certain significance, a regard about death and often do things, also in crime and war to hesitate, postpone, celebrate or commemorate death. A ritual, however slight or small, might be created. It often seems to be in our human nature.
I would like to write about here a very particular situation when someone is cornered, captured, kidnapped and-or taken hostage. Short-term or long-term, and about to killed. As a police detective most of my adult life, and a graduate of a police, criminal profile course, I came across numerous cases, mine and others, of victims executed, or received threats of execution in the final act of rape, kidnapping, robbery, assault and so forth. And what about in war? Such as when someone is taken prisoner, or cornered? What did those last few seconds look like? What small ignored, rituals existed or still exist by killers. If we knew what the killers did, we might better prepare people to read upcoming signs and try to counter them.
In recent times now more than in the past, instructors like to present lists of pre-assault cues with all the anger, tip-offs. That list is long (and far from new – as the first one I saw was back in the military police academy in 1973.) What of pre-crime clues? They are different and largely ignored as people tend to dwell on the pre-assault cues. With pre-crime there might be a no-anger greeting, usually presented by smiling con men criminals setting you up with a minimum tip-offs, or not. Maybe just an overwhelming, sudden ambush? In this same vein of study, but not like the pre-assault, and pre-crime, are the verbal, physical and situational, last ditch rituals of…pre-death. Situational? The overall situation also counts like a ticking time bomb.
So, I became fascinated, in crime and war's last moments, especially the last few seconds, the last few steps of these killing actions. What exactly went on? And to see if there are any big or small "rituals" even in these instances. They may or may not be spontaneous. The crime may be pre-meditated, but the actual physical act of violence itself unplanned. What happened? Learning this as a self defense, martialist instructor for civilians, police and military, might warn and prepare people for last resort counters to these problems. My real goal here is to inspire and provoke thought on these matters.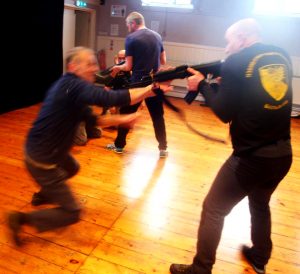 For example, Think of all the pistol disarms taught . Think of the more rare, long gun disarms. Think of the knife disarms. Think of the strangulation escapes. Lots of…"techniques," as they say. But hardly anyone understands or covers the total "who, what, when, where, how and why" (the Ws&H) the victim wound up in this terrible moment, these terrible, critical last, few seconds. The context. The situation. What last ditch, last resort things could be done to counter the murder attempt?
The techniques? I have told this story for decades as an example of the "classroom disarmer," of a student who learned two pistol disarms techniques earlier in the day at a martial class. He goes home and tells his friend how great the disarms were. The friend says "wow, show me," and he gets a "clicker," replica pistol and stands before the student, face-to-face, gun aimed at the student's head, execution style. The student and friend stare at each other, like western showdown that actually hardly ever happened. The friend is a live wire, watching anxiously for ANY slight sign, a "tell," (tip-off or clue) that a disarm attempt is coming. The student tries one of the disarms, j…u…s…t barely moves and…CLICK.  The student tries and tries and can't do either of the disarms. Disillusioned, he confesses, "I guess they don't work." This evaluation could be very wrong because forgotten is the unusual, multi-faceted crime and war situations people are thrust in. Gun men are often preoccupied running their overall crime scenes and rarely if ever, are they in this sterile, "face-to-face," "anxiously waiting-for-the-disarm" waiting to pull the trigger, classroom situation.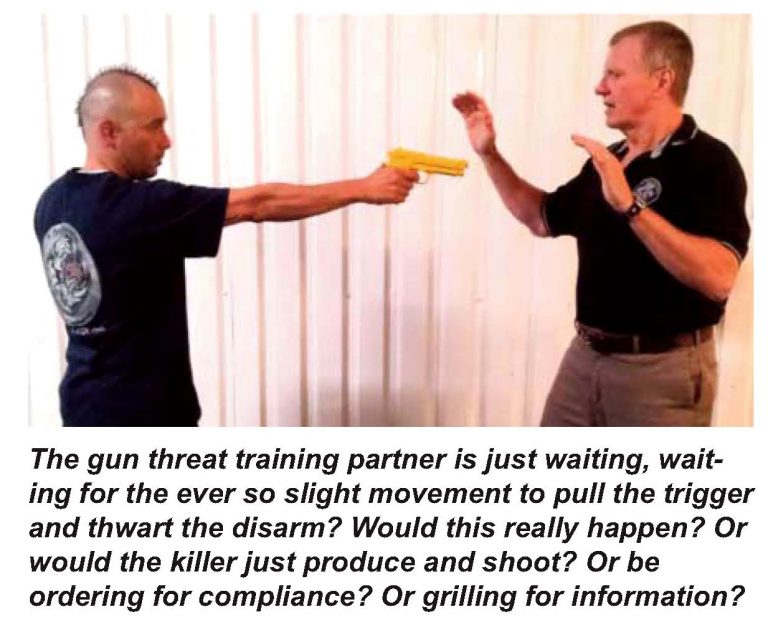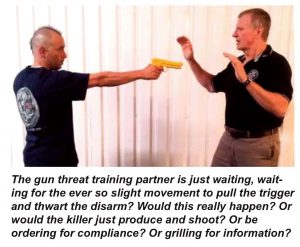 Ws&H questions for examples…
The Who Question? For the purposes of brevity, let's loosely list a few general "who's-who" to get you thinking about this topic. (Remember I am not a psychologist and you must investigate these typologies yourself.)   
Psychopath. Someone who might kill in an instant, without remorse, without ritual.
Psychopath who terrorizes. Someone who might kill and wants to enjoy terrorizing someone. There might be a ritual involved.
Realistic actor. Someone who is not a psychopath, but is somewhat "forced" into killing you due to circumstances. He might be resigned to the act.
Reluctant actor. Someone who is not a psychopath, but is really reluctant and really "forced" into killing you due to circumstances. He might be angry or depressed and resigned to the act.
Impulse actors. Various criminal studies state that many criminals have poor impulse control.
We could of course, slice and dice these very generic characterizations forever. But anyone of these might have tip-off tells of what they will do, verbal or physical. Perhaps your best predictive luck or chances are with the realistic and reluctant actors. If a true, cold-blooded  psychopath decides to kill you, they might well do so in an instant. No rituals. No tells…just boom. Imagine a hostage situation where there is food for 7 people and he has 8 hostages. Boom, a random death upon discovery of the problem. Now there's food for 7. If a non-psychopath has to kill you, he might say or do something…specifically at the moment…that is "ritualistic." 
The What Question? There are numerous examples of what might be said or done.
Verbal. A psychopath may say nothing, or in the terrorizing version, enjoy saying extra-frightening things. Their rituals might be very personal and impossible to understand by sane people. A non-psychopath might ask for somewhat ritualistic things like, "Get down on your knees?" or, "Lay face down,"  or "turn-around." This is because he doesn't want to fully see or not see your face. It is old military psychology now that you are harder to kill face-to-face for most "normal" people. The reluctant's voice may get mean with a certain resolve and resignation. This could be because he is actually angry at himself and-or the situation. 
Sounds. And this in not just about voice. There is a case in Gaven Debecker's book The Gift of Fear when a rapist left the victim's bedroom and turned the volume way up on the living room stereo. The victim realized this increase was to cover the sounds of her murder and screaming. She managed to sneak out of her apartment while the rapist was in the kitchen to get a knife. Translating sounds. What of the sounds of loading or cocking a firearm? Opening a trunk or a van door?
Physical. Sudden deep breaths before actions. Serious facial expression changes. Some might easily be read as a resignation that the reluctant has to kill. A terrorizing psychopath might smile with an enjoyment. It has been observed in a variety of situations that someone holding a long gun at hip level, resigned to murder, will grimace and lift the weapon to shoulder height. They might elevate the pistol from low to high. They could just shoot from the hip. These are last second tells.
The Where Question? First off, a rule of survival, never go from "crime scene A" to "crime scene B." If you can fight and resist at crime scene A when you discover a planned transport? Do so. B is usually a prepared place of torture and-or death. A psychopath might kill you anywhere, or at crime scene B. A non-psychopath might ritualistically march you off to somewhere else, and often for no real reason. It seems to be a ritual of death to do so. The back room refrigerator of a convenience store for just one example. These marches may take you to a place where there are no sight or sound witnesses.
The When Question? The brewing situation should help a victim tell if an execution is forthcoming. Understanding the overall situation can set the clock for predicting your your planned demise. Many victim can predict their eventual doom by just seeing the face of a criminal.
The How Question? How will the murder be accomplished? Are you being marched off to a cliff? The meat locker? Does the criminal or enemy have a stick? Knife, pistol? Long gun? If so, do you know the common striking, stabbing and shooting positions? How close is the killer standing? Where are you standing? Has he approached with an "angry" strutting walk and face? How will your respond?
The Why Question? By keeping close track of your dilemma, can you anticipate why you need to be killed. Whim? Delight? No witnesses? Revenge?  Understanding motives. Think of an on-premise, witness to a crime. Think of a crazed spouse, violating a protective order after many violent threats, showing up at a house with a weapon. Why must things end this way? The killer usually needs a motive, whether you understand the reasons or not. Again, studies show that many criminal have poor impulse control (especially under stressful and emotional situations).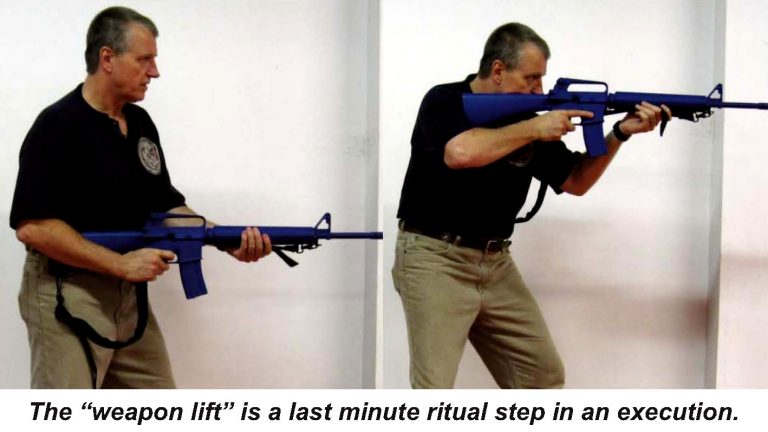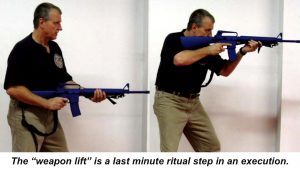 Quick summary I would like for you to think about these Ws&H points. It usually takes about 6 passes of the Ws&H questions to collect satisfactory information. You might get down to the "when" question and you realize you need to reexamine the "who" question again. And we can't forget that crime patterns, in your region, your city or street, can be a copy-cat ritual. Examine if you will, the many gang shootings in Chicago. How do they unfold?  
What might the rituals of pre-death be?
You are cornered, captured, kidnapped and-or taken hostage. Short-term or long-term, and about to killed.

Pre-assault cues can be different than pre-crime cues.

Verbal clues like tones and words.

Visual clues like facial expressions.

Sound clues like weapons preps – racking, chambering.

Area crime patterns may be involved.

Situations that history and common sense lead to executions.

Brewing, overall situations.

Has he approached with an angry walk and face?

Last request questions.

Suddenly being treated nicely. A common – "sorry, good-bye ritual." 

Being marched to questionable and isolated places with a l

ack of help or witnesses.

Sudden lifting of firearms into common firing positions.

Sudden lifting of sticks, bats, clubs and tool into striking positions.

Sudden drawing of weapons.

…continue to develop your own lists.
On the rituals of suicide. I have probably worked more suicides than murders through the years and they might have their own meaningful rituals and death scenes. Some organized scenes were fascinating and not appropriate for this essay theme. But, recognizing the organized suicide scene and any ritual evidence is important to classify and conclude the case, but again, suicide ritual is another subject.
But I must mention that in the police world, we are long cursed with "suicide by cop" situations. There is suicide by civilian or military also. Whether cop, citizen or soldier, these suicidal people get you to shoot them by presenting you with these same ritual of death moves we cover here, like drawing a weapon, lifting a weapon, marching upon you armed, with angry walks and angry faces. Perhaps over-acted to get your reaction! Recognizing apparent suicidal situations may save you great grief and expense later on.
My goal here in this essay is not to teach weapon disarms, but rather to translate events, see clues and tip-offs, or "tells," before counters are life-or-death needed. Of course you must exercise all  unarmed combatives to solve these problems. Standing, kneeling, sitting, grounded on top, bottom and sides. All must include knowledge of weapon operations, yours and his. All positions must include striking, kicking and what might be called "dirty fighting" or "cheating." These survival topics transcend typical martial arts found everywhere.
The rituals of death. They are not just about what goes in a funeral mass or at the cemetery after you die. It is also about the last things killers often physically say and-or do, just before they try to kill you, and how you must learn them to stay out of the deep end of a cemetery.
(And I remind you again, I am not a psychologist. Keep researching this and make your own lists. I only wish to provoke thought and planning.)
Hock's email is HockHochheim@ForceNecessary.com
******************
This is an essay in Hock's Training Mission Two, now available in Ebook, soon in paperback and hardcover, click here