Drop it!
In police work we are told to never have anything in our gun
hand, in case we suddenly have to draw our pistols. But we
know that is impossible. Even when writing a simple traffic ticket, both hands are busy. Fortunately, citizens do not live by this advice, this constant edge, as they go about their daily business. But, dear citizen, what if…?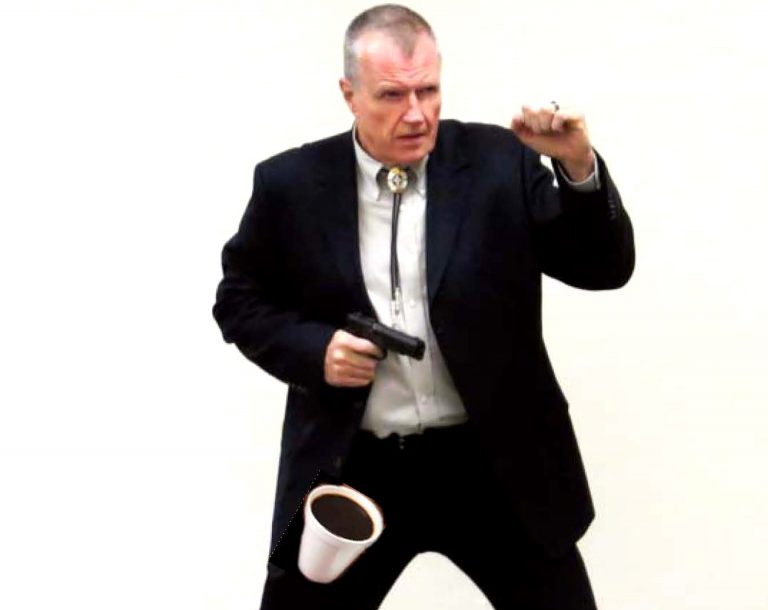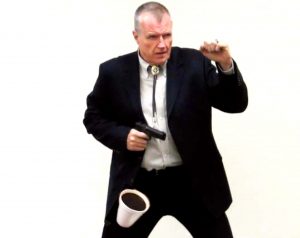 Much later, police trainers then passed around the idea, the realization, that when you drop your hand to pull your gun, you have to open your hand to grab your gun anyway. So, police, military or citizen, if you have something in your hand? Clip board. Grocery bag. Cup of coffee. Cheeseburger. You are going to open your hand anyway. You just have to learn to drop the item as your hand descends to your weapon carry site. 
This actually takes a bit of "dropsy" practice. Practice while holding what you think you might hold, then drop and draw. Use live fire first, then switch to safe, simulated ammo of course versus a real live person, but you can make some live-fire reps on targets at the range first, (providing you are somewhere you can draw from a holster, as those no-draw, range rules are increasing. If restricted, all the more reason to at least do this with simulated ammo and dodge those cumbersome range rules.)
Oh, and when making an emergency call? Always use your off-hand to run the cell phone. (I have a simulated ammo scenario for that process too.)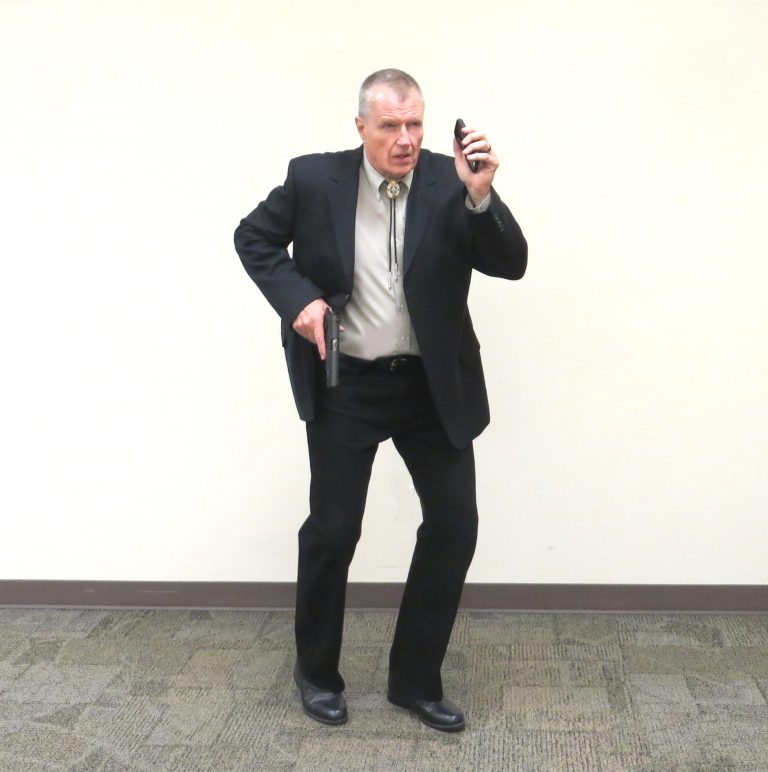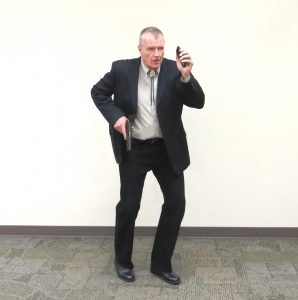 Sometimes we discover that we can chunk the item at the bad guy's face. But, that option is not always available due to time, space and situation. Lots of people ASSUME they know what their first or next confrontation will be like, and think that a good guy should always throw their hats, coffee, etc. at the bad guy before they draw. Such is an idea with a pre-emptive draw, maybe. It is very situational. But if the bad guy is drawing first, you are already behind the eight-ball of action-beats-reaction, and taking the step of tossing something first, then drawing makes things worse for you. Don't believe me? Check it put with simulated ammo training.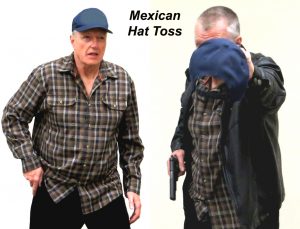 (The Mexican Hat Toss is a "chunking" old-school classic. I learned this from old FBI agents who were taught to toss their mandatory fedoras at a suspect when appropriate. As the hat flew as a distraction, the pistol came out. They were never photographed doing this, nor was the method in any "public release," to keep the trick a secret.)
So in your "Drop It" scenario training, have a holstered pistol on your carry site. Hold something in your gun hand. Drop, draw and shoot. Get the drop routine running in your head and hand.
Then it is vital to eventually, as quickly as possible, have a real person in front of you, doing something dangerous for you to properly draw your simulated ammo weapon for the right, justified and legal reasons, not a bell, not a whistle or timer, not flash cards, nor a paper target. A person! (One example of trouble? He crouches for a draw! Hand going to a primary, secondary or tertiary weapon carry site. Anyway, remember an opponent suddenly crouching is always a bad indication of trouble!). Learn, experiment and make a list as to what moves would cause you to legally draw.
Thus, the desperate need for more interactive, safe simulated ammo training. (Simunitions NOT needed here because why would you hurt your training partner 25 times with painful Sims, while he is trying to help you train! Safer methods and ammo required and smarter.)
Live fire is always half your training battle. The other training half is shooting moving, thinking people who want to shoot you, or who are in the act of shooting you with safe ammunition.
______________________
Hock's email is HockHochheim@ForceNecessary.com
Training Mission One! Training Mission Two! Thousands of how-to photos. The new, second edition-versions! Click here to read more
Get the oversized paperbacks.

Get the color textbook hardcovers.

Get the streaming ebooks.