It's always fun and exercise to mix and match martial arts. I did it for years too. Rather…mindlessly too. I knew it had abstract benefits for reality, and frankly, mix and match was good for my school business and student retention (1989 to 1997). And we all know doing just about any martial arts is certainly better than sitting on the couch. But I still only "kept" what I could to glean in the "what works" essence for police work. Fifty years later, this filtering is still an investigation I am addicted too. I still find little and big things to alter and totally remove.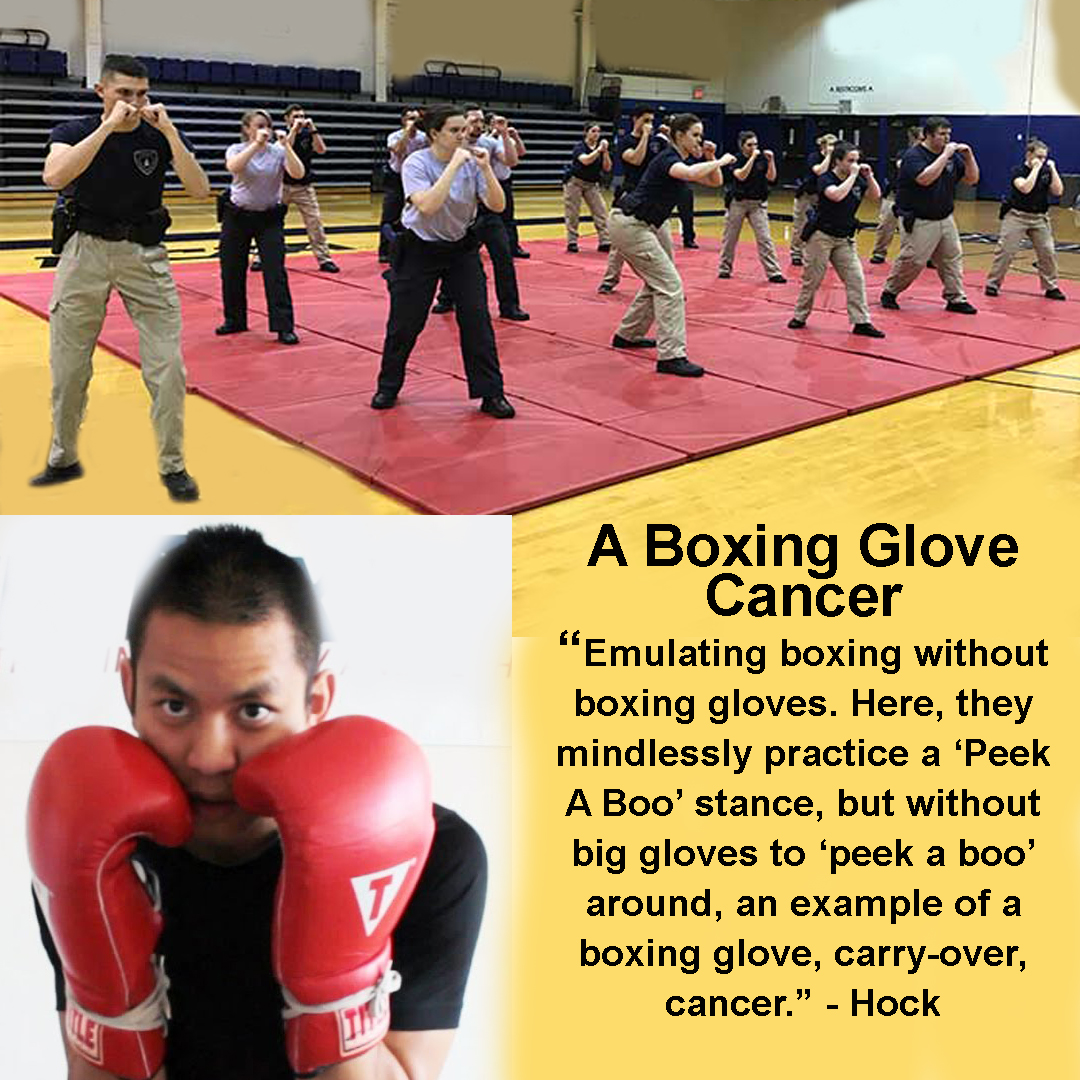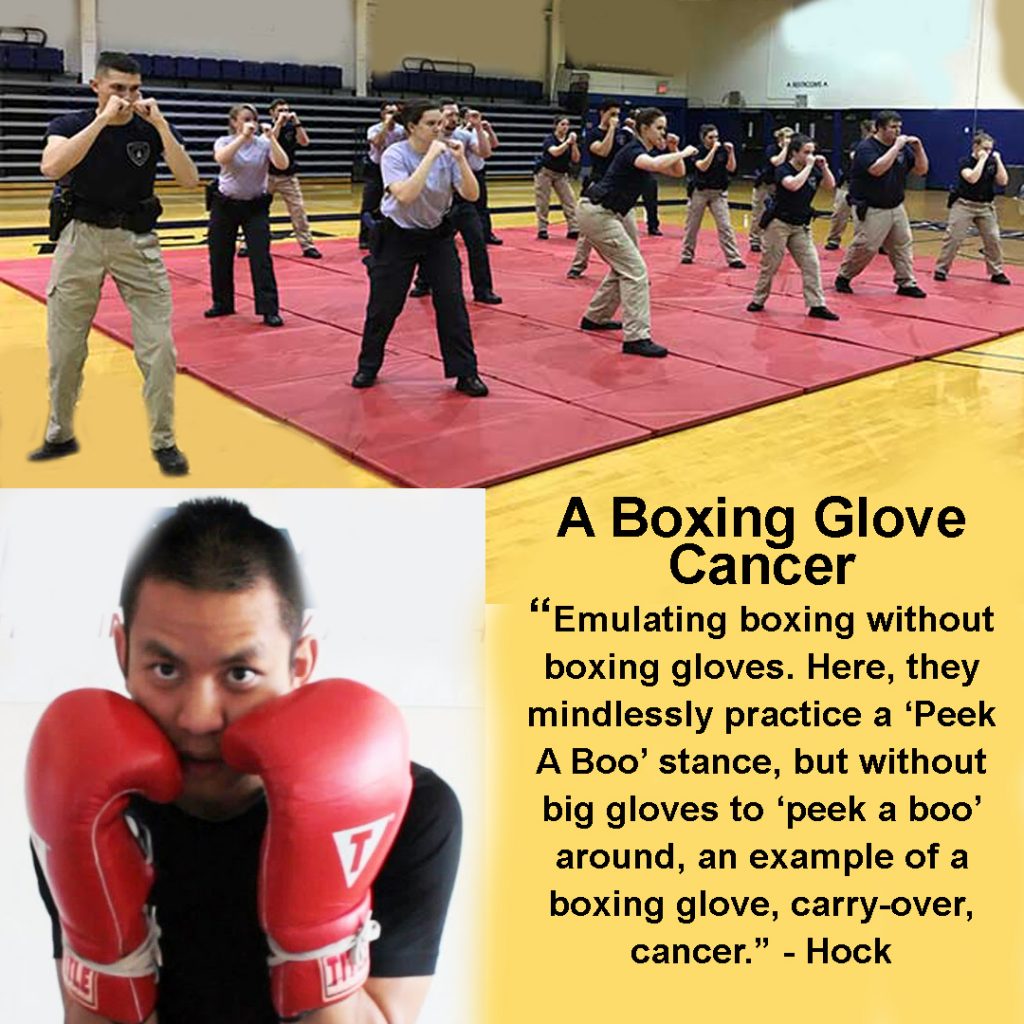 But some things I knew right away, decades ago were "street-wrong." Like a few "boxing glove cancers" for one of the categories of no-no's. Those big gloves change things. This photo above, below and those like them, just drive…me…crazy when I see them. This one above is obviously a police training session. Could be a rookie academy or an in-service class. They are mindlessly replicating a sport, face-cover from boxing as a routine stance. Police, military, combatives and self-defense people should not be exactly, mindlessly emulating boxing, (wrestling too), sports or arts as a doctrine principle for crime and war, survival fighting. Each martial, application-blend needs to be investigated.
This "PAB" – Peek a Boo does not protect your face without big gloves! In crime and war survival, not this peek a boo. It's a boo-boo. Don't believe little ol' me? Then to support my observation of common sense I will use two recognized authorities on two points, 1) no protection, and 2) distancing.
Foremost, the great champ. Bass Rutten, – who is in a world of small MMA gloves not boxing gloves –  described this peek a boo "stance" and face cover as, "It's a 'meat block.' I will punch and kick right through that." Okay. Well, that about sums that up! 
Secondly, JKD great Larry Hartsell agreed, as I heard him say in seminars. He said it was a big, boxing glove position. Hartsell, a former state trooper and Vietnam combat vet, also advised that, arts aside, from a JKD "street fight," perspective, keeping your hands up and right on your face as a standard, also allows the opponent to get closer into you, even closer than when hands up and out, further shaving off your reaction time. "Make him EARN that space, fight for that space," he said. This was a great quote that really stuck with me. Of course, Hartsell was also paid to teach the art-sport of boxing, kickboxing and Thai – all wearing big gloves. Hartsell taught those sports-arts and you will see photos of him in that formal process, too. He knew what went where.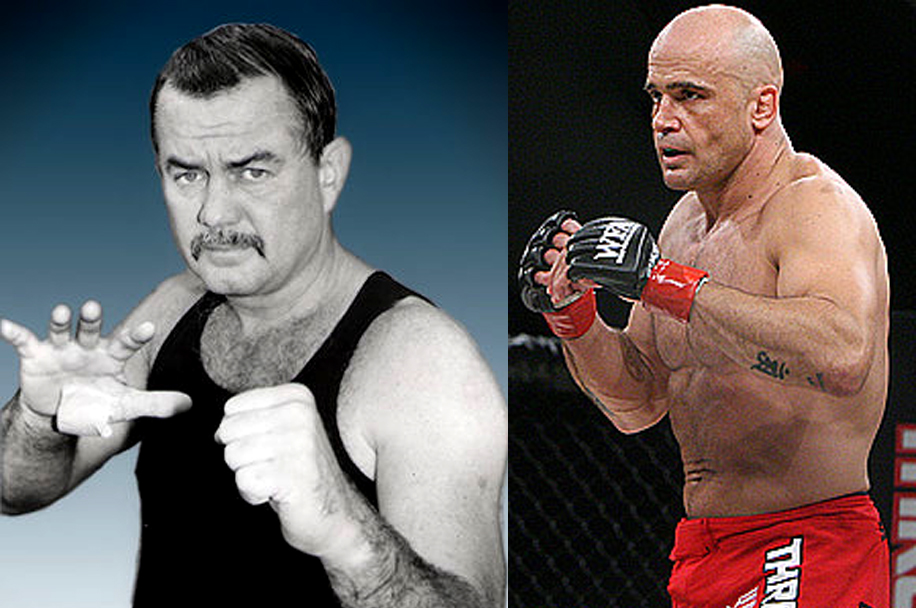 Arms and hands can move very fast, and people might overcome a myriad of strategy mistakes with sheer speed. But, fast hands are not an excuse to teach thoughtless, off-mission, doctrine.
Many reality systems, retreat to a doomsday position and protect their heads with forearms WHEN NEEDED. It is NOT their full-time, formal fighting stance. They retreat momentarily into it.
(A quick, protective forearm beside your head when needed is NOT a "turban block wrap." Don't get me started on these mandatory, "turban-arm-wrapping-head" systems. Another topic for another time.)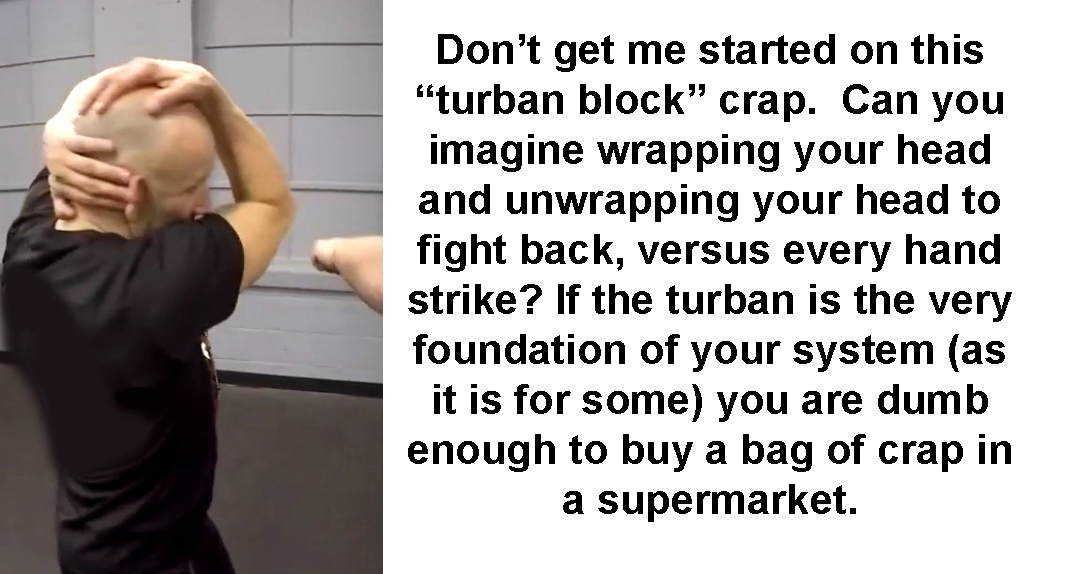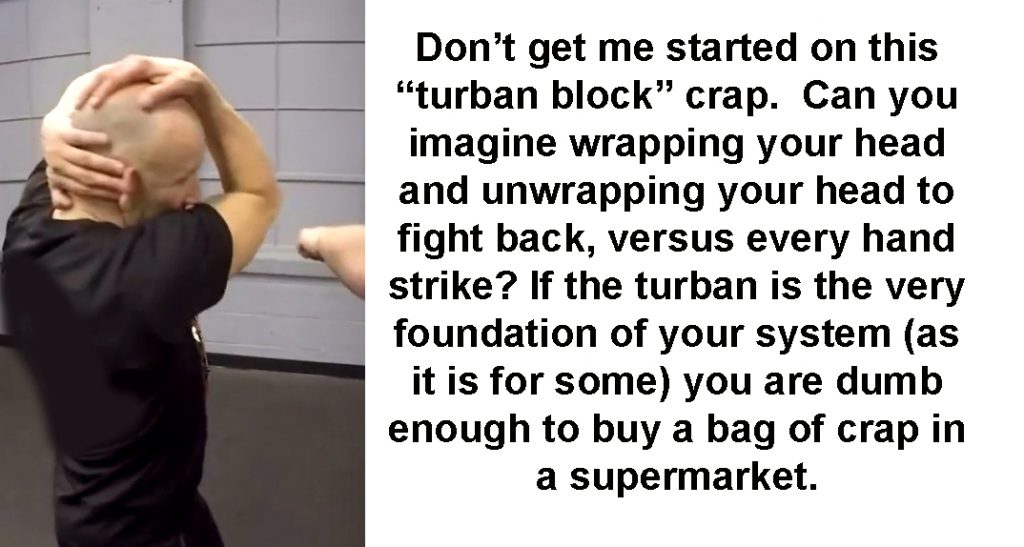 Allow me to go one step deeper here in this subject. Are fooled by PAB? And do you think it's dominant in MMA and Bare Knuckle Boxing (BN). By being fooled, I mean, if you train in a sporty-art system that emphasizes the "peek a boo," and you see an opponent, a criminal or whatever take up this or any tight face cover pose in front of you, you might be brainwashed into thinking, "Oh darn! That guy is 'covered,' I can't punch him," from much big glove training. Actually though, he is not safe. Punch those hands right on or around his face as though his hands are not there (yes, yes, palm strikes and hammer fist too. Yes.). Be like Bass!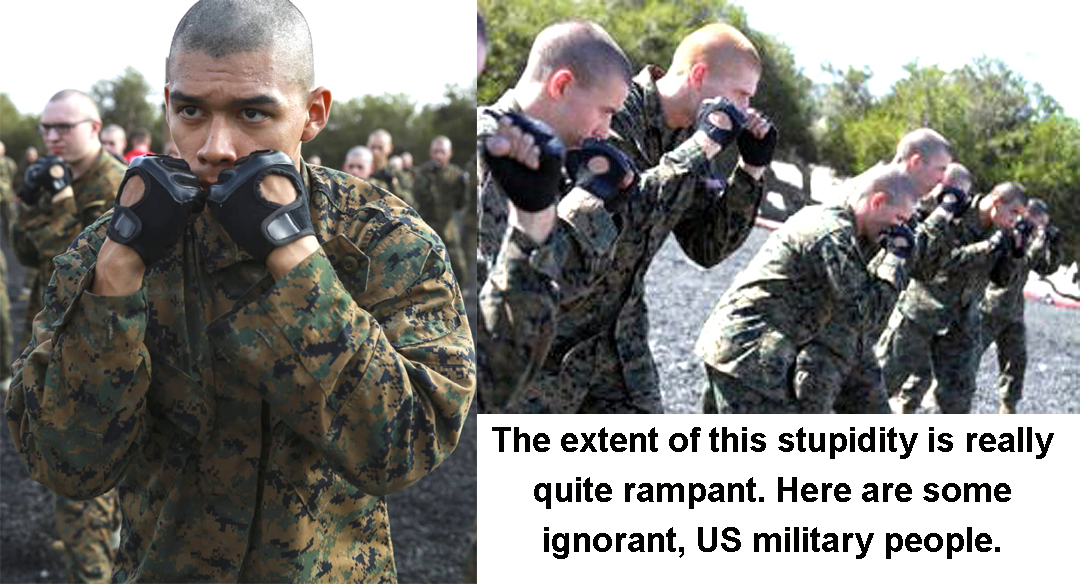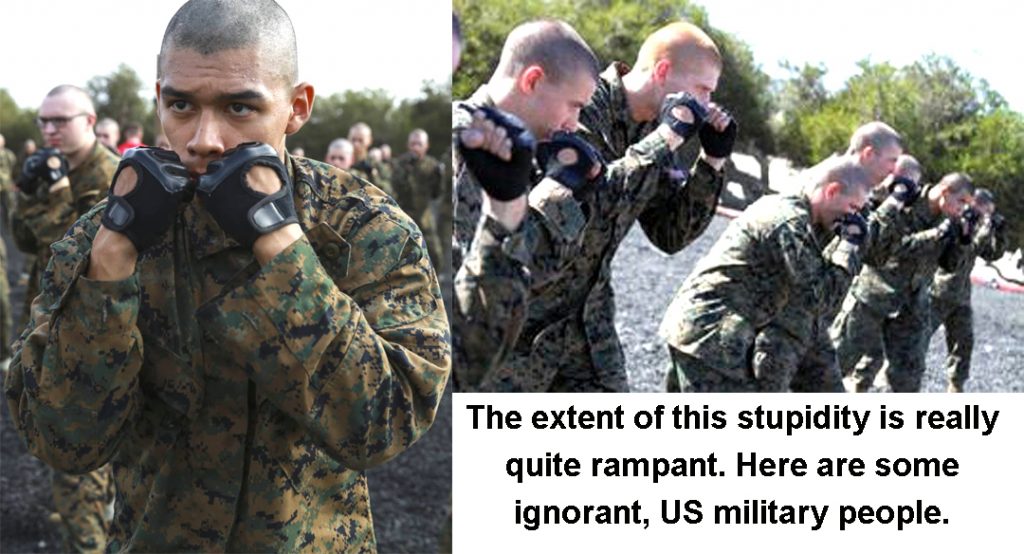 PAB is Dominant In….? Once in a while I see a slippery, anomaly comment that PAB is dominant in MMA and BN. Huh? PAB is big glove boxing, method-idea. Just because MMA and BN fighters have head movement, footwork and high hands does not define them as PAB, And I don't think that with small MMA gloves positioned right-on-face, PAB is a big consistent and dominant in MMA. Plus in MMA many worry about kicks and takedowns, low stuff, and dismiss PAB as an important MMA strategy. Curiously, one of the biggest, related questions searched on the internet is "Why don't more fighters use the peek-a-boo style in MMA?" Suggesting that it is not a dominant strategy among the interested masses "out there." Pro-side, PAB-ers usually lose the follow-up, discussion.
So what about bare knuckle boxing? I have seen the PAB term mentioned once in a while by some, claiming that such-and-such BN-er is a "PAB-er."  As with MMA, when you look at their films, no, their hands are just…high up, sometimes one in, one out, both sometimes out, sometimes open and "cupping" the outsides of their face, NOT routinely plastered on their teeth as a foundation. In MMA and BN, all use head movement and footwork, also ramparts of PAB. Hands in fights need to, should move in and out, up and down. And, hands in motion are tools of deception. 
In summary. Which leads me to the "who, what, where, when, how and why" questions and doctrines. Are you teaching-doing sports or reality? As I said, it's always great fun and exercise to mix and match martial arts. But beyond fun and exercise…what is your real mission? Are you making the mistake of mindlessly mixing sport-art things up with survival? What are you trying to do? 
Boxing-boxing is just terrific. Jab, cross, hook, uppercut, overhand. Terrific. But are you, missing the "big glove point," over-using boxing? Are you as an instructor, practitioner of police, military, combatives and self defense systems…are you creating and-or enforcing the best doctrine for your mission? I just groan EVERY time I see this bare knuckle version of the gloved PAB stance. It actually hurts my soul! I groan. Bass Rutten, just…just smiles. For him? It's…lunch.
Hock's email is Hock@SurvivalCentrix.com
Watch full, free training films on Hock's Combatives Youtube TV channel. A new film every month. Click here.