I was thinking about the classic park in Manila. "Rizal Park, also known as Luneta Park or simply Luneta, is a historical urban park in the Philippines. Formerly known as Bagumbayan in the era of colonialism under the Spaniards."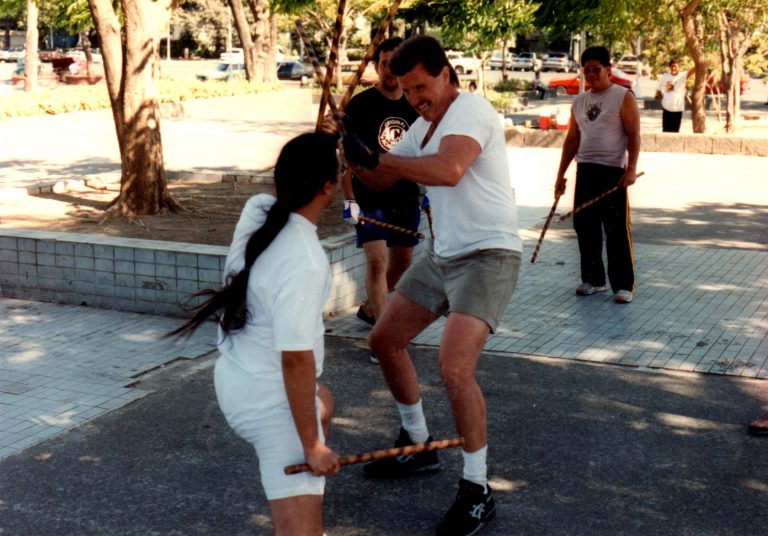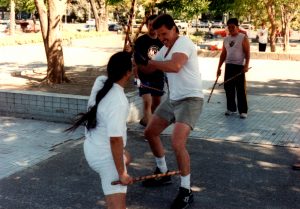 For many a decade if you trained in Manila, the Philippines, a must go-to place is this park. Many, many famous people have taught and gathered here. And when we were in Manila, we were either at the Presas school, this park or at the college where Ernesto taught Arnis at those times.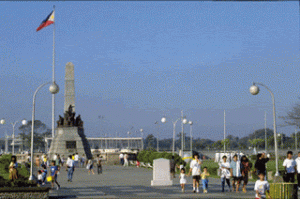 It did bother Ernesto a bit at times at the park, because various FMA grandmasters would set up folding chairs and watch us. He would whisper, "You see dese guys? Dey are grandmasters. Dey are spying on me."
This above photo is me and Shelley. Early 90s. There were only like 6 of us there, so it was pretty intense. Under his scrutiny all the time. We would go about 4 hours in the morning and about 3 1/2 hours in, there would be a break. Ernesto would say, "Take a break, then…examination time."
This photo –  Since we were so few, we also had his black belts as partners too, who were very helpful too. With Renato "Boks" Centro.
"Examination time?" we'd say in the beginning days. He was always "testing" us, but this would be a more real test for the last part of 3-4 hours. So…there was no break. We would walk off behind some trees or bushes and work through those ten minutes to hurry-review what we did. Then some water.
Then…the 
"Come on, COME ON!"
"Speed motion!" 
…observation "test.
Then lunch. Then another 4 hours. 6 days on. 1 day off pace.
That top  photo again. Me, Shelley Millspaugh and the big man GM watching us.  Captain Rene, a Honduran fighter pilot is behind us. Shelley Millspaugh added: "Great memories. That first camp was as intense as you could've made it. I haven't had that type of intensity since. GGM was the Energizer bunny. Never stops."
++++++++++++++++++++++++
Hock's email is HockHochheim@ForceNecessary.com
Check out the PAC-FMA-Arnis Training Films. Click here