(My main theme here is usually about combatives, crime and policing, but I would be remiss not to mention my connections with the ROK Marines while in South Korea.)
The textbook manuals will define the ROK Marines as: "The Republic of Korea Marine Corps, also known as the ROK Marine Corps, or the ROK Marines, is the marine corps of South Korea. The ROKMC is a branch of the Republic of Korea Navy responsible for amphibious operations, and also functions as a rapid reaction force and a strategic reserve."
"Korean soldiers were highly motivated. Because of their own struggle with Stalinist North Korea, they hated communists. They were also tough. Each man was trained in the art of tae kwon do, with 30 minutes' practice forming an integral part of morning physical training. They were also subjected to harsh discipline. Time magazine reported in 1966, "Captured Vietcong orders now stipulate that contact with the Koreans is to be avoided at all costs—unless a Vietcong victory is 100 percent certain." – National Interest Magazine
1975. The first days of the first week I was in country, up north in South Korea, HQ asked me to deliver some papers to Camp Red Cloud. They gave me our intrepid KATUSA – Mister Lee as a driver, and together in an old, open US Army jeep we made the long drive east. Once at the base, Mister Lee took us to the Red Cloud headquarters. On the open grounds outside stood a formation of Korean soldiers and a sergeant yelling and beating the holy hell out of a soldier. The troop stood as best he could, arms down and at a wobbly attention. Finally. the blows knocked him off right off his feet. Down, he was kicked.
"What's going on over there?" I asked Mister Lee.
"Ohhh, ROK Marines. Dey crazy. Dat Marine fucky up somehow." Mister Lee said.
And that was my first introduction to the ROK Marines, other than having some of them, along with South Vietnamese combat vets, teach a few courses in basic training. Upon my return to our little crappy forward operating base, (FOB) as I was a "cherry" (new) I quickly learned that we also had ROK Marines stationed right with us too!

We, me, the MPs there were to do police work and help provide force protection for this FOB, but the grunt work of guarding was done by KATUSA (Korean Augmentation To the United States Army, a branch of the Republic of Korea Army that consists of Korean drafted personnel who are augmented to the Eighth United States Army), K-9s (dogs), MPs and ROK Marines. One big happy (?) family.
Missile jockeys operated on top of a mountain inside our camp and from that elevation, with binoculars one could see into North Korea and at times watch their knuckleheads doing PT or snaking around over there.
"The beatings will continue until morale improves!" And I continued to see periodic ROK beatings in their morning formations. We never knew what they did wrong, but they must have "fucky-ied up" in some way. The ROK officers and NCOs spoke some English but the typical ROK Marine did not. So while we saw them a lot, and they ate in our mess hall, we never got to know them beyond the occasional smile, a wave, and a thumbs up.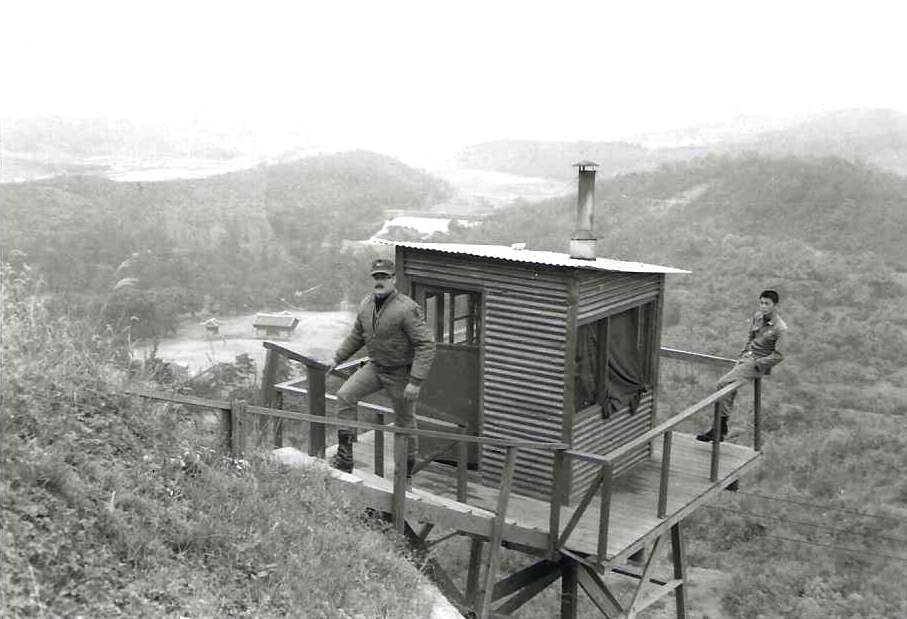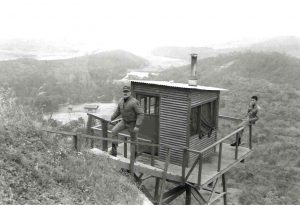 Part of our job description was to also patrol the outside of the base, check the perimeters, etc. and the ROK Marines did that routinely. We MPs did not have to go on every run, but we were supposed to go with some regularity, and keep abreast of the breastworks, so, with some regularity we went. On one trip, they found a cache of buried weapons, hidden by stupid commie sympathizers for North Koreans to sneak in and dig up. (I think a K9 smelled it out, as I recall). The commies were always sneaking in, or building tunnels under the DMZ, etc. Those days, the 60s and 70s were considered very dangerous times in Korea.
(Years earlier, the NKs perpetrated North Korea attempted assassination, "The Blue House Raid," also known in South Korea as the "January 21 Incident." It was just one raid launched by North Korean commandos to assassinate the President of South Korea, Park Chung-hee, in his residence at the Blue House. President Park was unharmed.)
Taking us out, taking our missiles out, or sneaking past us to go south was always a problem. We sat in the valley first invaded by the Red Guard back in the 1950s. One part of my MP job I discovered was to run an M-60 machine gun team on the northwest peak of the camp that touched that very valley. (When the feces hits the oscillated blades, we are all infantry.)
On one of these walk-arounds, the ROK Marine Sergeant (also named Lee) mentioned to me that old classic observation, usually attributed to the Japanese.,
"America will never be invaded," he said.
"It won't, you think?" I said.
"No, too many guns."
Some of these inspections were run in the dark, a m. hours. Just cuz. Just cuz they could and really they should. The boogie-men  come out at night. And as we passed a few guard posts, Sgt. Lee would stop us at a distance and stealthfully get near the post. He would at times catch the ROK Marine there asleep and steal something from them, sometimes their M-16s!
The next morning the ROK Marine would be chastised and then beaten in the formation.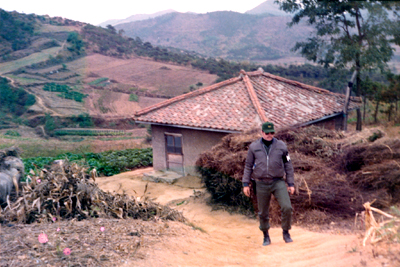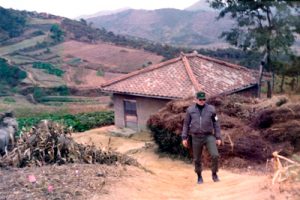 I often wondered what these Marines thought when they woke up and saw their M-16 gone!
(Many decades later, a ROK Marine sergeant showed up at one of my California combatives seminars, held at the original UFC Gym. He was sent there to attend and invite me to teach knife combatives over there. The deal was cut, but their unit had to postpone because of missions. I have no great desire to return to South Korea, but I will. Because – "Have Seminar-Will Travel.")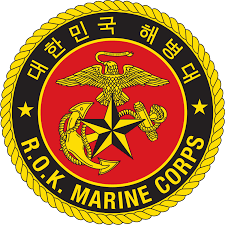 For more, check out –
Why South Korea's Marines are such an excellent fighting force- https://nationalinterest.org/blog/buzz/why-south-koreas-marines-are-such-excellent-fighting-force-105452
Shadows of War – https://www.armyupress.army.mil/journals/military-review/english-edition-archives/november-december-2019/anderson-korean-dmz/
*******
Hock's email is HockHochheim@ForceNecessary.com
For more stories like this, get Wolfpack Publishing, omnibus called "Kill or Be Killed," Hock's two memoir books, on a great sale! Read about the omnibus ebook click here.