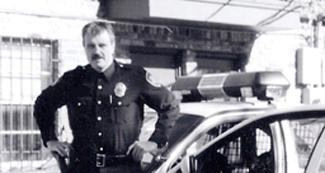 We all hear about how ground wrestlers shouldn't wrestle in the proverbial "street fight," and one reason name-dropped is the catch phrase "multiple opponents."  In the win-some/lose-some in real life, our lives, my life, I have a pivotal story about this, and some lessons learned. I wound up in the hospital.
    Back in 1980 I and other officers were dispatched to a "big fight." Two fraternities fighting in the basement of a large frat house. The college police were there and needing help. Who they gonna call? The city police. When we got there it was a mess. About 30 guys fighting in and out of the building. And so, we made our way into the melee and tried to…"stop it."  It looked like the brawls I was use to as an Army MP when units would get drunk and fight, or just fight without getting drunk.
    So, this was not my first rodeo, so to speak. I got inside the large basement – which was actually the first floor – and tried separating people when suddenly for some reason, the rush of humanity pushed and pulled about 10 or fifteen of us down on the cement floor. It was as they say, asses and elbows, and everything else, including feet as I found out later. Kicks.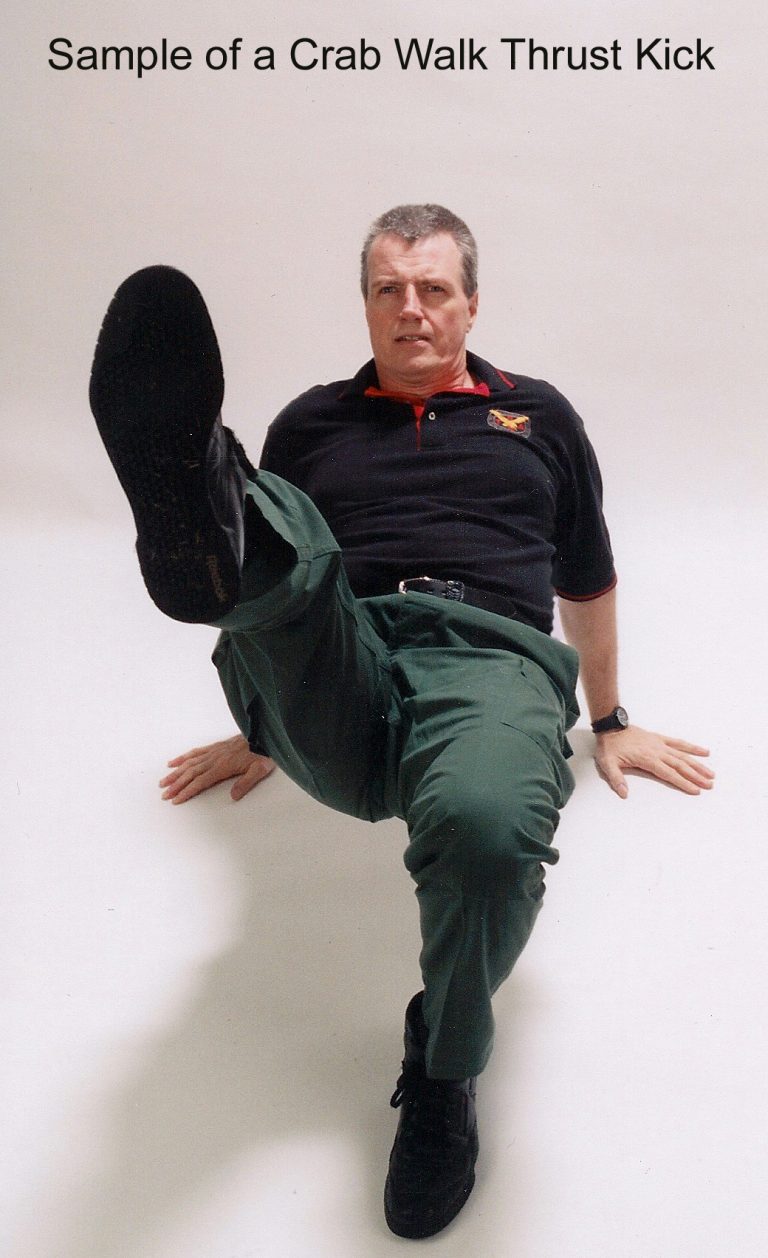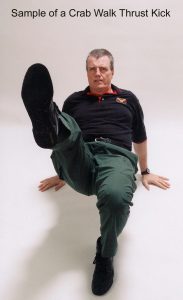 Suddenly, I was knocked out. Other officers told me that they saw it happen. Another college guy got up into a crab walk position, crab walked a few feet over to me, from the crab, from behind my head, and thrust kicked me in the head. I never saw it coming, so to speak.
    Numerous people were arrested and my sergeant decided it was time to leave. He said,
"Somebody go over there and wake Hock up."
    They said they slapped me awake. I was out, out cold in a nauseous dream. They told me I was out for about 15 minutes. Maybe 20. If you are in the "knock-out and brain business?" You know this is really bad. They helped me up and I stood, trying to unscramble my brains. I was floating on another planet as I got to my squad car, and I actually drove with the caravan back to the station. It was near the end of the evening shift. And I floated to my car, and sick and confused, and drove home.
    At home, I started vomiting and I couldn't think straight. My wife drove me to the hospital with my head hanging out the window like a dog. They gave me drugs and kept me over night for observation. You know…concussion. It was a bad night of bad, whack-job thoughts. Two days later? Back to work.
    It's funny but I can still remember part of what I was dreaming on the basement floor. I was at some carnival. If I try to hard to recall it? I can feel the beginnings of getting nauseous again. It's a brain damage, rabbit hole. We counted up the times I have been knocked out and it comes to 14. Two car wrecks, two kick boxing, two boxing, I fell on some rickety, odd-shaped stairs trying to arrest a guy one night. Twice in baseball (odd stories) well 14 "I am out, bubba" incidents. Now brainey-ologists tell you that little mini-second black outs start adding up too. Oh crap! I have been tested to have brain damage with symptoms too complicated to explain here as a side issue.
    Part of me wonders, how anyone today can box, kick box, Thai, MMA long term and never be knocked out? Not once? I meet these "virgin" people. I guess it's old school training that bazookas your brain? (I know the competitors get knocked out once in a while and they are really trying to limit that. I say "good.")
    I learned that I can control the symptoms somewhat with good sleep (and solid REM dreaming) and a simple diet, and some daily, almost aspirin-like medication. I have an odd problem with dreams and it's too long to explain here.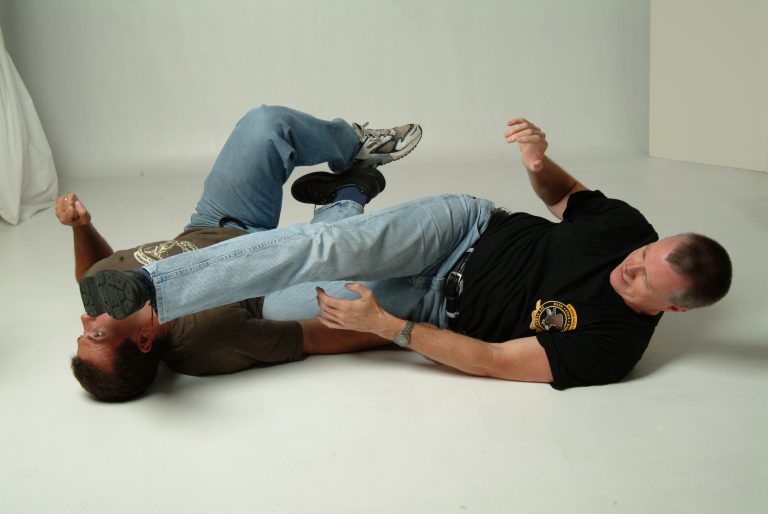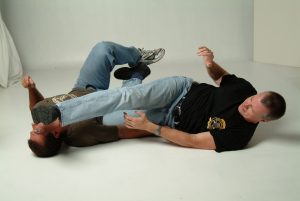 But back to the main issue. I was knocked out on the ground by a kick in a multiple opponent scrap. And as I said starting out, we all hear about how ground wrestlers shouldn't wrestle in the proverbial "street fight," but I want to add that you absolutely must learn and hone wrestling/ground fighting. A mixed-weapon style with a consistent filter for survival.
    A real expert ground fighter, Catch, BJJ, etc. can and will still eat up your standing (or ground) incoming arms and legs into arm bars and leg bars. But, they have to be fast, AND…they see to see the damn things coming.  
Addendum: 
    "Hi Hock, I really enjoy your website. It is definitely the best on the internet covering all areas of self defense. In response to you being knocked out by a kick to the head, something similar happened to me, when i was with the PD prior to my retirement.   In the early hours of my shift on a weekend, several officers and i were dispatched to a large biker party, in a back yard. Upon arrival, approximately 60 subjects were present. There were 8 officers including myself present.  A fight began and one officer was on the ground attempting to handcuff a suspect. I dropped to my knees to assist and the next thing I realized I was in the back of a patrol car in route to the hospital.  I had blood running out of my mouth and it felt like I had gravel in it. Upon arrival, I was checked for injuries, and the gravel turned out to be shattered teeth. I had been kicked under the jaw by some punk with steel toed boots. Three of my bottom back molars on each side were shattered from slamming my jaw together. The guy went to jail and got 30 days. To this very day i have TMJ but things could have been worse. Take care and stay safe."  – Doug Boal, RET.
******
Hock's email is HockHochheim@ForceNecessary.com
True Texas detective and police stories. Get the paperbacks or the downloads. Click here.