Haven't we all seen through the years, the paper targets of angry men holding guns and knives? Is this a good or bad idea?
If you follow me for even a short length of time, you know I do not teach anything to do with firearm marksmanship. I am too unqualified and too impatient for the job. I always team up with, refer you to, and count on my long list of qualified and patient friends to deliver great marksmanship development. Instead, I am solely interested in situational, interactive shooting with any sort of simulated ammo we can get our hands on, wherever we are. The gear has increased in its diversity and opportunity through the decades. I just called the course starting back then in 1995, "Force Necessary: Gun" (using the gun when necessary).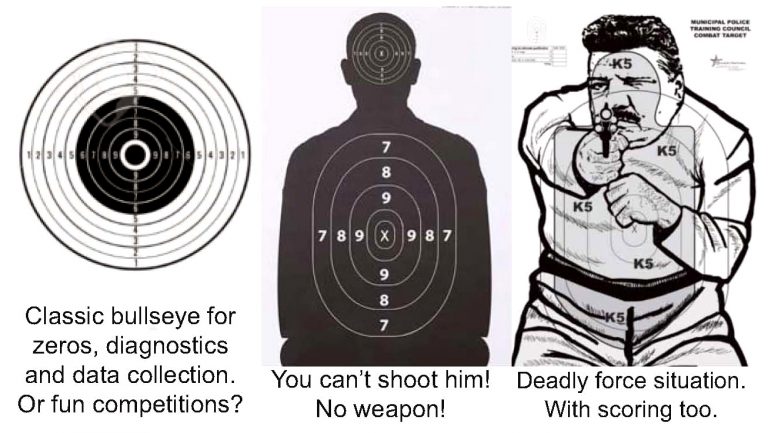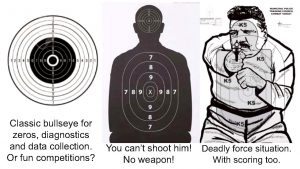 A number of years ago Dr Bill Lewinski and his collegiate Force Science team collected a whole series of studies on shootings and shoot-outs, and determined that one of the principle reasons for missing targets under stress was too much "internal focus" on the use of the handgun and not enough external emphasis. The internal emphasis was defined as the worrying too much about your draw, hand grip, breathing, arms, sights, etc. The Force Science experts recommended a major prescription for this was to work on more external focus. External being defined as the bad guy, location and situation. A professional psychologist would begin to develop therapies for external focus (which I have already spent years doing.) The problem is shooting at moving, thinking people who are shooting right back at you.
With this Force Science report, I immediately added a new sub-title for my gun course, "Force Necessary: Gun – External Focus," bolstered by Lewinski's FS and because that is all I do, my slice-share of the gun fight worries. Bring in the external! As the simulated ammo world developed (with much help from Japan) military and police slowly saw great value in adding it in, but just not enough. 
After a vow of range shooting celibacy (as in teaching as I still practice shooting on ranges) I still have borderline/trespass comments to make once in a while, and one is on paper targets. It is a range thing and such things I order myself to avoid. But… here goes.
Quickly first, an established point – "bullseye target:" the circular spot, usually black or outlined in black, at the center of a target marked with concentric circles and used in target practice. A regular, round, bullseye target or simplistic versions thereof are good for shooting diagnostics, zeroing in and data investigation-collection. Maybe even some fun competitions? 
I recall times, and they are recent and recurring, when ignorant citizen groups demanded that all human shapes be removed from targets. Their argument being that this teaches, people, police and even the military to shoot…people! To shoot unnecessarily and ad nauseum at people. Surely – the ignorant claim – surely if these human forms were removed from targets, less people would be abused-shot. Innocent people and guilty people too, as there are post-modernist groups who fail to acknowledge even the obvious self defense shooting of an armed attacker, screaming murder, especially against law enforcement.
Quite a number of groups and agencies over the years, ever wishy-washy, by virtue signaling, paranoia or the next level of ignorance, acquiesced. Gone were the official use of armed, ugly men photos and drawings on targets, replaced by the standard bullseye, scoring image. The organizations were applauded by being all-so-modern and all-so-caring and so forth. 
The last big, anti-human-form, target scare brought quite a censor of target subjects. Compliers got rid of various popular targets to avoid being denounced. Remember the fad wave of zombie targets appeared? Remember them? Well, they are still around, but not like the censored past and blasting zombies were openly used in protest of the target censors. I mean, even far-far lefties want to kill zombies.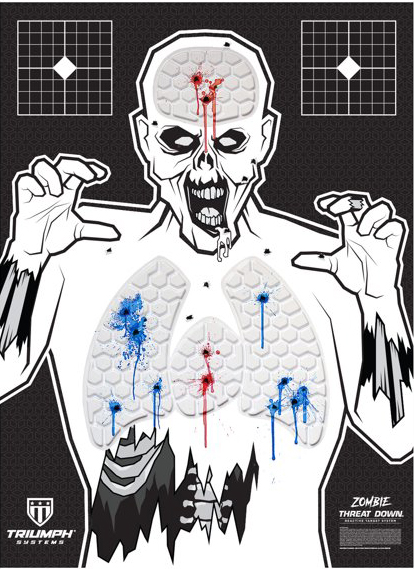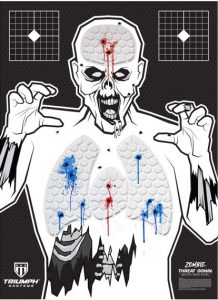 I also recall a rash of Bin Laden targets popping up in those tough times. But today in the 2020s, a target printer and-or seller must take care who they portray on a paper target, else they be deemed a domestic terrorist. I suggest you avoid putting any recognizable people on targets, just use generic, mean looking, white guys.
So, let's take a stock for a moment…
Bad guys have guns (and knives, etc.) and commit felonies, rob, rape and kill.

Citizens can defend themselves and many have guns.

Police have guns and uphold the law.

Good guys and police are attacked by bad guys with guns (and knives, etc.).

The most contrary still accept the fact that gun-carriers need at least bullseye training.

There needs to be training methods to consistently ensure that deadly force be used only against deadly force.
I know gun instructors smart enough to tape or glue various pictures of deadly force weapons onto to existing unarmed paper targets. They "get it." We talk a lot of a sight picture – "the sight picture is the image you see when the sights are aligned correctly with the target." But another look at the term is the "sight" of a picture of an armed bad guy trying to kill you. One is more internal in processing, one is way more "external." They know that in your sight, your "external sight picture" it is good to have a deadly force weapon included to justify a spontaneous shooting.
One way to help ensure the proper use of deadly firearm force is the visual identification training of a deadly threat. A mission to so this should be as early, often and regular as possible. Overtly or covertly (subliminal). I therefore believe that a shooting practitioner, new or otherwise should constantly shoot at a target of a dangerous person holding a gun or knife, etc.  Doing so helps build a subliminal use of proper force message in a person's brain. You are NOT going to shoot unless you are confronted with this sort of…deadly…vision.
This sort of prep education is not available with the flat, impersonal paper bullseye target. Such a bullseye-only target is detached from humanity. Instead, simply putting a scoring target inside the shape of an armed bad guy is so easy and of course, has been done.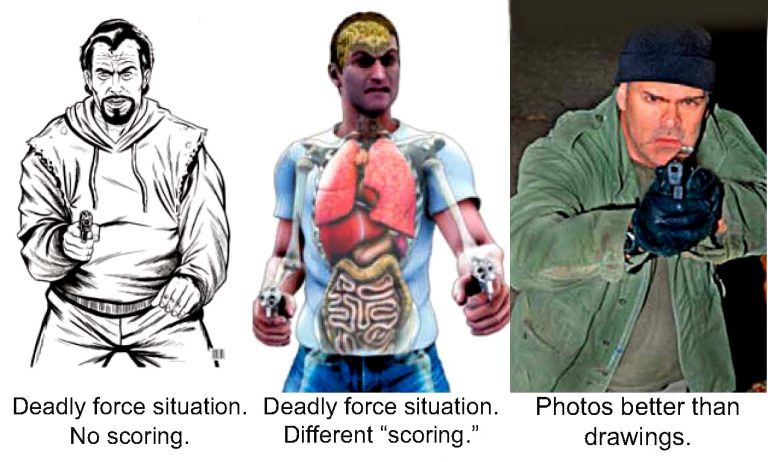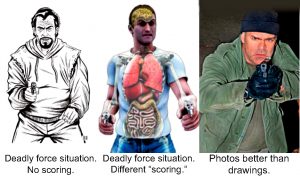 I have tried to instruct with the mantra "reduce the abstract." In hand, stick, knife and gun training, you can never recreate the reality situation. It's impossible, but you can try. Each and every where possible. You can use the "Who, What, Where, When, How and Why" questions to set the stage, and of course, develop the training progressions from isolated to situational. This means a person may start out with just a bullseye target only, if the instructor wishes, and the training will increase with human shapes and forms to situational interactive shooting of actors, then competitors. (Other than zeroing in and other diagnostics (checking the spark plugs), I see no real reason not to quickly start a self defense shooter out with an armed human form target also with bullseye, scoring rings.
With this dual approach, there is still a bullseye and scoring, but inside a bigger legal "message" from the get-go. You get to score, track progress, but with a deadly force backdrop mandate.
Targets and further training with "armed human forms." Things to think about:
Do you think that self defense shooters should only shoot at bullseye targets forever? Yes or no? Why? Why not?

Do you think that self defense shooters should be exposed to targets with armed human figures with added bullseye art? Yes or no? Why? Why not?

Do you think that an enlarged photograph of a bad guy is better than a flat artwork drawing of one? Yes or no? Why? Why not?

Do you think that eventually shooting an actual, armed actor is better than shooting at a drawing or photo of a person? Yes or no? Why? Why not?

Do you think that eventually shooting at armed "competitors" in interactive situations are like performance exams? And are a good idea? Yes or no? Why? Why not?
(I guess I would be remiss not to quickly mention these  somewhat common "3D" or dummy targets in this discussion, even though they are a bit pricey and misused as in this discussion. Misused? They are frequently posted up on the range, naked and armless. Armless means no weapons held, defeating that need to shoot now imperative we are reviewing here.  I have seen dummies wearing shirts from time to time, maybe even a hat, but still armless and weaponless. I guess you could slung a rifle over a shoulder?  But usually you are still shooting an unarmed man! Err…I mean dummy. The 3D dummies with arms are rare because they are so expensive.)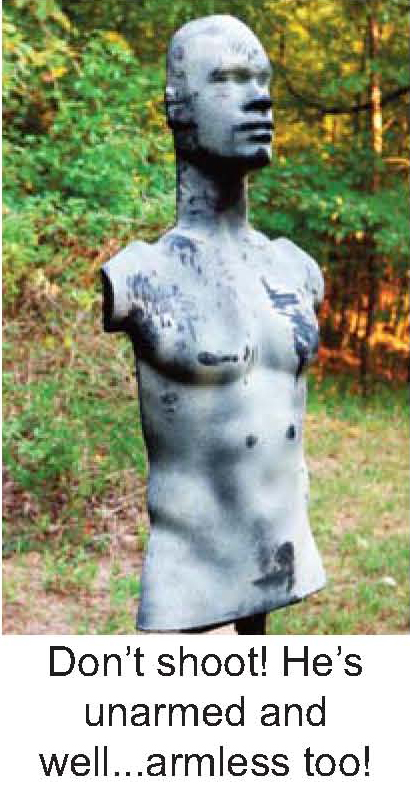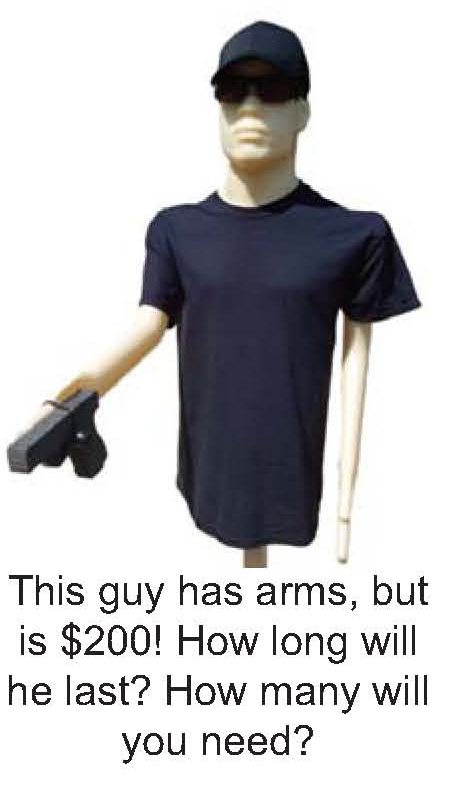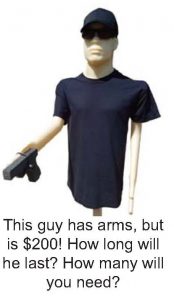 You don't have to answer these questions here. Just please think about them. The questions above are about a training progression. You can never stop working on your marksmanship and the "internal focus." It's a never-ending battle of eyeballs and trigger-squeeze. But my real purpose here is to get people to pull the trigger when legal and develop comprehensive training tips and  ideas to implant the subject.
As this essay spreads across the world, I receive more and more reports of agencies and localities disallowing human shapes on targets, as well as ranges that just don't care what target you bring in.
Back to the first opening question. Armed human shapes on targets. Good? Bad? My answer is good. The next time a political group demands that human figures holding weapons should be removed from training targets, inform them that human figures holding weapons, even in its most primitive form with flat, target-artwork or a photograph, is vital in teaching proper use of force, decision-making. Start that subliminal self defense, legal message from the beginning and keep it going as much as possible.
********
Hock's email is HockHochheim@ForceNecessary.com
The new novel is out! Ebook and paperback! Click here for American Medieval