For decades now, I have spotted "sloppiness, bad structure here and there in training, be it during my old Texas school of the 80s and 90s, or years on the road in seminars. Dropping hands. Sloppy finishes of strikes, or striking sets. For some people this is not a problem as they return to integrity after each move.
    Others? Not so much. I have taped a boxing glove to a stick, stood behind a feeder and clobbered trainees that don't cover themselves well when punching and kicking mitts, pads, shields. The recalcitrant, seeing me behind the trainer, seeing this pending boom, suddenly seem to cover well, but often when I walk away? The sloppiness might return?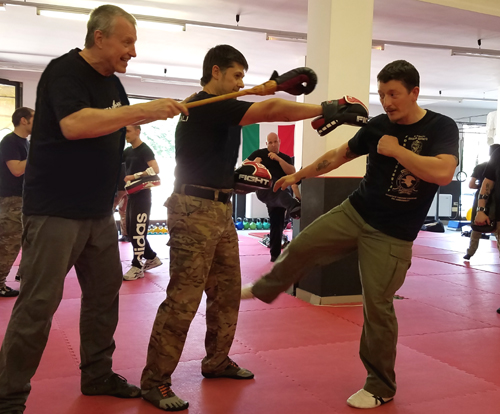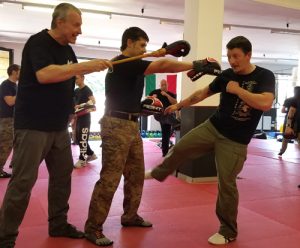 I can only hope that when before a real threat, they also worry not about a boom stick, but about a real punch, and they also cover so well? But, boom stick or not, in training mitt drills, in kicking shield drills, they/you must maintain good integrity and structure for good habits. 
Dukes up!
Email Hock at HockHochheim@ForceNecessary.com
Get this popular training film, The Other Hand! "Boxing Outside the Think"