Usually, one breaks their hand when punching the "Bicycle Helmet," top area of the head. The opponent ducks or ducks-and-turns his head and you, whether thrusting or hooking, when your bare fist hits the "helmet" area, your hand gets jacked up. But here is an odd story of my busted-up finger not near the helmet. (Here, Tom McGrath of the UK is helping me demo this underarm delivery uppercut in Belgium, the centerpiece move of the essay.)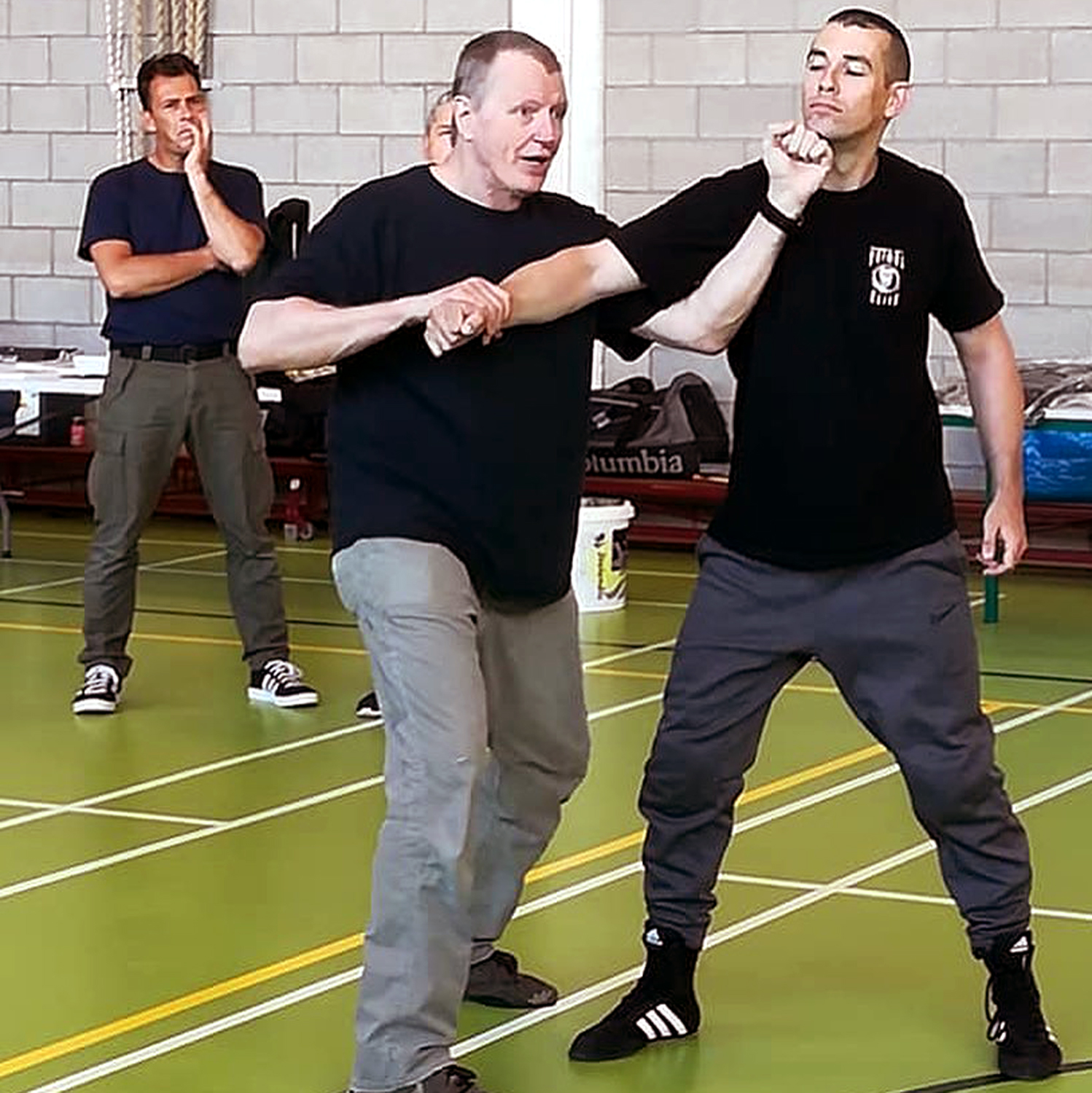 One night I was arresting someone, and he decided to fight me. And in the tussle he threw a pretty lame thrusting punch or push, or perhaps a bad blend of both at me. Anyway, I wound up in this underarm uppercut position – which is a popular training position – and I punched him in the chin. Pretty decent shot as he was bewildered enough for me to yank that arm around his back and handcuff him.
BUT…I remember the sharp pain in my middle finger. While booking him into the jail, it swelled up and of course I knew the lump wasn't cancer. I knew it was from the guy's damn, pointy jaw and the solid position his head was in. Well, the swelling went down in a day or two. Pain went away. Another come-and-go.
Through the years though, cysts appeared and disappeared in that space in the space between the middle finger and pointy finger and up the middle finger. Small-sized and medium-sized. I thought it weird, but they eventually came and went away too. Then one month, one lump got so big that I really couldn't do much with those fingers. When I couldn't put stamps on envelopes, I decided to see a hand doctor.
Diagnosis? That punch from many years back put a hairline fracture in my finger bone from the knuckle to first joint. The fracture edges were rough with growing bone spurs and the spurs caused cysts. Cure? Hand Operation! Remove the growing octopus of a cyst and shave the bone. Nothing to fix with the hairline fracture which I gather was naturally, "glued" somewhat together from time. (Yes, the cyst in a jar he showed me looked like a min-octopus.)
We hear a lot about broken hands-fingers from fights, and I have had a few classic hand swellings from punching people on the job, but when punching I never had common breaking problems many other cops (or people) had, which was kind "blind-concept punching," I guess you could call it. From training I just aimed lower and held a tighter fist (tips from old ku-roty). I just had this lasting one problem, one I think rather uncommon for me, from an uppercut, down below the "helmet."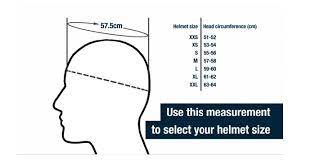 I don't want to start a long scientific punch vs. palm strike dissertation here, nor create the martial hand damage medical list. I am not against bare-knuckle punching. Other than the "helmet area," heads usually do "give" when struck, jaws give, necks allows for movement, but there's much less give in that bicycle helmet area. People see…INCOMING! and reflexively drop their face. Where the nose once was is now the "helmet head!
Fists must be tight, not loose as bad habits create inside boxing gloves. (Bad habit, ask Tyson.)  When we fight for real, we won't be wearing gloves and a mouthpiece and bare knuckle fighting is a real-deal, end challenge. Prep for it yes, but I don't think we should destroy our knuckles and hands hitting hard things that don't give-way somewhat, as done for decades like with old school karate-kung fu people. (I know old-timers that cannot hold a cup of coffee in their hands today from makiwara boards and the like. There were times when monster knuckles were badges of honor.)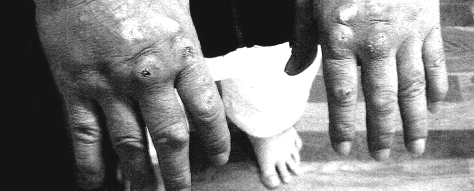 Tone that down! You don't want to meet the "Situs Brothers – Arthur and Burr" in your 50s and 60s. Rather we have to "strike" a compromise, pun intended.
I also think instructors should take a look at their practitioner's hands and inspect the size, shape and potential for real-world punching. Some people ae structured to punch tanks, others have little thimbles for fists and should not trust punching anything, despite the endless focus mitt and bag drills they are forced to do. In the end, your job is to build customized, personal success as a doctrine, not replicate cookie-cutter dogma results. One size does not fit all. One system does not fit all. One sized fist training does not fit all.
Anyway, all's well with that finger now. Hey, remember the bicycle helmet area advice! Aim lower. Tight fist.
________________
Watch free, full training films at Hock's Combatives TV channel. Click here.