Strangulation.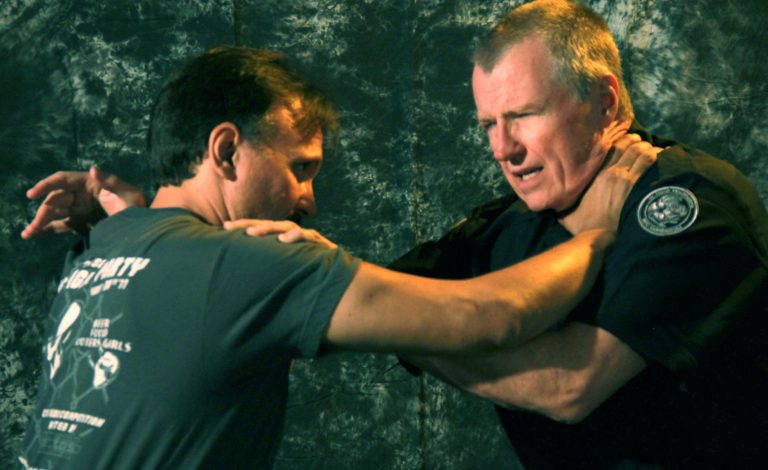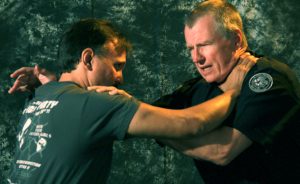 To soldiers, it's a way to take prisoners and kill the enemy.
To police, it's pretty much a no-no.
To martial people and martial artists it's a tap-out, win-win.
To self defense people it's several easy escape tricks and quickly boring.
To many martial artists, doing a hand choke is crazy and dumb  because there are so many easy escapes. To many martialists, they then ignore doing and teaching these simple choke/strangle escapes. Or eventually then…forget them.
What I want to write about here today is the differences between chokes and strangles. And, citizen and-or self defense concerns about strangulation with a special emphasis on domestic violence. To real people in real everyday world, strangulation is a criminal assault with so many ramifications, but the category includes a terrible amount of domestic disturbances violence (assault and murder) on women.
I write this from my years of experiences responding to about a ton of domestics, working murders, attempted murders, aggravated assaults and simpler assaults. I also write this from attended police profiling courses and working in martial arts since the 1970s. And, I also write this from continuing to research these topics, such as with the recent, interesting book No Visible Bruises. My point here will be, that self defense and martial arts training, even cop intervention fail big time to help in the big strangle picture of domestic abuse.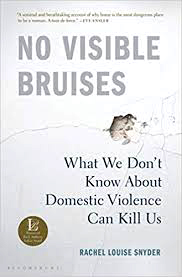 As an aside, probably the worst  domestic case I had was a triple homicide. A man shot his wife and two kids, tried to shoot the third kid but the young girl escaped to a neighboring apartment complex. The neighbor called the police as he threw the mom and kids down a well. We arrived, talked to the surviving daughter, then chased and caught the guy on the run in a few hours. I "befriended" him, got him to confess. He told me about the well and where he hid the gun, etc. I helped haul the bodies put of the well later. He eventually got a death sentence. No choking involved to my knowledge, it's just the worst domestic case I ever had. Just one domestic case with the biggest toll.
I've worked a number of strangulation cases and I wish we had the science, stats and resources, help groups and MONEY that are around today. Years ago another detective, Jeff Waro and I were working a hitman and organized crime cases and we were suddenly assigned an unrelated murder (oh, thanks admin!). A woman was strangled by a wire hanger in her apartment. She was not raped. We dropped everything to work on this case, looking for a motive. We quickly uncovered that this dead, college girl was a mistress. She was strangled by her boyfriend. The boyfriend was married. He and his wife just had a baby. THAT day of the murder! With this newborn, we guessed he couldn't have his mistress around? We got enough evidence for a warrant and hunted down the hospital of the child birth in Dallas. Wawro and I arrested the strangler at the nursery, in the very room with the wife and new baby. With every act of violence, simple or complicated, there's a trauma and a drama.  Each one is a sad story.
Choke versus Strangle. A few years back after I retired, I worked to keep my Texas commission and had to attend 24 hours a year of certified state training. One year I collected 2 of those hours by attending a new-laws, legal-update course. That year Texas had changed the laws on choking/strangulation. If a suspect choked the windpipe the charge was higher than just choking the bloodlines. Obviously choking/crushing the windpipe is more serious, but this was legal news to me. I remember thinking to myself back then, "Man! There must be a lot of choking going on if the State decided to make these distinctions." And I assumed it was another step on the long war on domestic violence. Other states were making the same changes, too. And yes, it was based on domestic murders and assaults. Hey, did you know that there is a "Strangulation Institute?" Yeah. That's how bad things  have gotten.
Is the word "strangle" or "strangulation" synonymous with the word "choke?" At some primitive, semantic level perhaps, yes, but it seems to mean more…when its your throat. Right away people think a strangle is a "hands on throat" attack. Way back when I was in the army, the US Army basic training called the throat attack a strangle. You were killing the enemy. Then months later, in the military police academy they called it a choke. Choke sounds…better, doesn't it? More "in policy." The choke was to temporarily incapacitate a suspect, not kill a Viet Cong. And strangulation is usually associated with death. I realize these are English language terms and other countries have or may not have such split, nuanced meanings for act of squeezing the throat.
To a common person and to some experts, a hand squeeze strangulation is thought be an act of hate, or anger.  Someone wants to "squeeze the life out of you." The victim could be someone the attacker knows, or a stranger. Hating a stranger? The victim-stranger might just be a recipient of a so-called "projection." By that I mean the victim might act or resemble in some way, someone the attacker hates, or wants a violent release upon. Sudden or planned. Or, in some of the murder and serial murderer cases, a strangulation is an after-the-fact, cover-up to kill and remove the body after, say, a sex crime.
But we all know that the neck squeeze can also come from the arms and tools. You often here the legal version term – ligature. (A chest squeeze might seem like choking to some, but that is "positional asphyxia" and is another subject. ) But whether hands, arms or tools, you have a blood flow attack and/or an air flow attack.
The squeeze is done with-
The right hand
The left hand
Both hands
Right forearm (the victim is pushed against something)
Left forearm (the victim is pushed against something)
Right arm wrap (from behind, full arm or forearm only)
Left arm wrap (from behind) full arm or forearm only)
Some item that squeezes the neck (like a rope-ligature)
What's the other hand doing in single hand chokes?
The Big 3 Position Problems
Standing, with nothing around you
Up against something like a wall
Bottom-side ground (rarely but possible, topside too)
In the profiling courses I've been in and my own disgusting, depressing studies of veteran profilers, some of these stranger criminals do strangle. Stranger attackers like rapists, robbers and kidnappers can also be stranglers, and the quick self defense tricks taught by martial people can help a victim make a quick escape.  But what if you can't immediately escape? Like a partner or spouse? A National Institution of Justice study found that, "If a person has been strangled by someone who says they love them, their chances of being killed by that person are immense. The study found victims are ten times more likely to eventually be murdered by someone who's choked them." Ten times! I repeat – ten times more. Strangulation, anger events in domestics are linked to the murder of women. 
As the Paul Simon song goes, "There must be 50 ways to leave your lover." But to an abused spouse, it's…complicated and each one of the 50, as in the big picture of kids, housing, lawyers, money, fear , anger, pain, maiming and even death – just "Hopping on the bus, Gus" is not so simple. So, if the cavalier, Paul Simon says there are 50 simplistic ways, cavalier martial arts people might think there are 50 simplistic, ways to escape the choke/strangulation. And they are indeed some simple ones.
So simple! But I think after a while. Martial artists realize that doing the common, hand strangulations are so easily defeated, the informed/experienced think someone would be crazy to do them. This idea then leads the veteran to forgetting about doing them, and to forget about showing them, and forget about teaching the escapes, forgetting to remind average people that common chokes/strangles are indeed a realistic threat (and certainly for females – who seem to statistically suffer from them the most.) I know I will hear now from "Joe Karate" over this, telling me they still do this stuff already. But I ask, really? ALL THE ONES LISTED ABOVE? And how often? In all 3 big position problems listed above? I'll bet not. AND…there are hand, stick, knife, gun solutions! Are you doing all those also?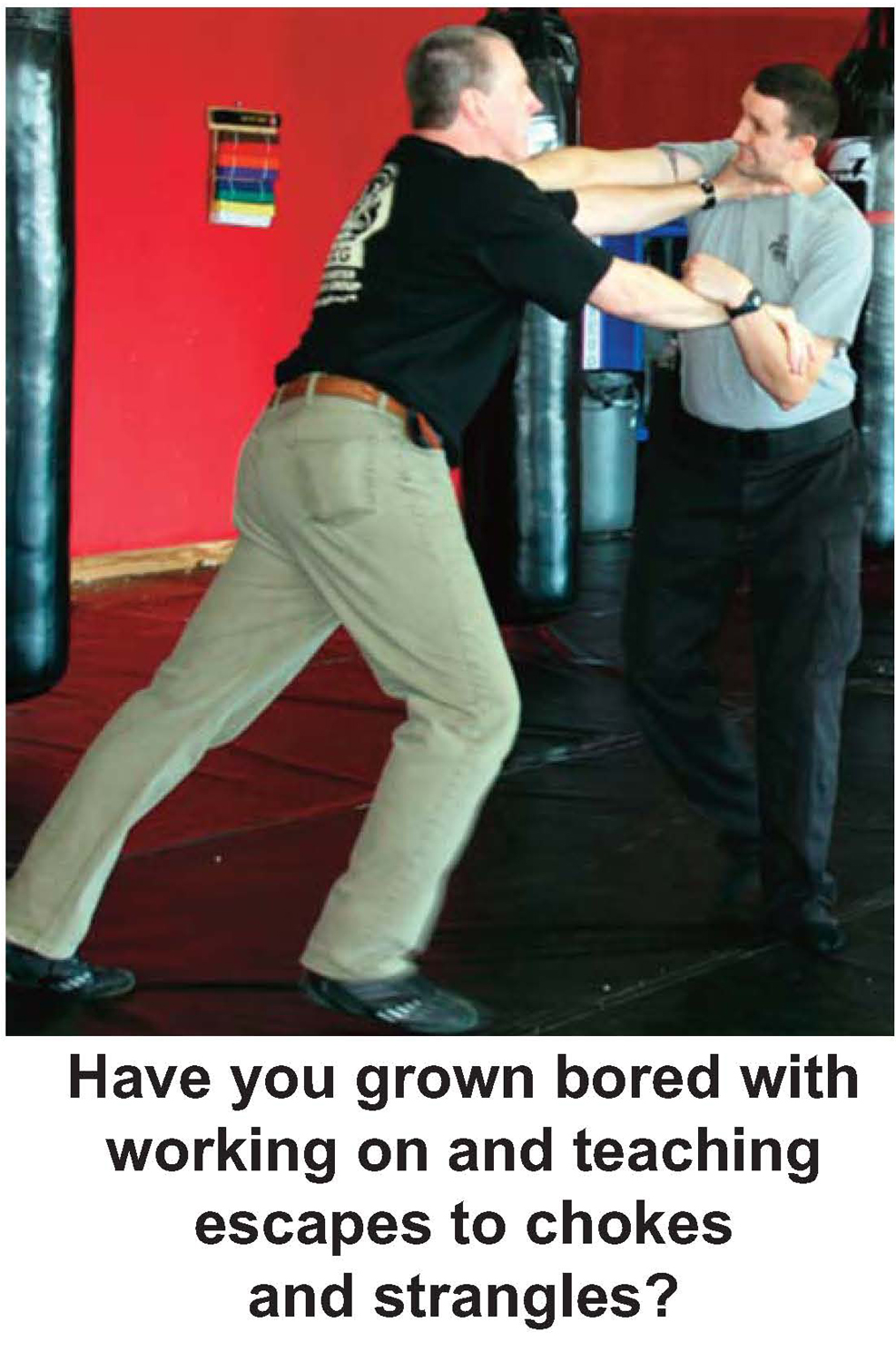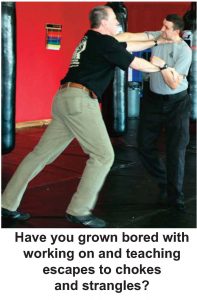 MMA people fear and respect the choke. Old school police do too. But you know what choke I am talking about, the classic rear choke. Maybe the triangle choke. "Giving up your back." What about  hand strangles MMA? Hand strangles? No, They don't do it. Its against the rules and therefore why even bother with it. I understand that. One does not football tackle in basketball, nor do finger breaking in Tennis. Nor punch in Judo. The rules of the game. And police are always in controversial trouble touching anyone's neck. As a result, much choke and counter-choke training is also swept off many LEO outlines and doctrines. Don't get me started on the subject of police "neck restraints" and "police chokes" semantics. That's a whole other essay.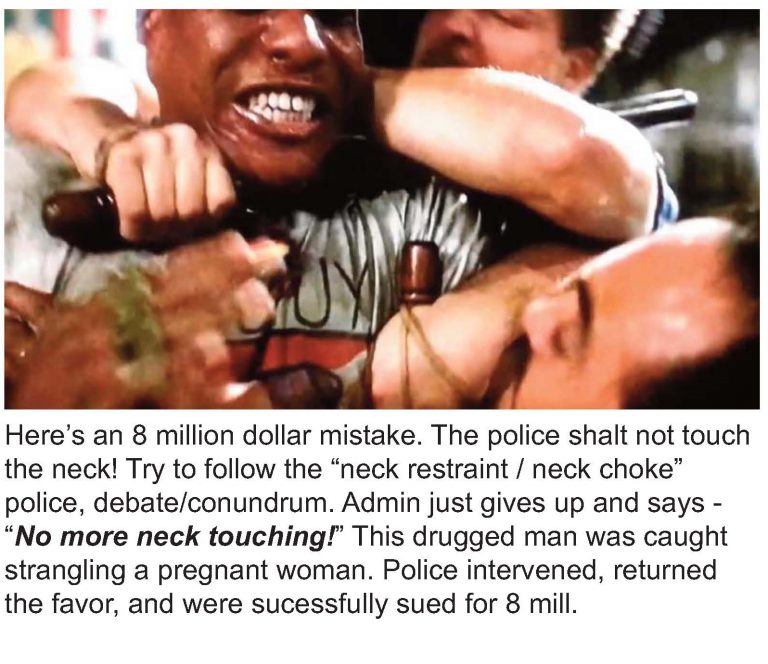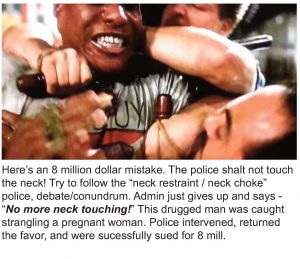 Symptoms of strangulation can include:
• a sore throat
• difficulty swallowing
• neck pain
• hoarseness
• bruising on the neck or behind your ears
• discoloration on your tongue
• ringing in your ears
• bloodshot eyes
• dizziness
• memory loss
• drooling
• nausea or vomiting
• difficulty breathing
• incontinence
• a seizure
• a miscarriage
• changes in mood or personality like agitation or aggression
• changes in sleep patterns
• changes in vision such as blurriness or seeing double
• fainted or lost consciousness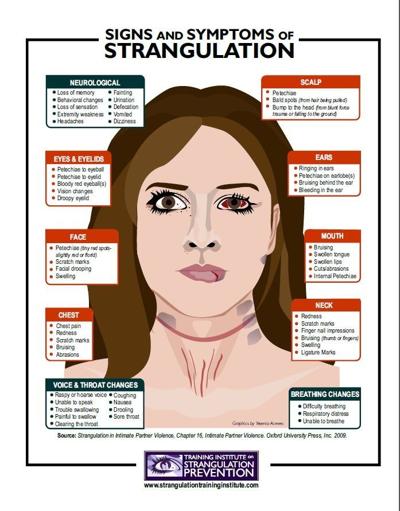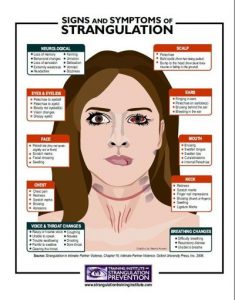 Not listed in the above diagram, or perhaps not well known, but I have learned from working cases, are signs of rather vertical scratches on the neck. How'd that happen? The victim grabs the attacker's hands and tried to pull them off. The victim's own fingernails scratch their own neck, vertically.  You will find their own DNA under those fingernails. This further proves strangulation was involved in your investigation.
It's possible to experience strangulation and show no immediate symptoms at first but even die weeks later because of brain damage due to lack of oxygen and other internal injuries. Also, numerous strangle victims have head-brain injuries too, from being bounced off a wall or floor.
But with the proliferation of MMA rear chokes, I am often mystified over the lack of choke, follow-up, MMA injuries compared to those of regular, citizen crime stats. I wonder why so many MMA and martial artists survive so many neck squeezes with no follow-up problems. Because they are in…"shape?" I don't know. Maybe because we learn to tap-out really fast, and our work-out partners get into the position of a successful choke, know they are, and don't put the ol' death squeeze in? And we are released early? Thwarting REAL pressure? I just don't know. But pro-fighters are checked after fights for neck, and brain injuries. Do the squeezing fingers of the hands cause more, deeper damage potential than a wrapped arm? I just don't know.
The National Domestic Violence Hotline says, "If your partner has ever put their hands around your neck, put you in a "sleeper hold" or used anything else to strangle you like a scarf, necklace, belt, rope, etc. you may have physical and mental damage."
What to do?
When I had to walk into a heated domestic disturbance as a patrolman, we cops were expected to perform miracles, expected to solve years of marital/partner discord with our tremendous advice. It…can't…be…done and I learned quickly that my first goal was to separate the parties for at least the night. If people are hurt? Then we arrest somebody and call an ambulance. But, these folks have to get help tomorrow. WE CAN'T SOLVE THE PROBLEM!
We can't and neither can Joe Karate. Teaching a woman a simple escape from a strangle hold is one thing. But in her home, at night, a slap-release trick doesn't solve the problem either. Because when the big brute has his choke hand or forearm slapped away, he gets madder, or more, worse violence occurs to this mentally and physically trapped person (usually a woman, and I say brute because stat-wise it is a high percentage, idiot men that does this.) This is a terrible, complex trap-incident for an abused woman. Can we teach every woman, every time to become a wolverine-banshee when choked, further decimate-incapacitate  her husband, then pack up her kids and leave?  What do you think?
So a few simple escape tricks might get an attacker on a parking lot off of you. That's handy stuff. But, an abused spouse has many more problems going on that we, as a martial artist, a self defense instructor, a cop on a call, can't solve. We can show them the quick tricks, but we MUST also watch our for all the troubling signs, and point these people to help.
It always goes back to my drumbeat of the "who, what, where, when, how and why."
Who? Who gets strangled most, then least? Who strangles
What? What is the strangle? The Attack? What must you learn to defeat it? What happens next? (More on that later).
Where? I believe that most strangles occur in the home. But where else? Parking lots? Where?
When? When is this going to happen?
How? How will it unfold? How you he react? You?
Why? Hate, anger, craziness, etc.
Examine all these big and small questions under the envelope of good intelligence information and your personal life.
But what does happens next? That instant? The next hour? Day? Week? Year? (There is some research that a year breaks the bad, relationship pattern in men with women, in many cases. Again, many factors.) Look, I can't list all the domestic violence information here. I mentioned earlier the greater resources of today. Search on these topics and get lists, tips and help resources. The internet is full of good advice and help, phone numbers, etc.
Also, can I ask you…the instructor…the practitioner…not to forget going over strangles and choke hold escapes regularly? The whole list I have offered above? I know its so simple and boring. And, keep on eye on people around you. There is an underground world of pain out there hidden behind many houses and apartment walls.
Teaching someone so-called,  self defense is not just poking someone in the eye, or knee in the balls. There's an immediate problem and the aftermath. Some aftermaths are worse then others. With every act of violence, simple or complicated, there's a mental or physical trauma and a drama.
What happens…next?


+++++++++++++++
Hock's email is HockHochheim@ForceNecessary.com
Like this essay? Get more of the same with Hock's Book Fightin' Words, the paperback, or Ebook, click here