Funny thing, I was watching the DVDs of the first season of FX's TV show, Justified and in one episode there was a side character who was a retired football player and Superbowl champ in the plot. There were some photo shots and discussion about his Superbowl ring. Made me think of the story I wrote and published many, many years before the TV show, of a similar situation that happened to me with a Superbowl champ. Funny how these coincidences occur huh? Funny how they wind up in a TV show later. Anyway, here again is the story.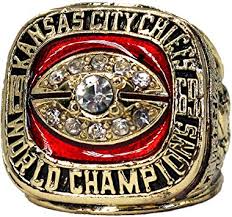 Our city boasted two Superbowl player residents. And the two of them were as different as day and night and as racially typecast as one could imagine. One was a retired white guy in a very big house with many investments. The other was a black guy from what one might call our slums, or projects. He had no such monied investments. And no such home. He was older than most players but still playing ball. And every off season he would return home to Texas. And every season he seemed to get into trouble of some sort. Both these guys wore the big brash and legendary Superbowl ring. I never met the white guy, but did meet the black guy. In fact, he kind of saved my ass one Saturday morning…in a knife fight.
Saturday morning, 1970s. Patrol.
In one "hood" in our city we had a old drinking place called The Wine Tree. It was a bar, but not a bar. It was an open house with a jukebox and the booze flowed (illegally sold) along with the drugs. An old, crippled man named Willie lived in the back room and "ran" it with a henchman or two. Through time you learn, either by emergency calls or by investigation that many of that area's crimes, at some point started, ran through, or ended up at the Wine Tree. Did Willie have a liquor license? A business permit? No. It was just a house. An open house party 24/7. The neighbors didn't care. Hell, they hung out there, too. The attendees parked everywhere and the dancing and drinking and conniving and hustling spilled out onto the pounded-down and dry front lawn, and out onto the streets. There was even a jukebox in there.
The next mornings, especially after weekends, The Wine Tree had a hang-over. There were always stragglers still hovering on or about the property. One Saturday morning either a neighbor reported a fight in progress out front of the Wine Tree, or I drove up on this fight. I just can't remember. I was a young turk back then and worked this district. I was just as fearless as I was dumb. As I drove up to the Wine Tree, I saw at least three men arguing and another two others apparently interceding and peacemaking. The peacemakers weren't doing so well. In total, five knuckleheads bandied about.
Two of the arguing guys started a sloppy fight. The other three guys started in cheering or jeering. Some in the general area scattered. Some remained at a distance, on-looking, rubber-neckers in the general area.
I got out of the car and tried my hand at this peace-keeping routine too, but these men were charged up on who-knows-what from the night before and pissed off. My Gestalt therapy training just wasn't working, and the two main men crashed in on each other. I dove in trying to separate them. And wild fists flew. Then a third guy jumped in, and I'll tell you it was a free-for-all. Everybody against everybody, and I wasn't winning. I wound up half-wrestling, half-punching with one of them as the other two, struggled off a few feet and bumped into us.
Then one of them pulled a knife. It was a switchblade. He was cursing up a storm, and this whole event was going south very badly. He was not cursing or pointing the knife at me, just the other guy he was originally mad at. Then, to satisfy the arms race, one of the onlookers passed the other unarmed man a knife!
"Put down those knives!" I ordered.
The peacemakers and a few gathering onlookers did bail back about 15 feet when those knives came out. Some did! Some onlookers got involved and grabbed my arms. I think, as if, to stop me from shooting their friends? They kept me away. They tried holding my arms as if to protect their fighting friends from me.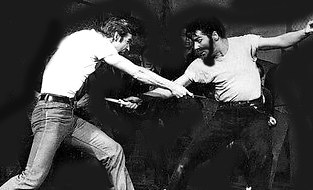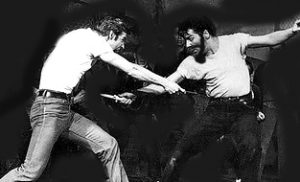 HA! So that "drop it," command of mine didn't work and I had this gut-crushing feeling this would end with my gun out, maybe shooting somebody and it all turn, six different kinds of crazy bad, because I couldn't get a handle on the situation. I pushed back, got free and damned if they didn't re-grab me.
These two armed goons cursed a blue streak and were dueling as in a comedy of drunks! Slashing and stabbing at each other in uncoordinated, wild lunges and swings. Wild enough for one fool to almost fall over.
Then suddenly a stout black man charged up. From the proverbial "nowhere." He was not drunk. He hit the guy hanging on my right arm, using his shoulder and we both pushed this pain-in-the-ass off of me. Without hesitation, he pivoted and ran up to one in the knife party dance and belted him in the side of his head, with a fist, a forearm, or an elbow? I can't say which. It was a blind side, sucker shot. The man did not see it coming and was so stunned, he dropped the knife on impact, stumbled off and fell.
Arm now free, I pulled my Colt Python pistol. The onlookers gasped and cursed and groaned at its sight. I stepped before the other armed man and told him I'd kill him if he didn't drop the knife. I got in such a position that the other drunk that was first fighting with me, now shared my gun barrel time too.
The guy with the knife just stood there, tip of the knife aimed at my face, his eyes all google-eyed, bloodshot and watering, his lip busted open and bloody. He was wavering before me like a heat wave on booze and drugs. It would have been funny, but for the knife, the jerks around me…well, frankly, I guess it wasn't much funny at all.
"Don't even think about it," I warned him. Good God, was I going to have to shoot this stumbling drunk? I decided I would if he lunged at me.
Meanwhile, this hard-charging citizen hero snatched up the loose knife from the ground and walked right up to the man before me and removed the knife from his hand while the drunk just stared at me. I ordered the two men on their knees. The first was already grounded. The hero stood there like my professional backup! And, I wondered where my official back-up unit was, speaking of backup. They didn't get there in time.
Don't let your imagination run wild about this, as if it was a cool, fight scene in a movie or something. These guys were staggering, stinking, drugged jerks. Yeah, yeah, dangerous and all, sure, as the textbooks would remind us, but a lot more low-key than it reads here. Two pair of handcuffs hung on my belt, and I had three men to shackle! I cuffed the bystander guy fighting me with one pair, figuring if he were damn fool enough to fight with me before, I needed both of his hands linked up now. Then I split my second pair of cuffs with these two so-called, "knife fighters."
"There ya go. Now go on and beat yourselves to death now," I told the two handcuffed slobs. "See if I stop you again."
At this point I didn't care if they clobbered each other down. One cuff to one's right hand, the other cuff to the other man's right hand. This way if they both ran off, it wouldn't be too easy to run. In theory, one faced one way, one faced the other, (but in actuality, one of them could cross their arm over for them to run. Anyway, that didn't happen.)
Other units arrived, and we carted the men away. Armchair, Sunday-morning quarterbacks would say that I should have waited in the squad car until backup arrived. But how do you do that? Imagine sitting in a police car like a timid, church mouse while men fought with knives for several minutes just a few yards away? Waiting for backup? Impossible. What if one killed the other while the police watched safely in their locked car? No way. No way. No way.
I had to get the name and address of this hero for my crime and arrest reports. I thanked him profusely. He was all smiles and told me everything. I'll call him "Ray Wilson" here.
At the station, our Patrol Lt Gene Green wandered into the book-in room and wanted the sitrep. After my report, he said,
"Ray Wilson? He plays for the _____________. Ya' met Ray! Ya' see his big Superbowl ring? He comes home every off-season and stays with his momma. He gets into some kind of trouble every year."
"Well, he sure helped me out of a mess here!" I said. "He needs a medal."
"Just wait," Lt Green warned. "You'll see him in here for somethin' er' another." By "in here," he meant the book-in room.
"He comes home every year and sorta cleans up after his relatives' and friends' bad business. He has a helleva' family. Always in trouble."
That Wilson clan. Oh, yeah. Those kin folk! Well, I saw his point. What a shame. The guy just charged right in and helped me.
About a month or so later we were on midnight shift, and I walked through the station to the squad room. The old headquarters was situated kind of funny because you had to walk through the book-in room of our jail to get from the front side of the station and into to the back squad room. There on the book-in room bench, sat a handcuffed Ray Wilson. My Wine Tree hero. He was arrested for assaulting some men with a baseball bat! Some kind of a family, revenge/vendetta, just like Lt Green had said.
Ray nodded to me as I approached and passed through. His possessions were laid on the book-in counter, ready for safe-keeping collection. A worn wallet. Some pocket change. An old watch. A belt…and a big, golden, Superbowl ring.
"Take care of that ring," Ray asked cordially.
"We always do, Ray," the arresting detective said.
He retired in our city, took over the family's, older home and then years later died of old age, but a poor man. He was one of the regulars I would stop and talk to through the years.
Hock's email is HockHochheim@forcenecessary.com
******
Like this? There's way more, get these paperbacks or ebooks, click here…