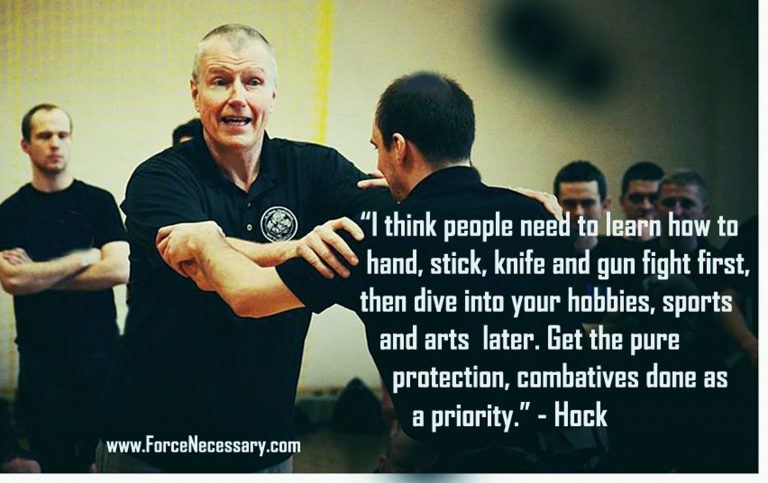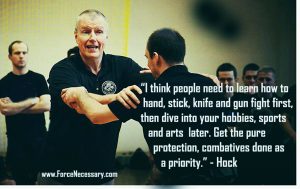 "I think people need to learn how to hand, stick, knife, gun fight first, then dive into your bobbies, sports and arts later. Get the pure protection, combatives done as a priority." – Hock
Doing the training process in order that I mention in the above photo and quote has become much easier now than in decades past when a person (such as me) had to slog through 6 or more arts and systems to filter out the real core, generic survival, offensive/defensive material, while adorned in a bevy of different uniforms, rules, hero worship and system worship. Wants and needs. It comes down to a series of "who, what, where, when, how and why" questions.
Whose the best on the subject and will teach you?
What materials? What do I REALLY need? Want? Art? Science? Both?
Where can I go to learn what I want?
When are these classes and courses available?
How will I filter this?
Why am I doing this in the first place?
Wrong place? Wrong people? Wrong mission? In the late 80s, Steven Seagal burst on the scene and broke a guy's arm in the first few minutes of a movie. I saw "Above the Law" in a theater and knew that very instant that Chuck Norris and Claude Van Damme were done. Chuck went straight to TV and Claude disappeared for awhile to reemerge in B and C movies.
The movie changed and -or motivated a lot of minds. One old friend named Ted for example told me back then, "I wanted to fight like Seagal. I turned my car into the first martial art school I drive by every day and signed up." But, Ted pulled into a Tae Kwon Do school and very quickly realized he was financially contracted to the wrong place with wrong people, the wrong system for his mission. He had no "who, what, where, when, how and why" going for him. No one there was doing this…this …"Seagal-Fu" as in Aiki-jitsu- Aikido.  My point being is that he started something out of an ignorance. What did he want, anyway?  And what did he need?
Though I'd been in Parker Kenpo about a year before I went in the army in the early 1970s, the military and police experience really forged my who, what, where, when, how and why mission needs.  I needed stuff. Needs that I never saw efficiently fulfilled in one, two, three or more arts. It was a long, hard slog back then to filter. It still isn't easy really and truth is a daily investigation. But I WANTED what I NEEDED. Not needed to do what I wanted.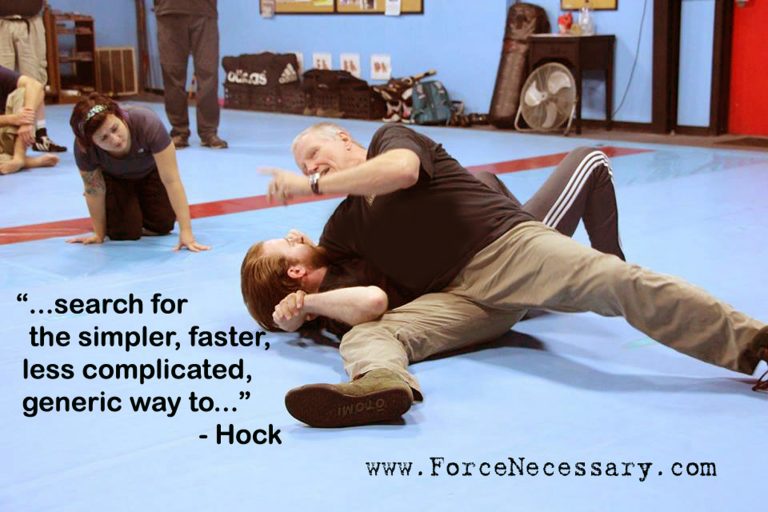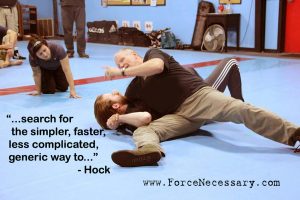 Today, Krav Maga is everywhere, though I am not always happy with many versions. It was the genius of Darren Levine who resurrected it into an international business back in the 1990s. He soon lost his "shirt and pants" doing it with insane over-pricing, and he has regrouped a bit since, but you can thank him for your local Krav school, and Krav notoriety, as Krav splintered and splintered and splintered away from him. And, It seems that "combatives" can be found here and there, though again, I am not always happy with the many versions. But, these are groups of folks that have already tried to filter the generics of established systems for you and save you time.
In the same vein, I find the modern-day, MMA of kickboxing, and ground fighting WITH strikes and kicks on the ground, to be diverse, superior and way more on survival mission. No frills. Just winning and what works. Money is at stake! Reputations! It is better than boxing alone. It is better than wrestling alone. But then, still, they have some sport rules and no cheating, no sticks, no knives, no guns!
The overall, international success of Krav, combatives and MMA tells me that a whole lot of people did not, and do not want, to get bogged down in arts, uniforms, abstracts, and that otherwise long slog of off-mission, distracting requirements. I have seen this is the disappearance of, and the slow decline of, old-school, martial arts schools around the world.
Hand. Stick. Knife. Gun. Standing through ground. The laws of your land. Savvy. Awareness. Studies of crime and war. It's been an evolution I too have been part of, evolving and teaching for 24 years now. A movement. My personal suggestion and advice is one of common sense. Try and get those foundational defense, offense survival stuff first and then move off to more confining hobbies later. Needs first. Then wants.
"Fighting first first, systems second!"  Remember that quote? I have used it for 24 years since I emancipated myself from all systems. But, like a college counselor ordering a college kid to take all the college courses in precise order – 101, 102, 103 – and then they simply can't do that because of filled classes and scheduling, a student takes what he or she can at the time. You too, may have trouble completely doing all unarmed and mixed-weapon combatives first and then arts second. While it is easier these days for you to get right to what you want than in the past, you may have to do this training side-by-side? Generally people are busy with life and can only chip away at this stuff, anyway. Do something rather than nothing. Get off the couch. 
Do something. Again, I always say I want people to be happy. Just know where you fit in the big picture. If you told me,
"Yeah Hock, I completely understand what you are saying, but I just want to do traditional ______. I just really love the culture and the country of _______. "
I am thumbs up with you. Or, one might add to that "love" list,
"Hock, I get it, also just enjoy developing the overall personalities of children."
Go for it. How about,
"I agree, Hock, but for me, my dream is to be a champ in the UFC."
May your dream come true! You already know the high regard I have for modern, clean MMA. Unlike the aforementioned Ted, you all get the big picture and can articulate about it. Just know the big picture of "needs and wants." All martial arts do have abstract benefits. And there are some established, "martial-artsy-named" schools that really try to get survival materials in the curriculum.
So…dance in some kung fus? Throat punch in some combatives? Art? Science? Nuts and bolts? Investigate and figure out what you really need and what you really want to do. Use the "W's and H" questions. The choices and opportunities are more clear and obvious than ever before.
Finally, a litmus test question – look at it this way. Speaking of college, If you were sending your daughter (or son) off to a big city, college, would you want her to know, so-called "traditional karate?" So-called "Brazilian wrestling?" "Stick versus stick dueling?" Or, so called "unarmed and mixed-weapon, combatives?" What does she really NEED to know, first and foremost? What do you want her to learn, first?
Want what you need?
Need what you want?
*************
Hock's email is HockHochheim@ForceNecessary.com