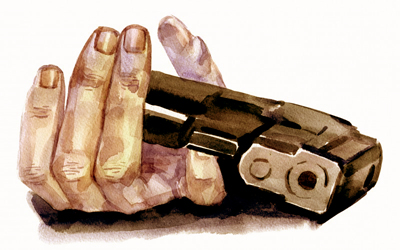 "If I die in combat zone. Box me up and ship me home."
    You've all heard that ditty? Maybe you haven't? It comes for most as a cadence –  a song – we all sang while marching and running in the military. It has been bastardized, or satired and altered for various messaging. One paraphrased version we don't see much anymore but old-timers will remember, was popularized on some t-shirts and posters years back. It was about dying in a combat zone and having your gear split up, the words accompanied by art of a rip-shirt, commando. This splitting-up is a very good idea for several reasons, but I don't think the commandment reaches deep enough in citizen and police training methodology.
    There are numerous, vitally important, physical, survival things you cannot and will not learn or get to do, if you decide to forever shoot on a paper target range and consider that the end-all to gun-fighting. One such subject is what to do about a "drop dead gun," or the dropped gun. Dropped by a wounded or dead person. You can lecture on this, show charts, and talk it up, you can put various kinds of guns in various conditions on a bench at the shooting range and make people pick them up and shoot them (which has been done forever), but the true savvy and timing of doing this pick up inside a hot under-fire, being-bunted situation is hardly practiced on the range.
     Technically, this is weapon recovery. Weapon recovery is typically discussed in inner circles when your pistol has been disarmed from you and how you must recover it. You instantly charge in to get it back. Recovering disarmed weapons is a missing link in most martial art systems when students work pistol disarms. Students take the gun from an attacker, usually quite oblivious to fact that that a real world, bad guy may mad-rush in to get it back at a hundred miles an hour. These students often just take the gun, flip it around, fiddle with it (some instructors demand that the student tap the magazine and rack the side), not expecting the vicious counter attack and recovery. But weapon recovery is a bigger issue that just disarming and the recovery of your gun. There's the recovery of your comrade's weapon and even the recovery of your enemy's weapon.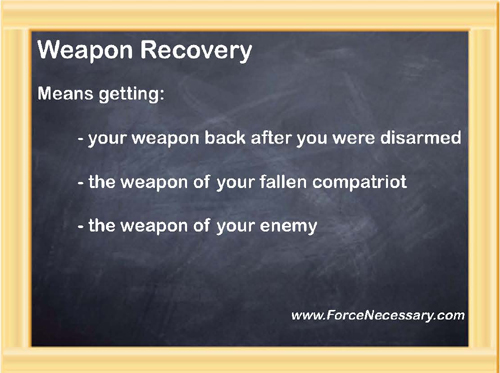 Aside from disarming, guns are dropped by accident, taken or dropped/lost in combat. Long guns and pistols are dropped with some frequency in non-combat life, of which I have no stats on, but my hunch is they get dropped from time to time. I can't recall dropping mine in some 45 years, but I've seen my friends/co-workers drop theirs a time or two. We also see photos and hear about such fumbles in both normal and stressful times. What about a fumble during a draw or inside a grappling fight? I once saw a range master, and trophey winner cop, standing before an armed training partner, both with gas guns. The draw! And the vet lost his pistol in the air. He had never practiced right in front of an armed man with a pain delivering gun before. But then also, what about the dropped weapon of a shot, severely wounded or dead compatriot?  A drop dead gun, just laying there.
     This year, 2019 marks the 23rd year that I have routinely, almost weekly, created and supervised simulated ammo shooting scenarios of some sort. Some are short and involve two people. Some are much longer and involve numerous people, in numerous situations and locations. In the short or longer shootouts in buildings and on the streets, open areas etc., people get shot by whatever simulated ammo we get to use for the training session. In a briefing, I ask the people, once "shot," to evaluate their wounds when hit. If shot in their shooting limb, then they switch hands. If shot in the leg, they limp on for a bit. If they take two serious shots, or shot in the head, I ask them to drop right where they are and essentially…"they be dead." Playing this part is important, as you will read.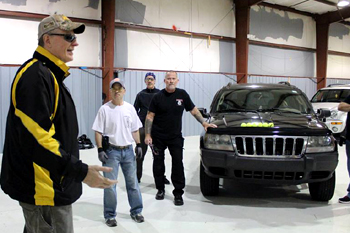 As the organizer, over-seer of these scenarios, as the ref if you will, I see so many things in all of these shoot-outs. I see things people really do when in various predicaments. These occurrences, these experiences are quite remarkable and extremely educational. And one of the many things I consistently see is teammates, running past and around their deeply wounded, still or dead, yet still armed partners. Whatever kinds of weapons we are using, Airsoft, gas, markers, Simuntions, whatever, these guns run out of ammo, gas, power or break down at the damn-dest instances. I want to advise, "pick up that gun!" Sometimes they have the time to do so. But, I do not want to bark orders or suggestions to interfere in the middle of the firefight exercise. I've see many folks run right by other available guns and ammo.
     It is a common theory in shoot-outs that drawing and using a second gun is faster than reloading your first one. This of course depends on where you are carrying that second gun, but the advice is classic and comes from veterans. Once in a while I see a practitioner who instantly knows to snatch up his dead buddy's gun. Either, it is something trained and remembered, or they are just that naturally gun-and-ammo-hungry to simply know this and do this instinctively. They swoop down and snatch up the weapon as they go by. This is an event that never happens in live fire range training, but rather could and should happen in real life, and bolstered in simulated ammo, scenario training whenever possible.  I might add quickly here, that weapons are sometimes attached to people by lanyards and slings, something that can be very life-saving for the original holder, but also may flummox your partner's attempt to get your weapons once you are down and out. Know your partner's gear. Look them over.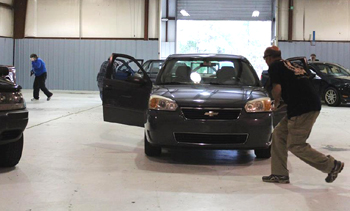 Diferent gear? Different guns? Different ammo? In many organizations such as with the military or police, certain weapons are mandated for all in policy for good reason. If we all have the same gun, we all have the same ammo, magazines and we can pick up, exchange, provide, etc., weapons. It can make for good sense. When military people move into policing jobs, they often and should carry with them this overall concept. Well, I mean, if you were an Army "clerk," you might not take this to heart, but people trained for dangerous jobs and have experienced danger are better carriers of this idea. Often minus this background, police management may not consider this, or not have the deep heartfelt/burn/understanding of the concept. Police shooting instructors may never even know to suggest this topic. I am not advocating for the "one-gun" policy, I am just reporting on it. There is something to be said too for personalized guns. 
     Minus police and military experiences, If you just teach or do live fire on a range, essentially that being that "clerk," with no emotional attachment to experience, you must realize that you might be missing huge chunks of important tactics, topics, subjects and situations and you might begin to dwell deeper and deeper into repetitive "gun minutiae" within your teaching (haven't gun magazines really been publishing the same redundant information, redone and re-shaped for decades now? Why? Why, when there is so much more diverse combatives to talk about?).
     Two answers to these teaching and training problems. One is to continue educating yourself on real experiences. What precisely has happened to your friends? Your teammates? Your neighbors? Victims? Cops? Military? Learning second or third-hand is better than not learning at all. Who can possibly experience the common spectrum of such problems? No one. We all must keep this education up. Second? Simulated ammo scenarios. Simunitions or likewise, otherwise, at some level. Take your "power point" tips and your segmented, live fire examples and move them into physical experience. Move them over into a stressful, interactive, situational scenarios with simulated ammo. Such are psychologically and neurologically proven better learning experiences. The experts call it "deep learning." In other words, simply put – get off the range and do these intercative shoot-outs.
.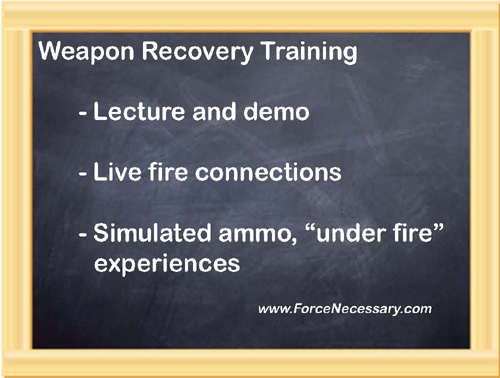 There has been something of a newer concern and movement in this "pick up"subject, as people contemplate the active shooter problem and consider picking up the guns of shot police, downed security, etc. This concern has manifested in a slight increase in related speeches and some abstract, live fire exercises. Martial arts instructors, ones who appear to have no gun experience or limited gun backgrounds, have also organized some active shooter response classes. But when working out and testing the unarmed methods, the attendees all bum-rush a stuntman in a helmet holding a rubber gun. I would wish that they, at least once, let the actor carry in a sims-ammo, machine gun and let him cut loose on the crowd so that the attendess could truly experience the hidious, quick, devastation one can do with such firearms to a group. Perhaps this might be too demoralizing?   
    But, be it that sort of "mass shooting," or a crime or in war, in the case of the drop dead gun and simulated ammo training, a prep speech can first be made about the weapon recovery from downed and dead rescuers or teammates. It has been my experience that once suggested in this briefing, many people do think of it when the action starts and the possibility arises. The more they do it? The better.
The gun may be dropped, but it ain't dead.
So, the next t-shirt or poster rant and chant?
"If I die in a combat zone? Get my ammo, guns and gear and…continue to kill the enemy."
For more articles like this, read Fightin' Words, click here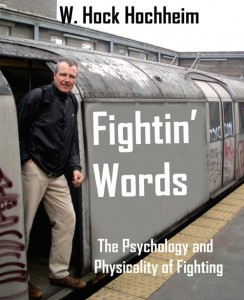 Hock's email is HockHochheim@ForceNecessary.com