Fitness and Fighting and Fitness in Fighting Seminars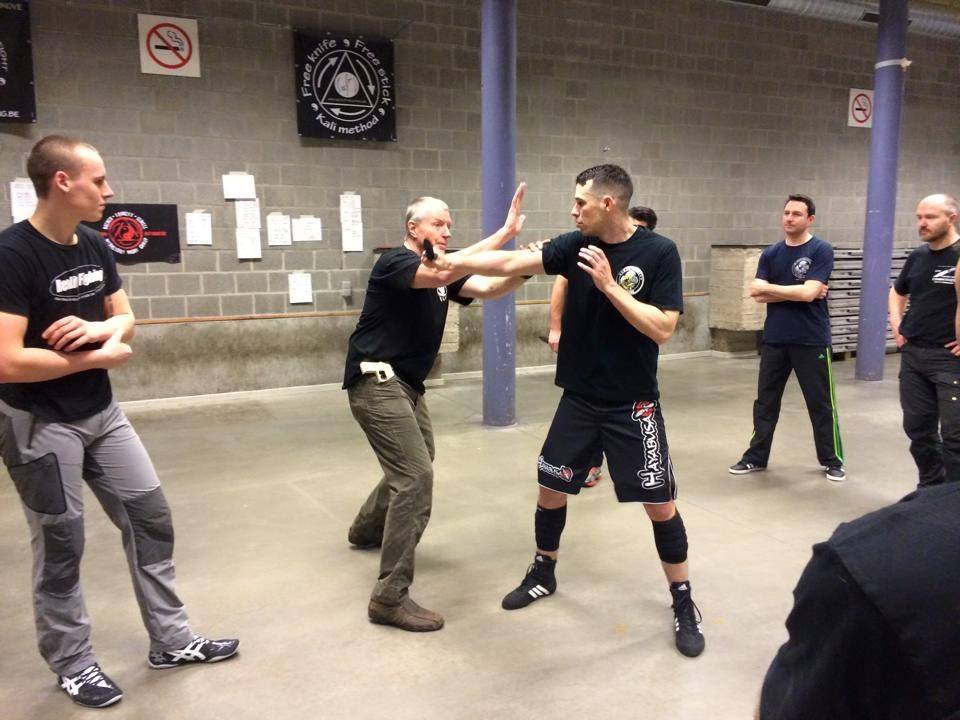 Fitness is always important and I use the phrase "Gas and Dynamite." "Gas" for endurance, fighting for a longer lengths of time, and "dynamite," how much explosive power do you have? Add too much adrenaline in the mix and that messes things up too. Lord knows the subjects are important. Sheer strength is important too, huh?
Percentage-Fighting – Percentage-Exercising? There are numerous martial classes and seminars "out there," that spend various, sometimes copious amounts of class times just doing common exercises. I noted for one example, that the late 1990s rise of Krav Maga sure had a lot of physical fitness packed inside each class. In those Billy Blanks days, million-dollar, fitness-with-martial-arts videos were very popular and rapidly emulated by wanna-bes. Krav is so utterly diverse now, and nowadays from so many sources unknown, I don't know what the many, many brands of Krav are doing in this percentage regard.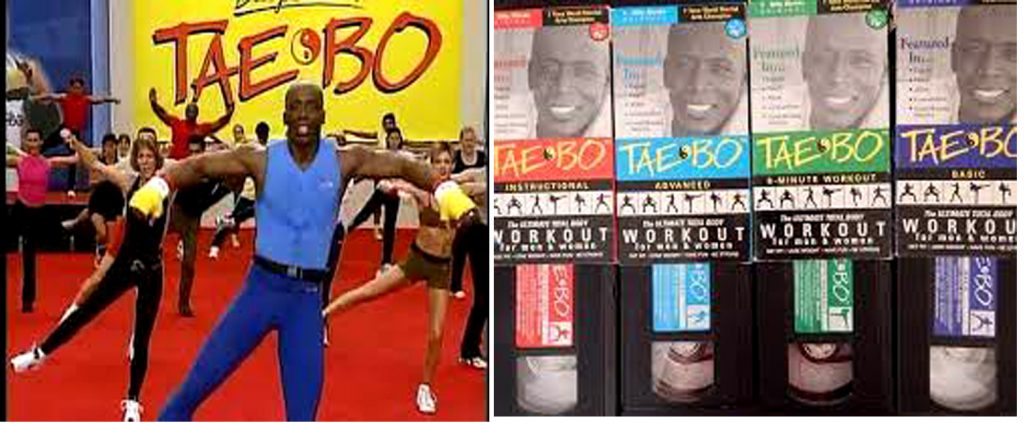 Remember Tae Bo? But even during the "I want to be the next Billy Blanks days," so many tried for, I had a rule back when I ran regular weekly school classes (1989 to 1997) that people should try to show up for class in some shape. My mission statement was:
I'm not here for you to lose weight.

I'm not here for you to become fit.

We will be covering fight material.

You may inadvertently get better fit or might lose weight.  
We had fight stuff to do. That meant most basic "gas and dynamite" fitness workouts should be done on their own, off-class time. Give them a gas and dynamite, work-out list. Send them to the internet now. I was not going to run a fitness class along with, within a fighting class. You were not paying me to count reps and me watch you do an assortment of fitness exercises. Our fight time was mission-oriented, precious. Where did I get this idea?
In the 1980s I attended the week-long, FBI Defensive Tactics school for policing. In short, about half of each day was stretching and doing fitness exercises. The tactics material? Minimal time. I was a young, work-out nut back then and I thought, "half of this was a waste of time." Many of the other officers were in pretty good shape too, and already doing martial arts on the side. I decided that the fitness portion was just…"percentage fitness," off-mission. This experience made me think about the percentage times. I have no idea what what the FBI is doing now or if they even still ramrod such courses for city, county, state police.
(By the way, I also attended a similar Secret Service program that bypassed all the fitness stuff. Their core system at the time was getting to the deep sides of, and-or behind the suspect. This was in the late 1980s and frankly folks, this looked a whole lot like what the "new kids" grappling proponents are doing today, the arm push, the arm drag or slip-unders, etc. to get to the rear, lest we think this positioning idea is such newborn genius. But I digress. More on that course in another essay.)
Too Much Strain? Through the years, with an eye and ear on police fitness and training, there were-are occasional, regular, exercise-related training deaths. Like SWAT school guys, forced to run excessively in a course, keeling over and dying, for example. Most SWAT guys are just patrol folks rarely called out and not like full-time, big city "SWATTERs" training like pro-football players every day. We've seen reports of out of shape, cops dropping dead in tactical classes or on the range. Some in shape, dropping too! Course operators, police or otherwise, must learn that you cannot overload attendees with their personal, lofty ideas of Delta-Force, SEAL fitness that show up for a few days or week-long course! Dear folks, do arrive in as best shape as possible!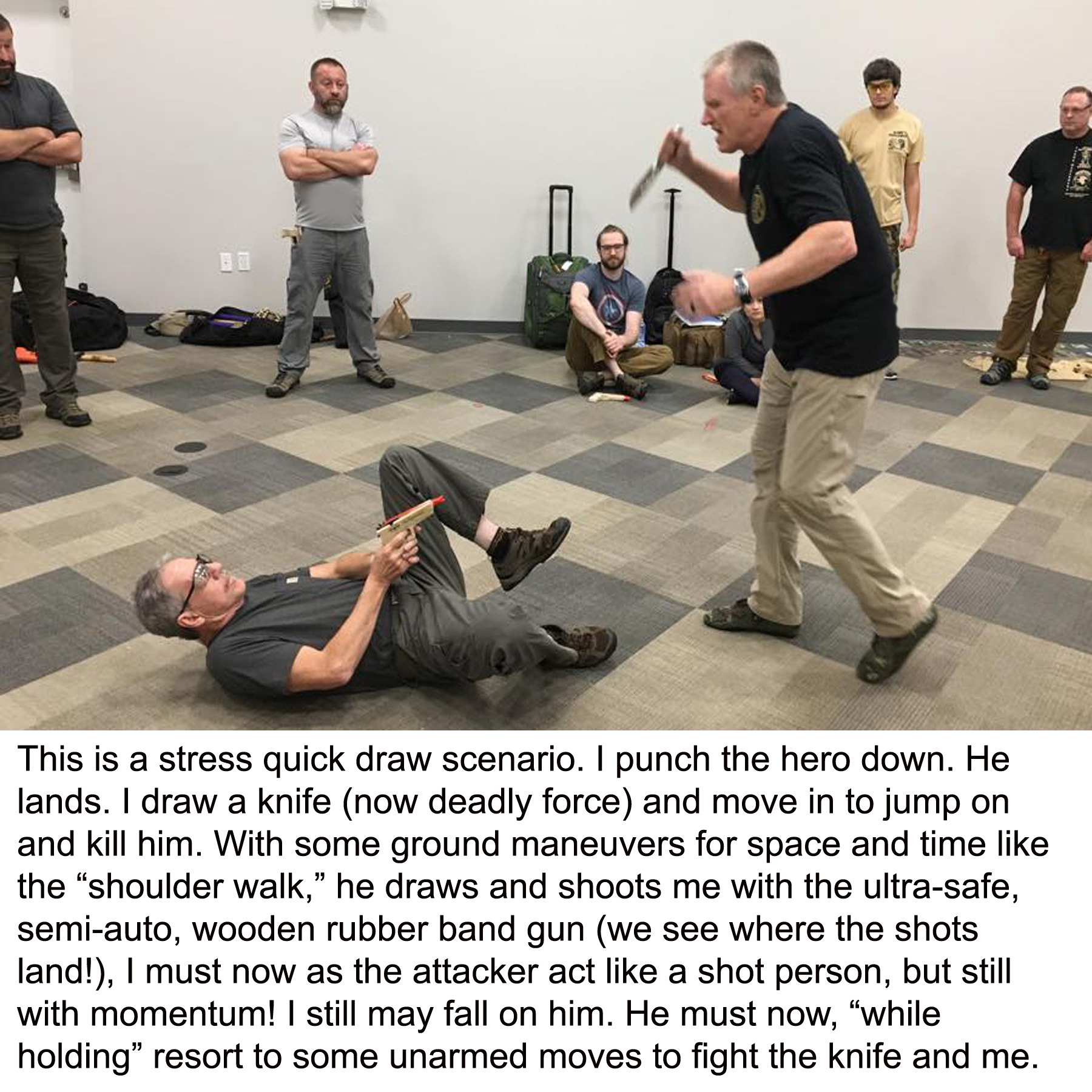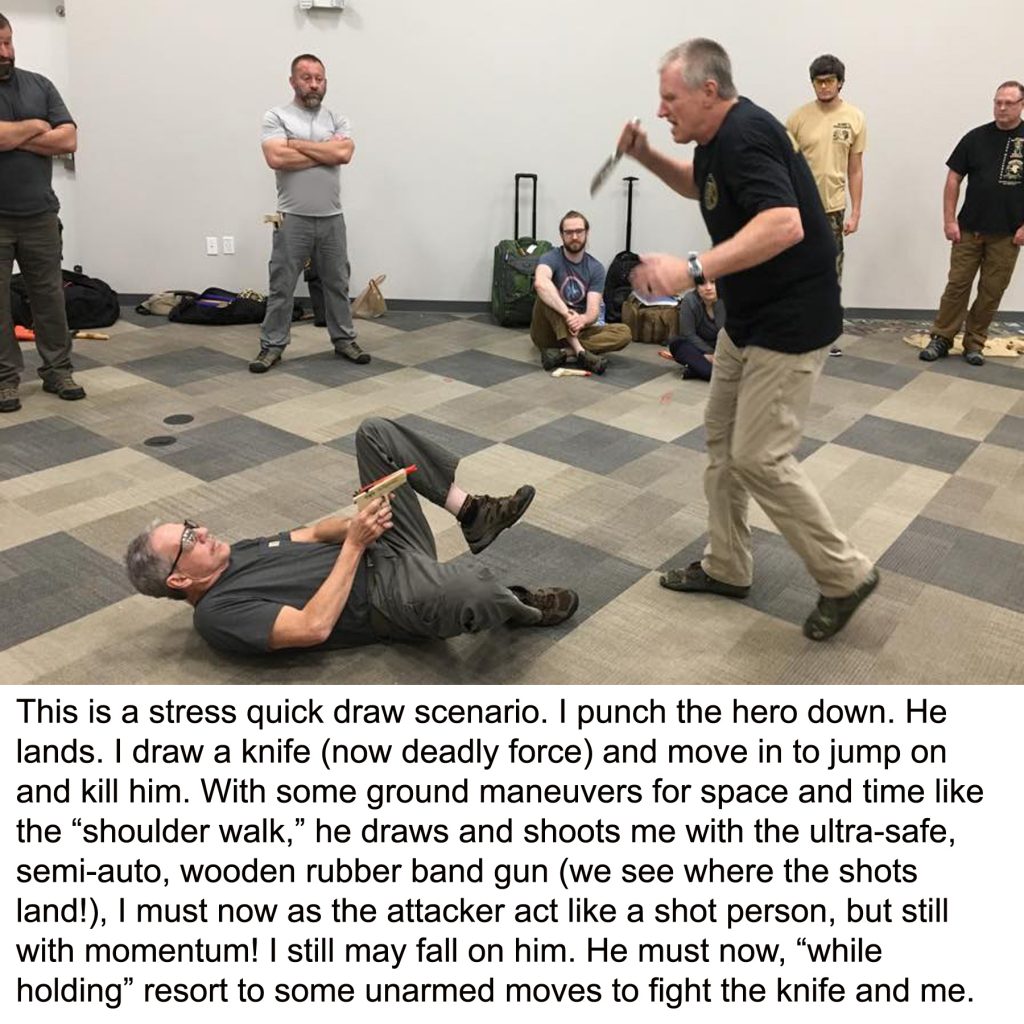 When does a quick, 5% class warm-up become a 30% or 40% or more "Cross-Fit" workout? Martial classes are already "sweaty." There is already a certain work-out, fitness element to doing fight material in a weekly class or seminar. Depending on the subject matter, they can be tough. It is functional and directly related to the physical movements, thus the term "functional."
Pushing a wheel barrow with rocks in not mission-related,  functional. I am acutely aware of a somewhat famous instructor who has seminar attendees spend a disproportionate amount of time pushing wheel barrows full of rocks up and down hills and other similarly torturous endeavors. The actual fight workout time was therefore shortened to less than half a day! And to make matters worse, he offers the same material up year after year after year. I am aware of attendees who won't go back. Now without a doubt, the wheel barrow trudge is a helleva workout, like pulling or pushing cars, but what if a rookie, middle-aged person shows up, is shoved in front of wheel borrow of rocks and dispatched to the hill for 10 journeys up and down and…has a heart attack? Or dies? This is not like a ten-week, military course or lengthy academy where one builds up to a performance. This is a 2-3-4 day weekend! 
I just run seminars now, no weekly classes since 1997, and I will not conduct pure exercise sessions within, because of the aforementioned experiences and problems, precious training time and potential low fitness levels of some attendees. My age range of attendees might be vast sometimes, 17 to…78! In an opening speech, I encourage attendees to "not-do," and "sit-out," when they see something they shouldn't try. But…so…ask yourself, when does a quick, 5% class warm-up become a 30%, 40% or 50% Cross-Fit workout?  Does your new customer know this when they get your first sales pitch?
If you sell your classes as part fitness and your customers know they will be extensively running laps, doing push-ups and so forth within, to get fit and in shape as a mission, then the instructors are on-mission with their sales pitch. Bravo. But you still must worry about the students…passing out or…or dropping dead! Some coaches advertise-offer a customized hybrid of fitness, nutrition and some MA for activity. For example how many people are so-called "boxing" as in hitting bags and mitts for weight-loss and fitness and will never, ever actually box another person!   
Gas and dynamite. Gas up and keep the powder and fuses handy and dry. Endurance and explosiveness. I think fitness exercise basics should mostly be done elsewhere. Fight class time? Seminar class time? We have fighting to do. I only bring up this topic here, so that I might get you think about it. Who, what, where, when, how and why? The mission statement. The percentages of what equals what?
_________________
For more….
Billy Blanks, one of the nicest guys you'll meet, here's his story, click here
Hock's email is Hock@SurvivalCentrix.com
Check out Hock's free TV channel. Each month a free, subject matter full, (one hour or more) training film