Just about everyone knows by now, that "bare-knuckle" punching upon parts of the head can be damaging. Specifically I like to remind people that it is the "bicycle helmet" area of the skull, especially prominent, especially manifesting, when an opponent naturally ducks or ducks-and-turns versus your punches. You hit the "helmet." Broken hands. Split knuckle breaks. Etc. (Boxing gloves hide all this angst.)
Otherwise, lower, the jaw moves and the head can move when punched, helping to "cushion" your punches – jeez – is cushion is a good word for it? "Gives," maybe? The head "gives," or "gives-way" with lower punches. (Think about why we wear mouthpieces.)
     There are just times when the neck gets solid, coupled with the ducking "bike helmet zone" and punching folks break their hands. I really don't want to dissect this, you know, start the tiresome, age-old debate about palm-strikes versus punches again here…what I really want to specifically mention here is, tell a simple tale about uppercuts to the jaw. What if the head, neck, jaw, even shoulders tighten up versus an incoming uppercut, punch?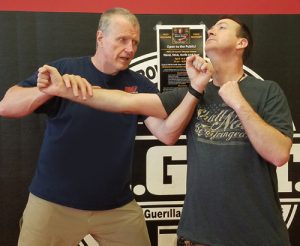 Decades ago I had to punch a guy I was arresting. An uppercut under his arm like in this photo. My hand hit his particularly sharp jaw and instantly hurt my "middle finger." While I was booking him into jail, I looked at his jaw. Real pointy, for what that's worth. Years later? I had surgery to fix this finger. I have hit a few "heads though time," closed fist punches and had no other – zero- hand injuries. (They can be done.) Once, a swollen ring finger. But nothing serious. Then, a middle finger problem on my right hand seems to have gone away with time. But this one uppercut caused years of on-again/off-again discomfort. Then surgery.
So, way back then, I began to consider and list uppercuts as a tricky head punch along with hitting the bicycle helmet area of the head. I would be remiss not to mention while on this subject that that the uppercut usually/often causes the head to whip back and forth, not leaving the head back for follow-ups, such as a high hook, unless you are super fast. A number of combatives people, trying to set up scenarios, often do not know this.
Recently one of my friends, a pro-fighter whose name you'd recognize, wearing the regulation MMA gloves, threw an uppercut to a jaw in a pro fight. He broke his hand. Here is his x-ray. He passed it to me for educational purposes and I now pass it to you. But we are not sure yet if we should release his name for a host of reasons. Maybe later. He does hit really hard. Word is the other guy saw it coming and "hunkered" down. SNAP!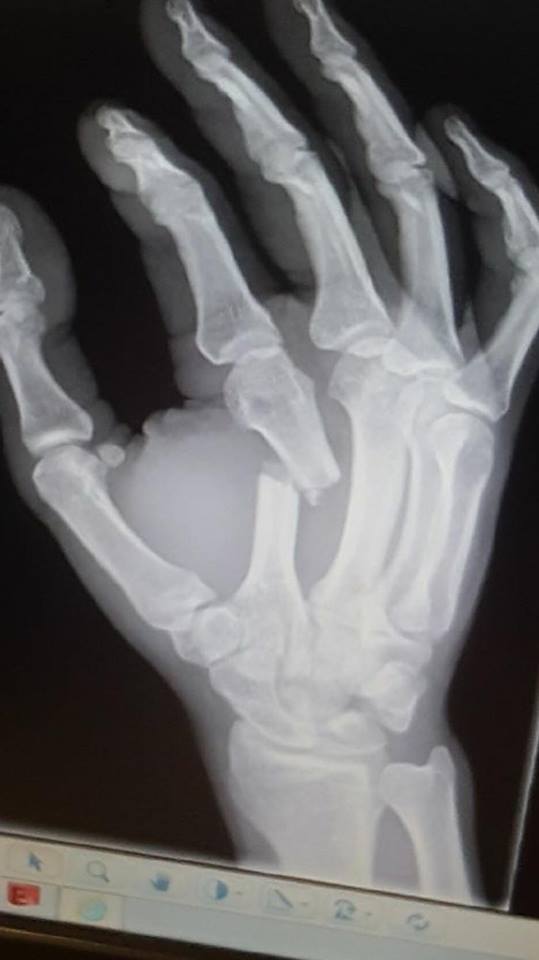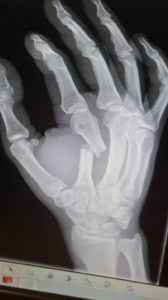 File under: Uppercuts to the jaw. 
File under: Punches to the "bicycle helmet" area of the head.
File under: Head, jaw, neck, even shoulders when punched
Hock's email is HockHochheim@Forcenecessary.com
Get Hock's Book, Fightin' Words for way more of these "Fightin'" subjects. ( Click here)