Death Notifications. All Horrible. All this talk about Trump and his death notification, made me think of the thee WORST one I ever had to do. It is bizarre and funny and twisted…
It was tough being Iranian in Texas after the embassy hostage takeover in the 1970s. We had a warrant officer, Merle Culbert, who spent his workweek arresting people with active traffic warrants. After the hostage grab, Merle declared a personal war on Iranians and put them on the top of his hunting list each day. It gave him great personal pleasure to shackle up an "A-rab" like that and toss him in jail while our hostages were blindfolded and held captive. BUT, the pastime proved fairly pointless because the happy Iranians in the USA were the exact opposite of those radicals in their homeland!
Iranians started calling themselves Persians back then; and most of us dull-headed Americans, who could barely learn to drive to the big city shopping mall, were not historically and geographically hip enough to make this Iran-Persia connection.
"What? Persia? Ya mean that place where they make them pointy slippers?"
While off duty when I was a young cop, I frequently hung out in a nightclub called the Esalom. The slightly upscale bar and restaurant with sort of a Casablanca look was owned by a "Persian" named "Matt." American nicknames like "Matt" were common. Inside the club each night, a clutch of interesting characters like an airline pilot, a biker, a few cops, and a few others (the ones I can't recall because of alcohol or brain damage) drank and caroused as "the regulars." Later in the evenings, I might troll some of the country Western bars in the city if I was feeling horsy. Well, that about wraps up approximately eight years of my elite social life! But Matt would often run the bar on some weeknights; and on quiet ones, he would tell me stories about his Persia-Iran. Crazy place. Very Americanized and modern except for, as he would put it, "very crazy religious people." I had no idea how crazy. Matt did. That was why he left his homeland. I began to discover that Matt was highly educated from several American colleges. In fact, most "Persians" were here for college and tried to stay after they graduated.
During and then, well, after the Hostage Crisis, there were many educated and successful "Persians" … living and working among us (as McCarthy would say)! Americanized or not, there were still unshakeable cultural differences. One such Persian family ran a hair salon and nail shop in the main shopping center. Through the years, cops and detectives generally got to know many business people in their areas and cities. I got to meet the Shans: Momma Shan, Daddy Shan, and 18-year-old daughter Shan. And it was there, in the 1980s and in the political, multi-cultural maelstrom, that my tale began one spring evening….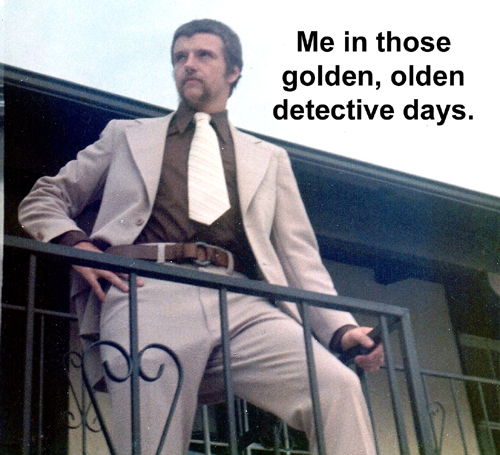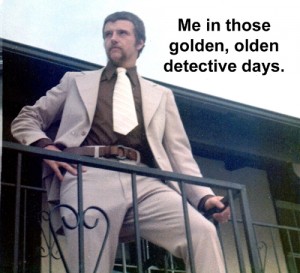 "Hock, there is a dead guy at the hospital from a traffic accident," Patrol Lieutenant Walter Keene told me on the phone. It was about 6 p.m., and I was eating dinner at my house with my second wife and first and second kids. The evening-shift detectives had left town on a case; and I was on call for the week, so "call" started at 5 p.m. instead of 11 p.m. as usual.
"Traffic?" I mumbled with a mouthful. I don't do traffic."
"Well, the doctor at the hospital said when they looked over his body, his body had about 20 large, fresh circular … wounds all over it. He said something wasn't right about it."
"Fresh circular wounds?"
"Enjoying that dinner are ya?" Keene chided, hearing me chew. He loved interrupting my life for call-outs, whether morning, noon, or night.
"Was."
"Well, set it aside Mister Detective; and you can eat it nice and cold later," he laughed out loud. It was just a routine he and I had. When he woke me at night, I'd answer the phone and hear his gravelly voice ask, "Sleepin' good are ya? Havin' ya a real nice, sleepy-time dream, are ya? HAHAHA-haha!"
Within about 20 minutes, I was at the hospital emergency room.
A patrol woman was finishing a fatality accident report.
"This is a mystery crash, Hock," she said, showing me her diagram on a clipboard. "He was driving south on Mingo Road and veered off smack into a telephone pole at a high speed. When we got there, he was dead."
She handed me a Polaroid of the car. It was totaled. A giant, v-shaped crash wrapped around a telephone pole. "No skids. Just straight into the pole."
"Who is he?" I asked.
"Ahram Shan. The guy who owns the hair salon on University Drive in the Johnson Center."
I nodded, and we walked to one of the ER surgery rooms. I was no traffic investigator; and, frankly, I deeply despised all aspects of traffic work—the tickets, the endless accident reports, all that. My version of an upper rung of hell would be an assignment in a traffic division. But I knew that often those kinds of crashes involved sudden heart attacks, passing out, sleep deprivation, or whatever glitch caused a feller to black out and drive high speed straight into his smashing death.
Shan was naked on a metal gurney. The doctor followed us in.
"Look at these," the doc pointed out to me. Sure enough there were tens of fresh, circular cuts and bruises all over his body on his face, arms, chest, and legs; and when we turned him over, we saw them on his back. All about the size of small jar lid. One side worse and deeper than the other. I took a real close look. They were not complete, perfect circles. They were somewhat oblong. What the hell? That was before Scully, Mulder, and the X-Files; otherwise, I'd have called them for help.
"Did … something blow up in the car that…?"
"Nope," the officer said.
Did a really odd beating happen just before the car drive that caused this man to pass out? What would cause those oddball wounds? Some kind of sex fetish deal? What? "Well, I guess I need to find out from whence he was coming.
And I have to go to the Shan house. Where does he live?"
She handed me his driver's license AND with it, she handed off another major, nasty responsibility, the dreaded death notification. Before our county organized a medical examiner's office in the 1990s, we used our nearby Dallas and Ft. Worth offices for autopsies and major forensics; and these modern offices now have investigators who go to the scenes and make the death notification. But back then, death notices were performed by patrolmen and detectives. Detectives did it when it might matter in their investigation. Such as now.
There was an art to death notifications. There were police schools for death notifications. I had been to them; and it was touchy, touchy business. I was not "Mister Warmth," but was not cold-hearted enough not to try to do a good job with it. Good God, what a terrible thing to have to tell people. I had delivered many; and this unique, American-Persian one I am telling you about was the worst death message I had ever had to do and the worst I had ever heard of anywhere else! So get yourself ready for this ugly ride.
I telephoned the police station and asked for our forensics guy, Russell Lewis, to come out and take some 35 mm photos of the wounds on the body. I ordered an autopsy. I called the evening-shift Detective Sergeant Howard Kelly as protocol indicated and informed him of my little mess. He, too, was eating dinner at home; and there was no need for him to stop because I was holding the bag, so to speak. Then I girded my loins for the trip to the Shan house and the death notification.
I rehearsed the speech in my mind as I drove across the city. The lines are pretty short and not sweet. My guess is that anyone who is at home, has a loved one not at home, and then sees the police show up with grim, sober expressions at the door is already expecting bad news before an officer opens his mouth. I often wonder about the miserable job of doing this chore for the military. Imagine having a full-time job of making death notifications? Anyhow, I kept in mind that the Shan house might contain the secret source of the wounds; so I would approach this as an investigator AND as a death notifier. A greasy tightrope.
The Shan house was a typical residence in a middle-class housing addition. Cars in the driveway. Grass cut. Clean. I parked, took a deep breath, and approached the door. Listened first. Nothing. Then rang the doorbell.
Daughter Shan answered. She recognized me and smiled. No surprise on her face. Just a genuine half smile.
"Is your mother home?" I asked.
"Yes," she turned to summon her and left the door open. I stepped right in and scanned the joint. Clean, orderly, nothing out of the usual; it was just a lived-in house with some lived-in clutter here and there.
Mrs. Shan walked in with a welcoming smile and a curious expression. I was glad the daughter was there because they could comfort each other when they heard the news. Always good to have support handy.
"Mrs. Shan," I started, "I have some bad news. Your husband had a car crash. I hate to tell you this, but … he is dead. He crashed into a telephone pole just two hours ago." There it was. Boom.
She stared at me with the same expression. Unchanged. The curious smile. The daughter was a little more serious.
"Oh, Hock, that is funny," she said.
"Ahh … funny?"
"I know what you are doing," she said.
"What am I doing?" I asked. Then I noticed a wound on her neck. That same oblong shape, cut, and bruise.
"You are trying to make the peace."
"Peace?"
"But it is a cruel joke for you to play. I will not forgive him."
"I am not trying to make any joke, Mrs. Shan."
"Ooooh, yes you are!" she wagged her finger in my face. The smile disappeared.
"Momma!" the daughter said and stepped back into the dining room. I remember her moving or crossing her arms in some way that indicated she was getting nervous and believing me.
"It is very cruel for you to do this favor for him."
"Favor? Mrs. Shan, your husband was killed on Mingo Road in a traffic accident."
"No, he was not."
"Yes, he was."
"You are here to scare me for him," she said. She was getting angry. The lips curled.
"His body is at the hospital."
"No, it is not. He has asked you to do this."
"And his body is full of round bruises and cuts just like the one on your neck," I proclaimed.
"Momma!" the daughter declared.
"You are trying to make me feel bad about fighting with my husband. I know he has asked you to come here and tell me he is dead to make me feel bad. This is such a rotten trick," she said. As her words progressed, the anger grew in her face. Lots of teeth. Red skin. She started moving around.
"He is dead," I insisted.
"HE IS NOT DEAD!"
"HE IS DEAD!" I shouted back.
"Where did he get those bruises? How did YOU get those bruises?" I demanded. My eyes shifted from the mother and the daughter.
"We had a fight! You know this! He told you this!"
"A fight with what?"
"Belts! We … we had a fight with belts."
There was a belt on the floor and one lying over the back of a living room couch. They both had large buckles. Oblong in shape.
"Belts? You were swinging belt buckles at each other?" I picked them up, with intention to keep.
"Yes, this is how we fight. It is not the first time. We have these fights. I will not forgive him for this evil lie!"
"Well, he is dead. Dead at the Westgate Hospital Emergency Room."
"YOU are lying! LYING. You are just as bad as he is!" she screamed with a banshee face. "LIAR!" She went for the belt on the couch.
How did it come to this? DAMN! This all went to hell in less than two minutes. It is not too often you yell at the surviving spouse in a death notification.
"He is not dead!"
"Your husband is dead! Dead, I tell you. Dead."
"No! Liar! LIAR!"
"Come down to the hospital with me. Right now. And I will show you. Both of you."
The daughter convinced the mother to go. The daughter was in a state of shock. While they grabbed their purses, I decided to grab up those two belts. I had many legal reasons to do so. I was there on an official death notice. Heard a spontaneous admission from the wife. Belts in plain view. My safety issues. I had many reasons to seize those belts, so seize them I did.
It was now nightfall. We got into our cars—me in mine, the mother and daughter in theirs—and I led the way to Westgate. I was steaming a bit, and all pretense of my caring about her feelings was pretty much gone.
We entered the ER, and I walked them straight through and into the operating room. Mr. Shan was still there. Naked. Gray. Deader than hell.
The daughter stopped at the doorway and gasped. The mother marched right up to the body.
"Wake up!" she shouted, inches from his face.
"This joke is over. I will never forgive you. Stop this joke!"
She started beating the body and the face, and a nurse and I pulled her off.
"Momma! Momma! Daddy is dead! He is dead!" the daughter shouted to her, gushing with emotion and tears. She helped us pull Mrs. Shan from the body.
The mother froze. Then she began emitting that shrill scream of the Middle Eastern women we hear on the news these days. She ran down the hallway bouncing off the walls, swinging her purse wildly, and striking her back and chest in an act of self-flagellation. Some of her purse items flew through the air. She dashed outside in the parking lot. Needless to say, she was indeed the main show of the emergency room. The daughter scooped up the items and chased out after her.
The nurse and I just looked at each. I could only mumble, "Iranian," as some sort of excuse for the behavior?
About 20 minutes later, I had a quiet conversation with the daughter and the ER doctor. She told us that her parents had a vicious belt-buckle battle that afternoon at home. She said he left the house in a fit of anger. And then and there he crashed. I asked her if he had a heart condition. She said no. Anyone in her family have one? Her grandfather did, Shan's father. In the week of her grandfather's 54th birthday, he dropped dead of a heart attack.
"And how old was your dad?" I asked.
"He was 54. His birthday was just 4 days ago."
Father and son! Both men died in the same week of their 54th birthdays. Sound amazing? That coincidence was not all that amazing and was not medically uncommon. I knew the syndrome existed; but for my final reports, I had to do a little research to support my findings. The doctor nodded. Of course, he knew right away. That's the kind of stuff docs know.
Within a week, the autopsy results were in. Mr. Shan died of a sudden heart attack while driving and coasted right into a telephone pole. Did he also die from the rage of his belt-buckle fight? I didn't know, and I couldn't prove it if I did know.
When I left the hospital that night, Mrs. Shan was in the dark leaning against the wall outside the hospital. Exhausted. Crying. Mumbling. Her daughter was inside taking care of the paperwork. I guess I could have stopped. You know … said something. Apologized. Sympathy. Whatever. But instead, I passed her right by and walked to my car, got in, and left. I was not a social worker or a psychiatrist. I was a detective. I just investigated shit.
I got home; and, indeed, the dinner was cold. My second wife started ragging on me for some insignificant thing I did or didn't do. I poured a shot of whiskey and grabbed the cold pork chop off the plate and stepped out into the backyard. She followed me, of course. In the pasture out back, some cattle were up and moving slowly, uneasily about in the dark. I strolled up to the barbed-wire fence, put the glass on a fence post, and gnawed on the chop. She went on; I missed dinner and I missed the kids' going to bed. I missed this. Missed that. The complaining droned on and on behind me.
I gnawed on that pork chop bone, and I hoped they'd call me out again for serious crime.
This and other great stories appear in "Don't Even Think About It!"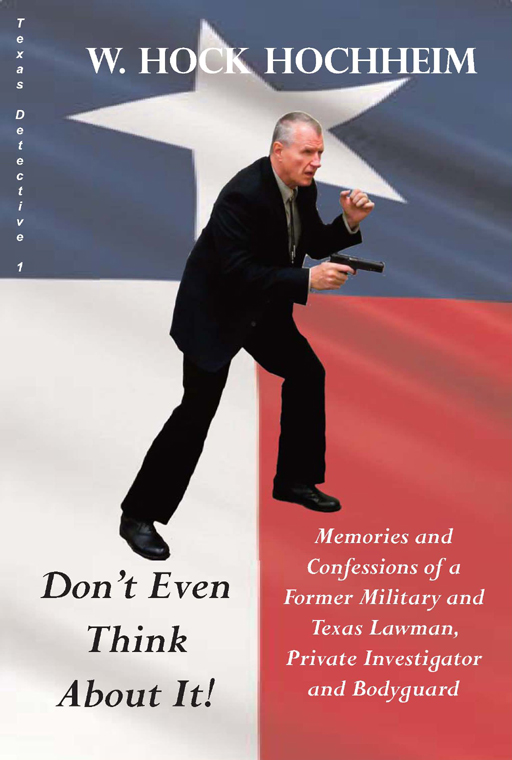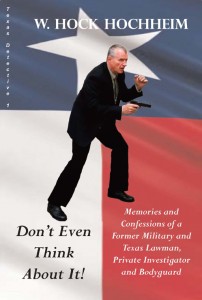 Get the paperback
get the Ebook
Don't Even Think About It, click here