I wonder sometimes- who gets to decide and define what are "the gun basics?" Gun Basics. Gun 101. The fundamentals? The essentials? Who draws the line before the next "advanced" step? Is it a group of men from 1930s? 1960? 2005 or so? A collective? Who? There is indeed a collective of info that may or may not have changed? When experts tell you to work "the basics," what have we allowed to have that mean for us? Does it mean that you will forever and ever, thousands of times, do the same range shooting course over and over and over and over? And over? They might move you closer to, or away from the paper targets, hit you in the leg with whiffle ball bats, while you are aiming at the bulls eye…etc. but you are still shooting at paper targets. And no can can argue that shooting a paper drawing is different than shooting at a moving, thinking person shooting back at you – different on so many physical and psychological levels.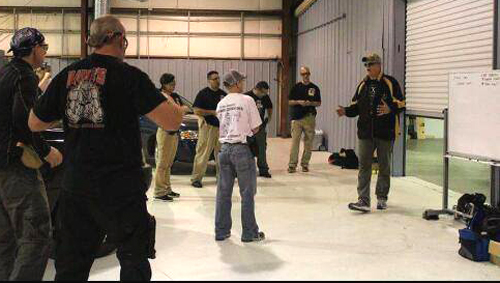 I guess you would have to identify the goal of the course. Target shooting, bulls-eye basics? Self-defense shooting basics? Once the mission is established, the basics are established. What if the "basics" were just a little bit bigger than the old acceptable standards, yet still quite simple and quite…basic? And by the way, I am not looking for people to compile the old standards in lists here. My goal actually will be shooting for some new standards.
     Self defense, gun experts talk about street crime and some say there is little "street crime" (in a semantic sense) and they claim there's really mostly only "parking lot crime."  But we know that there is also college dorm crime, hallway crime, elevator crime, home invasion…all kinds of crime. But let's talk about parking lot crime for example because there is a lot. It is a place where many strangers pass each other. What would be the basics of gun fighting on parking lots. The basics would include gun drawing, gun handling, hitting the target. Reloading. Moving around a tad when shooting the target. Lots of live fire. Stuff like that. The usual….basic stuff.
     But…what if I did all that and were to add a few more basics to this day? More simple basics. What if we all took up simulated ammo guns and had some shoot-outs right on a parking. In, out and around cars? (Some of this ammo does not hurt cars). As they say in baseball, you are going to have a hard time hitting a curve ball is you don't see them in practice. The same holds true in parking lot shoot-outs. A whole lot can go on. Even if you pull a car or two onto the range once in a rare while and you are still shoot paper targets, it is not the same as having a moving, thinking person shooting back at you trying to kill you.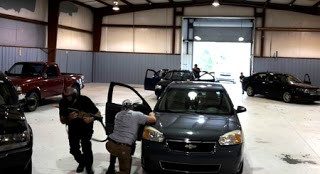 You can punch and kick a heavy bag forever, but it will never be the same as kickboxing versus a moving, thinking fighter blasting away at you. You could spend the rest of your life hitting a heavy bag, but it will only partially, minimally prepare you for kickboxing. The same thing is true for shooting. You can shoot at paper targets for your whole life, but you are not maximizing your experience for that parking lot shoot out (or wherever). It takes the experiences of interactive shooting for you to see the curve balls.
     Many mainstream gun instructors shirk the idea of doing this regularly, or at all. You hear the term "role-playing" or "well-scripted, force-on-force scenarios." It often sounds like a discouraging, time-consuming Academy Award, epic movie the way some make it sound. I have even seen a training video clip one time from a somewhat known gun instructor, in front of a blackboard, mapping out the dense, deep, psychological methods and the vital importance of specific, complicated, role-playing as though it were a land invasion of Mars or something. Oh my, the ENORMOUS responsibility to portray the exact dialogue, etc. just precisely right! All this set-up drama acts as a deterrent to doing it! It is not the Oscars. It's a gun fight. Much of it, is just people moving around stuff and shooting at you and you shooting at them.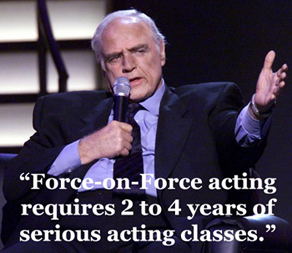 For example, you give two people safe, shooting guns and put one on one end of a parking lot and one on the other end. They try to kill each. End of script! How much acting and role-playing is involved? How much "well-scripting?" None. There are a numerous VERY simple, basic interactive exercises to go through for parking lot, and everywhere else, that directly add to the live fire training and require no Oscars or Emmy performances.
     I always wonder when I see these rifle courses – guys decked out like they have been dropped into Cambodia for two weeks, shooting, shooting and shooting at paper targets. I wonder why, at the end of the day, for just one hour or two, they don't have a little sims, ammo war with replicas of their weapons, of some sort to top off the education of the day? No "well-defined scripting." No role-playing for an Emmy or an oscar. Just basic combat, applying the same basics of the prior live fire training. The basics. (You know the military practiced invading a replica of the Bin Laden compound with…ahhh…"these…so called toy guns," working and experimenting through many possibilities. There's a great example for a "well-scripted" combat scenario. And go ahead and make fun of those SEALS playing with "toy guns").
     In a training session or seminar, do these basics "in the ring" so to speak. Work ALL those gun basics. Shoot live fire for 6 hours…whatever. Then for the sheer experience, finish off every day with shooting at moving, thinking people who are shooting back at you, in applications of the prior live fire methods. To me this is all "Gun Basics 101" in one package in one module. I understand that there are gun instructors who will not push for this idea, saying that even a little "sims" interaction is only for way, way-advanced live fire veterans. I just don't think so. Not at all. I think you can introduce it in from the beginning. The benefits are lengthy. life-saving and eye-opening. And I might add, I have been doing this for 20 years and I still see no down-side.
     I would like to add that many people (too lengthy to list here) are doing a terrific job of teaching live fire basics on the range. My hat is truly off to you, your dedication, your patience and for some, your sheer patriotism. But, who gets to decide for you the definition of "gun basics?"
    For me, I think its live-fire-basics mixed with some simple, interactive/simulated ammo basics…together.
Hock's Email: HockHochheim@ForceNecessary.com
Hock's Web: Right here at www.ForceNecessary.com