This reprinted as a service to the martial arts community.
Should anyone care, there is a class action lawsuit filed against the Premier Martial Arts franchise group, filed last November, that is not known about. This info-brief comes from "Law 360" and is as follows…
"A group of martial arts studio franchisees has thrown the opening kick in a sparring match with a national chain, alleging in a complaint filed in Tennessee federal court that the chain duped hundreds of people into sinking millions of dollars into money pit dojos.
Thirty-six (now over 50) franchisees have accused Knoxville, Tennessee-based Premier Franchising Group LLC, which does business as Premier Martial Arts, or PMA, of violating the Racketeer Influenced and Corrupt Organizations Act, fraudulent inducement and breach of contract.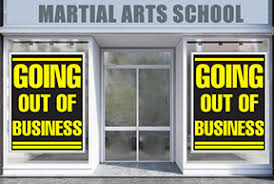 "Defendants have engaged in an ongoing, multi-year, nationwide scheme to defraud hundreds of people into investing substantial sums of money to buy and attempt to operate martial arts studios as PMA franchises," the plaintiffs' Nov. 18 complaint said. "The depth of the fraudulent scheme is still being uncovered but the devastation is already well-known: retirement savings obliterated, franchisees suffering from staggering debt, and a host of hard-working individuals and families on the brink of financial ruin."
Founded in 2004 and franchised in 2018, PMA offers karate, Krav Maga and kickboxing lessons to children and adults at more than 70 locations in the U.S., Canada and the U.K., and it has sold 564 franchises to 228 owners, according to a news release in January announcing the company's sale to Bedford, Texas-based Unleashed Brands.
Unleashed Brands Chief Legal Officer Stephen Polozola told Law360 on Tuesday that "Premier Franchising Group disputes the claims asserted by this small subset of franchisees." He declined to comment further on the pending litigation.
The franchisees' attorney, John Jacobson of Riley & Jacobson, did not respond to a request for comment on Tuesday. The franchisees allege that PMA founder Barry Van Over schemed with Omaha, Nebraska-based franchise sales organization Franchise Fastlane and its vice president of brand partnerships, Brent Seebohm, to downplay what it takes to run a PMA franchise while overinflating the potential profits.
For instance, the defendants purportedly told potential franchise owners that they'd only need to work about 10 hours a week at the studio when, in reality, they'd have to be there 40 to 60 hours a week to keep the business afloat.
Also allegedly said prospective franchisees would see profit margins of more than 40% and about $35,000 to $40,000 in monthly revenue, according to the suit, which states, "These numbers were simply not true."
The complaint further claims that PMA pressured prospective franchisees to buy multiple studios, while knowing that they were "money-losing endeavors," as a way to squeeze them for franchise fees that could be as high as $298,500.
According to the suit, PMA attempted to "cover their tracks" by fraudulently inducing franchisees to sign documents with a provision that purported to release PMA from wrongdoing.
The releases in question are unenforceable, the plaintiffs argued, because they were "procured by fraud," among other things, but "nevertheless, they reflect the cynical and sad efforts by defendants to defraud their franchisees at every turn."
Aside from PMA, the franchisees are suing Van Over, PMA Vice President Myles Baker, Franchise Fastlane, Seebohm and Unleashed Brands.
The plaintiffs are represented by John Jacobson of Riley & Jacobson. The case is Anthony et al. v. Van Over et al., case number 3:22-cv-00416, in the U.S. District Court in the Eastern District of Tennessee. "