Watching judo practice and tournaments, watching the stepping and positioning of opponents and the time it took, I use to make a remark years ago that "all judo throws work quickly after you break the guy's nose." And many folks looked at me like I was crazy or something. But I wasn't. I meant it. You've seen grapplers step and step and torso-twist and circle arms for a position for a take down. You've seen wrestlers, wrestle and wrestle to get that submission. But, once you severely stun the opponent, opportunities suddenly, can quickly occur in all forms of fighting, standing and on the ground. Put boxing into judo. Put ground n pound into wrestling. Unarmed or with weapons, close and afar, once stunned, they are diminished. Weapons? Yes. Through the years in policing and training with Simunitions, and other sims ammo that goes "boom," I have learned that he who gets that first gunshot off, sends not just a bullet but a very shocking explosion at the opponent, so often disrupting their return fire plans, especially when close. Most range shooters are never on the wrong end of a barrel and don't grasp this advantage. Why do you think the police and military use stun grenades?
     What exactly is the Diminished Fighter Theory? It's a helpful phrase I coined decades ago about how you need to diminish an opponent in a fight. This is far from a new idea, its common sense and most folks get it, but still the idea doesn't often float down and melt into many systems and practice. Just look at the martial arts of the world and watch what they do.
     Sometimes they come to you diminished. They are drunk, drugged, out-of-shape, etc. Sometimes, not. Then, when we fight, we fight an opponent's athleticism, their pain tolerance and their adrenaline, and therefore even the lesser performer might rise beyond expectations. So, we have to diminish them. I've used the analogy also for years about how we would hate to fight "Bruce Lee on 3 cups of coffee." Bruce, fresh. Alert. But throw chair at his head, and he's Bruce on two cups. A lamp at his head? One cup. And so on until he becomes…"manageable." Diminished. When we stand before a giant that we have to fight into handcuffs, it seems to be an impossible task. But if you diminish him enough, not only can you cuff him, you can tie his shoelaces together. Your first serious diminishment make knock the opponent cold. Which would be great, but you can't count on it. Settle for stunning.
We fight their:
pain tolerance

adrenaline (which also helps their pain tolerance)

athleticism

Any fight training they might have
     Diminishment. But the theory is only a side issue to the Myth of the First Event. What is this "first event?" A fight of any kind has several physical events. Everyone has an idea on what the first physical event is. The first significant, physical thing that happens in a fight. What then is the "Myth of the First Event" all about? The confusing myth that few seem to understand? Understanding/contemplating these "must/can" questions –
"Must every martial move work in the very first event of a fight?"
"Can every martial move work at the first event of a fight?"
    Must every? Can every? No, and no. I would venture to guess that in the big picture about 70% of all martial and martial arts moves that people strain and train to learn are not appropriate in the first instant of a fight against Bruce Lee on 3 cups of coffee, or versus many normal people for that matter when the fight first starts. And by 80%, I might be very generous. Unless you are talking maybe about boxing? Boxing and a few others can be very "first event-ish."
     A fight of any kind has several events. Like primary – the first, then secondary, obviously the second thing, and third and so on. Yet the martial world, arts, tactical or otherwise has seemingly tons of moves, compared to this one, two, three option. Where do they all fit in? (Please do not burden me here with quips about bunch of pre-fight jargon, as this essay is only about the physical fighting part). These tons of moves are taught by many international instructors. These instructors make video clips like mad, showing parts of these tons of moves. But most of these movements are NOT the first events of a fight, but often seem to be shown in these internet videos as firsts. They are, or rather should be second, third, fourth on and on, etc.
     These clips are then judged by millions of viewers. "That won't work!" viewers declare as well being far, far, far worse in belittling, scathing tirades. But they might not realize that many of those moves should be reserved and are quite worthwhile against the ½ diminished or fully diminished fighter. Wrong time! Wrong demo. Out of context. But still, I think most all viewers innocently rate things on will it work in the first event of a fight and they just don't realize it. But they forget or don't understand that the moves they criticize often have potential in the following events, the following seconds. I still see clips of secondary moves done in the right time, and still ridiculed as "not going to work." Perhaps these critic has never really be clocked in the mouth and head hard enough to understand the value of these follow-ups.
     One might organize training methods in like sort of a Tier 1 and Tier 2 approach. Tier 1 is very small collection of first event, really diminishing moves…like BOFFO! A great smack to the head, to the brain/computer, for example. Then once diminished, Tier 2 stuff can be better implemented. You have a diminishing event as early as possible so that many follow-ups might work, follow-ups like locks, controls, take downs, finishes, etc. You would assume people know this? But listen to them. Watch what they do or say.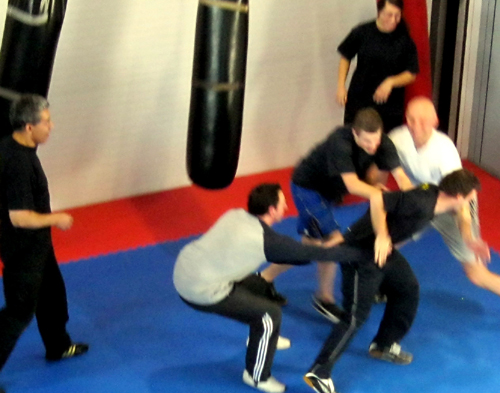 I know this deeply because I have lived in these Tier 1 and Tier 2 worlds, in the police world we were and are forced to do Tier 2 stuff first, then when faced with undiminished resistance, only then can we move up to Tier 1 responses and even that is legally problematic and frowned upon. Do you see what I mean? It's ass-backwards for police, if you will. This has hung a huge yoke upon police training over the decades. An, ass-backward disorder, but such is the life and the gamble of the police officer. But struggling in the backwards world helped me better understand the order.
     And, also take heed…with all this talk of diminishment, this is NOT an excuse to follow-up with stupid or unnecessary things after the diminishment! Not at all. I am constantly seeing extra, exotic, even whacky movements – moves that hypnotize the easily "hypnotize-able." Things too fancy. Things extra and unnecessary. In our courses we are "Force Necessary, not Force Unnecessary," but this should be true in your fighting system too. You have to trim the fat. From what I see? Most don't, electing to do complex, flashy crap.
     In summary, the myth of the first event is misjudging all moves to be great in the first event of fight. The myth also explains that a great many moves are still very worthwhile to know, practice and execute, but in the second, third and so on events against a diminished fighter. Not all things are meant to be used in the first event. Many things are still good and important, they are just…"Tier 2." A stun is a stun – a distraction. A diminishment in plain language is a diminishment. You don't have to inject a bunch of OODA Loop jargon to understand and explain this.
 Don't use Tier 2 in Tier 1 times.
Don't blanket ridicule and throw out Tier 2 material because they didn't work in in the first event. They are meant for…later.
     Recognize what is Tier 1 and Tier 2. Before you ridicule a video, an instructor, or a course and declare what they are doing is worthless, consider the context of the clip, and consider if it might work against a diminished fighter a few seconds later in the fight. (And your critique might be right! The instructor might not understand the Tier 1 and Tier 2 equation?
Hock's email HockHochheim@ForceNecessary.com
Get these streaming downloads