Another confession? I am but a tactical tourist. Oh, the shame. The stigma.
     No, not like a person who travels the world like a smart tourist with ultra-light, waterproof clothes and my museum and restaurant guide in the ready back pocket. No, not that kind of vacation tourist. I am just a guy going through my daily, suburban lifestyle with very little survival gear. Sometimes I dare enter urban areas, too, … gulp … yes, you read right! URBAN areas and with very little combat gear. You know, places where people apparently must have PHDs in URBAN fighting just to survive through the day! 
     How many guns, magazines, knives, lights, medical kits, maps, compasses need I carry on my body to go out the door and into the real world? My real world? On an "everyday carry?" What is your "real world?" 
     Through the years, we have heard the term "tactical lifestyle" from very common folk, and along with it the brag –
     "I, (or we) live a…tactical lifestyle."
     And that does sound cool. But several of us in the training business, and with actual experience in military, security and policing have to wonder sometimes if people know what they are saying and doing compared to the big picture.  Do these proclaimers actually know where they fit in the "action-guy chart"? Fit, inside the full spectrum of war and crime and a tactical lifestyle?
     My friend Mick Coup in the U.K. came up with another term – the "tactical tourist," years ago. A visitor to the world of tactics. In and out. But also never really "in" for most consumers/folks. Mostly out, looking in and misunderstanding their status.
     I have seen various under-channels, or sub-channels, in the cable TV systems around the USA. TV shows on hunting, guns, and self-defense – mostly about guns for sport, but they have gun defense shows too. Or, we see similar news or features on YouTube and on Facebook. Hey, how about all those gun magazines? The other day I counted fifteen different gun magazines on a shelf in a common supermarket. Fifteen! More than any other genre like fitness or even women's makeup, or gossip rags. Fifteen! (Shows you where the commercial money is.) Like the TV shows, inside the mags are numerous articles about extreme safety and survival ala gun themes (after all, they are gun magazines). Some folks call them "gun porn." The editors and writers pontificate, and readers worry and fret over gear and the four basic, generic problems really,
the "street" gun fight,
the "anywhere" armed robbery,
the day or night burglar/home invasion,
the mass shooter.
     Oh, maybe a kidnapping thrown in? Recently they fret over the mass shooter, due to our times. From these 4 or 5  problems, tons and tons of deep and deeper, redundant material spews forth. Like a muscle magazine covers "the curl" ten thousand times from ten thousand body builders. It's a curl!  These publications and shows say the same things over and over again. That, and gear. Gear, gear, and more and more gear. And if you take a bubble bath? You'd better have gun underwater with you. And that special grade of under water-proof ammo.
     But the gear. Oh, the gear. Firearms expert Massod Ayoob said recently:
     "There seems to be an unwritten law on the gun-related Internet saying, 'If you carry less than I do, you're a pathetic sheeple, and if you carry more than I do, you're a paranoid mall ninja.' Forgive me if I can't buy into either of those attitudes."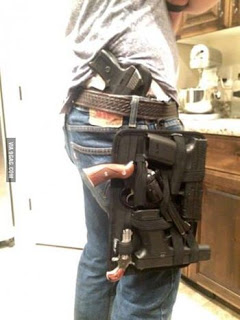 So where do you draw the line in the gear you carry every day? Certainly most of the readers here and of those magazines and watchers of gun TV shows are everyday, very normal people doing everyday normal things in life. Yet these cable, magazine, and media folks are really loaded for bear with guns, ammo, lights, knives, med kits, and like…that bracelet thingy that unstrings into an emergency length of rope for … for … emergency repelling? Garroting a sentry? I have seen a complete belt that unravels into a survival emergency cord. All this for a morning coffee run?  A dentist visit?
     It is a bit of a fad on Facebook to photograph one's "everyday carry" – the things a person carries every day, the "EDC" to be prepared for everything between sudden Armageddon down to an obnoxious panhandler. Guns, knives, ammo, cords, phones, and Ninja key chain. Spray. Odd-shaped, hand-held plastic devices you must also carry to strike recalcitrant people. And another gadgets to twist people in grappling locks. That tactical pen! A pen made of harder stuff than usual pens, but still writes! Maybe even in outer space! These seem to be the common carry for the best-prepared and macho soul. Not one, but two of some of these things. Everyone else must then marvel then at these photos of your brilliant, thoughtful EDC – at the tactical brilliance of the collection in your pockets, armpits, boot, belt and crotch, I guess. Wow! He is really ready to go out and buy that muffin! Hope he makes it back alive.
     In one of those cable TV features, they once covered a segment of a completely over-armed woman – with a med-kit in the small of her back –  in a short walk from her front door to her mailbox out front. Some folks go purchase milk prepped like they are being dropped into Cambodia for a week. Do you wear a medical kit in the small of your back when going to buy a birthday card in a gift shop two miles from your house? Some folks I've heard of wear pistols all day long inside their own houses. The fear of the home invasion or that sudden gun battle right outside. I can't discuss this readiness subject without mentioning the extremely odd Americans standing around on street corners or in Walmarts with AR-15s and shotguns strapped on their torsos or hung from unnecessary, tactical vests with lanyards.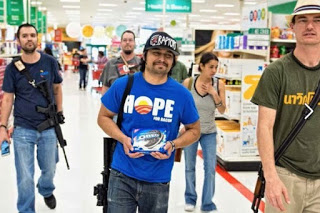 "But … but, Hock, when you need a gun…." Oh, here comes the "need-a" speech that covers ALL gear, ALL-the-time carry. But before you go all hyper-sensitive on me, there's nothing wrong with carrying a "pistola" around. Carrying a gun is not the point here. Or a pocket knife. But how many? How much more? But…along with an MRE? And a food poison kit in case the MRE is bad? Is there a water purifier pen stuffed in your sock? Don't laugh! I know a guy who has one when he flies. As if, when he survives the plane crash, he can find and crawl to bad water? You carry a small flashlight. What about batteries for that light then, and when will those back-up batteries expire? Some suggest a mandatory, less-than-lethal product along with your gun, your knife and your hand grenade. Like pepper spray. Lethal and less than lethal. How much stuff and backup stuff and backup to the backup stuff do you think you need? Where do you draw the line on the gear?
"Where do you draw the line on the gear you carry?"
     "Greywolf," a former federal agent and military veteran who has deployed to combat theaters in Africa, Iraq, and Afghanistan and has almost three decades of military and military contracting experience of Greywolf Survival, says that the expression "two is one, one is none" is a fallacy. He says people follow it blindly because it sounds cool. He advised that much thought should go into what "redundant" gear you carry. I think he is correct.
     For example, in the past if I was on a special task force with a mission, say a Fugitive Round-Up Task Force or a robbery stake-out, I would "dress more for the proverbial bear." I would double this and that. Haul around something special. In some ways, the proverbial "two is one, one is none" approach. Just in some practical ways. But then as a normal, everyday detective, or patrolman, I would carry considerably less. Way, way less. Way less than some of the citizens, cable TV stars, and magazine authors and their followers suit up for in a quick run to buy Frosted Flakes or aspirin. When you do one thing, then you realize what you need or don't need for something else.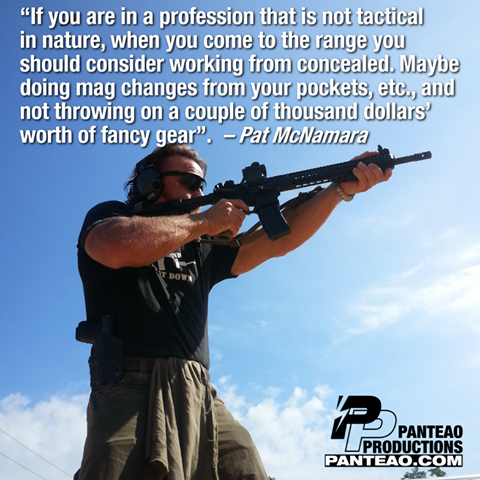 When I was in the patrol divisions here and overseas? Yeah – I had my mandatory Batman/Sam Brown belt, which held considerable less techno than today's options, but I also had support gear in the patrol car. We all made a calculated guess on what we wore, what was left in the trunk and what we took with us from the trunk, call-to-call-to-call. How far will we probably travel from the car? Do I need the carbine on every call? Absolutely not. A parachute? No. Experience and training can offer darn, good guesses. The pros still do this every day.
     For example, as cops we know to carry a flashlight because even at clear-sky, high noon we find ourselves in a dark, dingy basement. Does a citizen need a flashlight in their pocket to buy ham sandwich at noon? Really? I always had a hand axe in my trunk, because if the call or the situation developed where I might need one (like wall penetration or rescue), I would dash back to the car and get it. I did not walk around 24-7 with an Army Ranger Tomahawk on my belt (and by the way, the local Home Depot has real cheap and wonderful  rubber-handled axes – at a fraction of the cost over those tantalizing Conan war axes for sale).
     If we/they are smart, we answer these questions on many levels, big and small:
Who are you, exactly? Who do you think you are going to fighting
What exactly are you really doing?
Where exactly are you really going?
When exactly are you going?
How will you actually go?
Why are you going there in the first place?
     The menu of life! You must…
For the rest of this article and other subjects, read Fightin' Words, click here