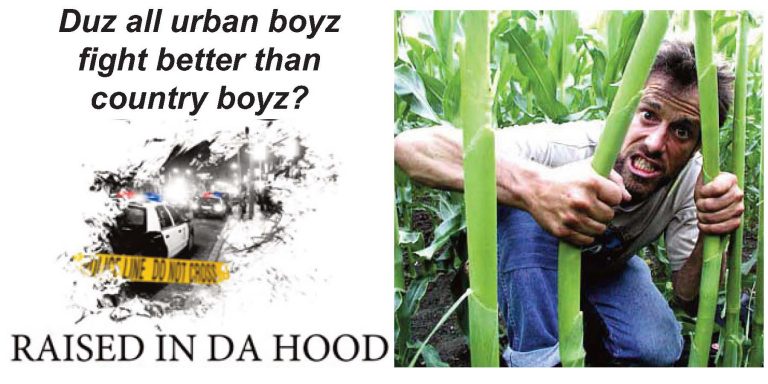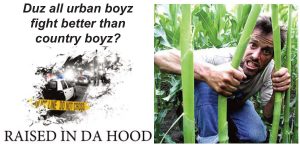 I live in the outer reaches of the ever-expanding Dallas/Ft. Worth Metroplex in north Texas. This geographic term "DFW" just continues to grow and grow, but up north here we are still surrounded by farmland and ranches. Around here, it looks like an occasional housing addition, then a ranch, then a strip center, then more farmland and ranches. That breakup is what I like about the area.  It's still very much country and wide-open spaces. I am a good judge of what is rural, suburban and urban because I grew up in the thick, dense New York City area. Basically, I know city and I know country, and today's cavalier, tossed around term "urban," confuses me. So…what is urban combatives?
     So, there's a new, small strip center in the cornfield near me. The first entry in this isolated small building was a place called Urban Nutrition. Brick wall, graffiti, art sign. That ubiquitous claw ripping through the brick art, too. Urban Nutrition is a big city name suggesting, well, what exactly?  Real, inner city … ahhh…inner city eating? Inner city, muscle growth? Inner city…vitamins? What exactly does it mean, Mister Franchise Owner? Who is it supposed to attract? Because, last I read, and for some years now, urban areas were having trouble getting available fresh food and good nutrition. Food deserts! So…copying urban nutrition plan is not much of a goal.
     A photo of this store as we see it, with cows walking around it, in open fields, would capture the very dichotomy of that name in that place. "Wazzup, Farmer Jones? Howdy, neighbor! Learn how them inner city boys get real big and muscular?" (Wouldn't you rather be a big strapping country boy? Eat fresh country food?)"
     Sure, sure, sure, in the next 20 years a few things will pop up all around the nutrition store, but I will never say that it will look remotely urban, like Watts or Harlem, or any urban city around here. It will look suburban at best. The name sends an odd, off-mission message. It's just odd to have an Urban Nutrition store in the middle of a rural cornfield.
     Urban. Suburban. Rural. The U.S. Bureau of the Census defines urban as a community with a population of 50,000 people or more. To me, I think people attach an inner-city feel, mood, culture and look to the word "urban." The dictionary says that – "Rural areas are referred to as open and spread out country where there is a small population. Rural areas are typically found in areas where the population is rather self-sustaining . Suburban areas are references to areas where there are residences adjacent to urban areas. There is a marked difference between the three. We all know this.
    I see a lot of urban stuff these days and, of course, even the rather ubiquitous urban combatives name dropped here and there in system names and school system descriptions. I wonder why? I find this title curious, too. Urban Combatives. A sales pitch might be …
 "… all these techniques have been tested … in, you know … urban … ahhh … areas."
"Wazzup, suburb boyz? Country boyz! Fight like inner-city, urban boyz! Word!"
"Fight like Boyz in the Hood."
"No crime, no fights happen in the suburbs or out in the country, you stupid rednecks, just so you hicks know, down in the projects is where you really learn how to fight."
 "Are your punches and kicks all kinda' … urbanized? Run through that special, 'urban" filter' of urbanized special fighting that only urban thugs can do."
     Seems to me urban people have no monopoly in fighting well. Have you investigated the UFC champs for example? You know Matt Hughes is a farm boy from southern Illinois. Brock Lesnar is from Webster, South Dakota. Randy Couture is from Cornellous, Oregon. I could go on and on with this country-boy list. Not exactly an inner-city or urban majority. I'd put money on Randy in a Harlem alley fight, wouldn't you? WORD! And they say words count, so who are you training to fight where?
     We've defined the geography, now for the terminology. We know what "Urban Combat" is for the military today – fighting with firearms inside cities, as opposed to say … jungle warfare or the "forest combat."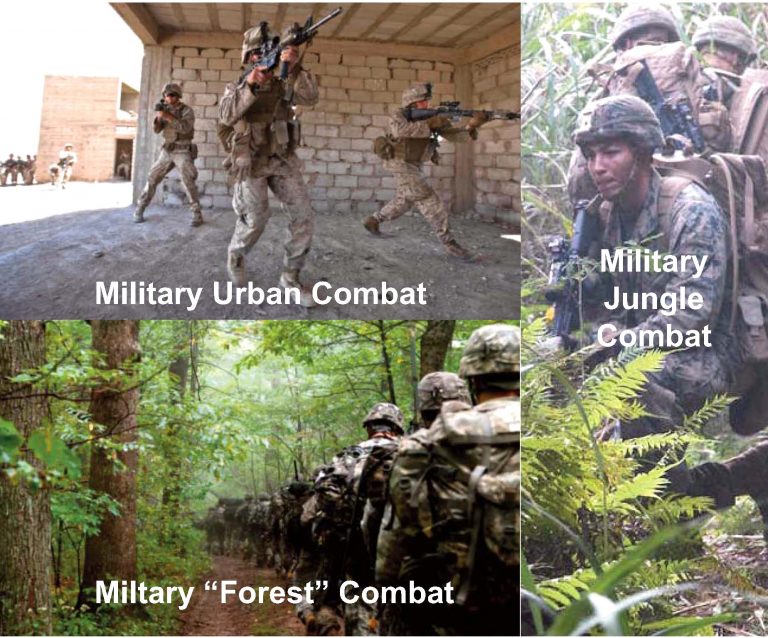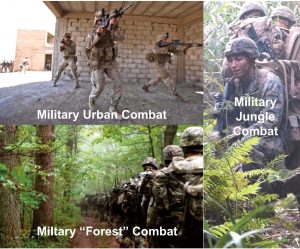 So, what does "urban combatives" really mean to citizens? Actually, crime and/or fights will occur anywhere. Rural, suburban, or urban. Some of the worst crimes and baddest fights have occurred behind the barn in Idaho or in an alleyway in Branson, MO. Alleyways are everywhere, even in Mayberry. Per capita, a whole bunch of violent crime happens outside the so-called "urban" inner cities.
     Let's talk martial business. Yes, fights, crime and war occur in rural, suburban, and urban areas. Indoors and outdoors. A comprehensive fighting program, appealing to the most customers, must include all these turfs. Generics at first, specifics later as the "who, what, where, when how and why" are developed and explored. Picking one name like "urban" is actually quite limiting as far as a smart business plan goes, unless you are in a specific urban zone, teaching specific urban people, to solve specific urban problems. Just like the military jungle fighting school teaches jungle fighters to fight in the jungle.
     Just let yourself think about this for 30 seconds. The marketing name of something, or advertising catch phrases, counts both overtly and covertly as in subliminal or obvious. Subliminal advertising is a major influence in the success of business. (Hey, businesses can be tricky and tough to name. I empathize.)
Flip it abound and look at it this way:
Will "Georgia Barnyard Combatives" work in Manchester or Prague?
Will "Harvey's Suburban Combatives" work in Camden, New Jersey?
Will "Jimmy Bob's Hearth of the Homeland Combatives" work in Detroit?
Will we ever see "Outer City Limits Combatives?"
Is there even a "Rural Combatives?"
Is there even a "Suburban Combatives?
I have seen the expression, "wrong side of the tracks," used in advertising, for rough-tough, rural background creds.
Funny thing is, many rural and suburban people that don't otherwise like the "big city,"  don't like the laws, politics  and restrictions, some still embrace the term "urban" this or that,  despite where they are and what they need. I guess "urban" sounds just way, way cooler to someone who doesn't think about it past 30 seconds?
"Urban." It's a big city word, but also a very small one in oh so many ways. It's not cool to me. Not at all.  
****************************************
Hock's email is HockHochheim@FoceNecessary.com
Get Hock's Training Mission One book, first in a series of TMs. Click here