"It's a hand, stick, knife, gun world."
Sound familiar? It's a 20 year motto I use in the opening speech of every seminar since 1996. "You are either in it or you're out of it."
I hope everyone here gets the Force Science newsletter, from Dr Bill Lewsinski, University of Minnesota – one of the few real laboratory research places working and studying scientifically on fighting, shooting and police problems, which also usually directly relates to citizen problems too. The new newsletter covers some observations from Insp. Chris Butler, "one of North America's leading use-of-force experts, minces no words in assessing present shortcomings."
"He deplores the "silo-type" training of street skills that dominates many academy programs, citing particularly the "bifurcation between physical combat training and firearms training. Very few academies meld these together in a reality-based environment where officers can be taught to apply them in close-in encounters." Silo-type instruction leaves "gaps, with a failure to connect the dots," Butler says. "That's like teaching an athlete specific skill sets without teaching how to apply them in a game. "There's a huge responsibility on trainers to understand how to tie together cognition, perception, motor behavior, and tactical decision-making," he says. "We have the most work to do in moving firearms training into a state that is supported by research." – Force Science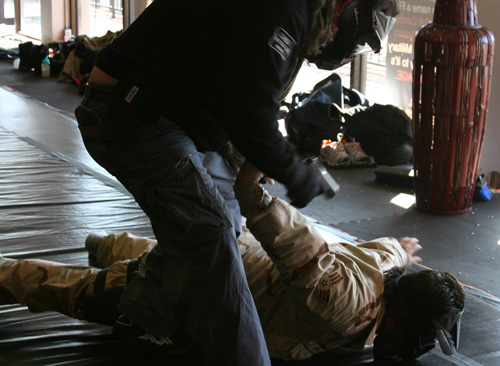 This bifurcation exists in the citizen training world where you have BIlly Bob's wrestling school on one street corner, and Ralph Jones kick-boxing school on another corner. Folks,
"Fighting is fighting and you fight where you fight, up, down and all around, with what you got."
That's another motto of mine. You are either in or you're out. This is why modern, evolved MMA training is probably the closest one will get to the big picture…BUT… its still a bit far, but closer. You also have to throw in the stick, knife and gun into the mix, and the end goals are different. This doesn't mean a championship, UFC match or death match every single class night, or every seminar. It can be done in a healthy, progressive manner for all skill levels and even ages. The goal is to get better, get smarter. It's a lifetime thing. This never ends. And if you are in the life or death business, this should never end. Just know your position in the process.
Another big topic for Butler in this Force Science newsletter and interview, is police (and citizen) shooting and range shooting in general and how it needs to change (situational, simulated ammo shooting scenarios solves many problems – sound familiar too?).
You would think by now, this message would have sunk in but I believe only now, these last few years, is it really getting any impact. One of the last vestiges against change are numerous, gun instructors who, either through the lack of creativity, or a fear of the losing their "range-business-model" (and maybe a few other reasons too – some sound) seem to hold that static line and fail to integrate real, survival, situational, problem solving.
Just a quick add-on. Just because your country bans certain weapons, this doesn't not ban you from learning them because criminals and enemy soldiers will attack you with them. You disarm these weapons and hold them or pick them up off the ground. Then what?
More on this with Lewinski's Force Science newsletters. Ask for, or read the April 11 issue.
Hock's email HockHochheim@ForceNecessary.com