(Now here's ya some readen'. Interrogated by one of the greats, LAPD decades-long vet/investigator and author Paul Bishop strapped me in for some incriminating questions about my writing! I confess! I confess!)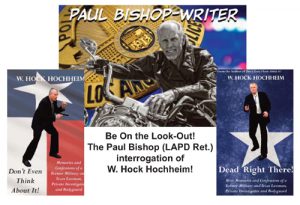 Bishop: If you were to go rogue and Interpol was foolish enough to issue a most wanted BOLO, what pertinent information would be on it?
Hock: BOLO! Calling all cars! Calling all cars! Be on the look-out for W. Hock Hochheim! Grew up in New Your City area and became an illegal immigrant in Texas in 1972. Finally granted Texican citizenship after an Apache initiation. Be advised. Former Army patrolmen, Former Army investigator. Former Texas patrol office. Former Texas detective. Has several black belts in martial arts. Once described himself as – first and foremost a writer, second a detective, third a martialist. In that order. Since retirement, travels the world (11 countries) —like Cain in Kung Fu — teaching hand, stick, knife and gun combatives, but would prefer being a hermit and writing westerns, with an occasional crime thriller and how-to-fight book.

Bishop: When did you first consciously begin to develop the skills of a storyteller?
Hock: As a kid, as I was fascinated with comics and books — and covers! Both hardcover and paperback. I began to draw and write in the '60s, in what is now called graphic novels—a combination of illustrations and words. In my case, while they played off each other, they also took from each other. I noticed that in phases of time, the art was fantastic and the words seemed to suffer, and vice versa. Great words, lazy art. It seemed I had only enough energy for one at a time. I created western stories back then for some unknown reason, as I was interested in all genres. I majored in art and was bound for art college in New York City, but instead, climbed on a motorcycle and took off for points unknown.

Bishop: You have written a diverse mix of non-fiction and fiction. Is your approach to each different or the same?
Hock: If there is a singular approach through all, it is to be different than the usual formulas. Not follow the mainstream storylines. Say, in terms of a western, the "cattle man vs the sheep man" formulas. The "land grabber vs the settlers." My western character Gunther is set in the early 1900s, which is already different. He is reading HG Wells and Freud. This approach has not endeared me to classic western readers, but it's still rather classic—with a twist. In Last of the Gunmen, Gunther is up against a minor league baseball team whose players commit robberies when they are playing away games — robbing church money being sent to the Pope, is their big caper. Not exactly a classic saloon, cowboy showdown.
In Blood Rust, our hero was an NYPD detective. I love good NYPD detective stories when the style is just right. I wanted to capture that motif, but not in the usual way. Enter Rusty who, after being shot in the head in an ambush, becomes a New Jersey criminal—he's a psycho, until he finds out he convicted the wrong man for murder. Something goes…BOOM…in his head. Crazy Rusty has become a popular character and, with any luck, I can write the next one in a few years. But the approach is recognizably the same—but different.
Bishop: When writing your books specific to tactics and strategies of self-defense, how do you separate yourself from the other books on the subject?
Hock: The how-to textbooks are very rote, step-by-step, unless there is a support essay, in which a bit of personality may appear. Fightin' Words: The Psychology and Physicality of Fighting book is full of personal, flavorful essays on fighting subjects. In my novels, all this fighting stuff manifests in the action and fight scenes, which I am happy to say readers like. I try to put people in the driver's seat. In terms of writing, the fighting the fictional fight, it becomes checkers not chess. The sentences are structured to be quick and personal, matching the speed of the fight whenever possible. Violent poetry.

Bishop: How is what you teach in seminars different and how did you develop your tactics?
Hock: I started doing Ed Parker Kenpo Karate in 1972—I was not a kid, which will tell you how old I am — right before I joined the Army. I have never stopped studying various martial arts since. I messed with them from a police and military perspective, so, I realized arts and their dogmas were not perfect fits for fighting crime and war. I studied many different arts, always looking for the next best thing. I discovered there was no next best thing. Soooo, I decided to create the next best thing—The essence of hand, stick, knife and gun.
Bishop: What are the most common self-defense misconceptions you run up against?
Hock: Oh, like…that size doesn't matter—It does matter…it's why God made weight class/levels in combat sports. That being alert is the key to safety. You can be as alert as a skittish fawn, but then you may well have to fight. How much gas (endurance) and how much dynamite (explosive power) and savvy (fighting time and grade) do you have? It's great you were alert to a bad guy approaching, but how long will you remain alert when he is smashing your face in? Another misconception is a knife or gun solves everything. People have to draw these weapon under stress — with almost no practice for doing so — and often it is morally, ethically, and illegal to shoot or stab somebody based on the situation. That's just three. It's a lengthy list.
Bishop: What prompted you to turn your hand to fiction and the slam-bang action tales of adventurer Johann Gunther?
Hock: Serial characters make the world go round, whether you are a child reading Dick, Jane and Spot, a teen reading Harry Potter, or adults reading and watching Harry Bosch or Batman. People fall in love with serial characters. We like to stick with good characters, especially when they age. I wanted to take a shot at that concept. Gunther exists in a time gap between the western gun fighter of the 1890s, and the Sam Spades of 1920s. He is a mix of both. Detectives were indeed popular then, and Gunther is a "problem-solving" detective.
Bishop: Did you have a specific real life of fictional character who provided the inspiration for Johann Gunther?
Looks-wise, since Gunther is an immigrant German, I imagine him to look like the actor Rutger Hauer, when he was in his '30s and '40s. Gunther is a highly realistic, fully-fleshed out version of the old Paladin, from the 1950s TV show Have Gun, Will Travel, which was a sophisticated show in its day, but not by modern complex standards. We learn how Gunther wound up in the US, the Army, the stint as a deputy in Paris, Texas, his appointment to West Point, etc. So, he is a mix of various fiction models, but different. My first fictional character was Jumpin' Jack Kellog, a Houston area police detective in Be Bad Now, who is a mix of several real Texas detectives I worked with and knew. Ol' Rusty, of Blood Rust, is not anyone really—just a red-headed, crazy guy, who can't think straight and solves his problems and the crime with half psychopathic measures.

Bishop: Have you found anything in the psychology or practice of martial arts that has application to the writing process?
Hock: I guess so. In the arts end of martial arts, they try to develop various qualities of perseverance and—if you think about it—the good qualities of a bring a better person. For me, sitting down to write is a torturous process with rare flashes of rewards. I guess these martial arts qualities help keep me in the chair through the torture.

Bishop: Your new book, Dead Right There: More Memories and Confessions of a Former Military and Texas Lawman, Private Investigator, and Bodyguard, is a sequel to your first collection of real life cases in which you were involved—Don't Even Think About It. What prompted you to share more of your experiences?
Hock: In the 1980s, while I was a police detective, my father-in-law was visiting. He was reading a non-fiction, book written by an insurance investigator. He loved it, claiming, "These stories are great. Interesting." I looked the book over. Jeez, it was the most boring, paper-crime, cases. Fraud cases. People like this? I mean, a few days before I cleared a murder and we were shot at trying to arrest the guy, but people were mesmerized by the very simple fraud stories in the book. Really?
I thought about this. People like true action. They also like true procedurals. Everyone loved the stories I told them. I was very lucky to have been a detective in the Army and in Texas for about 18 years. It was a very interesting time and place in Texas and law enforcement history. A lot of things happened, killings, robberies, rapes, and it was the era of lone-wolf-detective. You got your cases, or went to the crime scene when on call, and you worked them hard—by yourself. Occasionally, you could ask your close-friend detectives for help. It wasn't just detective stories. People also liked to hear my patrol stories. (I have an odd sense of humor).
I always felt the urge to write, and had been doing it on the side. I was the editor of the international Close Quarter Combat Magazine, and had many articles published elsewhere, as well as a history book on Pancho Villa, and the police novel, Be Bad Now back in the 1980s. However, it was about 2002, when I began writing down these true police stories. It's a long, back story.
I collected the stories and composed quite a hefty book called, Don't Even Think About It, a line I used a lot when arresting people and predicting they were going to resist arrest in some way. I think I heard Randolph Scott say it in a western once, and it stuck with me. The book was bought. Then, publishers bought out publishers and the book was in the classic development-hell of a hidden file cabinet somewhere. I pretty much forgot about it.
Then in 2009, someone called and said they now owned the book and were going to publish it and others they had acquired. Next, they told me the book was too big and needed to be cut in half. I cut it in half, still trying to keep some chronology of the stories. Thus, Don't Even Think About It—half of it anyway—made it into print. A promise of a two-book deal contract was forthcoming, to cover the second half of the original big manuscript. The contract never came—and like all other vanishing, distressed book publishers, these people caved too.

So, there I sat with a whole other complete book. I then owned the rights to book 2 Dead Right There, which was what I had titled it. Over the years, thousands of copies of Don't Even Think About It have sold. People liked my blogs, and they liked the book. So I hope they will also like Dead Right There. "Dead right there," was another phrase we used back in the day — "Do that and your dead right there." There are a lot more action stories in this new one.
Bishop: Will there be a third Texas Detective book?
Hock: You know, I don't know. I don't think so, but my wife keeps reminding me of strange stories I have told her, which I have forgotten! So, maybe there is another one in the future.

Bishop: Clearly your schedule is packed with seminars and writing. Do you still find time to read for pleasure, and if so, which authors do you reach for on your bookshelf?
Hock: I am gone so much, I write a lot on planes and in hotels. But I write obsessively at home, too. It is not healthy. I work out quite a bit, and listen to a lot of audio books. I usually have one book going on audio and one paper book going at the same time.
I recently went through a lot of Matt Helm books and revisited Mike Hammer. Also some Ian Fleming. I have read several Longmire books lately. Like I dissect a boxing match, I dissect these books for plot, pacing, style. Why do they work? When did they work? I think fiction is the poetry of non-fiction. The emotional connection that, most times, non-fiction can't seem to touch. Let's face it, more people know about the Civil War from the movie Gone with the Wind, than any history class they attended as kids and teens. Such emotional fiction is very powerful. And, the writer's challenge is to make the uninteresting, interesting—you know those in-between scenes needed to knit a story together. make them iteresting! Write it and skin it like Hemingway. What's left is the poetry, if you're good—If you're very good.
I am currently reading a history book on Texas Ranger Frank Hamer and listening to The Memory Illusion, which covers the very latest neurology research on memory. If I pick a new author of a fiction series, it's like I investigate them. But, most of book series leaves me scratching my head.

Bishop: What are you looking for in the year ahead in your writing and in your seminars?
Hock: I have to write a textbook on gun combatives. I do not teach marksmanship. I only cover interactive shooting with safe ammunition. I have amassed quite a bit of knowledge on how people shoot each other, in common and some uncommon situations. You are not really learning to gunfight unless moving and thinking people are shooting back at you. I use safe to painful, but not real, ammo to organize this exercises. Fiction – and, I am pitching a book about a terrific female action character and Japanese terrorists. And my German publishers/distributors have accepted my third Gunther plot, Rio Grande Black Magic. I am really excited about it — as all writers say – but that ones for 2019.

As far as seminars go, I am 65 years old and the stopwatch is ticking on how long I can zip around teaching hand, stick, knife and gun combatives. I tell people every weekend that I only play touch football and everyone else plays tackle. But when you're older, even touch takes its toll. Then, there's that flicker of macho, a flash of youth I shouldn't have, then there's mistakes or missteps I shouldn't have taken. Wrong place. Wrong time. Wham. I just survived my most recent surgery from being hit with a stick at the wrong place, wrong time. But I will go on until I can't or shouldn't—or I get a big book deal that makes even Clive Cussler and the ghost of Clancy jealous!
Bishop: Thx Hock for sharing and for all you do for law enforcement across the country and around the world. You are a true warrior…
Hock: And I thank you!

Hock's email is HockHochheim@ForceNecessary.com
Get The Gunther Western Series