Gun vs. Unarmed
Gun vs. Stick
Gun vs. Knife
Gun vs. Gun
Situational – Tactical – Practical – Strategic –

"External Focus" Gun Self Defense and Gun Offensive Training
"After you learn gun mechanics and marksmanship skills, all your gun training must also be conducted under some level of reality stress, interactively, with you too as a target receiving incoming rounds. I don't care if it is just a tennis ball machine pumping sporadic balls, Airsoft, paintball, or even a rubber band gun in some training! But something needs to be firing back at you to learn more, realistic gun fighting techniques. Living breathing opponents are necessary for any credible gun self-defense and gun offensive training program. Oddly, this is a very radical gun training approach. There constitutes a new paradigm shift in the world of gun training."- Hock
"In the survival gun shooting courses taught in my typical seminars we use simulated ammo, replicas and cover vital gun tactics and gun strategies in the subjects listed below. We are in the forefront of the new gun fighting revolution, a format of training that starts–I said STARTS–with a new gun student experiencing an exchange of gunfire from Day One with some form of simulated gunfire. This sets a realistic standard in gun self-defense and gun offensive training from which all subsequent gun training may be properly evaluated. Many levels of the course consist of gun tactics and may be practiced with simulated ammo anywhere. While I want you to range shoot as often as possible to learn how to run your gun, you can cover much gun survival material without going to the gun range. Live fire training is mandatory and should be continuous but no training experience replaces, interactive, simulated ammo training. " – Hock
"The enemy is not a one-dimensional, sheet of paper. Training for only this is shallow and incomplete. The enemy is a 3-D, moving, tricky, unique human body with a mind full of independent thought, running, grabbing on you or shooting back, all in a cluttered urban, suburban and/or rural landscapes." – Hock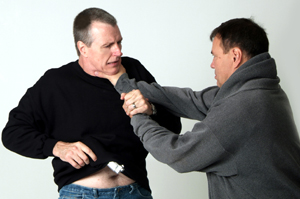 Gun / Counter – Gun Combat course consists of:
– Use of Force Continuum and post shoot trauma information
– Stress Combat Quick Draws and Counters to Quick Draws
– Walking Point! How to search urban rural, indoor and outdoor areas
– Pistol / Rifle & Shotgun Retention
– Disarming Pistols, Rifles and Shotguns
– Counter Gun Threats Psychological Strategies
– Criminal and Enemy Soldier Tricks, Ambushes and Tactics
– Controlling Captured Criminals and the Enemy
– Move, Cover and Shoot Tactics Under Fire
– Low Light Combat Shooting
– Tactical Medicine, Emergency Evacuation and rescue tactics under gunfire
– Room and building entries
– Combat shotgun training
– Range marksmanship and to "run the gun"
– Simulated pistol and shotgun combat scenarios
– How to run a safe range line
– How to run realistic scenarios
– "Riding the Gun Down! Gun Arm Grappling. Possibly the most important CQC gun tactic you need to know.
– and much more.

The Complete Gun/Counter – Gun Course Requirements
– Street and/or parking lot and elevator robbery sims
– Miami/Dade Shoot-out sims
– Mexico Escape and Bodyguard sims concerning auto ambushes, transport and other activities
– Bodyguard walk
– Car Jacking sims
– Diner's Dilemma – Restaurant robberies, problems and sims
– Bank Robbery sims
– Stakeout sims
– Business and home invasion/burglary search sims
– Hostage Survivor
– "Parking Lot 'WalMart' Madness"
– SWAT sims (for Police Judo practitioners)
– Stairway to Heaven – Gun fights in stairways
– Enforcement arrest, control and contain sims
– Small war game sims
– The Breakheart Pass
– The Extremely Close Quarter Pistol Scenarios and Gun Arm Grappling
All Gun Counter-Gun Combatives books, dvds, course outlines and downloads are available at: Gun Counter Gun Combat Training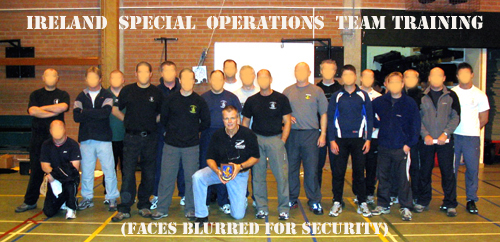 Hock has taught interactive, simulated ammunition gun seminars to citizens, the police and to military units all over the world. Learn through the chaos of simulated combat!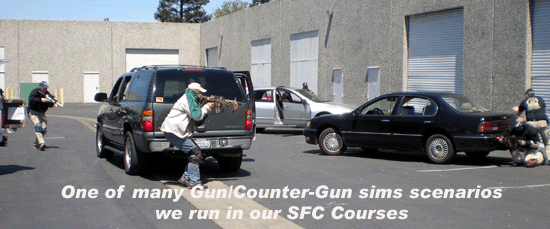 Remember, the one who plans, cheats, outsmarts, connives, fools and deceives wins the gun fight."
Information about requirements, organization and fees for instructorship available on the Scientific Fighting Congress Instructors page.
Hock is a military and police veteran with multiple black belts. He currently tours some 11 allied countries conducting some 35 to 40 seminars a year teaching hand, stick, knife and gun combatives. He has been a paid consultant for four branches of the U.S. military and he has taught in numerous police academies as far as South Africa, and for prestigious professional groups like ILLETA and the IALEFI (International Association of Law Enforcement Firearms Instructors.) Since 1995, he specializes in replica training along with any form of simulated, interactive ammo training to sharpen the reality of encounters. Airsoft, gas, electric, Simunitions, any affordable and practical way to teach in your indoor or outdoor environments and facilities.
Hock's courses change and evolve through time to incorporate changes in learning styles, law enforcement agency requirements and additional training methods as they become available. If you need information about current certification requirements for this course and how they relate to previous courses, contact Hock directly at: HockHochheim@ForceNecessary.com