"It is not a daily increase, but a daily decrease. Hack away at the unessential." – Bruce Lee
I took this advice very, very seriously. Did you?
Well, the deal is, the trick is…and it's a zen thing…a journey thing…you have to keep learning and getting wiser about all things. At some point we hope to get "a handle" on the subject. Get a wise handle on the overall subject. And then we can spot the extraneous, the unnecessary, the redundant. Its takes education to do so, and after all, most of us cannot tell what is and what is not needed in new cars to make them run. Trained engineers know this.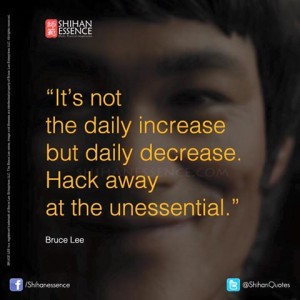 And there a few assumptions that automatically go with this.
– You are always learning new stuff.
– You achieve a certain level of wisdom on stuff.
– You have a matured filter to discern stuff.
This is the kind of advice/line that helped me organize almost all of my pursuits. For example, I am very interested in the various kinds of psychologies. But I would rather study the overall "psychology of psychologies." I am interested in overall religion, but I am more interested in the "religion of religions." The big back step, pulling back the curtains. Finding the back wall where the Wizard of Oz pulls all the strings.
What does this mean? To be more specific, an example on this pursuit – why does humanity need religion? Why do we make them? Why do we need them? Once made, how are they alike and unlike? Why? The religion of religions. Once you study the "religion" or religions, I think people understand overall religion much better. Many people who have done this, wind up with no organized religion and live the life of a deist or atheist. Or, you can become a religious charlatan who knows how to connive the last bit of money from the elderly, because "the church" needs a new jet plane.
In the martial world, I am interested in the good universal things that work and solve problems. These good things exist inside almost all systems, but they usually are abstract and burdened and at times mislead by the fluff, geography and personality of the system. For me, I don't care where it comes from, Israel, Indonesia, the sewers of Spain (ha!). Come from a certain tribalism and a need for it. Group appeal. Human nature builds these social groups for just about everything, from football teams to the quilting clubs. But, if you are looking for the "martial," you have to let all that extra `fluff-stuff go, file it away, and sometimes just kick somebody right square in the balls (a kick that is universal by the way).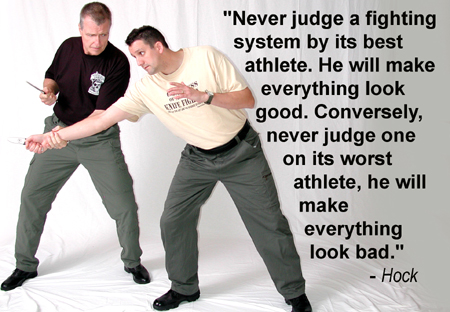 I don't mind at all kicking the tires of various martial arts, doing them, having some fun, experimenting, absorbing (there's that word again!) tipping the hat to some. But for me personally, in the end, I am really only interested in the "martial of the martial arts." I have used the term, "reduce the abstract" for decades, but it is the same as "hacking away the unessentials."
Works and solve problems, but then for whom? What I need is not always what you need to survive. To function with the above guidelines, I have to live under the "who, what, where, when, how and why" questions/format. If you are going to absorb what is useful FOR YOU? Who are you exactly? And so on. And if you are a teacher, who are your students….and so on? What is your motivation? Theirs? Social group? Exercise? Fun? War? Peace? I just ask for – know why you are doing what you are doing and where it fits in the big picture. That is all I usually ask for. Just know.
People think this is just about simplicity. I think it is and it isn't. How zen. Simple or simplicity is relative. A superior person may find different levels of achievement, different levels of simplicity than the rest of us. What is simple for some is complicated for others, either from natural skills or training. It really is a scale. Instructors must recognize this. And time. Instructors must recognize the time involved with teaching and learning things.
The Bruce Lee statement is kind of a zen riddle. Some people get confused by it. But because of it, I have whittled myself into a box. A bland, "hand, stick, knife, gun" box. Boring names. No pizzazz. No uniforms. No system head worship. No exotic locations. Tough to…"sell," as a business plan. But, I am a martial deist, or martial atheist. I am also heavily influenced by the needs of my Army and police work times.
Even Bruce Lee's Jeet Kune Do has whittled itself into several boxes.
But that message still remains…
Hock's email is HockHochheim@ForceNecessary.com
For articles like and more, read Fightin' Words, click here