Fightin' Words – The Psychology and Physicality of Fighting
by W. Hock Hochheim
(This following text is on the back cover. I did not write this, the book folks did, but…so…well…here it is…)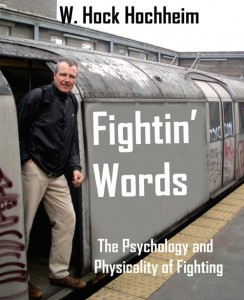 About the Author- W. Hock Hochheim is a former military police patrolman and investigator, a former Texas patrol officer and detective, and former private investigator. During his career, spanning three decades working in "line operations" only, he's investigated more than 1,000 crimes and arrested nearly as many suspects. He has graduated from numerous, national Assault and Violent Death police schools and street survival courses. He also organized protection and security for famous authors, politicians, musicians, TV and movie stars. Over the last 40 years Hock has studied martial arts and hand, stick, knife and gun combatives, earning numerous black belts in multiple systems.
In 1996, Hock founded Force Necessary, a training company that teaches situational, event-based, scenario-based fighting tactics to military, police and citizens. Hock has written prolifically about martial arts, psychology, sports and history in countless magazines and books. He is quoted frequently by experts worldwide. He currently teaches some 30 seminars a year in 13 allied countries.
For more than 15 years, Hock has also authored a very popular blog read by tens of thousands. He is known as an educator, entertaining skeptic, and pioneer, martial, myth-buster by citizens, military, police, and martial arts experts worldwide. You cannot find all these special studies, articles and essays on his blog page as they are collected in book.
"Fightin'" Words is a collection of essays and articles by Hock about his life-long, worldwide quest to uncover the best, base-line, fighting tactics, strategies and skill-developing methods. These essays are based on his travel, study and research of the psychology and physicality required to successfully fight criminals and enemy soldiers. The book is about fighting, or "fightin'" since Hock is a Texan and speaks like one. He dissects elements of survival, self-defense, war, crime, martial arts and combat sports. He explores the changing terrain of these systems and how they evolved. And meanwhile, reveals a little martial, history and gossip here too!
There is also a photo tribute collection to the many international hosts who have hosted him over the last 22 years.
Oversized paperback
301 pages.
* Get the book mailed to you.
* Get/download the E-Book mailed to you
* Get the "Author's Cut! Paperback" mailed to you What's the "Author's Cut, Paperback?" It's an autographed copy. If you just buy the book, it will be sent directly to you from the publisher/distributor, untouched by Hock. If you wish it autographed? Then a book gets mailed first to Hock, and he signs it and then sends it to you. This costs more in time, postage, handling and packaging, which in turn, costs more. But if you want an autographed copy? This is the way, or catch him at seminars.
Click here for more info and to order the book!
Amazon has a Kindle version.
The book will eventually be available at all bookstores, as distribution evolves.