Sword.
Small sword.
Big knife.
Small knife.
Sword Fighting.
Epee sport fencing.
Dueling.
Olympic Fencing.
Knife Fighting.
Enthusiasts like to discuss and compare dueling and fencing with knife fighting and big knives and swords and smaller knives…and, and, and… The topic comes up now and then on how fencing skills help knife fighting skills and also, oddly, how fencing skills helps fighting in general. For me? Not so much.
It is confusing to discuss these things unless you set down some edged weapon world definitions. Some people can't adequately define them, which causes a confusing debate and conclusion. They might say, "the best knife fighting training is fencing." Well, what kind of fencing? There are several kinds of fencing with small letters and capital letters. And several different tools used when fencing.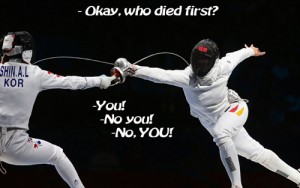 A sword is…well, a sword. There are all kinds of swords, you know. We immediately think of the olden days and the swords of knights, and Cossacks and the Three Musketeers. As defined in most universes, " a weapon having various forms but consisting typically of a long, straight or slightly curved blade, sharp-edged on one or both sides, with one end pointed and the other fixed in a hilt or handle." A key word in our comparison is "long." We might add that some swords are best wielded by two hands. Many still by one hand.
A Big Knife is…well, a big knife. It certainly will be handled by a single hand. Two hands need not apply. Some people consider any knife with a blade over 6 inches and "less than a short sword" is a big knife. I recall one knife enthusiast remarked, "…is defined by a culmination of its features, a critical mass of its qualities." That has a ring to it. People think of the ubiquitous Bowie Knife as a big knife. It is also knife-lore that a small knife is concealable.
A Small Knife is…well, smaller. One-handed. Easy to conceal, as the topic of concealment often comes up with defining sizes. It would stand to reason that a knife with a blade under 6 inches could be called a small knife. It is also knife-lore that a small knife is concealable.
Dueling is…well, you know, right? Look up "duel," and you will find terms, like "pre-arranged combat," "observed by witnesses," "with guns and swords" and other uses like a "duel of wits." Today, when we think of edged-weapon fights we often just think of a knife versus knife fight, sort of a touch-and-go, kind of deadly chess match, tag kind of thing? You'll often hear me talk about the "myth of the duel," in that unarmed or armed fighters "on the street," usually aren't in perfect stances and pre-arranged distances, in and out, experimenting with jab results, to "win in round three." Two fighters crash! But two fighters can indeed break apart and this might look like a movie duel for a period of time. A bad movie, but sure, which is why to be comprehensive, we must train for these bits of dueling times too, but the fight is much more.
A Knife Fight is…uglier? Less classy? And how is it that two guys are fighting with knives anyway? Who, what, where, when, how and why? To enter this ugly realm, I often say, "knife fighting is like football/rugby with a knife." I realize this is a sloppy, somewhat incomplete description but it makes a point about how messy knife fights with real angry people can get. Then there are those folks that believe ALL knife attacks are hidden-knife ambushes. Or ALL knife attacks are madman stitching. Not so. Not so, as a true historian of war and crime will know better abut the diversity.
Fencing. When you fence, it can be sword fighting, and "sparring" training with any and all swords. You certainly fence in any sword class. Which next leads us to ponder, Fencing (with the capital "F"), the sport of "Olympic Fencing." It is described as an "art or sport of using a foil, epee, or saber in attack and defense." Most of us envision the single lane sport of forward and back, wispy epees and those special metal helmets and white suits. Most know that the modern fencers use electric epees and suits. But if you are a renaissance sword person, fencing (with a small "f") just means using regular, dull swords to train and fight with. This is different form the sport of fencing. Is an epee a sword? Epee is French for sword, but today's Olympic Fencing sword it is not like a "sword-sword" the Huns, Vikings or Samurai would use. It's a wispy thing, often with electricity running through it. For a sporty game of tag.
Martial artists reference Olympic Fencing at times, or they think they are when they say "fencing." Some go on and on about how we can learn oh so much from Olympic Fencing. I just don't think so. I don't share the love. Jeet Kune Do practitioners know that Bruce Lee praised and studied Olympic Fencing for the fast lead arm and explosive leg work. At one time he organized boxing, Wing Chun and Olympic Fencing as foundations of JKD. I can't help but think that in the big picture of all that could happen in a standing, seated, ground, hand, stick, knife and gun fight, how Olympic Fencing could be so important. There are only a few, slim tricks that cross over. Any exercise is better than no exercise. And Bruce wasn't worrying about knife fighting when working on boxing and trapping hands, even though Olympic Fencing was about "edged weapons."
I don't like too much of a Olympic Fencing influence in knife material for several reasons.
– One is that Olympic Fencing is a suicidal game plan. I sacrifice my position, my…everything just to touch you first. That is all I care about. "First Touch." I touch first, I win. That is the Olympic Fencing, training goal. First tag. No matter that, even if the other "blade" cuts my throat after my "first touch" win. I won! My first touch, sport win may not be a successful real fight ender (what knife attack is, and someone should always prepare…
For the rest of this story? Read Fightin Words. Click here