(If you are happy camper doing classic martial arts in classic uniforms? You are just drawn to the idea? Then ignore me. What do you care what I think? This is just a personal rant.)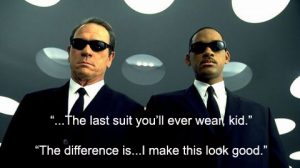 I was invited by some folks to a big reunion in the Philippines the other day, and I had to gracefully back out again. Because…because I just don't go to such things. I am kind of a puzzle piece that doesn't fit well in most places. When they asked why, one of my rambling answers was, "…yeah and you know," this…that…"and I would have to wear a uniform, and…" 
Wearing the martial arts uniform. How many times have I dodged events through the years partially because I might be, I would be expected to wear a uniform? Thinking about it, I have not worn a gi of any system in probably in some 24 years. Wow. I don't have THAT uniform anymore. Nor any uniform. No black belts shoved in a corner. There are all long gone. I don't recall throwing them away, but they are simply gone from my closets. And I've had many a gi since 1972. Kenpo. Karate. Kempo. Jujitsu (old school, not wrestling). Aiki-Jitsu. Modern Arnis. Arnis de Mano. Not counting Thai shorts. All…gone.
I did show up, non-uniform, at a few events many years ago. One time in the 90s, I taught at a big event in San Francisco alongside Wally Jay and Uncle Bill de Thouars. There was about 300 people there.  ALL in gis except me and Dean Goldade. We wore t-shirts, blue jeans and shoes. We really stuck out like sore thumbs. Like disrespectful bums. I hear now that t-shirts and gi pants or sweat pants are acceptable in some big events and gatherings. Which may get me back in circulation? My Kuhl pants might work?
Being a "60's, redneck-hippy," I kind of rebel against uniforms. I had to wear an Army uniform and a police uniform. And I was detective for a long time, and had to wear a suit and tie for many years. That is kind of a uniform in a way, but a step aside a regular uniform. On special assignments we wore only the smartest, tactical of clothing for what we were doing. The ultimate goal, I think. Which is getting to my point…
But I am a little twisted. Decades ago, I didn't get into the martial arts to be a "martial artist." I just wanted to learn all the …you know…the secrets…of fighting. And, through those decades, where else could you go to learn such things? I started in Parker Kenpo in 1972 and the classes were draped and adorned in classic uniforms. I mindlessly accepted this policy as an annoyance. Terrible, huh? Then, in police training in 1973, I noticed that when attending the – what has become defensive tactics – classes, police showed up in sweat pants, athletic shoes, t-shirt and usually brought along their pistol belts.  At least they wore shoes for God's sake. At least they brought their belts, but many times they did not wear the belts unless the training switched to gun-related stuff. The clothing question remained for me since 1972. Why are we not training in the clothes that we will probably be fighting in?
I've always analyzed stuff through the "who, what, where, when, how and why" questions?  
WHO am I to be wearing a uniform? WHO is he?
WHAT exactly am I wearing? WHAT is he wearing?   
WHERE will I be fighting? In terms of smart and common clothing for the location?
WHEN will I be fighting? In terms of clothing? Season? Night? Day? 
HOW will I fight in these clothes?
WHY am I REALLY dressing in training this way, anyway?
WHAT ARE YOU WEARING? (and why?)
In my classes, in my school I operated years ago in north Texas, there were no uniform requirements. People could wear whatever they wanted. Several of my students were cops and they would show up for class in their actual uniforms, which I encouraged. I know this is not good for school sales and the school-money-systems set up by the franchise programs today. I sold and still sell t-shirts, but they are not required. I understand the requirement though. And the martial uniform is supposed to create all kinds of group psychological "unity," – yeah – I know, but I didn't care about all that stuff, and sales structure stuff. I mean we are not preparing a military unit where such group/unit psychologies really shine. Today, I only do seminars and each place I go has their own rules and clothes.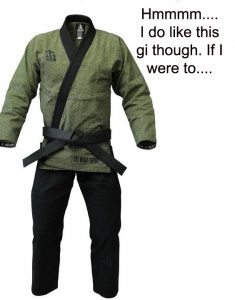 Through the years I have seen all kinds of "fashions." Some random notes on the fashion subject…
The old Jeet June Do guys and gals were often seen in the 80s and 90s in tank tops and shorty-shorts. I did that too. That changed through time. Thank goodness. I was tired of having to cut my pubic hairs.

The Army, for example, did do much of their new combatives courses in an Army uniform, sure, but…barefoot! (The whole "save-the-mats," forever thing.) And mostly WITHOUT standard gear like helmets, belts and backpacks, etc.  

The newer looks of Krav Maga dodges the classic uniforms, but many if not most, want you to wear their sweat pants with stripes and THEIR t-shirt. The whole sales/branding thing of businesses. (I get it! I understand the process. Do you?)

Some of the BJJ gis look to me like walking, color billboards. Warning! Watching them in motion might cause seizures! As an aside, I noticed  that there a number of BJJ guys who slip on blue jeans and have instantly/suddenly become hand, stick, knife, gun masters.

Then there is the "no-gi" "BJJ-ish" crowd that seem to be tossing aside the classic uniform days of old for modernity, but have instead switched over to rubber, skin-tight, Spiderman suits (what colors and designs!) and they are still…barefoot. "Let's trade in that silly gi uniform idea, for yet another silly uniform."

If you are training to fight in a Thai boxing match, and you train in Thai shorts? BINGO! If you are training to fight in a Judo meet, and you train in a Judo gi? Bingo! And so on down the list. But what if you take, say… like Kung Fu to fight a rapist or an attacker?  I think some bingo number are missing off your board.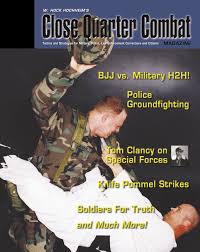 In seminars, I ask attendees to wear street clothes and shoes. We need pockets and belts. Even if they wear "street short pants" they still have pockets and a belt. A shirt over your gun is important. as is a holster. If you have a fixed-blade training knife, you need a sheath to draw it from, else you probably would not have a fixed blade knife with you, walking around (this is a BIG disconnect in training. A zillion fixed blades and no sheaths). And, no need to overdress in seminars as though one is being dropped into Cambodia for two weeks (unless, of course, you are actually being dropped into Cambodia for two weeks). I always wear mat shoes, as I hope every attendee will too, because I/we often don't know where I will be teaching and if there is a "no-shoes-rule? I/we respect that. I, at least will then wear socks because I must hide my horrible Amazonian jungle, toe fungus . (I know of a system that actually sells socks with their logo on it.)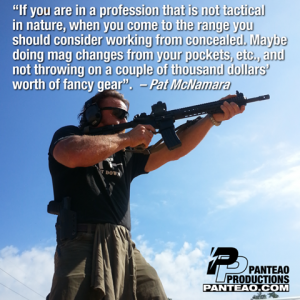 I have made a rule for myself I always hope I can remember and consider when drawing outlines, books and teaching – "reduce the abstract." This is not easy challenge, given the circumstances of your school or your training grounds.  I have failed this self-imposed standard many times, but I try.  But please consider the phrase, reduce the abstract and one way of reduction,  is to dress right.
I know people love to belong, love immersing themselves into groups. Love clubs. Tribes. And showing their pride. I get it! I really do. Again, If you are happy camper doing classic martial arts in classic uniforms? You are just drawn to the idea? Then ignore me. Ignore this. This is just a personal rant. Who cares what I think? I only ask that you at least think about this idea, understand it and can articulate your position on these types of things.
So…WHAT ARE YOU WEARING!!!! And why?
Signed, The Perennial Outsider
********
Hock's email is HockHochheim@ForceNecessary.com
Get the paperback, Get the ebook, click here