In this age of widespread interest in de-escalation and verbal skills to defuse any and all encounters, this is a tale about how convoluted a quick, on-the-spot verbal solution might be. It's a short story from back in the 1980s – a case I worked on.
A driver pulled his truck up into a handicapped parking space to drop his wife off at a post office. He did not put his truck into "park." She got out and walked away. He reached down, did something for a second, and was about to back out of the spot, when a man walked by the front of his truck, scowling and yelling at him, waving a hand in the air.
The driver rolled down the window and said,
"what?"
The man yelled in outrage about the driver parking in a handicapped spot. The driver, aghast at the outrage said, "I am not parked. I am leaving."
The man started cursing and closing in. "I had to park over there," and he pointed down the lot. "You can't park here!"
"I'm not parked here!" But then he now was, as the driver put his truck into the parking gear and got out, telling me later he thought that the man would come over and kick in and dent his truck, or reach into the open window after him.
The driver got between the man and his truck and said,
"WHAT is your problem?" (what a classic line! The classic answer is – "you're my problem" and so on and so on.) And so it goes. You know the dialogue of this movie from this point on. You already know it. I often tell you that these pre-fights words are like movie scripts and usually quite predictable.
The man swings at the driver. The driver fights back. There are witnesses. The police are called and the man gets arrested for assault. Later this man files an assault case back on the driver and it becomes a "he-said, he-said" deal.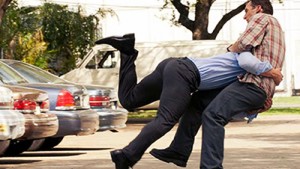 My sad part of the story is that one morning in a detective squad meeting, I got both cases dropped on my desk. My Lieutenant says, "this ain't going away." Meaning these two guys are calling us and complaining about each other and how each were in the right. And of course, one of the two had even called the chief. Another day in Detective Heaven.
I started with this angry man. I asked him to come in and give us a written statement, which he jumped at the chance to vent. He showed up for the appointment, loaded for vocal bear, and in a small, interview office I let him unload. The guy was panting when the oratory was over. I did not say a word.
"Okay," says I. "let's get that whole story down on paper." I had to read him his rights and now the story was officially counted. And line by line, we got it all down as I typed his words as he said them. He calmed down and his remarks took a turn to another topic. The real cause and motivation. Handicapped people and handicapped parking…
"What's the ratio of handicapped people compared to non-handicapped people?" he asked.
"I don't know."
"Well you should know. People like you in your business should know."
"Hmmm"
"I know this much," he continued. "I know that there are too many handicapped parking places. There has to be too many of them compared to regular people. If you go down to Kmart you'll see all those front parking places are reserved for the handicapped. What a dozen? Dozen and a half? Are there that many handicapped people? A regular person has to hike to the store."
I did not answer. Then I said," you want me to mention your parking spot concerns in the statement?"
"Hell yeah! Maybe someone will read it for a change?"
This theme rolled on. I realized that the guy wasn't mad at the driver because the driver had pulled into the slot for a second. He wasn't protecting the rights of the handicapped. This guy was mad at handicapped people and how many parking places they got. He was ripping mad because …
For the rest of the article, read Fightin' Words, click here