I was thinking about Benny Parkey the other day. Thinking about some of the last photos of him, on a balcony in South Padre, South Texas, overlooking the Gulf of Mexico right before he died. And he knew he was going to die. One photo (below) kinda haunts me. I wonder what he was thinking, looking over those waves. Then, today, (Thanksgiving, 2016) this came in my email. (I have deleted/altered some info – we have to keep sex crime victims protected.)
_______________________________________________
"Subject: You and Det. Parkey solved my case.
Dear Detective Hochheim,
My name is __________. My maiden name is ______. Back in October 1990, I was followed home from the Kroger on ______ Drive to my apartment on ____Street. _____________ followed me there and abducted me at knife point, kidnapped me in my own car and drove me to the outskirts of town where I was sexually assaulted. He planned to dismember me. I remember begging and pleading to for my life at the beginning and quickly saw that added fuel To the fire. So I pretty much surrendered to the situation. I accepted the fact I would be murdered. The turning point came when I asked him for the switchblade he was holding. I asked for him to let me have the dignity of killing myself. I meant it.
Anyway, you and Benny were the detectives and I remember you so clearly sitting in your office that cold fall day at your typewriter taking my statement. I'll never forget, the next afternoon you all called me to tell me a State Trooper had pulled over a Brown Datsun with heavy front end damage that matched the description of the suspect (as he was) leaving the ________ Street Trailer park. You (got his picture) called me in for a photo lineup and when I identified him, you and Benny high fived and I'll never, ever forget how excited everyone was , including myself, to capture that creep. It was one of the best days of my life in so many ways!!
Y'all two together went to the trailer park (suspect's trailer, arrested him) and saw my mom's old super 8 film camera on the suspect's couch, but I had stupidly forgotten to mention that I had one (in my car). Anyway, y'all drove me to the crime scene too where we found more evidence way out in the middle of nowhere.
Had you both not worked so dam hard, ________ would not have gotten that 85 year sentence or even had gone to trial. I'll never forget your dynamic personality and Benny's sweetness. You were too!! You took me and my best friend for a coke that next morning after the assault. I know this thank you has come too late. I'm heartbroken over Benny's death. I think of y'all often and wish I could have thanked you both much earlier. I owe you my life in many ways.
I went on to earn 2 bachelor degrees. I'm married now for 14 years to a great guy who is sensitive to the debilitating PTSD I have. I'm grateful to be here!! I mainly want to thank you with every fiber of my being and from the depths of my heart and soul. I thank you. I'm so grateful. I'm sending Benny my thanks and keep him alive in my spirit. I'm so proud of you both and I treasure you both!!!!
Happy Thanksgiving

Love,
_________________________ "
Sadly, I don't remember this at all. Isn't that terrible I can't? I mean, It's so important to a person, I am so ashamed. But, It is hard to remember when you have about 22 new cases a month for about 14 years in CID. It's a rat race, chasing rats. And…all the pain. The pain. It all melts together as your brain melts. Benny and I worked on many cases together (by choice) and for a period of time, he and I and a Margaret Yarbrough worked Crimes Against Persons section within the division. Now Benny and Margaret are both dead from cancer.
But, I hope Benny did remember this one case, sitting on that balcony on the Gulf, remembering things like this, and the times that we "won," when thinking about…life…and some of things that managed to work themselves out well enough.
]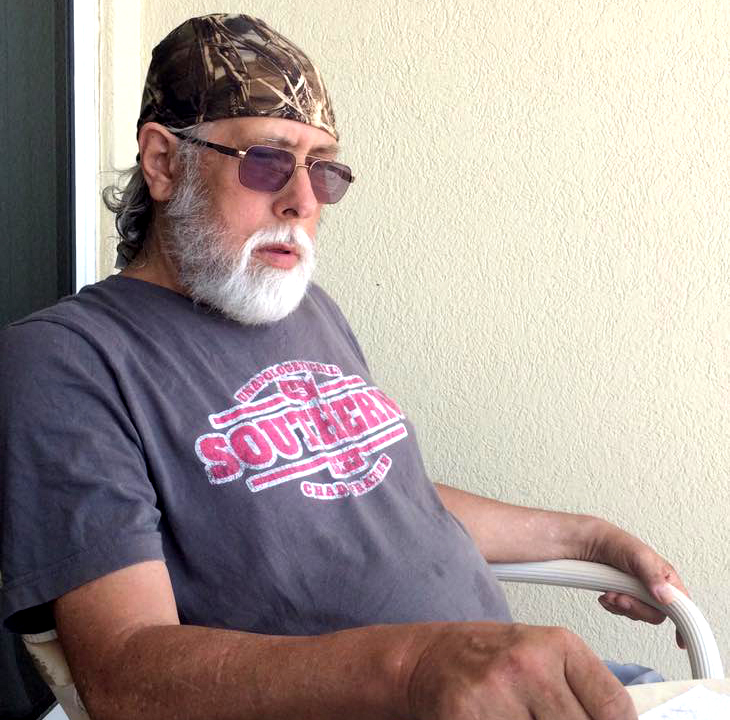 ]
One of Benny's favorites, Leon Russell sang – " I'm up on the tightrope , one sides hate and one is hope."